More than six months into its lifespan, the best iPhone to buy is still the most affordable of the bunch: the iPhone XR, starting at $749. The 6.1-inch phone has many of the premium features found in the more expensive iPhone XS and XS Max, and comes in six different colors. (See why we think the iPhone XR is a worthy upgrade to the iPhone X.) It might be the more affordable option, but it's still a significant expense, so you're going to want a case to protect it. Fortunately, there are some very nice case options to choose from. We rounded up our top picks to help you decide. We'll add more to the list as new cases become available, so watch this space.
Best clear iPhone XR cases
The iPhone XR's six different colors distinguish this smartphone from its siblings. The best way to show them off is a clear iPhone case.
Best protective iPhone XR cases
The iPhone XR, XS, and XS Max all sport ultra-durable Corning Gorilla Glass 6, but you can never be too careful. These protective iPhone cases will provide the shielding you need.
Best wallet iPhone XR cases
While not as big as the 6.5-inch iPhone XS Max, the iPhone XR is fairly large at 6.1 inches. Wallet cases for this phone can definitely hold a good amount bills, cards, and papers.
Best wood iPhone XR cases
Wooden cases provide a lush feel and a unique look for the iPhone. There are many wooden iPhone cases out there, but we chose some of the most premium offerings out there.
Kerf Wood Case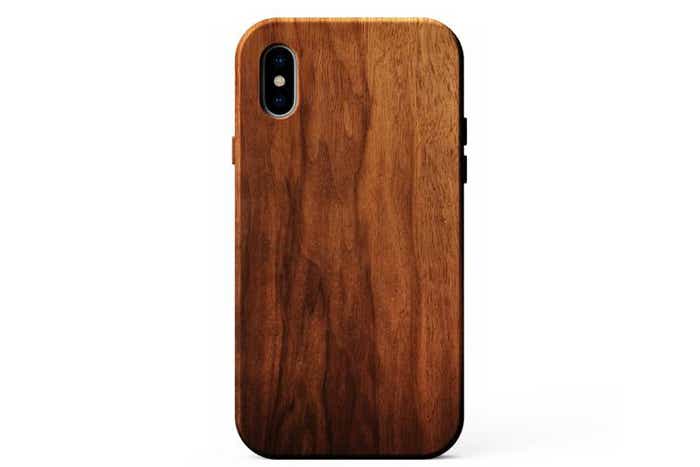 Price: Starting at $69

Colors: Walnut, cherry, maple, spalted maple, ambrosia maple, rosewood, bulletwood, figured walnut, bocote, sycamore, spalted beech, spalted walnut, padauk, purpleheart, mahogany, african mahogany, canarywood, eucalyptus burl, amboyna burl

Wireless charging: Yes

When it comes to wood cases, the folks at KerfCase know their stuff. This one-piece case is almost entirely made of wood, down even to the buttons. What's more, it has the added touch of a luxurious suede lining. But possibly its most impressive feature is how the case comes in 19 different kinds of wood, ranging from walnut to amboyna burl. The price varies depending on the rarity of the wood you select. Walnut is the cheapest at $69 while eucalyptus burl is the most expensive at $409. Yikes!

All of the cases from Kerf Case are handmade in the U.S. and come with a lifetime warranty covering repairs. Shipping in the U.S. is included and should arrive within 2-4 business days via USPS. If you so desire, you can include your own engraving or image for an additional fee.
Mous Limitless 2.0 Wood Case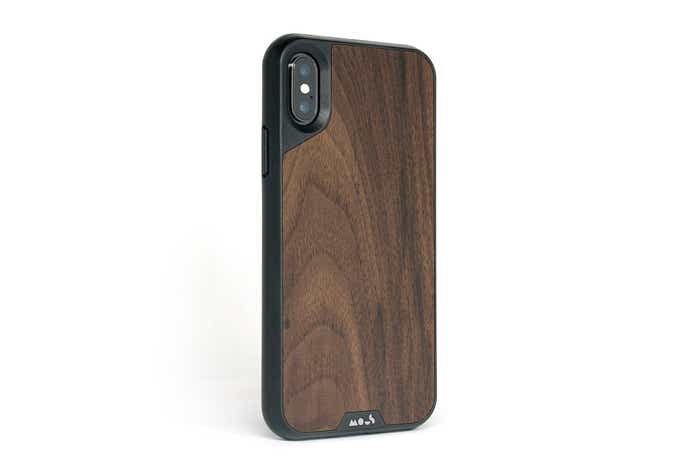 Price: $49.99 (regularly $59.99)

Colors: Bamboo, walnut wood

Wireless charging: Yes

Highlights: Mous's Limitless cases come in the same style but in a variety of prices depending on the material, including bamboo, leather, carbon fiber, walnut wood, and even shell. This particular case comes in either bamboo or walnut wood. What distinguishes Mous is not only how well made and sturdy the cases feel in your hand, but the rigorous testing methods the company uses: Slamming its cases with hammers, for exampl.

Starting at $49.99, they are pretty affordable considering the eclectic materials. And the company's AirShock technology promises the cases will deliver maximum protection. Mous offers free shipping on orders over $75 and a limited lifetime warranty.
Best leather iPhone XR cases
Leather cases add luxury and class to your iPhone. The material is also durable and shock absorbent. So if you aren't vegan, here are some great cases to consider.
Mujjo Full Leather Case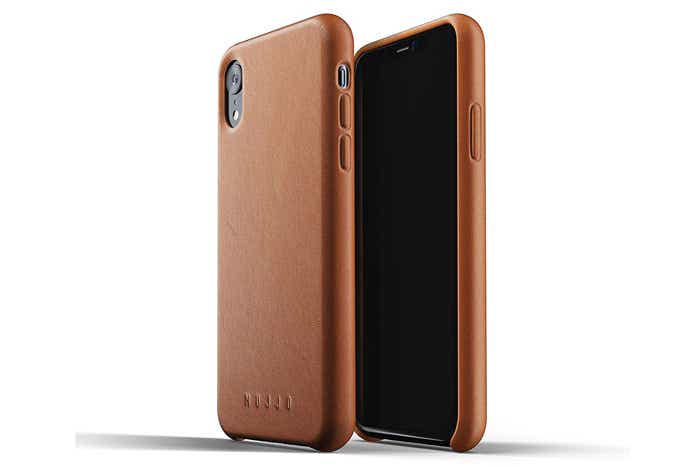 Price: $44.95

Colors: Black, tan, olive

Wireless charging: Yes

Highlights: If you're looking for something cheaper but just as classy as Apple's leather iPhone case, look no further than Dutch designer Mujjo. The company's Full Leather Class exudes simple elegance with a textured grip that's hard to keep your hands off. The case snaps incredibly snugly around the iPhone XR while covering the buttons subtly. Adding to its elegance, the case is lined with satin-like Japanese microfiber.

Mujjo's Full Leather Case is available from Amazon and includes shipping in the United States.
Nodus Shell Case II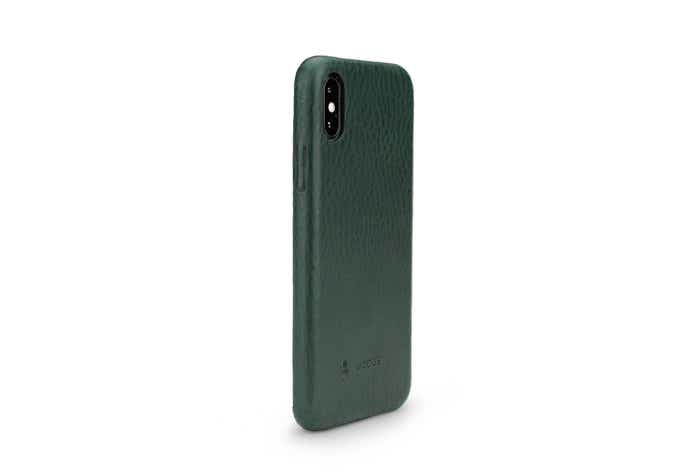 Price: $63.58

Colors: Brown, black, grey, teal

Wireless charging: Yes

Highlights: The Shell Case II from Nodus both looks and feels great. It's made from full grain vegetable tanned Italian leather, delivering a perfect grip and nicely wrapping around the iPhone's buttons. For added protection, its interior is a shock absorbent polycarbonate, though you'd never know it from the outside. One of its nifty features is a magnetic micro-dock that comes with the case. Use this to hang your iPhone from anywhere—even a wall.

The Shell Case II is available from Nodus and includes shipping.
Nomad Rugged Case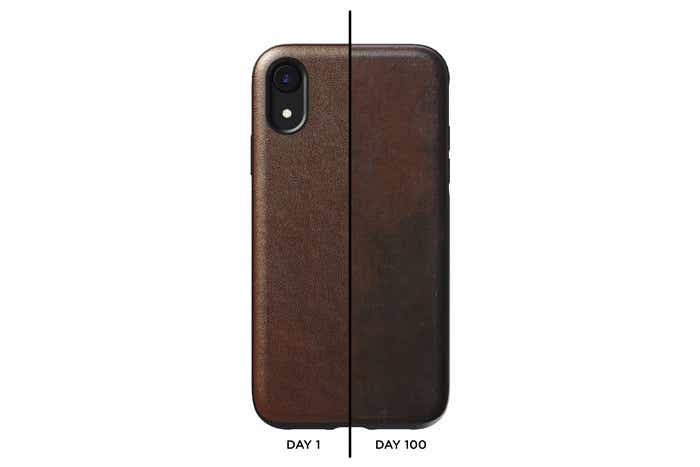 Price: $44.95

Colors: Black, brown

Wireless charging: Yes

Highlights: Nomad knows leather. The company's Rugged Case takes a unique approach by using a material that develops a rustic "patina" over time. It's also durable while being thin, with six-foot drop protection. This is thanks to the case being made from a combination of Horween leather and polycarbonate. Overall, it feels incredibly well-made while having a handsome and sturdy look.

Nomad provides a limited 2-year warranty covering workmanship defects and charges $4.95 for standard 3 to 7 day shipping in the United States.
Best thin iPhone XR cases
Apple says the iPhone XR, XS, and XS Max are the most durable iPhones yet, and drop tests appear to prove this. If you aren't so worried about protection, you can just slip one of these ultra-thin cases on.
Dieter is a staff writer covering consumer tech, apps, and services.