The iPhone XR is technically Apple's "budget" phone from this year's lineup, but you'd have a hard time telling that from specs alone. After all, it's quite similar in specs to the new iPhone XS and iPhone XS Max. At $749, it's also still relatively pricey, partly because so many of the innards are the same. The differences are mainly exterior, such as its LCD screen, its single rear camera, and its aluminum casing.
All of which means that if you want to upgrade to a new iPhone from your iPhone X, you'll probably be well-served with the iPhone XR when it finally ships on October 26 if you don't want to go whole hog with the XS. You'll lose the lovely OLED screen, of course, but you'll get a lot of boosts in the process. For that matter, you won't even have to feel all that guilty about upgrading from the iPhone X, as its starter 64GB model starts at $250 less than the $999 starting price of the iPhone X. And there are plenty of other reasons:
It's got Apple's powerful new A12 Bionic chip
Like the iPhone XS and the iPhone XS Max, the iPhone XR sports Apple's powerful new A12 Bionic chip, which by almost all accounts marks a massive improvement over the A11 chip in the iPhone X (which was impressive itself at launch). Rumors pointed in this directions for months, and just last month our own Jason Cross pointed out that the gains could be tremendous. And lucky for us, that appears to be the case.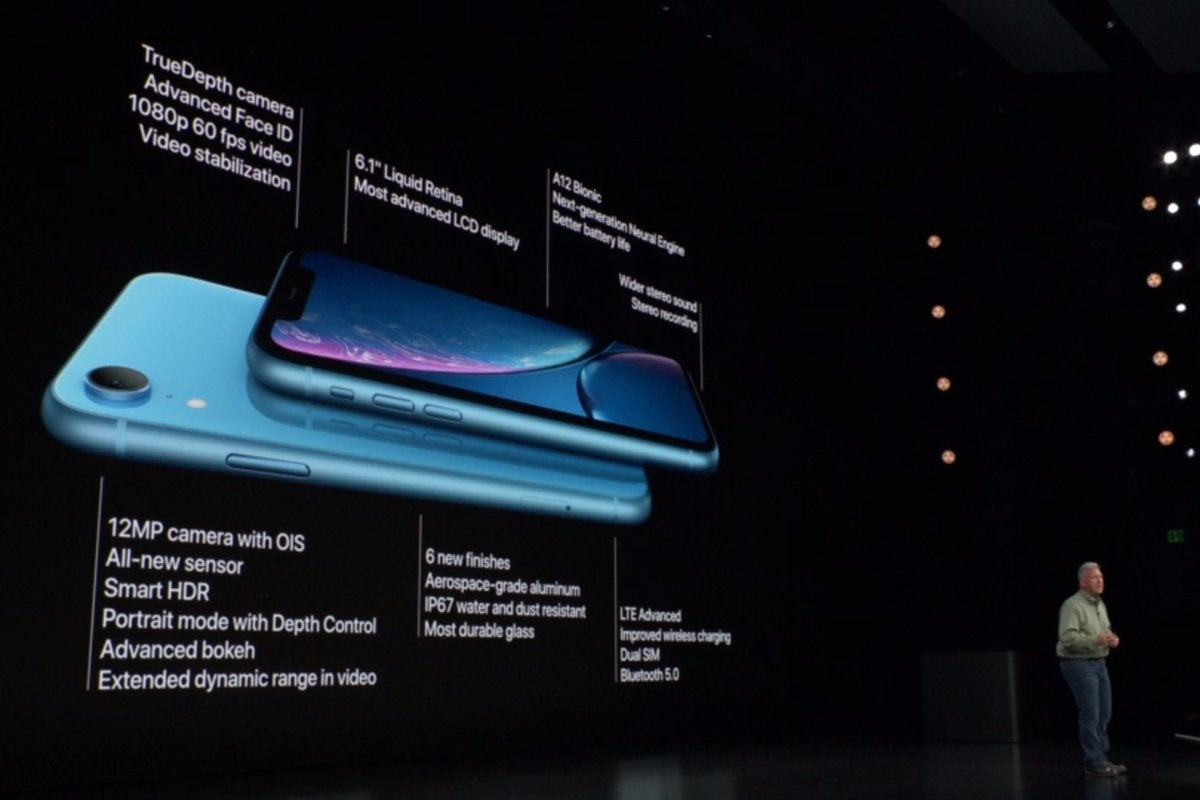 On stage, Apple marketing chief Phil Schiller called the A12 Bionic "the smartest, most powerful chip ever in a smartphone" and said that it's the first seven-nanometer chip on the market, and we see no real reason to dispute that. It's packed with a six-core CPU and a four-core GPU (which allows it to be 50 percent faster than the iPhone X's A11 chip), along with a new version of Apple's Neural Engine.
The Neural Engine improvements are particularly impressive in that they can now go through 5 trillion operations every second over the 600 billion we found in the iPhone X. Translated: It's a heck of a lot faster. Frankly, this won't matter for a lot of apps, but it'll certainly help with apps with demanding calculations. Apple, for instance, showed off Homecourt, an app that analyzes your performance in basketball with the iPhone's camera.
With the new Neural Engine, you can get that kind of power in a smartphone that's significantly less expensive than the one you paid for last year.
The camera ain't bad
Like the iPhone X, the iPhone XR supports a 12-megapixel camera, so you won't be seeing any downgrades on that front. The front camera (which appears to be 7-megapixel, much as with the X) reportedly handles Face ID better thanks to some software optimization, but it's not clear if that means that Face ID's performance on an iPhone X running iOS 12 would also be the same.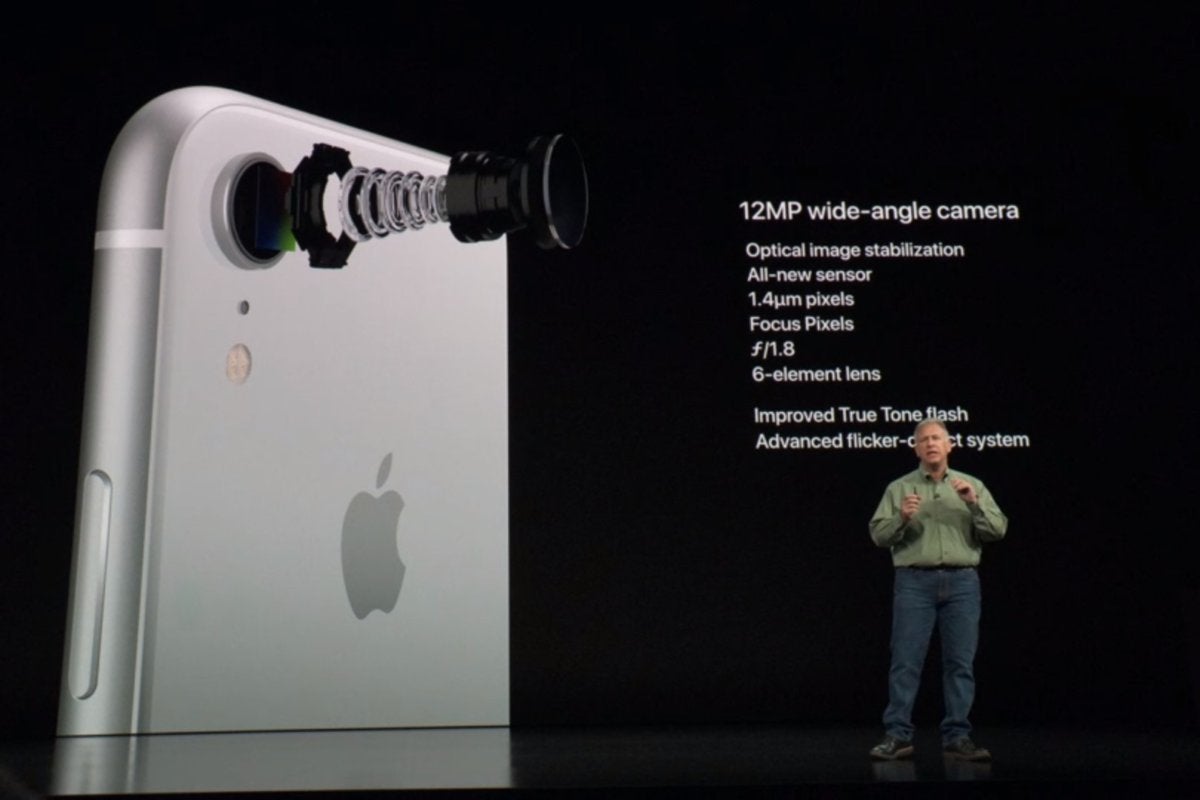 At any rate, one drawback of the new iPhone XR is that it only has a single wide-angle camera on the back, although fortunately it's the same camera used in the iPhone XS. The iPhone X's dual camera system was touted as the means by which Portrait Mode worked so well on the iPhone X at launch, but Apple has apparently made the feature work well with a single lens through some software magic. And after all, Google showed it was possible with the Pixel.
But here's a caveat: We haven't had a chance to run any comparison tests yet, so there's a chance that the truth and what Apple says turn out to be slightly different things. Fortunately, the iPhone XR doesn't ship until October 26, so there will be plenty of time to test out the cameras in the future.
Despite compromises, the display is still pretty impressive
First off, the 6.1-inch LCD display is actually larger than the 5.8-inch display on the iPhone X (and the new iPhone XS). Phil Schiller called it the "Liquid Retina" display, and it earns that cool moniker with a 1792×828 resolution and 326 pixels per inch and Apple's True Tone technology. That's down considerably from the 2436×1125 resolution and 458 ppi offered on the iPhone X, of course, but Schiller put that in more appealing terms: It's a bigger display than the iPhone 8 Plus in a smaller design.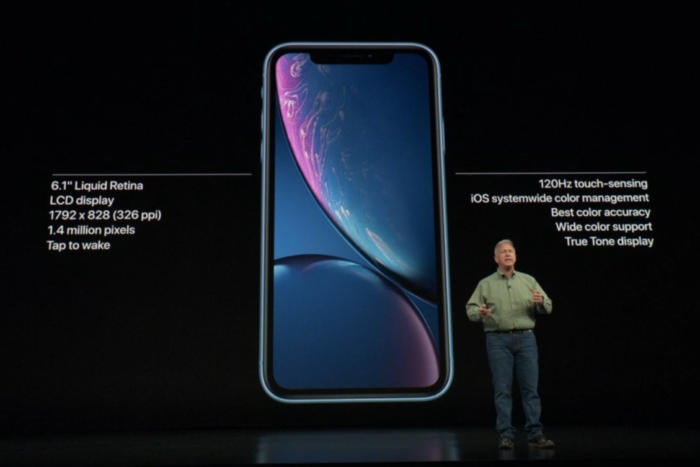 The iPhone XR achieves this distinction by having a screen that goes from edge to edge, much as with iPhone X. The iPhone 8 Plus, by contrast, was still saddled by the old design of large bezels and a home button, which greatly reduced the available real estate. Also, the downgrade in pixels per inch isn't as bad as it sounds, as the iPhone 7 and 8 both boasted 326 ppi as well, and photos always looked beautiful on them. (I should know, as I'm still using an iPhone 8 Plus.)
I seriously doubt that many people actually use 3D Touch, but you might be disappointed to know that it's missing on the iPhone XR. But Apple isn't completely taking away a feature from you. Instead, the iPhone XR uses a haptic touch system, which Schiller said is similar to what you get when using the trackpad on the MacBook Pro.
It's great if you want different colors
Apple really hasn't bothered with too many color variations since the iPhone 5c, but it's changing its stance a bit with the iPhone XR. Rather than the usual options of space gray, gold, and silver, the new iPhone XR will be available in black, white, blue, coral, yellow, and even a Product (Red) option at launch. Normally, we have to wait several months for a version of the latter to appear.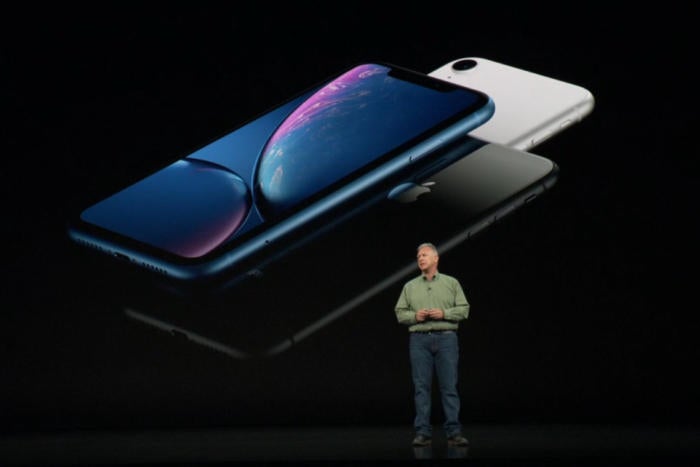 The battery life is a lot better
On the stage today, Apple claimed that the iPhone XR can deliver more than an hour and a half of battery life than the iPhone 8 Plus. That's big, as the iPhone 8 Plus was the model you wanted to get last year if you wanted battery life above all else, as it could deliver around 14 hours compared to the 12 you could usually get with the iPhone X. By that estimate, you should be able to get anywhere from 15 to 16 hours of battery life from the iPhone XR. Not bad. In my case, that might even be enough to convince me to leave my power bank home on normal days.
iPhone XR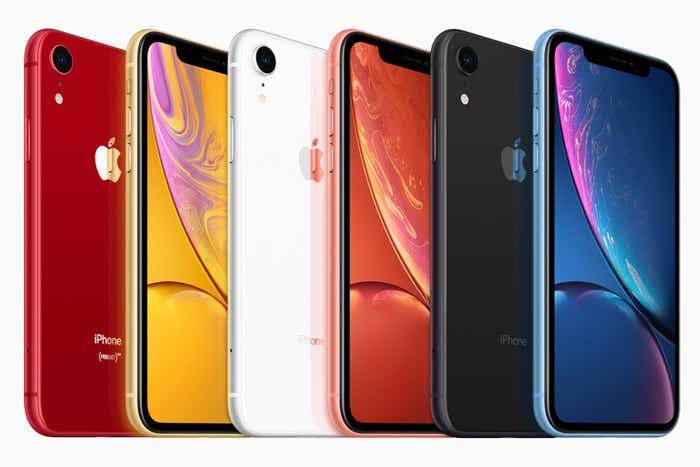 Price When Reviewed:
$499
Read our full
iPhone XR review