At a Glance
Expert's Rating
Pros
Sturdy design aimed at preventing rolloffs
Precise, lag-free writing
Good palm rejection
Easy to set up
Cons
No pressure sensitivity
Needs to be turned on with each use
Our Verdict
Best Prices Today: Logitech Crayon
Crayon, if you don't know, happens to be the French word for "pencil." It's a fitting name for Logitech Crayon, which takes the concept of the Apple Pencil and approaches it from a different angle, specifically one centered on the rough-and-tumble playfulness we associate with "crayon" in English.
When it was originally announced, sales of Crayon were to be only to schools using the 2018 9.7-inch iPad. But on September 12, Apple and Logitech opted to let the rest of the public in the party, and it's a useful tool for the right kind of iPad user. It's a little more pragmatic than the Apple Pencil. It's certainly tougher. But most importantly, it only costs $69.99—nice, considering that the Apple Pencil costs a full $30 more.
It's simple enough to set up, so long as you have Apple's 2018 9.7-inch iPad. (And yes, for some reason, that's literally the only iPad it works with, so don't expect to run off and grab one for your fancy iPad Pro. It's not clear if that's Logitech's decision or Apple's.) Just hold the Crayon near the iPad, press down the power button near the Crayon's "eraser" end for around two seconds, and the device pairs automatically.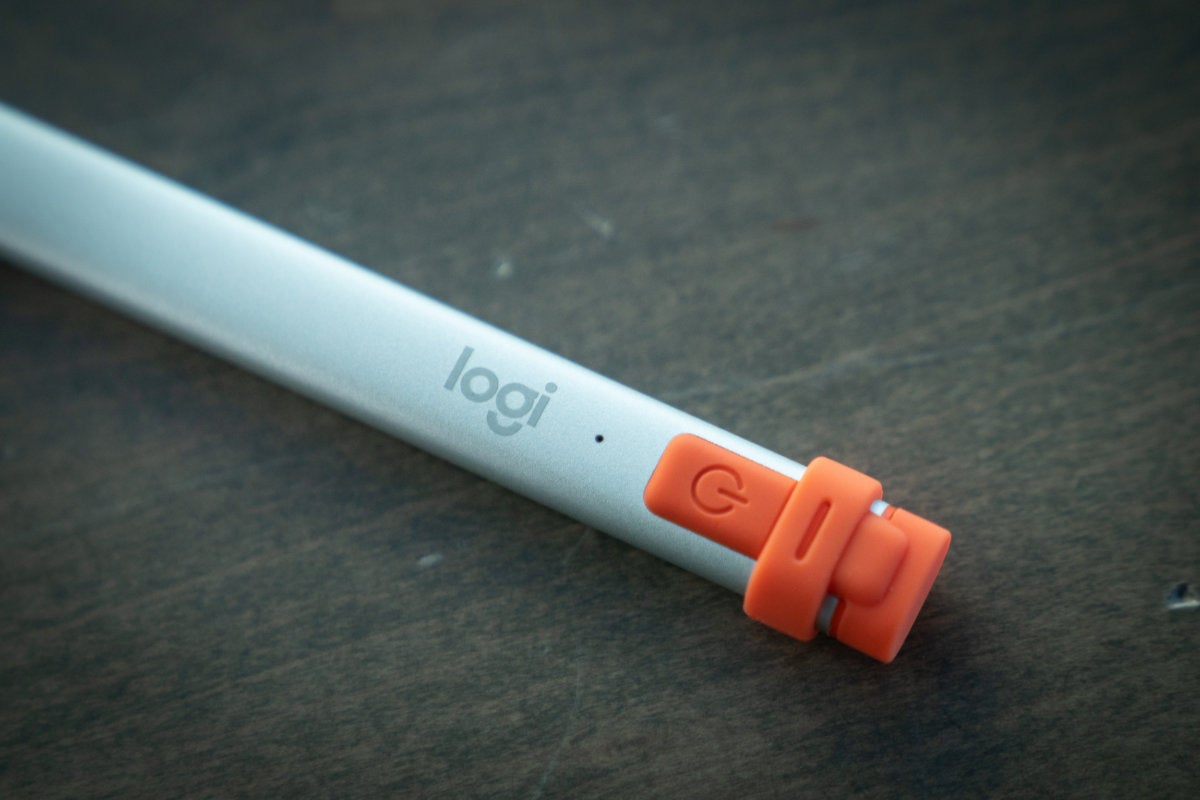 Yes, it's as easy as that, even to the point that Logitech only includes a scannable QR code that directs you to additional tips on the website. The idea is that it's so intuitive that you won't even need to look at the instructions, and generally—generally—that's correct. If you've already set up an Apple Pencil on your iPad, though, you'll have to remove it from your Bluetooth list before you can use the Crayon. Hey, I don't make the rules.
The long and flat of it
It may be called the Crayon, but it looks like nothing so much as a carpenter's pencil. Rather than being cylindrical like the Apple Pencil, its body resembles a 6.5-inch metal bar with slim 0.3-inch edges and a slightly broad half-inch top and bottom. Each end of the metallic body is capped with a shocking orange, save for the plastic area encasing the nib and the rubber cap that surrounds the charging port.
Critics of Apple Pencil's seemingly awkward male Lightning charger (which plugs into the Lightning port on the companion iPad) will love this, as the Crayon's female port lets you use any ol' Lightning cable to charge it. And because the rubber port cap is neatly attached to the same button that's used to switch on the Crayon, there's little need to worry about losing it as you might with Apple's slippery magnetic one. The worst that could happen is that your child simply rips it off.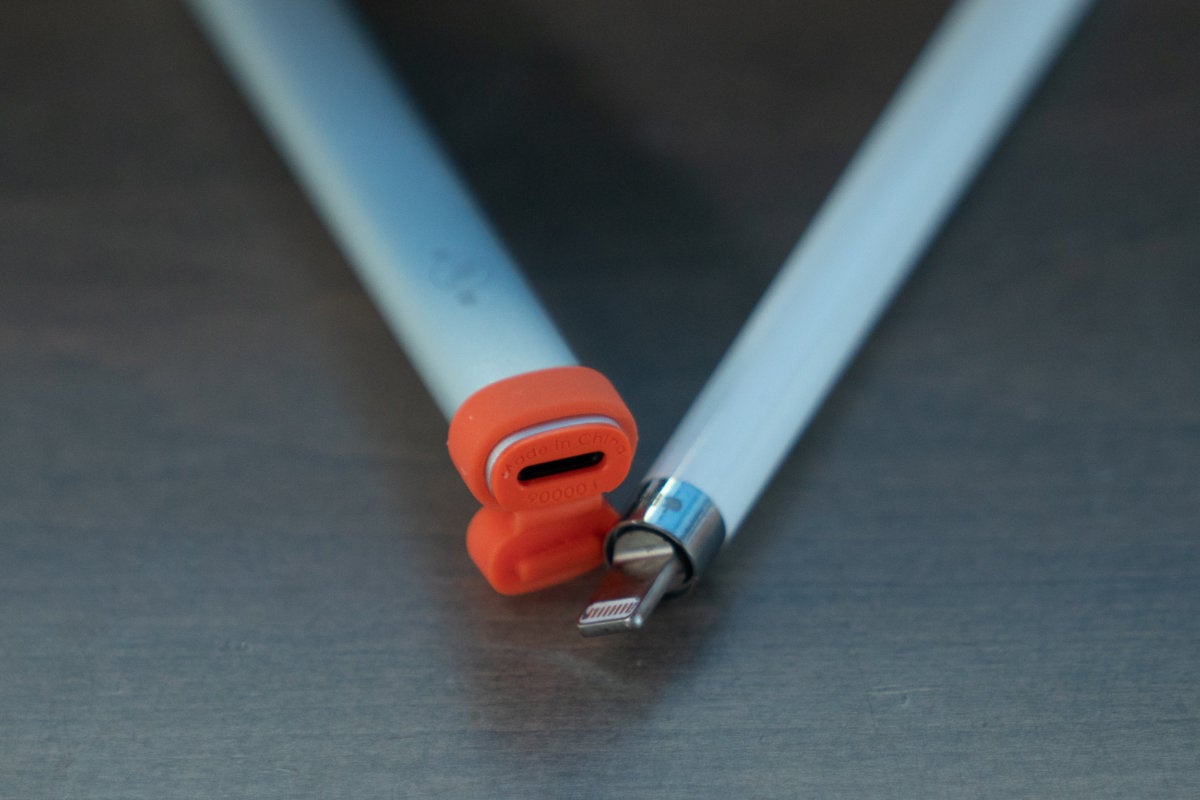 Practicality, in fact, informs the Crayon's entire design. No doubt there's a reason for that. As the Crayon is aimed at schoolchildren, its carpenter-pencil design keeps it from rolling off a desk and into oblivion, much as a carpenter's pencil's form serves to keep it from careening off the bench. And it goes one better than that workshop tool. Should your Logitech Pencil happen to drop, you should be able to find it relatively easy with those screaming orange ends.
It's a workhorse, no doubt. It's tough enough that I could see myself idly using it as a drumstick on my desk and not worrying about whether it'd warp the casing. (And trust me, if your kid is anything like me, this is going to happen.) I can't say that about the Apple Pencil. For one thing, that cap would go flying off.
Less than subtle
Unfortunately, that also means there's little showy about it. We see that in the aesthetics, of course, with that orange rubber and the silvery metal clashing strongly with the sleek curves of the Apple Pencil. Setting them next to each other feels a bit like setting a traffic cone next to an iMac.
But this pragmatism extends to the actual performance as well. The Crayon doesn't support pressure sensitivity, which means you get none of the beautiful, varied strokes the Apple Pencil lays down depending on whether you pressed down hard or lightly. With the Crayon, the lines usually look exactly the same, although it does allow for small variations if you tilt the stylus. That's fine for general writing—even if it robs longhand scribbling of some of its individuality—but it's fairly awful for artistry.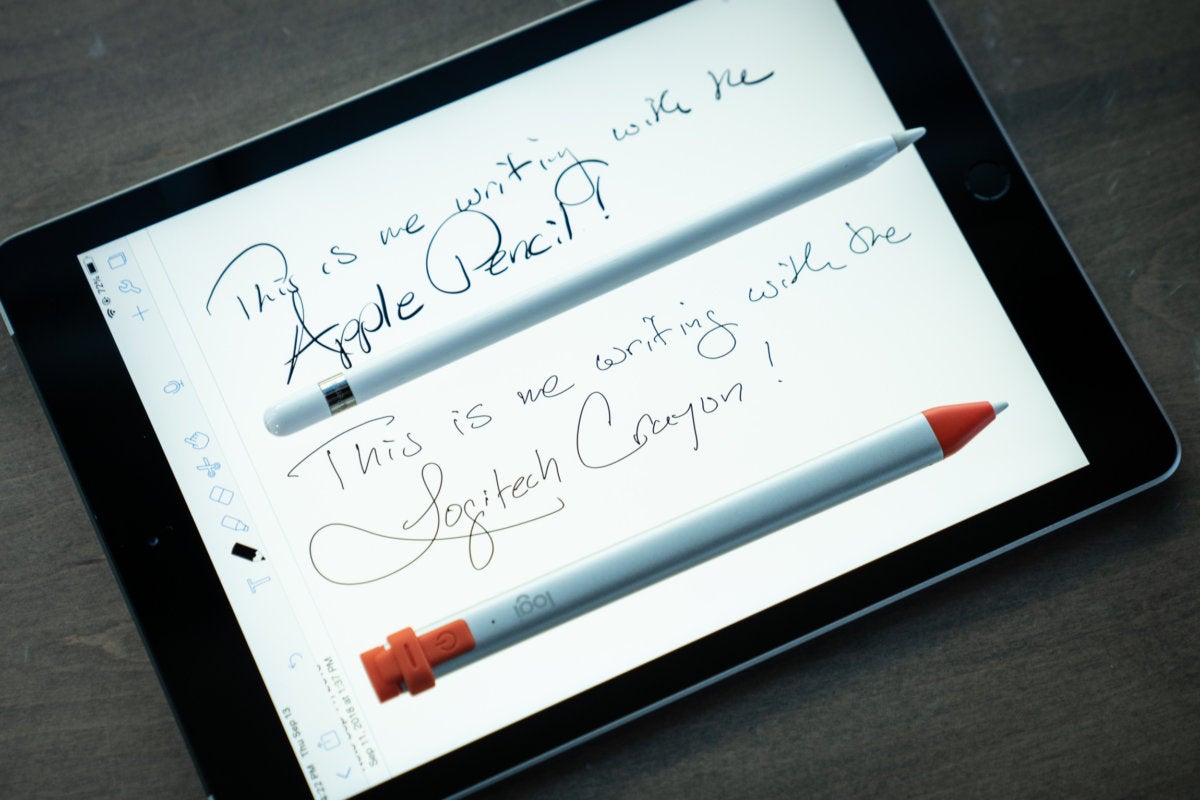 There's a good chance, of course, that this won't matter for you. After all, the Crayon is aimed at school kids, and its main focus is on getting them to write notes and highlight PDFs rather than training them to become the next Todd McFarlane. (And if you want the latter, you're far better off coughing up a few extra bucks and getting the Pencil.) And it does that well.
Or well enough. The Crayon is wonderfully responsive, and in everyday use, I noticed no lag time compared to the Apple Pencil. It lays down accurate lines. Unlike the Apple Pencil, you actually know it's charging because there's a little pulsing green light that tells you so. For that matter, a full charge will give you around seven hours of battery life, and plugging it in for two minutes is enough to give you 30 minutes of use. Lefties will be happy to know that it boasts great palm rejection like the Apple Pencil, so that the touchscreen isn't registering both your resting palm and the pencil strokes at the same time. As far as precision goes, I never felt like I was missing out by not writing with a Pencil.
Pencil pushin'
But I missed it for other things. I'm one of those few remaining nutjobs who still writes many things using pencil and paper, and I've always loved the Apple Pencil because it mimics that experience far more precisely than any other stylus I've ever used. The heft is dead on. It's thin like a real pencil. The 6.92-inch length gives the Pencil a balance that's akin to an artist's brush or a calligraphy pen (and in its favor, the Crayon measures just short of that length). The Pencil's cylindrical barrel is kind of a joy to hold.
The Crayon feels, well, like writing with a carpenter's pencil. There's a reason why you don't see high-end pencil makers like Palomino crafting pencils in this style: They're not ideal for long writing sessions: They're made for laying down streaks of graphite on planks of wood you're about to cut and setting them back down immediately. Or to place in a school environment, it's shaped like some highlighters. That's not to say that the writing experience with the Crayon is bad—not at all—but I can't deny that switching over to the Pencil feels like switching out of a jacket that fits too tightly and into one that feels right.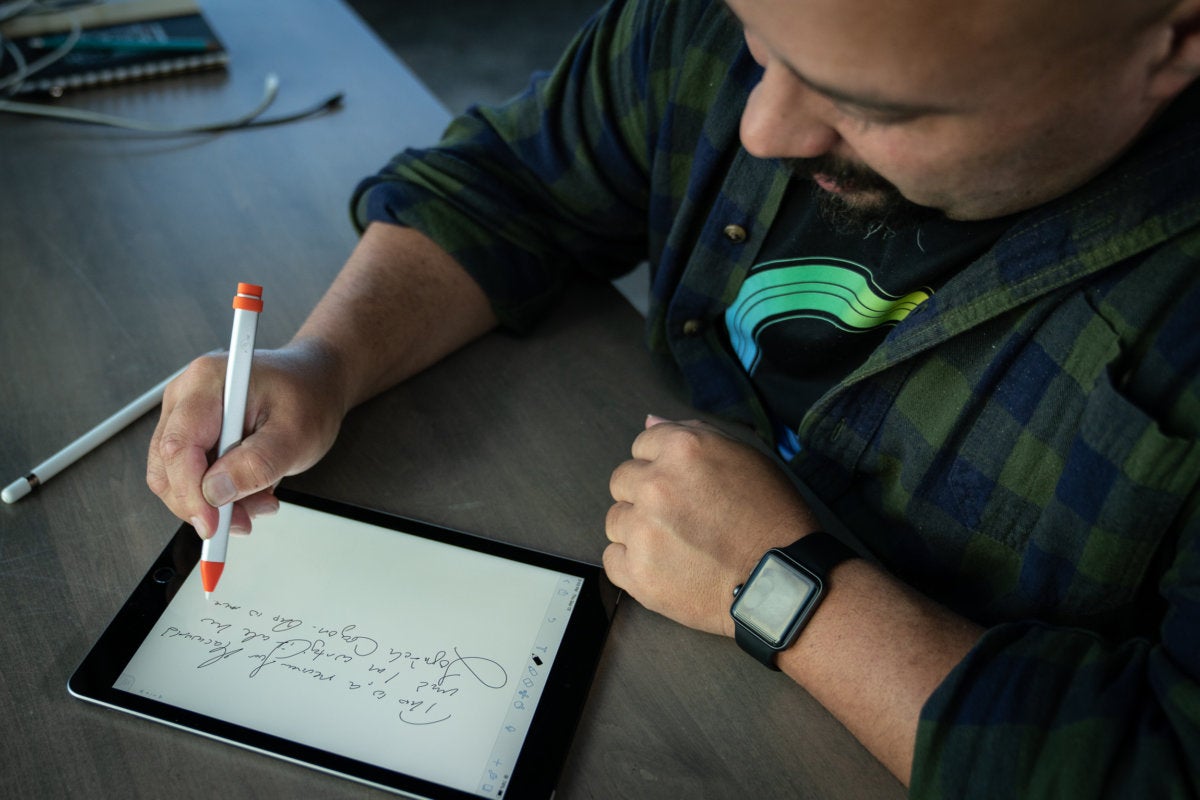 But it's a good stylus. It's certainly not as elegant as the Apple Pencil, but it gets the job done well. I see the Crayon as the "out in the field" stylus, which means it's not only suited to schoolkids but also to iPad users who might work in rougher conditions and need a stylus that can handle the pain. You're less likely to lose any associated parts, and you should be able to find it if it drops in the grass. Of course, keep in mind that it only works with the latest iPad.
If you're into art, though (and that's often what Apple is pushing with the Apple Pencil), you're going to want to get Apple's version. You'll have such a better experience with the pressure sensitivity and the weight of the Apple Pencil's cylindrical design, even if you do have worry about that magnetic cap and the awkward charger. On the flip side, the latter means you don't have to worry about toting around a Lightning cable if your iPad has a strong enough charge.
And c'mon, it's only $30 more. (The Crayon is still $50 cheaper if you buy it directly from a school for your kid, though.) I understand the desire and need to save money, but calling the Logitech Crayon a "budget" stylus at $69.99 is a bit of a stretch.
But if you want tough? Then getting the Crayon shouldn't be a tough decision.
Best Prices Today: Logitech Crayon