Macworld reader Carah received an error messages from Photos in macOS I'd never seen before—but which is fortunately easily diagnosed and solved.
Carah was trying to free up space on her internal disk drive, as it was nearly full, so followed instructions in another Mac 911 column on copying Photos libraries to an external drive.
After completing the copying and launching Photos with the Option key held down to select her new external library, Photos gave her an error on selection: "The library 'library name' is stored on a drive that uses an unsupported disk format. To access this library, copy it to the internal drive on your Mac or to a drive that uses a supported format."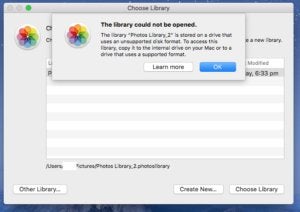 While I never saw the error before, I knew the problem: Apple relies on some special filesystem properties for Photos (and a few other apps' data storage) that can't be created outside of the old standard HFS+ and the newfangled APFS.
If you purchase a hard drive and it's not marked as for Mac, it may be formatted using something else, likely MS-DOS (FAT) or ExFAT. While you can read and write these formats, they are mostly ideal for drives you need to move back and forth between the Mac and Windows worlds, instead of for dedicated Mac purposes.
You can check what format is in use via the Finder. Select the drive and choose File > Get Info. The Format item will tell you what's in use. APFS appears as its own name, and HFS+ as Mac OS Extended (Journaled). Anything else, and you need to reformat.
The solution can be easy. If you haven't made any changes to data that you've copied over to the external drive, you can use Disk Utility to reformat the drive. I'd suggest HFS+ instead of APFS, because APFS offers benefits largely for SSDs used as startup Mac drives. For hard drives and external drives, stick with HFS+ for the greatest backwards compatibility.
If you have made any changes, back up the drive before reformatting, of course! Reformatting erases everything.
Apple offers step-by-step instructions on using Disk Utility to erase your drive and pick a new filesystem.
Ask Mac 911
We've compiled a list of the questions we get asked most frequently along with answers and links to columns: read our super FAQ to see if your question is covered. If not, we're always looking for new problems to solve! Email yours to mac911@macworld.com including screen captures as appropriate, and whether you want your full name used. Every question won't be answered, we don't reply to email, and we cannot provide direct troubleshooting advice.