At a Glance
Expert's Rating
Pros
Faster A12 Bionic CPU
Camera improvements and Depth Control
Improved battery life
Excellent OLED screen
Cons
Rear camera bump may prevent some iPhone X cases from fitting properly
Pricey
Our Verdict
Best Prices Today
Long-time iPhone users should be familiar with the iPhone product release cycle by now. Usually, it works like this: Apple releases a major product, then the following year is the "s" generation of iPhones that offer incremental upgrades. In this case, the new iPhone XS and iPhone XS Max are the incremental upgrades to last year's iPhone X.
The iPhone X was an exciting release, so what can the iPhone XS do to follow it up? It does plenty, but if you currently own an iPhone X, you'll probably be fine with sitting this model out and waiting to see what happens next year. If you own an older iPhone, now's the time to upgrade. You'll be glad you did.
Faster is always better
You can never have too much speed in an iPhone, and the XS is the fastest yet, thanks to the new A12 Bionic processor. It's a 64-bit processor with six cores; two performance cores and four efficiency cores, the same number that the iPhone X's A11 Bionic had. But Apple says that the A12 Bionic's two performance cores are up to 15 percent faster, and the four efficiency cores use up to 50 percent less power.
CPU and graphics speed
To gauge the processing and graphics speed to compare against past iPhones, we ran several benchmarking tools on the iPhone XS and iPhone XS Max. You can read our complete benchmark analysis of the iPhone XS and iPhone XS Max, but we'll sum them up here.
Results with Geekbench 4 showed about a 13 percent boost in single-threaded performance with the iPhone XS and iPhone XS Max over the iPhone X, which is close to the 15 percent increase Apple claims. The multi-core increase was a more modest 10 percent.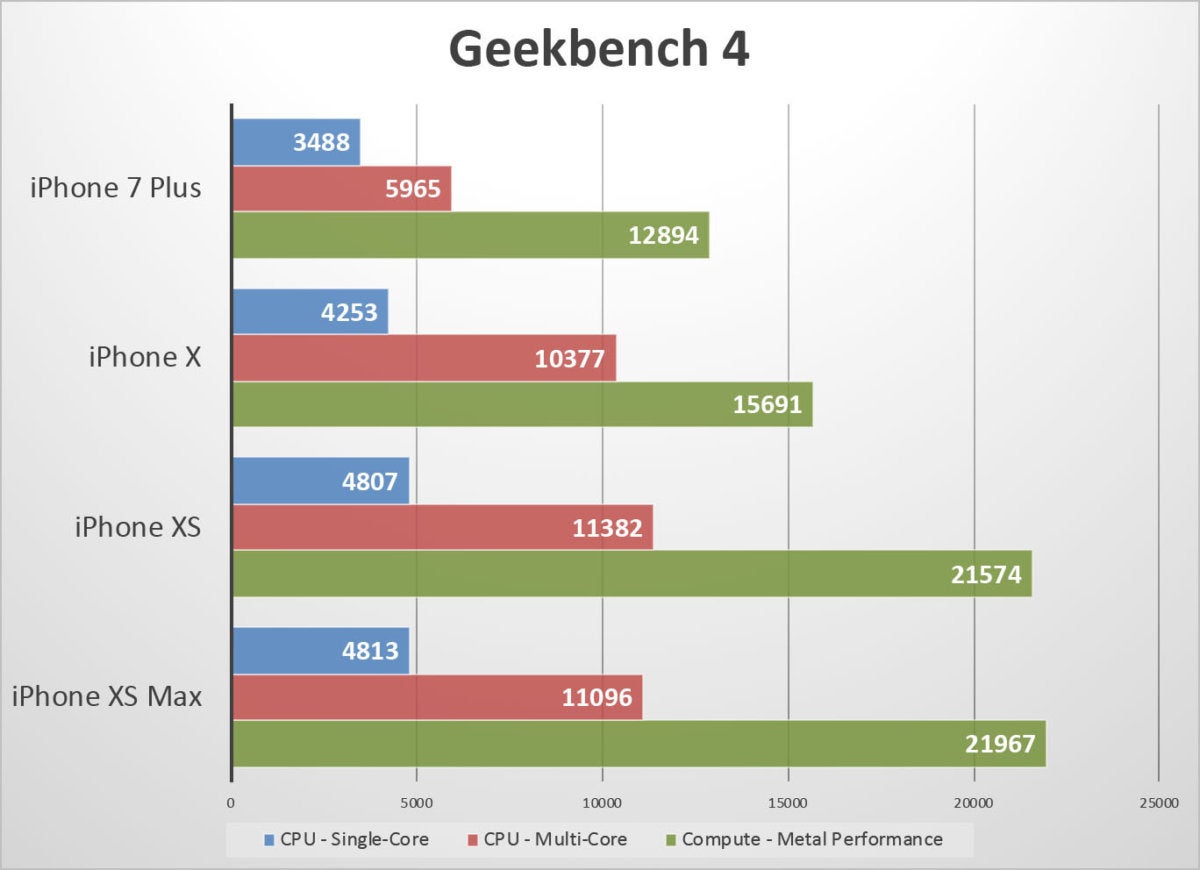 In graphics-based benchmarks, Geekbench results with its Metal-based compute test showed a 40 percent increase over the iPhone X; Apple states that the iPhone XS is capable of up to a 50 percent graphics improvement. When we tested with the 3DMark Sling Shot Extreme test, we saw results that were the same across the old and new phones, but we saw an improvement in the 3D Mark Ice Storm Unlimited test. The Sling Shot Extreme test probably hits a memory and cache bottleneck that affects performance.
Cellular and Wi-Fi speed
To test the connectivity performance of the iPhone XS and iPhone XS Max, we used the Speedtest app. Granted, there are a great many variables that affect wireless connectivity, so your experience may differ from ours. You can read our complete analysis of iPhone XS and iPhone XS Max networking performance, but our summary is as follows.
In our Wi-Fi tests, we saw an improvement in download speeds, sometimes as high as a 45 percent increase. Our upload speed saw much smaller boosts, if any.
With cellular, we were able to test two carriers, Verizon and T-Mobile. We saw a boost in download speed with T-Mobile-as much as 77 percent from the Macworld San Francisco office, but a less-dramatic-but-still-impressive 26 percent increase in suburban Sacramento, California. Compared to an iPhone 7 Plus, Verizon's download speed was 40 percent better on the iPhone XS Max when we tested in a hilly, residential part of San Francisco.
Not long after the iPhone XS release came reports of Wi-Fi and LTE connectivity problems. We haven't experienced reduced or dropped coverage, but it's a situation worth watching.
Anecdotal speed impressions
Besides all the benchmarks, there's the feeling of performance while you're using the phone, the subjective impressions that you can't really measure with numbers. For example, the improved Neural Engine in the iPhone XS (designed for machine learning algorithms) provides a much faster and smoother experience with Face ID, Animoji, and augmented reality apps. Turning on the phone and launching apps both seem as fast as with the iPhone X. Graphics performance felt the same, too, whether it was watching videos saved to the phone, scrolling, switching screens, etc.
Camera improvements
The iPhone XS and XS Max have the same back cameras, which have the same specifications as the iPhone X: 12-megapixels resolution, dual lens system, 51mm telephoto with a ƒ/2.4 aperture, 2x optical zoom, 10x digital zoom, and optical image stabilization. There is a difference in the wide-angle lens: it's 26mm with a ƒ/1.8 aperture, while the iPhone X had a 28mm lens with the same aperture. The result is that you get wider shots with the iPhone XS. It also has a larger sensor that captures more light.
These are my general impressions of the iPhone XS camera. We have video that takes a closer look of how the XS fares against the Google Pixel 3, LG V40, and Huawei P20.
I was happy with the results of the iPhone X camera, and the iPhone XS fortunately is a good improvement. It produces very pleasing results with great color, and it seems to do a better job at fine detail. The iPhone XS camera also seems like it is more capable of handling different lighting situations than the iPhone X.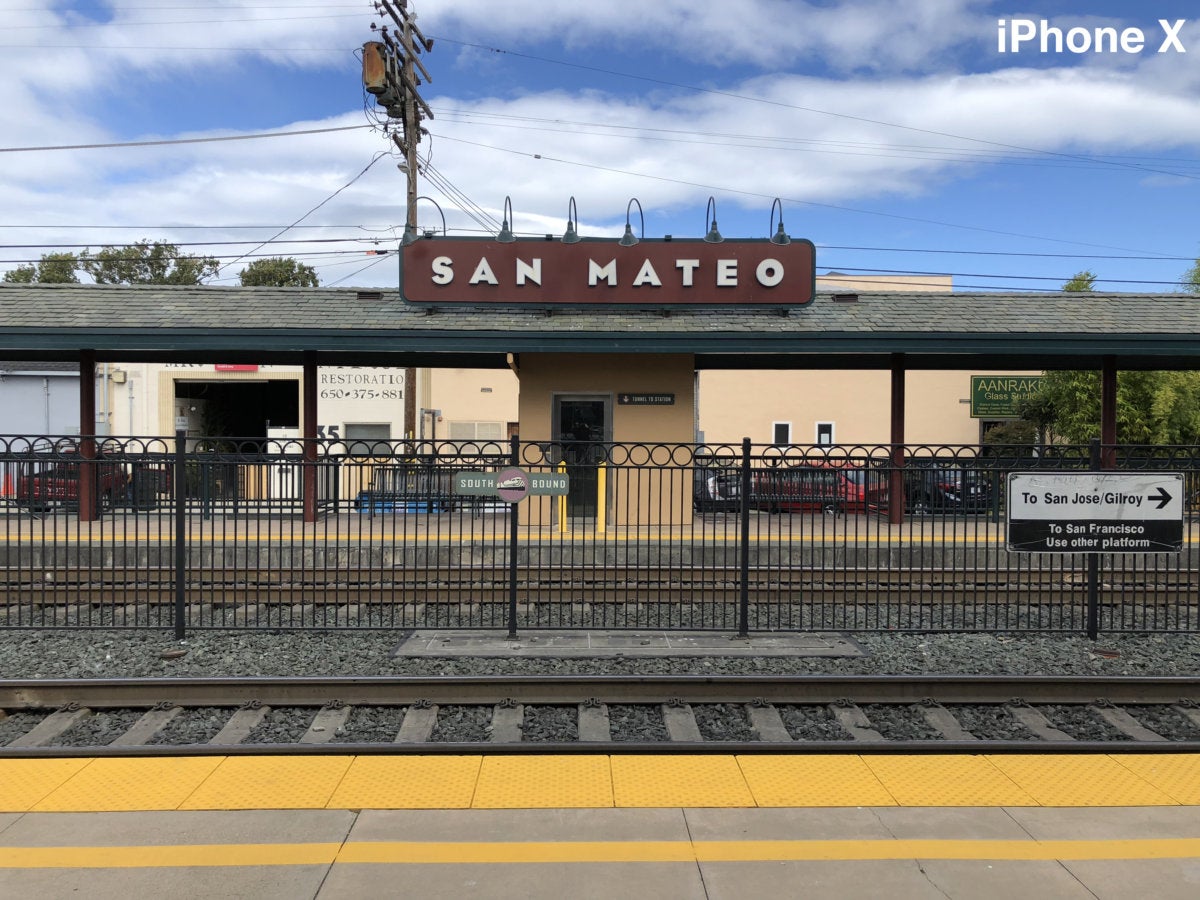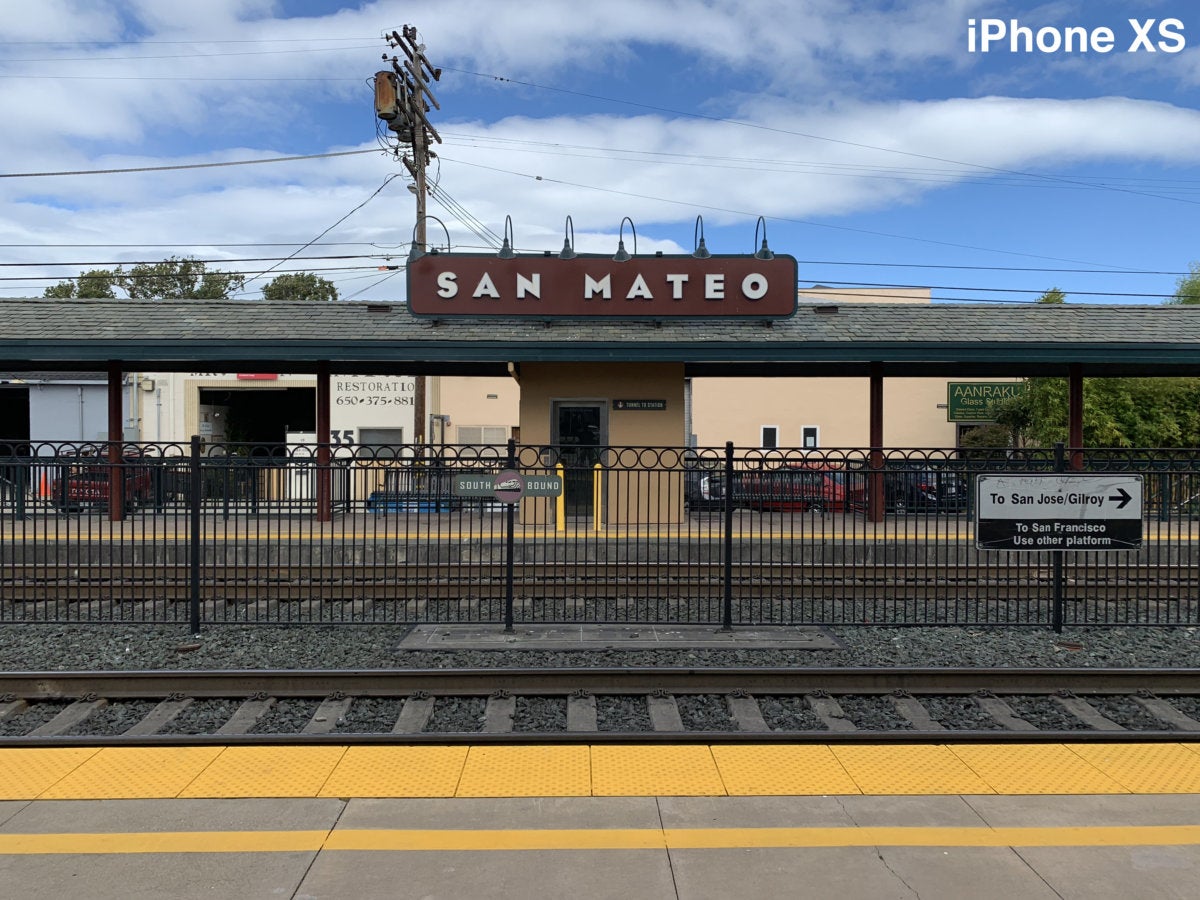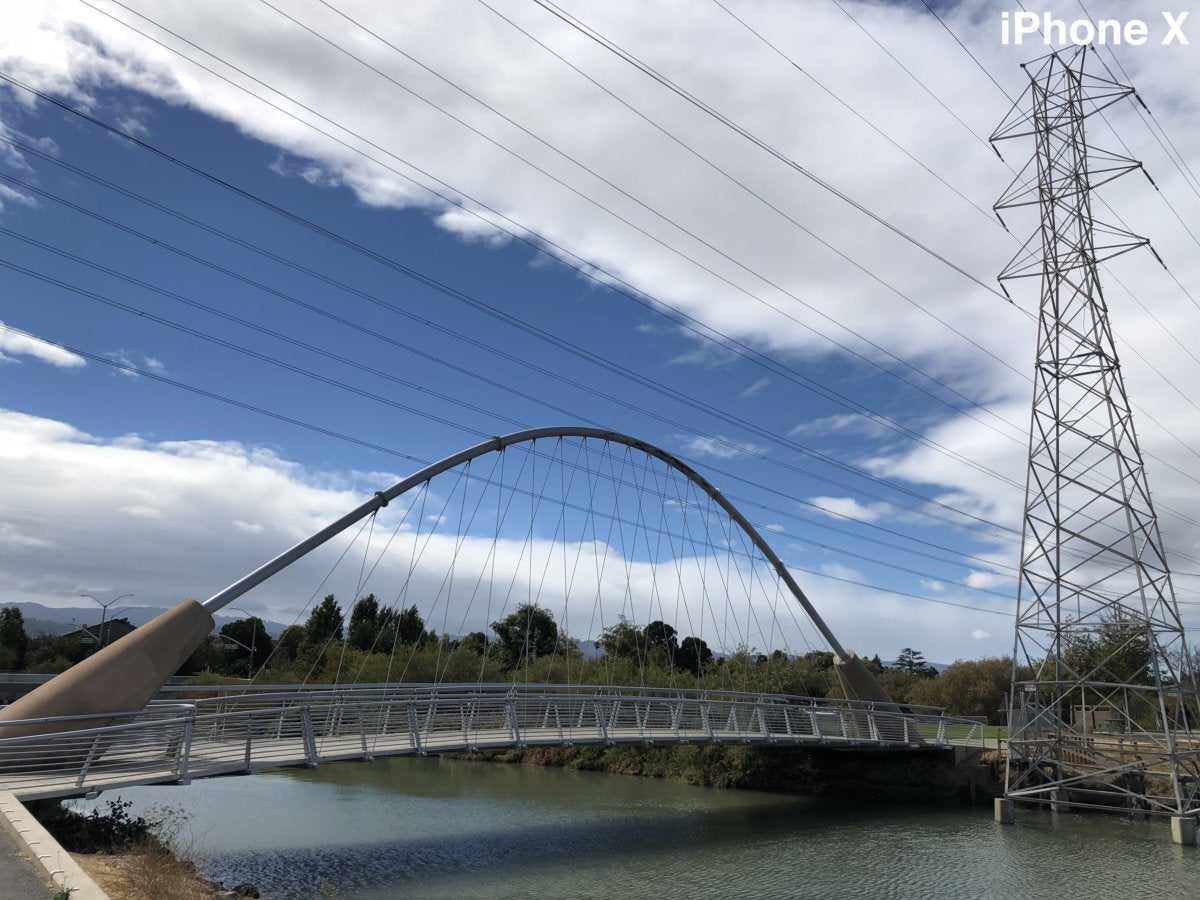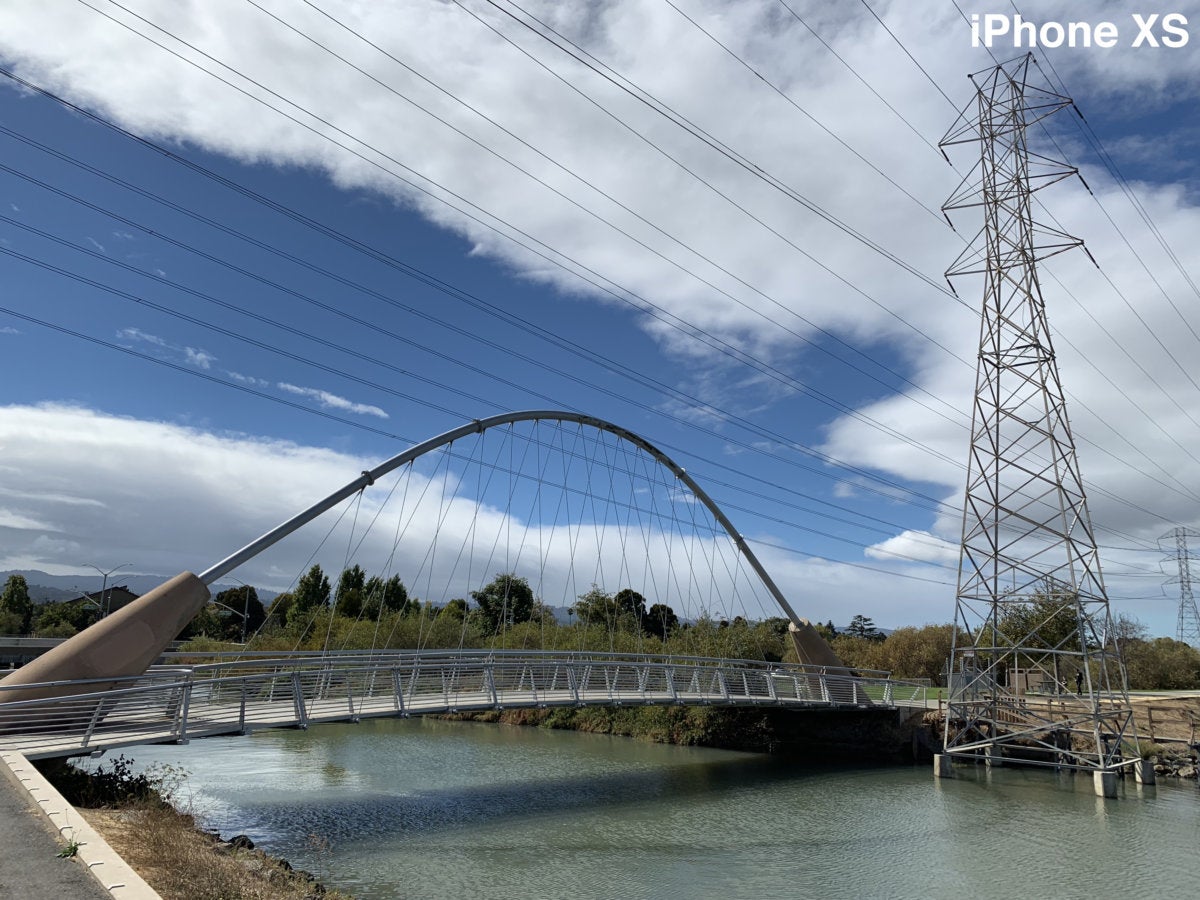 That seems especially true with pictures in extreme low light. Pictures from the iPhone XS had better sharpness and a lot less noise than those from the iPhone X. In many pictures I took, the differences were dramatic. The new Smart HDR feature probably has much to do with the better results. Since Smart HDR relies on the A12 Bionic processor, it's new to the iPhone XS, and will be on the upcoming iPhone XR.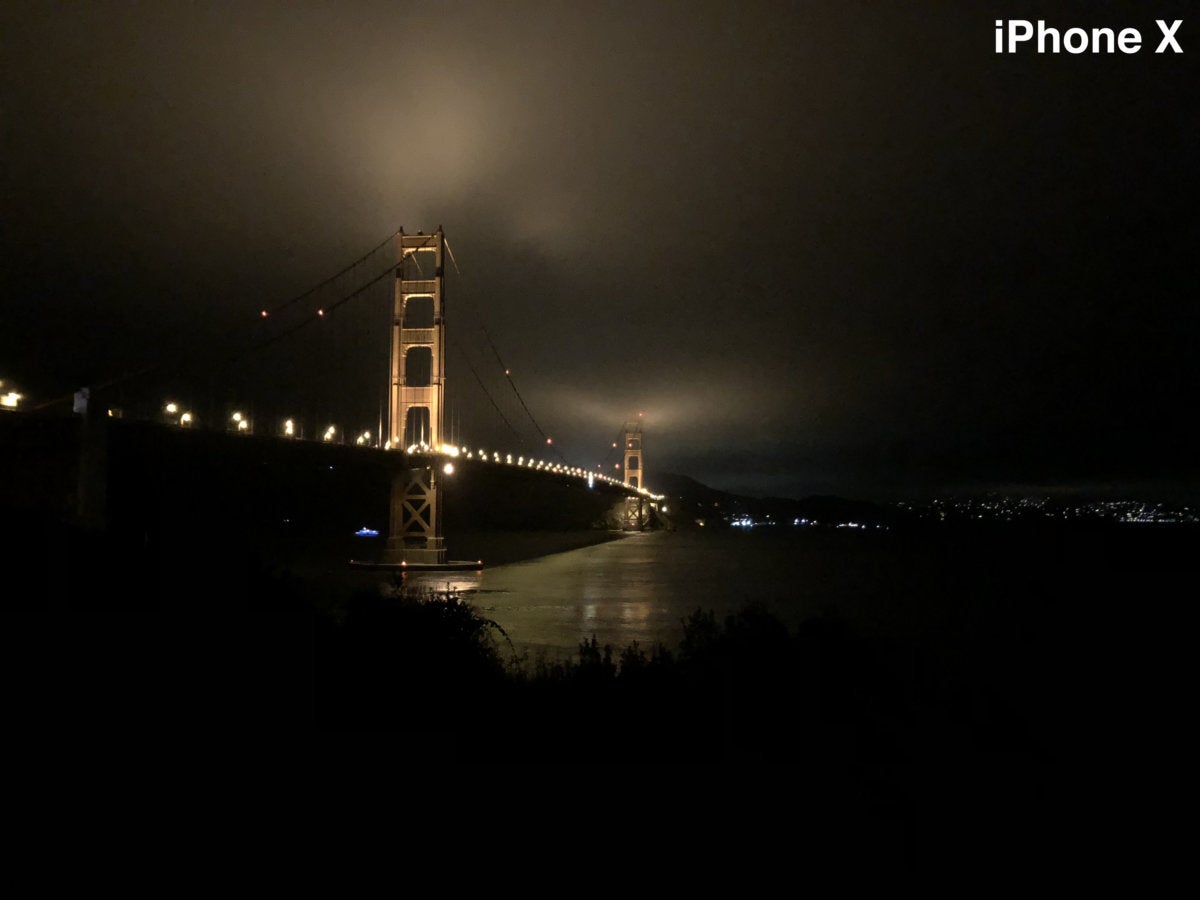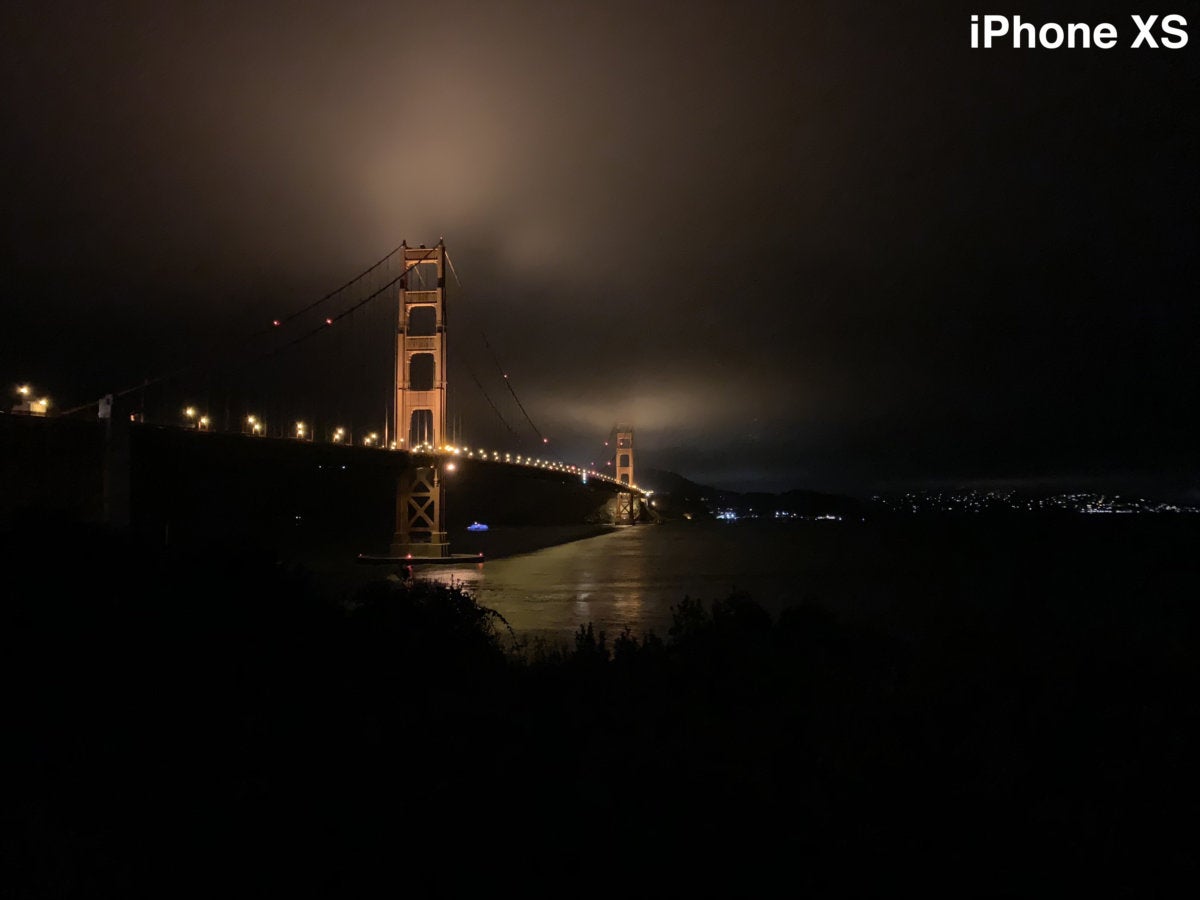 Depth Control
Another new camera feature is Depth Control, which allows you to adjust the depth of field in portrait mode shots.
When you edit a portrait mode shot, a Depth Control adjustment tool appears below the picture. The tool provides ranges from ƒ/1.4 to ƒ/16, and you can preview the results as you adjust the tool. This are simulated f-stop values; the actual lens apertures are always fixed at f/1.8 and f/2.4.
Depth Control is a great tool to have, and it can increase the impact of your foreground subject. But the challenge with tools like this one is to use it properly. It's quite possible to overdo the effect, resulting in a picture that doesn't quite seem right or even look fake—of course, if that's the look you're going for, then the power to do it is in your hands.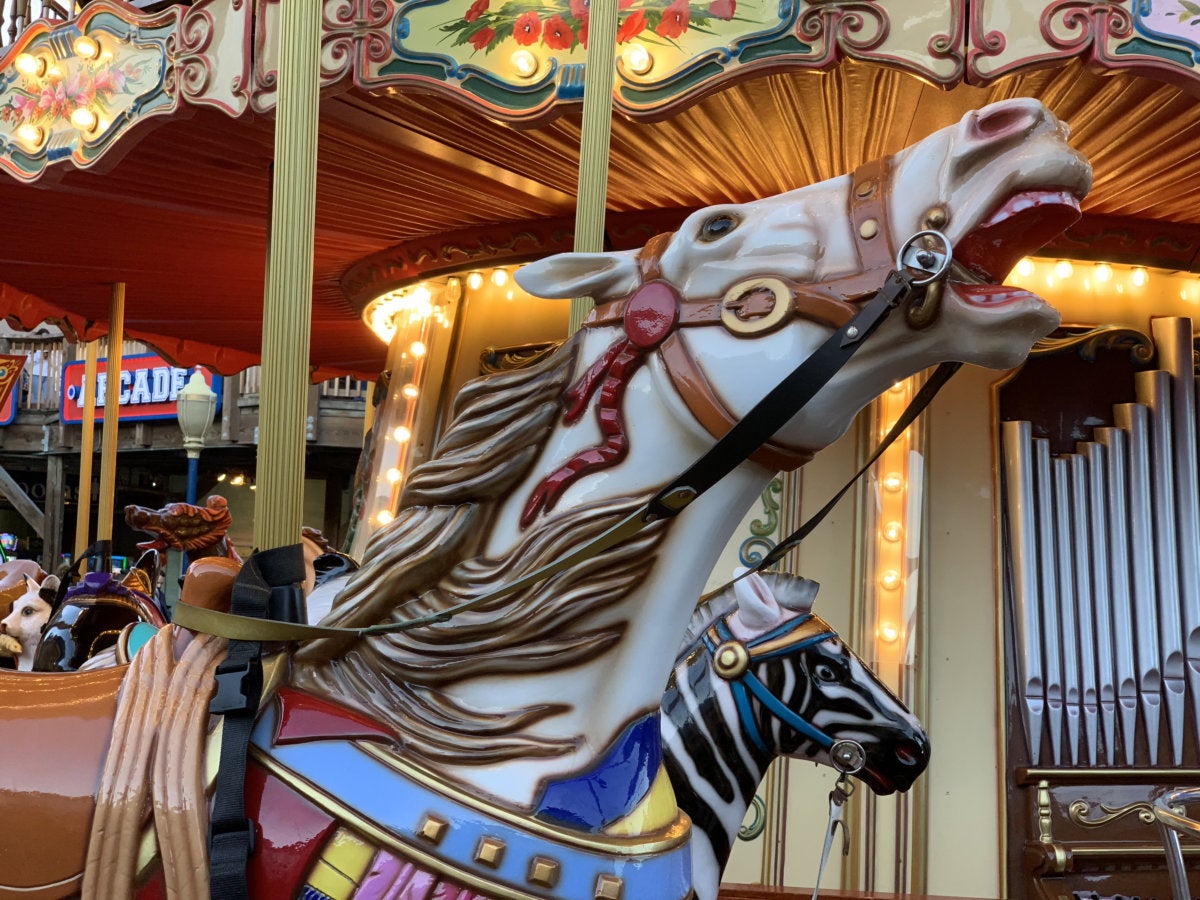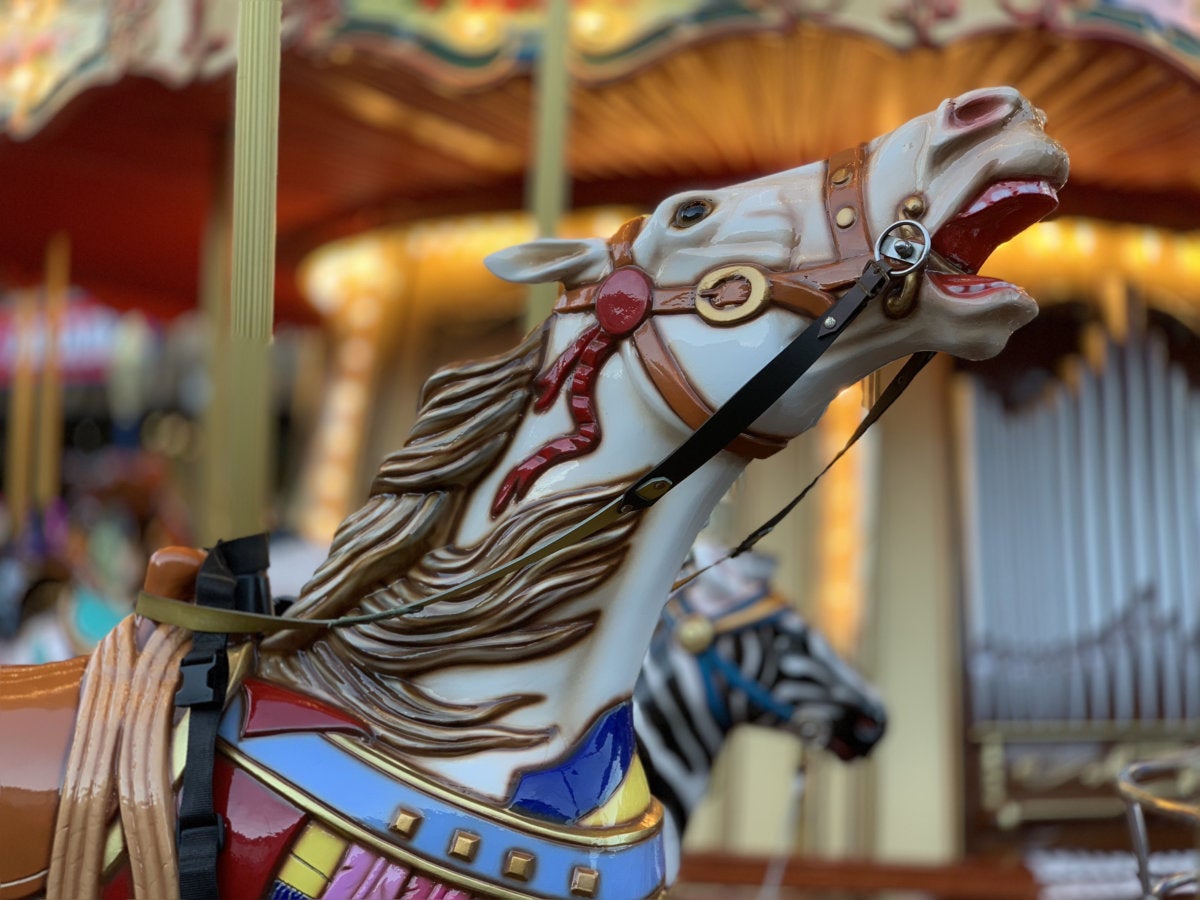 TrueDepth camera and over retouching
The TrueDepth camera (a.k.a the selfie cam) on the iPhone XS and iPhone XS Max is the similar to that on the iPhone X. It has a 7-megapixel resolution with a ƒ/2.2 aperture, and it supports Smart HDR, Portrait Mode, Portrait Lighting, and 1080p HD video. There's one significant difference: it can record 1080p video at 60 fps, up from the 30 fps maximum on the iPhone X.
Several reports have appeared on the internet showing that the iPhone XS is not only automatically retouching skin tones, but it's going to the extreme with softening and smoothing out skin a point where the results can look artificial. Some Macworld editors were able to produce iPhone XS selfies that displayed some retouching when compared to older iPhones; this article shows an example where a selfie taken with an iPhone XS Max displays more skin smoothing than a selfie from the iPhone X. As for me personally, I haven't been able to produce selfies that obviously looked retouched, and I'm not sure why.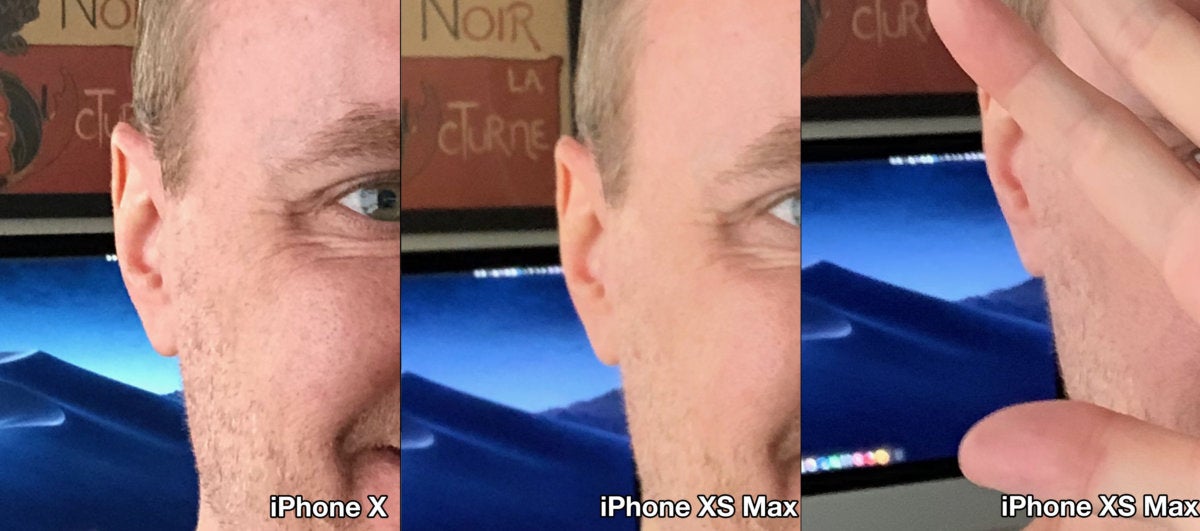 Apple hasn't commented on what's going on here, and since it's been reported that the over retouching happens even if you turn off Smart HDR, one of the theories that attempts to explain what's happening is that Apple is over doing it with noise reduction. Sebastiaan de With, the design of the Halide iOS camera app, wrote in a blog post that he believes that the iPhone XS's "aggressive noise reduction" causes the effect that people are seeing. The good news is that this is the kind of problem that can be adjusted in software, so don't be surprised if Apple adjusts this.
Video
The iPhone XS and iPhone XS Max have the same video capabilities as the iPhone X. The rear camera can shoot 4K video at 24 frames per second, 30 fps, or 60 fps. If you want to shoot at 4K at 60 fps, you should consider the 512GB storage capacity, so you shoot without worrying too much about space. You can also shoot at 1080p and 720p, or slow-motion at 1080p resolution and either 120or 240 fps.
Since the iPhone XS has a slightly wider wide-angle lens, your videos will be recorded at a wider angle than with previous iPhones.
A major difference with video recording on the iPhone XS is actually with audio. The XS now records sound in stereo, and audio played from the XS is overall much improved over the iPhone X, with better clarity and volume. If you use your iPhone to record a lot of videos and care about sound quality as much as video quality, this upgrade alone is worth serious consideration. (I'm the family documentarian, so quality counts and this is an upgrade that's exciting.)
The matter of size
Measuring 5.7 x 2.8 x 0.3 inches, the iPhone XS has the same dimensions as the iPhone X. At 6.2 ounces, the new phone is 0.1 ounce heavier. If you're used to an iPhone X, you're not going to feel a difference with the iPhone XS.
The iPhone XS Max measures 6.2 x 3.1 x 0.3 inches, which is a tiny bit different than the iPhone 8 Plus, and at 7.3 ounces, the iPhone XS Max is about .2 ounces heavier. But if you've used an iPhone Plus in the past, the iPhone XS Max is practically the same size.
If you like big phones, you have a couple of choices here. But if you like small phones, you don't have a choice anymore. Apple has discontinued the iPhone SE, and there's no official word from Apple if a follow-up to the phone with a 4-inch screen is in the works. The upcoming iPhone XR, with its 6.1-inch display, falls between the iPhone XS and XS Max in terms of size. If you want the smallest iPhone available, you might be able to find an iPhone SE with your carrier, but otherwise, you'll have to opt for the iPhone XS, iPhone 7, or iPhone 8. (The iPhone 7 and 8 have 4.7-inch displays and their overall size is only marginally smaller than the iPhone XS.)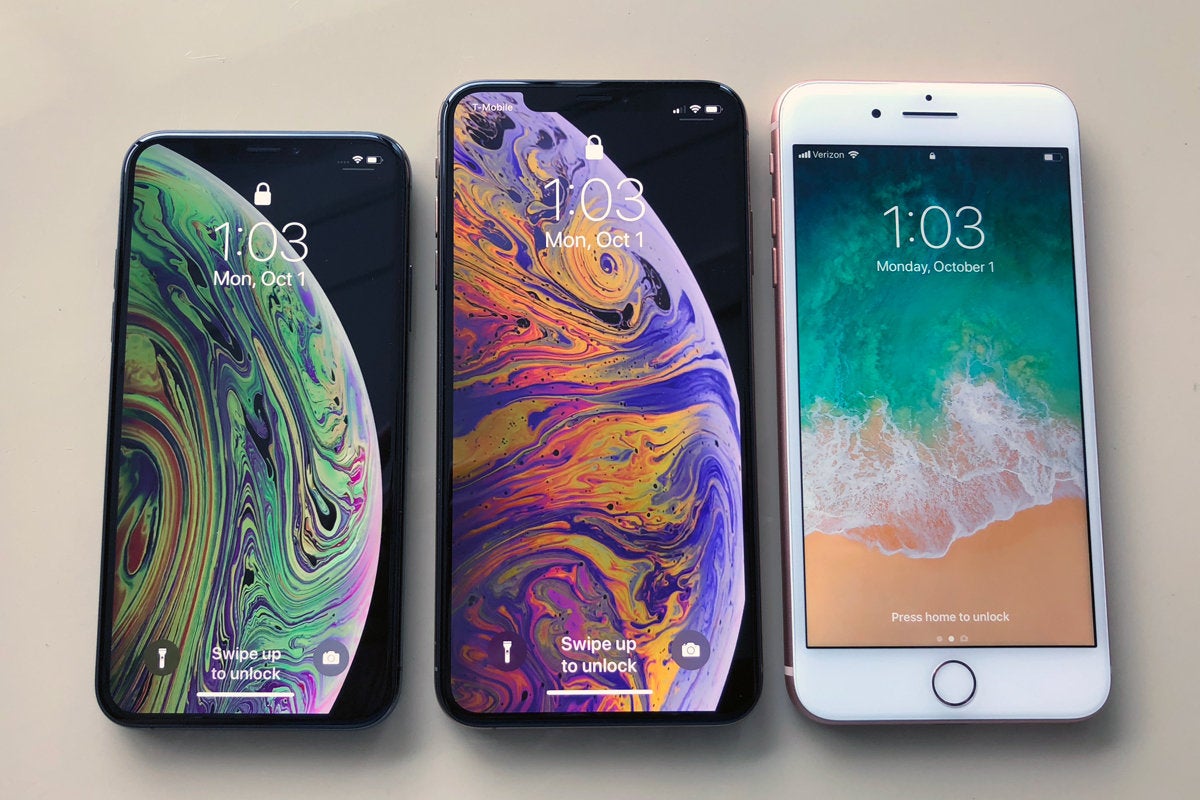 Glorious OLED displays
Tied to the size of the new iPhones are the displays, which are organic light-emitting diode (OLED) displays. The iPhone XS's measures 5.8-inches on the diagonal, the same as the iPhone X. In my review of the iPhone X I said that that display was the best I've been on an iPhone. Coming up with negatives about the iPhone XS display is difficult, because it looks so damn good. Colors are great, text is sharp, and blacks are rich. Maybe that's not surprising, because it's the same display, but my thoughts about iPhone X—and thus, the iPhone XS—being the best display I've seen on an iPhone have changed. It's not the best anymore.
The best display on an iPhone belongs to the iPhone XS Max. There's nothing technically different about the iPhone XS Max's screen, it's just bigger, and that means it leaves a bigger impression on anyone who looks at it. When I first started to really use the iPhone XS Max (not just look at it, but really use it), it was thrilling, as silly as that may sound. The sight of the 6.5-inch screen taking up practically the whole front of the device, the rich colors, the deep black, the sharp detail, put me in awe for a while. Phones this size aren't for everyone, but the impression the iPhone XS Max's screen makes could change a few minds.
When the iPhone X made its debut, there was a little bit of concern about the possibility of screen burn in, the "ghost" effect where you can see of elements that are often on the screen. This is more likely to happen with OLEDs, but after almost a year of owning the iPhone X, I haven't noticed any burn-in at all. So that sets up my expectations for the iPhone XS and iPhone XS Max; I don't expect to see burn-in any time soon. Apple does have a knowledgebase article about burn-in and how to stave it off as much as possible.
Battery life
To test for battery life, we used Geekbench 4's battery test. Granted, this test is more about running processes to drain the battery than it is about replicating real-world usage. People use their phones differently, so battery life varies per person. But by running the same test on all phones, we can at least get an idea of the improvement you'll see.
Apple says that the iPhone XS offers 30 minutes more battery life than the iPhone X, even though the XS has a slightly smaller battery–the iPhone's XS battery has a size of 2,658 mAh, while the iPhone X is 2,716 mAh. Our Geekbench 4 results show that the iPhone XS lasted 7 minutes longer than the iPhone X. Again, Geekbench 4 is closer to a torture test than a real-world example, and with that in mind, it's not much of a stretch to think that the iPhone XS could actually reach the 30 minutes extension that Apple states.
The iPhone XS Max has the biggest battery we've seen in an iPhone, with a size of 3,174 mAh. The large battery in the iPhone XS Max lasts 1.5 hours longer than the iPhone X, according to Apple. In our Geekbench 4 test, the iPhone XS Max lasted 57 minutes longer than the iPhone X. Reaching Apple's stated 1.5 hours of extended battery life under real-world conditions shouldn't be a problem for the iPhone XS Max.
Get more in-depth analysis of our battery test results.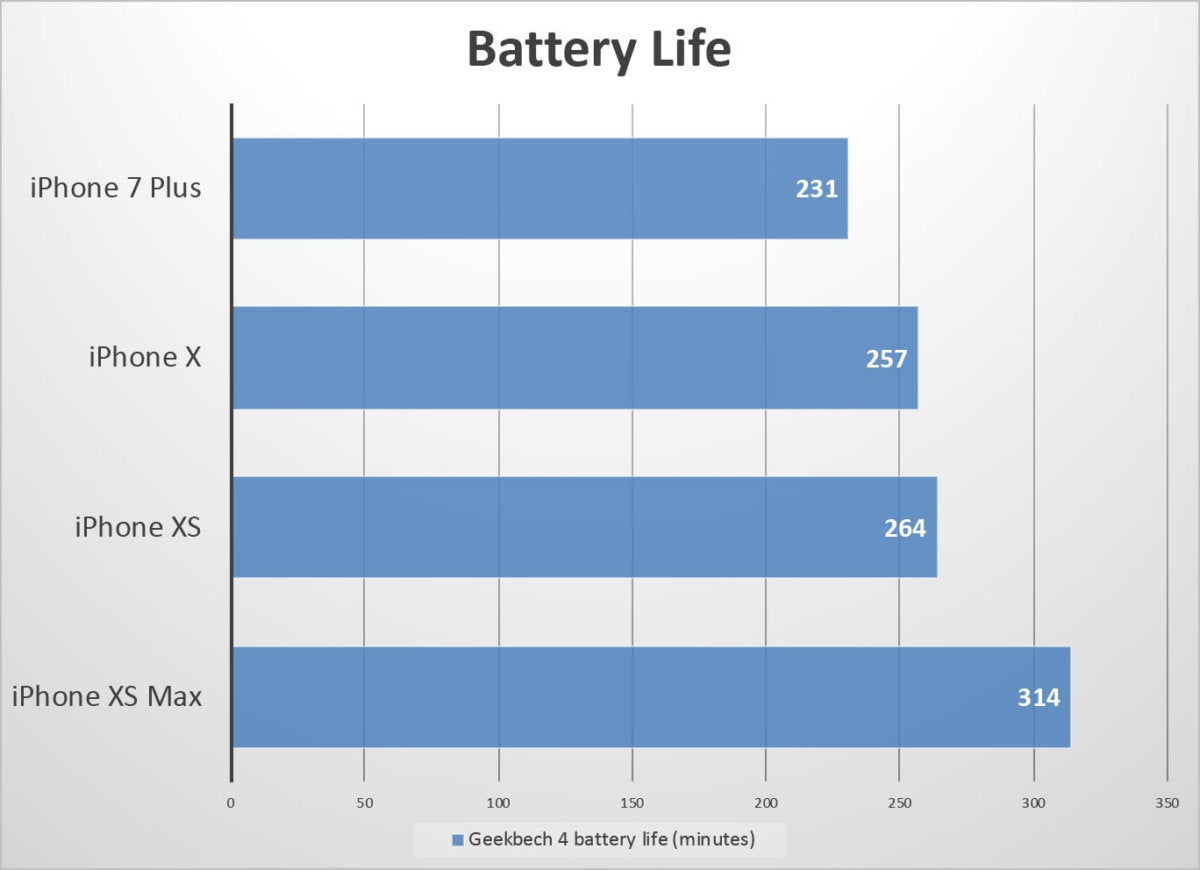 As for my experience in everyday use, I should first say that I tend to be harder on battery life than the average user, because I'm an avid Pokémon Go player. If I'm walking during my commute or with my dog, I have the game running, and it takes its toll on battery life. With the iPhone XS Max, I've been ending the day with 47 percent left on the battery, and on the iPhone XS, it's 40 percent. That's pretty good.
Some users report that they're having problems charging the new iPhone, where the phone doesn't respond when the Lightning cable is plugged in. Some reports say that the problem is also happening with older iPhones, which leads to the speculation that the problem is with iOS 12. At Macworld, we haven't experienced problems charging our new iPhones, or older iPhones and iPads. This could be another issue we see fixed in an iOS 12 update.
The notch and gestures
If you didn't upgrade last year, and this year you're contemplating a move from an iPhone 8, 7 or older phone, you might be wondering about the notch, gestures, and how it affects how you use the iPhone. Much of what I said about the notch and gestures in the iPhone X review still applies. But in case you don't feel like looking up that article, I'll summarize here.
A lot has been said about the notch and it intrusion into the screen layout. It was a distraction for me at first, but I quickly got over it, and I don't notice it anymore when using the iPhone in portrait mode, which is most of the time. Sometimes it bothers me when I'm watching a video in landscape orientation, but in everyday use, it's not an issue.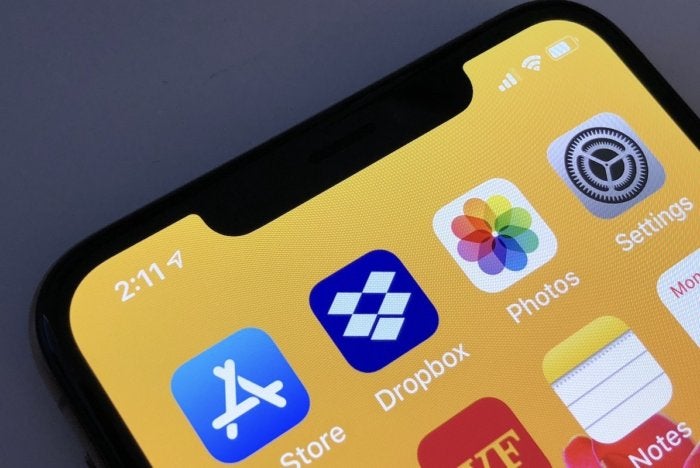 In case you don't know, the notch is there because it houses the TrueDepth camera system for Face ID, and if you're new to Face ID and wonder how it works, I'll refer you to the Face ID section of the iPhone X review. Its implementation hasn't changed, except that with iOS 12, you can now set up Face ID with an Alternative Appearance, which can be used to register a second person to Face ID.
As for gestures, you'll need to learn new ways to access the phone without a Home button. Prepare yourself for an adjustment period—the length of that period is different for everyone. I leaned them quickly, and we have a list of the new gestures you'll need to learn. But it's really not that difficult to get used to swiping up from the bottom of the screen to get to the Home screen, or swiping down from the upper right corner of the screen to get to Control Center.
Hardware design
The iPhone X design works well, so Apple didn't deviate from it for the iPhone XS. Next to each other, the two phones are identical. Both the iPhone XS and the iPhone XS Max have glass fronts and backs and support Qi wireless charging.
There is one issue with the iPhone XS, however. Even though it's the same size and shape as the iPhone X, the camera bump on the XS is different; it's slightly wider and a tad longer. If you have an iPhone X case with a back-camera cutout that's flush or very close to the camera bump, it may not fit the iPhone XS properly. I have an iPhone X case with a camera cutout that fits the X's camera perfectly, and with the iPhone XS, the cutout didn't fit properly. Time for a new case.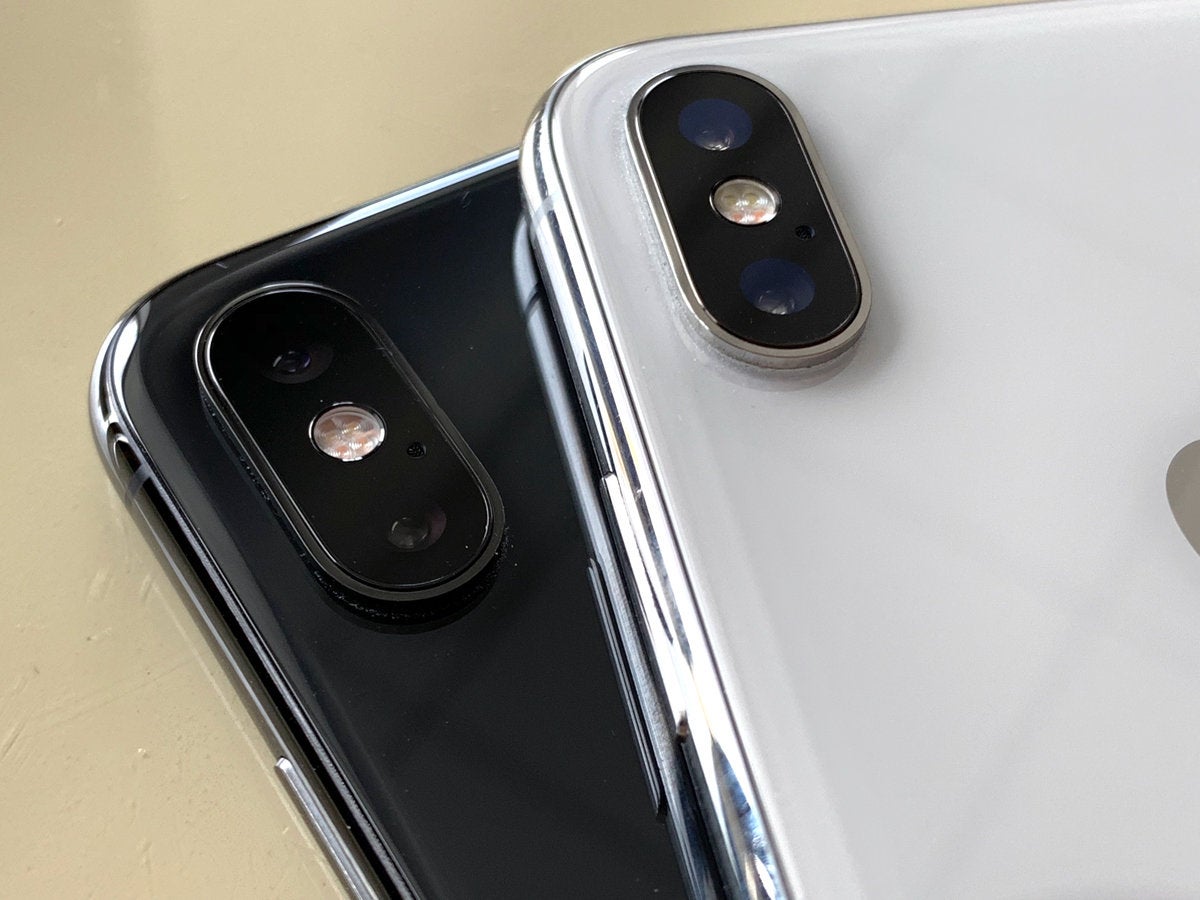 Apple offers three colors: space gray, white, and gold. I have a space gray iPhone XS, and a gold iPhone XS Max, and the gold is absolutely stunning. It has a delightful shimmer to it, and the accents that the stainless-steel band provide compliment it nicely. It's my favorite color combination.
Bottom line
The iPhone X was a smartphone that re-energized the iPhone line after what seemed like a long period of stagnation. So the iPhone XS and iPhone XS Max have a difficult job following up a tough act. But the iPhone XS and iPhone XS Max do a great job on their own and they do not disappoint.
If you already have an iPhone X, you probably won't find a super compelling reason to upgrade to an iPhone XS. The main difference is speed: is a CPU boost of up to 15 percent (according to Apple) over the iPhone X convincing enough? Maybe not. The graphics and AR performance boost is more substantial, so if you're heavily into iPhone games or AR apps, you could seriously consider upgrading. The iPhone XS takes better pictures than the iPhone X, but the improvements are situational and may not necessarily feel like a big payoff for most people. All things considered, you'll be fine sticking to your iPhone X for at least another year, when the upgrade payoff will be greater.
If you're thinking about an upgrade from an iPhone X to an iPhone XS Max, however, the story is more convincing. The bigger screen leaves a bigger impression than I imagined, and I still get a bit of a thrill just using the iPhone XS Max.
The iPhone XS and iPhone XS Max are most compelling for users of iPhones that are older than the iPhone X. The improvements to the processor, camera, and display have more impact for owners of the iPhone 7 and older (or even an iPhone 8, which is only a year old). This is the way of the iPhone going forward, and if you didn't get the iPhone X, the XS is a good place to jump on the bandwagon.
If the price is a big consideration—at with prices starting at $999, it probably is—you might considering waiting a few days for the iPhone XR, Apple's upcoming less-expensive model. It has the same processor as the iPhone XS, but it has a single-lens back camera instead of a dual-lens one, and it also uses a lower-resolution LED display. At $749, its price is a more friendly.
If you don't want to wait—either for the iPhone XR or next year's phone—go for the iPhone XS. You'll be very happy.
Macworld's Jason Cross managed the benchmarks for this review.
Best Prices Today
Roman has covered technology since the early 1990s. His career started at MacUser, and he's worked for MacAddict, Mac|Life, and TechTV.