At a Glance
Expert's Rating
Pros
macOS Mojave support, including Dark Mode
Up to six times faster than competing NTFS drivers
Free upgrade from previous version
Cons
No new features added
Menu bar app separate from Paragon ExtFS for Mac
No support for OS X 10.8 Mountain Lion or earlier
Our Verdict
Best Prices Today: NTFS for Mac Mojave Edition
Insert a thumb drive formatted with Microsoft's venerable FAT (File Allocation Table) file system into your Mac's USB port, and you'll have no problem reading or writing data to that volume, as long as those files are under 4GB in size. Likewise, Microsoft's newer exFAT (Extended File Allocation Table) works equally well on macOS, with maximum file sizes that exceed that of even the most capacious hard drives.
For whatever reason, Apple has chosen to handicap perhaps the most common file system in use today on Windows PCs. Buy a new hard drive, and you'll probably find that media comes preformatted as NTFS (New Technology File System)-which isn't a huge problem unless you need to write data to that volume.
Paragon NTFS for Mac: The missing link
Unbeknownst to many Mac owners, NTFS write support natively exists deep inside Mac OS X (as well as macOS), requiring a few Terminal commands to enable. But Apple has never officially supported this functionality, and with good reason: it's glacially slow at best, completely flaky at worst.
Open-source drivers like FUSE make the process easier and more reliable, but slow data transfer speeds make it not worth the trouble. That's why I've happily installed NTFS for Mac over the years. Not only does Paragon's proprietary driver enable writing to NTFS-formatted volumes, it does so up to six times faster than the competition – typically as fast (or faster) than the Mac's native HFS+ file system.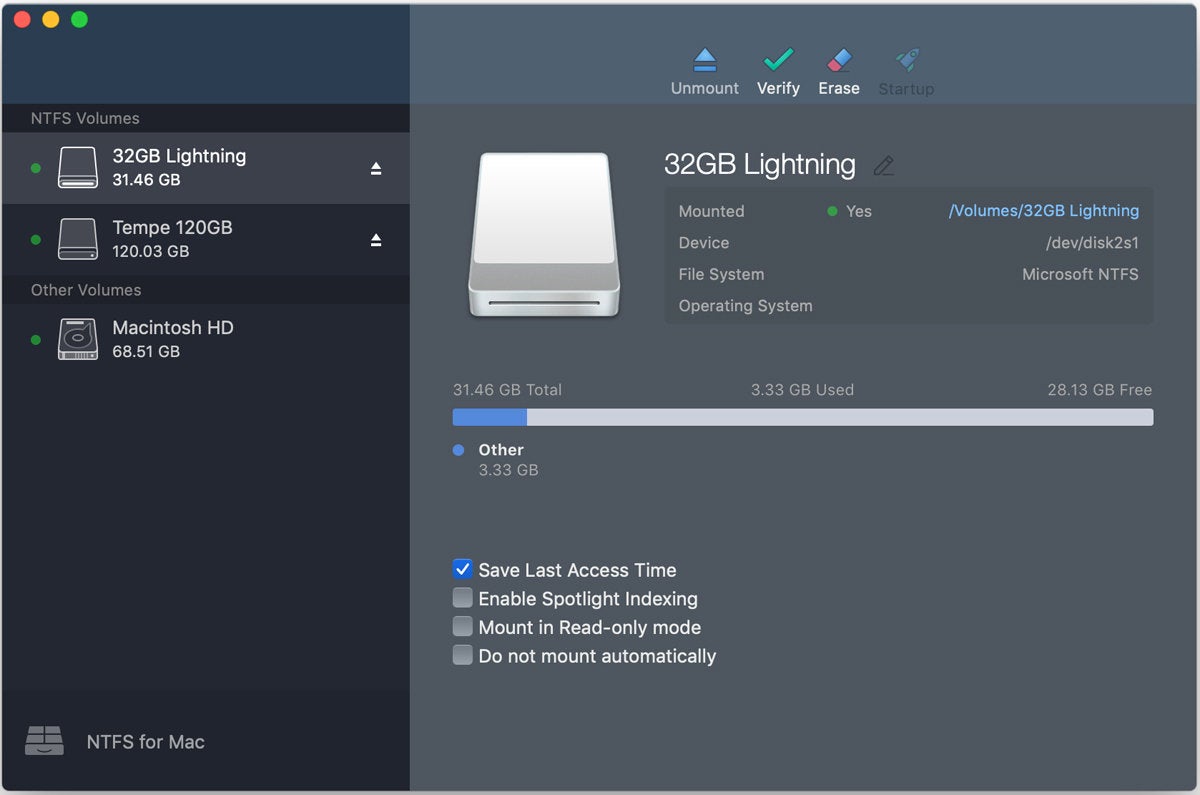 Last year's NTFS for Mac 15 debuted a fresh new look for the popular utility that made it easier to use, along with a convenient, optional menu bar app to unmount volumes. More importantly, version 15 restored the ability to format NTFS disks directly in Paragon's own software-functionality which was limited to Apple's Disk Utility in version 14. (The latter option also still works.)
Now Paragon has upgraded NTFS for Mac with full support for the latest macOS 10.14 Mojave. A free update for owners of NTFS for Mac 15 (and a mere 20 bucks for new buyers), this so-called "Mojave Edition" isn't a completely new version, but rather improves upon the previous release in a few small ways.
Mojave mojo
With the release of macOS 10.14 Mojave, Mac owners across the galaxy will be turning to the dark side-that is, toggling on the new Dark Mode in System Preferences. While there are likely to be more than a few apps at launch yet to be updated in the wake of Apple's new "lights out" approach, Paragon NTFS for Mac won't be one of them, assuming you update to version 15.3.42 or later, that is.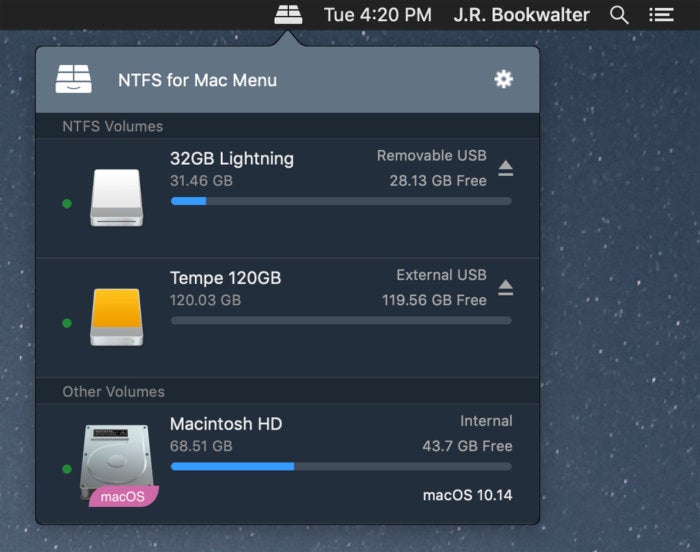 Truth be told, NTFS for Mac 15 already offered its own Light or Dark Mode preference last year, along with the ability to use the system appearance setting alongside the dark menu bar and Dock option in macOS 10.13 High Sierra. But this darker look has been further refined, offering a more satisfying, Mojave-friendly appearance.
As an application, NTFS for Mac provides a row of buttons that Unmount, Verify, Erase, or choose the selected disk as a Startup volume when applicable. Mounted NTFS volumes are separated into their own category at the top of the sidebar, where users can enable less frequently-used options like Save Last Access Time, Enable Spotlight Indexing, Mount in Read-Only mode, or Do Not Mount Automatically as needed.
Whether you're a hardcore Boot Camp user or just need to occasionally write to Windows-formatted media, this update keeps things working at peak performance long after Apple ships Mojave to the masses.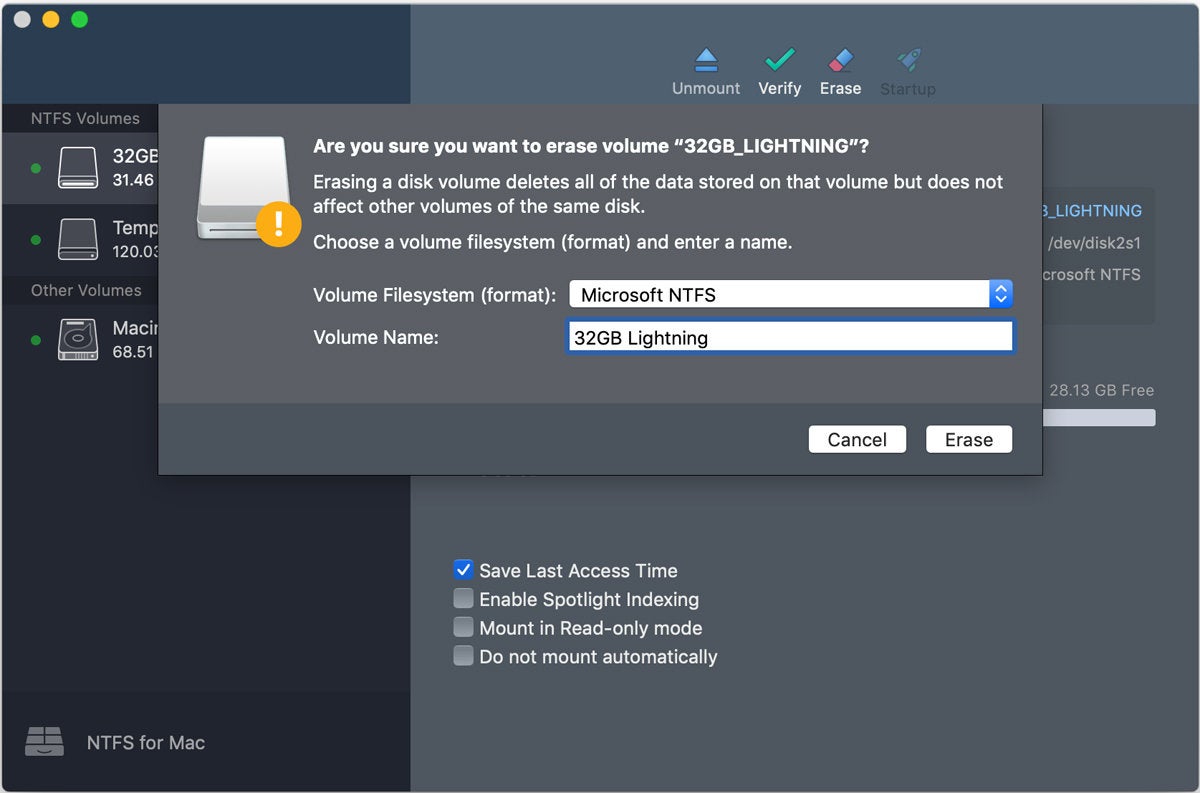 Bottom line
A no-brainer upgrade for those installing macOS 10.14 Mojave, Paragon NTFS for Mac remains the best cross-platform utility money can buy, especially now that it plays nice with Apple's new dark mode.
Best Prices Today: NTFS for Mac Mojave Edition