At a Glance
Expert's Rating
Pros
Outstanding sound quality
Bespoke materials and excellent build quality
USB-C charging
Control buttons are easy to find and use
Bluetooth 4.2 – aptX
Flawless connectivity during testing
Cons
Underwhelming battery life
Battery case is a scratch and fingerprint magnet
Expensive
Our Verdict
Best Prices Today: Master & Dynamic MW07
When it comes to tech, we pay for the compromises that we're willing to live with. Apple's AirPods, for example, are reasonably priced, pair effortlessly and sound… okay. But they let in a ton of outside noise and their design makes them uncomfortable to wear for long listening sessions. Jaybird and Bose have brought truly wireless earbuds to market that are designed to appeal to athletes. But they favor situational awareness over passive noise cancellation and compromise good looks for durability.
Many companies flog inexpensive earbuds that look good but sound terrible. Some buyers prioritize fashion, branding, or price over sound quality. Perfect sound simply costs more money than most people are willing to pay, and compromises have to be made in the name of keeping costs as low as possible. What happens when a set of truly wireless headphones are designed to offer the best possible listening experience, all else be damned?
You end up with Master & Dynamic's MW07. Priced at $299, they're among the most expensive truly wireless earphones that I've ever tested. They also offer the best audio experience of any that I've ever heard.
Design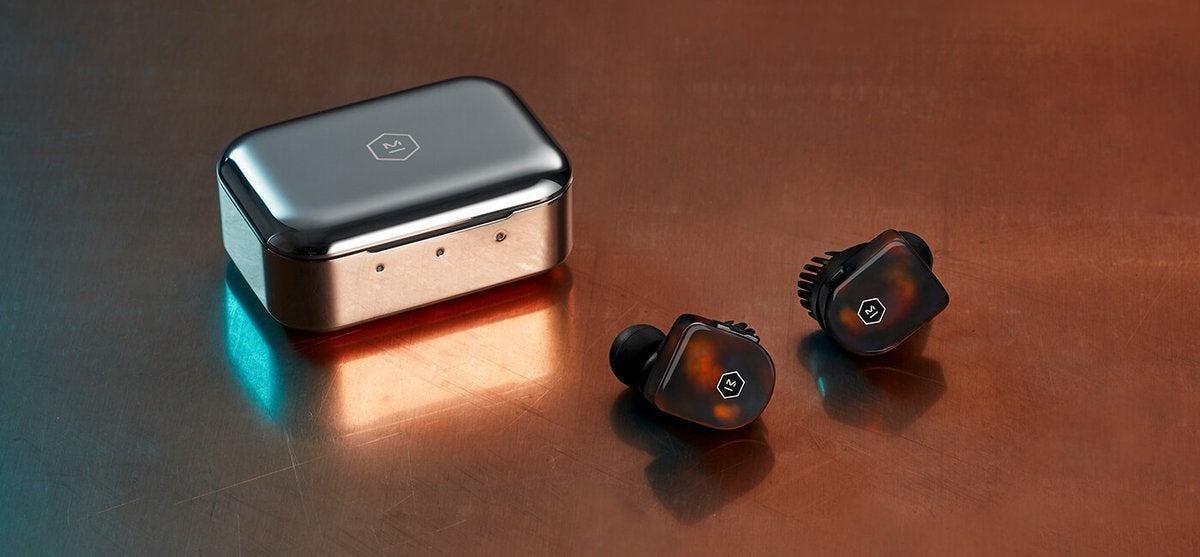 Weighing in at 0.32 ounces each, the MW07 are lighter than their 0.98 x 0.87 x 1.11-inch size would suggest. Much of this is due to the fact that Master & Dynamic chose to craft the earbuds exterior out of acetate, a lightweight, hypoallergenic material often used to make eyeglass frames. When ordering a pair of MW07, there are four different color options to choose from: Grey terrazzo, Matte black, Tortoiseshell, and Steel blue. As the acetate is mixed and polished by hand for each pair of earbuds, no two sets of MW07 look alike.
You should take some time to consider which color'll best suit your style as, with their relatively portly dimensions, the MW07 stick out from your head when you're wearing them—not as much as Bose's enormous SoundSport Free truly wireless earbuds, but they're definitely there. The pair I was sent for review are decked out in Grey terrazzo. The material is like something out of the 1950s, while the MW07's sleek lines are decidedly modern. It's a good vibe. If you plan on using the MW07 at the gym or on a rain-drenched commute, you'll be pleased to know that they have an IPX rating of 4, which means that they should stand up to an occasional drip or two.
The MW07's protective charging case is just as eye-catching as the earbuds themselves. The case's exterior is made from a highly reflective stainless steel, similar to the stuff used on the back panel of an iPod Classic. This makes it a scratch-prone fingerprint magnet. Despite keeping it in the protective cloth bag that the MW07 ships with, I found that the case quickly collected scores of micro-scratches. With time and enough abuse, the case will likely grow to look like an antique snuff box. I'm into that atheistic, but those who prefer their gear always be seen as pristine may not be thrilled. The stainless steel adds a significant amount of heft to what should be a lightweight affair. On the other hand, the slickness of the material makes it easy to slip in or out of a pocket.
Master & Dynamic states that the earbuds provide 3.5 hours of listening time. That's far less than many sets of truly wireless earbuds provide. B&O's E8, which cost around the same price as the MW07 do, provide four hours of listening on a single charge. AirPods, which cost about half as much as a pair of MW07, pack in five hours of listening time. That said, neither sound as good as Master & Dynamic' earbuds do. The MW07's charging case helps to take some of the sting out of this stingy amount of power: between the case's battery and the power the earbuds can store, users can expect around 14 hours of listening time before the charging case will need to be juiced back up, via USB-C.
User Experience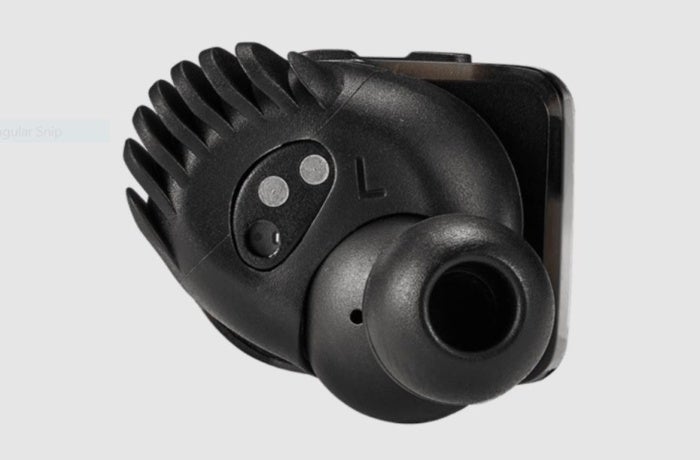 No matter how pretty a pair of earbuds might be, they're worthless if they won't fit in your ears or are uncomfortable to wear. To ensure that the MW07 won't fall out of your skull while walking around living your life, Master & Dynamic relies on soft silicon wings to help keep the earphones in your ears. That said, the company's take on fit wings is unique. Where most earbud "fit wings" look like the blade of a ceiling fan, the ones that come with the MW07 boast a low-profile design. I found that they fit fabulously and required no fiddling to get them situated my ears.
Once paired with the correct set of silicon tips (Master & Dynamic ships the MW07 with five different sizes), I found that these earbuds to be among the most comfortable I've ever tested. I was even able to fall asleep while wearing them. The MW07 come with three buttons baked into them: two on the left earbud for controlling volume and a single button on the right earbud that allows users play or pause music, skip forwards or back between tracks, or summon their smartphone's digital assistant. The buttons can be found on top of each earbud and stick out far enough that they're easy to locate and use.
I wasn't forced to remove the MW07 in the name of comfort during a long listening session. When changing tracks or taking a call, pushing the buttons on the earbuds didn't result in the hardware being jammed deeper into my ear canal, as is the case with many of the true wireless earphones that I've tested over the past year. The thoughtful design behind the elimination of these annoyances should not be undervalued.
Sound Quality
At the time that this review was written, no other set of truly wireless earphones come close to being able to touch the quality of audio that the MW07 is capable of producing. The amount of audio separation and wide soundstage that the MW07 provides is outstanding for an earphone of this type. Popping a pair of these things on will have you enjoying clear, crisp-sounding mid and high-frequency sound. The punchy, distortion-free bass, available even at low volumes, surpasses what B&O's E8 have to offer.
The rasp of Doug Weiselman's breath as it passes over the reed of his bass clarinet on The Martin Hayes Quartet's Mo Mhuirnin Ban can be heard amidst the dulcet, low tones of his instrument. So too, the clicks of his fingers dancing over his clarinet's keyworks. When listening on other earbuds, the vocals of The Rural Alberta Advantage's Nils Edenloff on Beacon Hill all too often got lost in the wall of sound produced by the band's guitar, keyboard, and relentless kick drum. Not so with the MW07. No matter what I listened to, these earphones excel at relating the emotions weight in acoustic music. Lovers of jazz, classical music, or bluegrass will definitely want to check these earbuds out. I was also pleased to find that when watching videos on my iPhone, I experienced no audio sync issues.
While taking on the phone or FaceTime calls, I found that the earbuds' omni-directional microphones provided acceptable audio quality. Those I was talking with said that they were able to understand me, even when I called from a noisy cafe. Master & Dynamic took steps to ensure that those wearing their earphones will be able to hear what they're listening too. Five different sizes of silicon ear tips are included with the MW07.
While the passive noise reduction they provided was no match for what Active Noise Cancellation headphones can provide, I found that, with the volume of my music cranked up to around 80%, I was able to block out the majority of the the noise around me during a cross country flight earlier this week. What's more, during the week that I tested the MW07, I didn't experience a single connectivity issue so long as my iPhone 7 Plus was within 50 feet.
The Bottom Line
Despite their underwhelming battery performance and high price, I have no problem recommending Master & Dynamic's MW07 to audiophiles looking for the best aural experience that true wireless headphones can afford. The bespoke materials that these earphones are made from, their excellent industrial design, and amazing sound quality will fill any music lover's heart with joy.
Best Prices Today: Master & Dynamic MW07