Google just announced its suite of new hardware for 2018, including the new Pixel 3 and Pixel 3 XL phones, Pixel Slate tablet, and Home Hub smart display. They look like great products for those who are committed to the Google ecosystem.
But there's nothing about them that should cause Apple to start sweating yet. As impressed as we may be by some of what Google showcased on Tuesday, nothing about these products leads us to believe that they're going to cause a significant shift of users away from Apple's. iPhones, iPads, and HomePods aren't going to suffer any significant sales losses from Google's latest.
Pixel 3's carrier problem
Pixel 3 is all about the camera. It was introduced as "the world's best camera [put into] the world's most helpful phone." No doubt about it, the camera on the Pixel 3 looks fantastic. Google partnered with Annie Leibowitz to work on a project using it. Conde Nast shot several magazine covers with it. These are neat marketing stunts, but not new. Kira Pollack shot a bunch of Time covers, Georges Antoni shot a cover and photo spread for Elle Australia, and Miller Mobley shot a Billboard cover on iPhones, just to name a few.
The Pixel 3 has a bunch of great new photo features like Top Shot, Super Res Zoom, Night Sight, and a second wide-angle Group Selfie Cam. And of course, there's unlimited photo storage on Google Photos.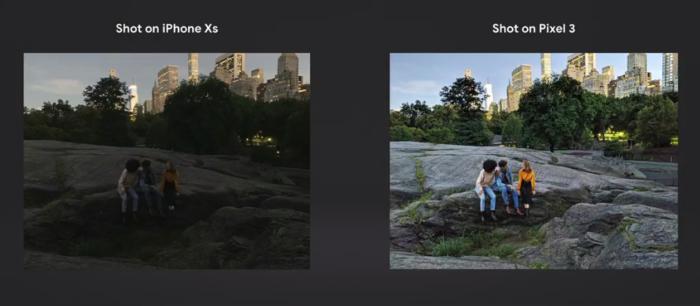 There are plenty of non-photo features worth keeping an eye on, too. The call screening feature seems legitimately useful, and the Pixel Stand wireless charger and software features makes the whole AirPower debacle seem even more embarrassing.
So why shouldn't Apple worry about potential Pixel 3 switchers? Put simply, because Google is foolishly selling the Pixel 3 through only a single retail carrier: Verizon. Sure, you can buy an unlocked phone directly from Google and run it on any network, but that's just not how people buy phones. Carriers sell more than half of all smartphones, with Apple Stores and Best Buy accounting for another 25 percent or so. When a customer wants a new phone, they usually go to their carrier store to get an upgrade, usually opting to pay a payment plan that locks them in to that carrier.
The Pixel and Pixel 2 also had better cameras than the iPhones of their time. They had neat AI tricks throughout the operating system. And yet, they didn't even slow down iPhone sales, which continue to break records. The Pixel 3 can't compete if it's just not sold where people buy phones. By sticking with Verizon as the sole carrier retail partner for the third year in a row, Google is trying the same thing again and hoping for a different result.
Pixel Slate targets Microsoft Surface
Google said the Pixel Slate "isn't a laptop trying to be a tablet (because who wants a fan in their tablet?) or a tablet that's really a phone pretending to be a computer." Those are shots fired at the Microsoft Surface Pro and iPad, clearly.
But the Pixel Slate runs Chrome OS instead of Android, and is powered by Intel processors. Yes, you can run many Android apps on Chrome OS now, but it's not really a mobile experience blown up to tablet size, it's a laptop experience with lots of touch features added. With a starting price of $599, plus $199 more for the keyboard and $99 more for the pen, you're looking at an all-in price of at least $900.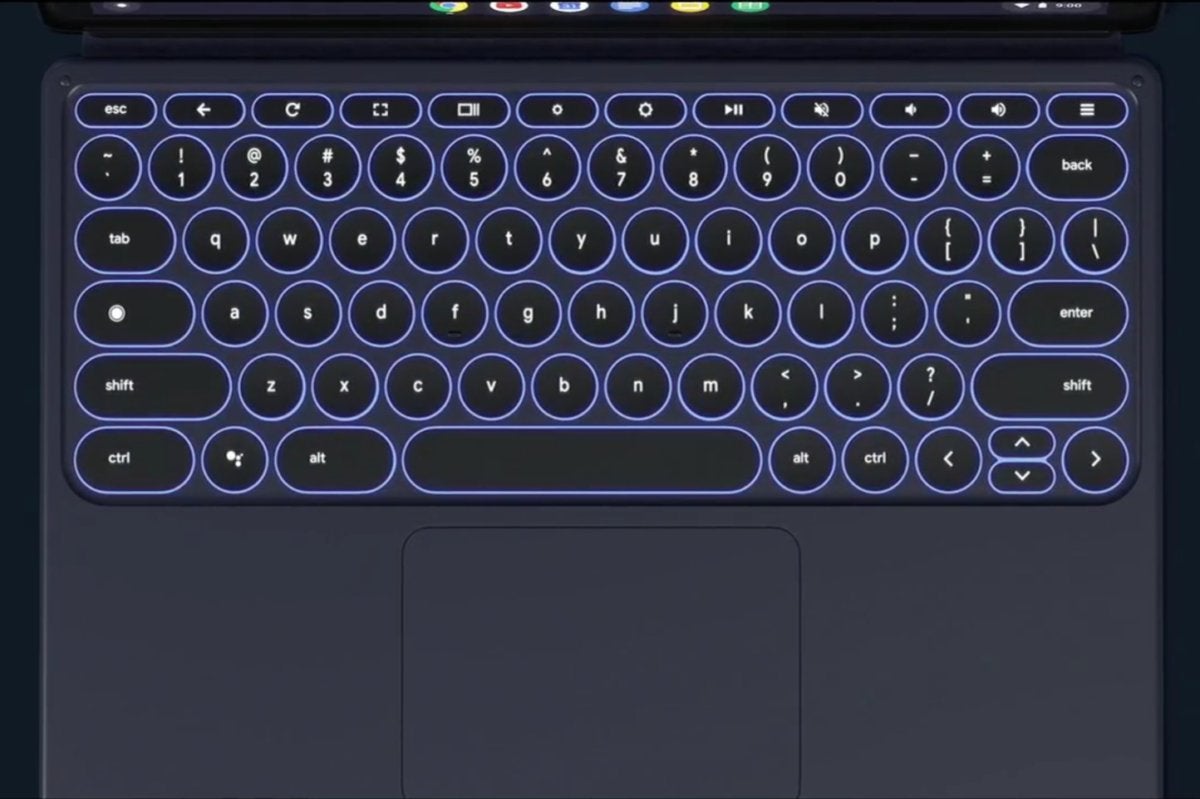 It is interesting that even Google doesn't seem to have enough faith in Android as a tablet OS to use it on its own premium tablet. Chrome OS was born on laptops, and it shows. Sure, you can run many Android apps, and Google has done a lot to improve touch-and-pen interactions, but it still feels fundamentally like a system made for keyboards and trackpads. Google even made a big deal about how the Pixel Slate will run developer tools and Linux applications, and how it's got such great virus protection with automatic updates. The keyboard even has a trackpad. There's an ever-present taskbar at the bottom of the screen.
That's not a device aimed at the $329 iPad. Even the iPad Pro, with its wealth of tablet-optimized apps, feels like it's in a different category. Apple foolishly invites comparison with traditional computers via its silly "what's a computer?" ads, but Pixel Slate is clearly more of a Surface competitor than an iPad replacement. There's nothing about it that will pull someone already invested in iOS apps away from Apple's ecosystem, and it's far too expensive to be a device you buy to entertain your kids.
Apple has nothing like Google Home Hub
Those Echo Show devices from Amazon are in for a world of hurt. Home Hub does most of what they do, but centered around Google's amazingly good Assistant, at a very affordable $150 price.
But this isn't really an area that Apple competes in. As much as we'd like HomePod to be a great smart assistant for the home, it's just not. Apple promotes HomePod as primarily a music device for Apple Music users. It's good at that, but that's all it's really good at. Siri just isn't adept at answering random questions, there's still no multi-user functionality (a critical fault for an in-home device), and you can't even use HomePod properly with other music services. Oh, and at $349, it costs more than twice as much as the Home Hub.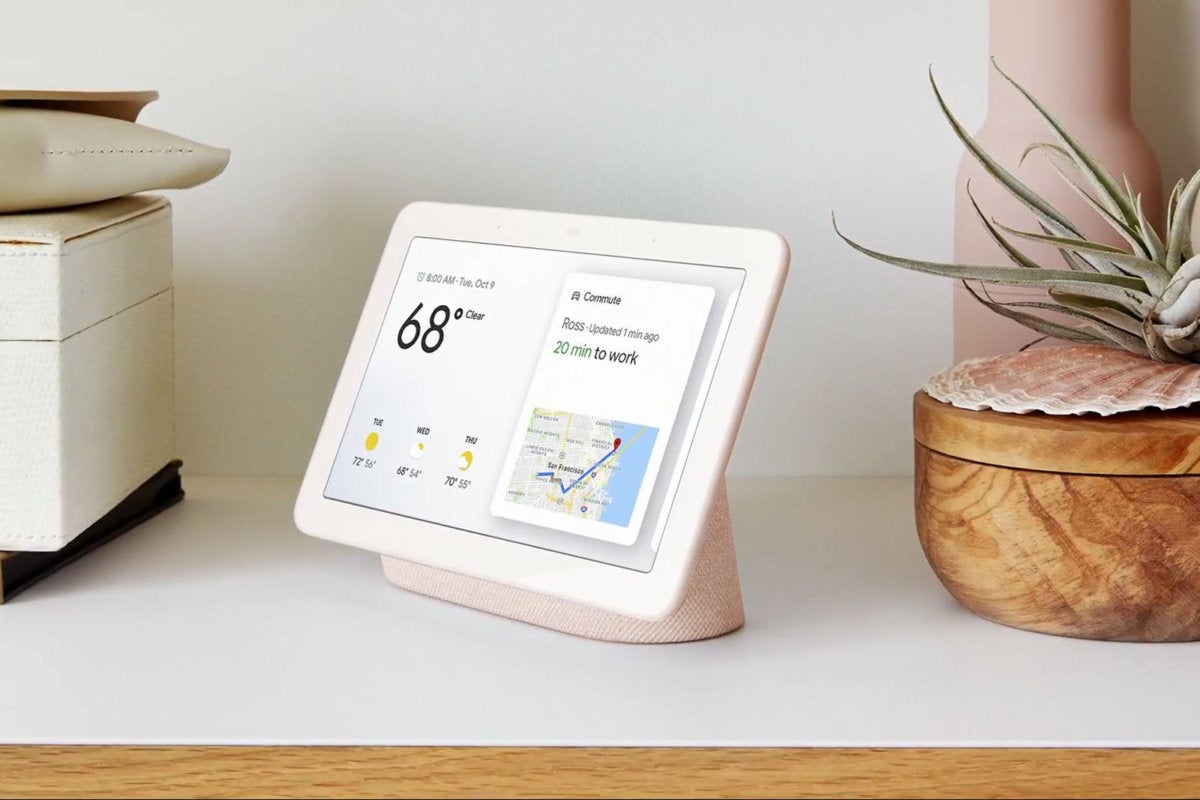 Home Hub is not going to hurt HomePod sales because Google and Amazon's smart speakers and screens are already dominating HomePod. If you're the type to spend a lot more money on a HomePod, you're doing it because you value sound quality and Apple Music integration above all else. Home Hub doesn't change any of that, it just cements the already existing trend of Google's Home products as broadly useful home assistants, and HomePod as…not.
For Google ecosystem fans, the latest hardware products from Google look great, but there's no paradigm shift here. Since Google's homegrown hardware arrived on the scene, Apple has continued to grow its own hardware business, even as Google wins awards and plaudits from the press. In the grand scheme of things, almost no prospective iPhone or iPad buyers are going to grab a Pixel 3 or Pixel Slate instead, and HomePod is already in a distant third in the smart home race.