So it's official. Photoshop—real Photoshop—is coming to the iPad next year. If you're someone who uses Photoshop, uses the iPad to get work done, or both, this is big news. It's a huge shot in the arm for the iPad Pro and another sign of where Apple's platforms are going in the future. In 2019, iOS apps aren't just coming to the Mac—one of the biggest and most important Mac apps is coming to iOS.
The power of the familiar
Most of the time when I mention Photoshop around my fellow computer nerds, it's met with a raised eyebrow. Lots of tech people dislike Adobe's pioneering of the software subscription route, and there are numerous alternatives to Photoshop out there. On the Mac alone, there are excellent apps like Acorn and Pixelmator Pro.
The truth is, Photoshop is huge and it's entrenched. It's been used by graphics professionals for three decades. The workflows of many different fields are based on it. Businesses large, medium, and small rely on it. Adobe makes it really easy to buy seats for a site license, write a check, and equip every computer—Mac or PC—with the industry standard. (Creative Cloud really is to publishing and graphics what Microsoft Office is to business.)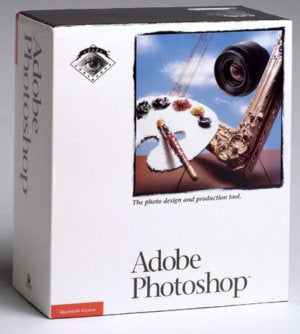 And then there's the personal factor. I learned how to use Photoshop in my college newspaper offices in 1990—that means I learned on Photoshop 1.0. The computer I used for Photoshop—a Mac IIcx—didn't have a color monitor, just grayscale. (It also didn't have layers and only had a single level of undo, which meant the moment your ants stopped marching, your changes were irrevocable. It clarified the mind.)
Photoshop is deep, deep in my muscle memory now. I have, on my Mac, a half-dozen apps that offer most or all of the same features that I use in Photoshop. And none of them costs the $120 per year I pay for Photoshop. But—and this is my key point here—none of them are Photoshop. Only Photoshop is Photoshop, and I actually appreciate the fact that I can now pay an annual tithe to Adobe and make sure that I am always using the latest and greatest version of the app I've been using for 28 years.
(By the way, for what it's worth, Adobe's photography bundle—Photoshop and Lightroom for $120 per year—is a pretty good deal if you like those apps. Every other major Adobe pro app is $240 per year, and the full Creative Cloud membership is $600 per year.)
Why it matters on iPad
On iOS the same rules apply: While there are lots of apps that do many of the things that Photoshop does, most notably Pixelmator and Affinity Photo, they aren't Photoshop. (There are even a bunch of "Photoshop apps" from Adobe—but they, too, are weird remixes of Photoshop that aren't real Photoshop.) For someone like me, that makes a huge difference.
But it's not just me. A comics artist I like a lot, Jen Bartel, tweeted a while ago about how much she loves her iPad—but can't use it to do her job. Her business speaks the language of Photoshop and she has come to rely on custom brushes that are owned by Adobe and only available in Photoshop. To do pro work on the go, Bartel—a Mac user and iPad fan—uses a Windows-driven Wacom MobileStudio Pro device because it runs Photoshop.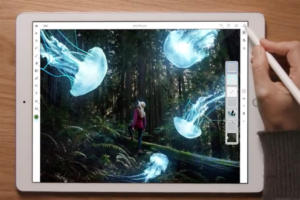 Adobe's move to iPad instantly makes everyone who knows, loves, or relies on Photoshop a possible candidate for an iPad Pro. And make no mistake, the iPad Pro is already plenty powerful enough to run Photoshop, and with the Apple Pencil it's got an input method that will satisfy most graphics pros. Even better, Adobe has said that it will be building in cloud syncing for Photoshop files, so that you'll be able to seamlessly hand off projects directly from one device to another.
A lot of the criticism of the iPad Pro as a flawed tool for doing real work comes down to software. The hardware is capable—but where's the software? These arguments have been weak for a while now—I think Microsoft Office for iPad is aces, and Apple's iWork apps are remarkably capable, too—but with every major app that arrives on the platform, the quieter that criticism has to get. Adobe's also bringing a simplified version of Premiere, called Premiere Rush, to the iPad. I wonder if Apple's considering just how Final Cut and Logic might work on the iPad?
It flows both ways
In 2019, things are going to change. Yes, we know that Apple is working on a way for iOS apps to come to the Mac. But as Adobe's announcement indicates, desktop apps are going to iOS, too. When Adobe discusses Photoshop now, it does so as a single tool that appears on the various devices used by the people who rely on it. Photoshop is a system that spans Mac, PC, and now iOS. It goes where you go, on the devices you want.
Apple is heading there, too, with its initiative to create a common framework that can be used to build Mac and iOS apps. And it's hard not to look at the appearance of Apple's Phil Schiller at Adobe Max as a clear indicator that Adobe's moves will be a big part of Apple's messaging around the iPad Pro in the next year.
Because in the end, what's the iPad Pro but a computer in the shape of a tablet? If you're an artist, you might want to work outside, or on the couch, or maybe you want to take a much smaller device with you when you're roaming around town or on a trip. Shouldn't you be able to bring Photoshop with you wherever you go? And isn't the iPad Pro with Apple Pencil perfectly suited for some of the tasks that Photoshop is also perfectly suited for?
That's really Apple's larger vision for 2019 and beyond: If you are sitting at a desk in front of a big iMac screen or traveling with an iPad Pro, you should be able to have access to familiar software. Choose the right tool for the job, whether it's a big desktop or a tiny laptop or an even smaller tablet, and you should be able to get that job done.
Photoshop on the iPad isn't the magic key that unlocks the future of the iPad Pro. But it's one of the biggest signs yet that things are changing—and that the iPad won't be denied as a destination for people who want to get work done.