Planning to buy an iPhone XR? Apple will start taking orders on its website this Friday at midnight PDT. But if you plan to buy the iPhone XR through Apple's iPhone Upgrade Program, today's an important day.
At noon Pacific, Apple will open up the pre-approval process for customers interested in buying the iPhone XR through the iPhone Upgrade Program. When you sign up for the iPhone Upgrade Program, you are taking out a loan to get the new iPhone and you make monthly payments. Users need to have their loans approved before they are able to make a purchase, and getting pre-approved will make the purchasing process faster.
Here's how the iPhone XR pricing works through the iPhone Upgrade Program, which is available only through Apple and not through any of the iPhone carriers. The per-month pricing is for a 24-month loan.
64GB iPhone XR: $37.41 per month ($749 one-time payment price)
128GB iPhone XR: $39.50 per month ($799 one-time payment price)
256GB iPhone XR: $43.66 per month ($899 one-time payment price)
The iPhone Upgrade Program includes AppleCare+ coverage. Once you've made 12 payments, the program allows you to upgrade to a new iPhone if you want; you'll have to trade-in the phone that you have.
Learn more about the iPhone Upgrade Program.
The iPhone XR was introduced last September. Find out more about the iPhone XR through the following articles:
iPhone XR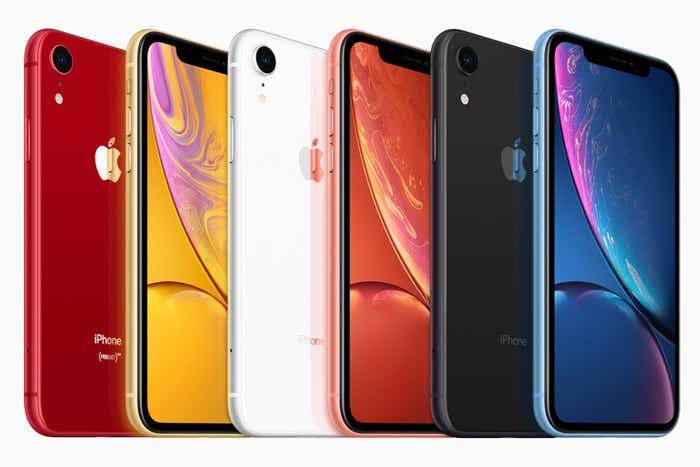 Read our full
iPhone XR review
Note: When you purchase something after clicking links in our articles, we may earn a small commission. Read our affiliate link policy for more details.
Roman has covered technology since the early 1990s. His career started at MacUser, and he's worked for MacAddict, Mac|Life, and TechTV.