The day we've been waiting for is finally here. Or rather, it will be here in 2019.
Adobe Photoshop—real, full Photoshop—on the iPad. It's been a dream of digital artists at least as long as the Apple Pencil has been around, and at the Adobe Max conference on Monday, the company finally let them know that their dream is coming true. Photoshop CC is up and running on iPad, and will be released sometime in 2019.
Adobe went to great lengths to reassure its users that this is not a new "Photoshop for the iPad" but rather "Photoshop on the iPad." It's a translation of the core Photoshop engine, along with a new interface and suite of gestures made for touch-and-pencil input.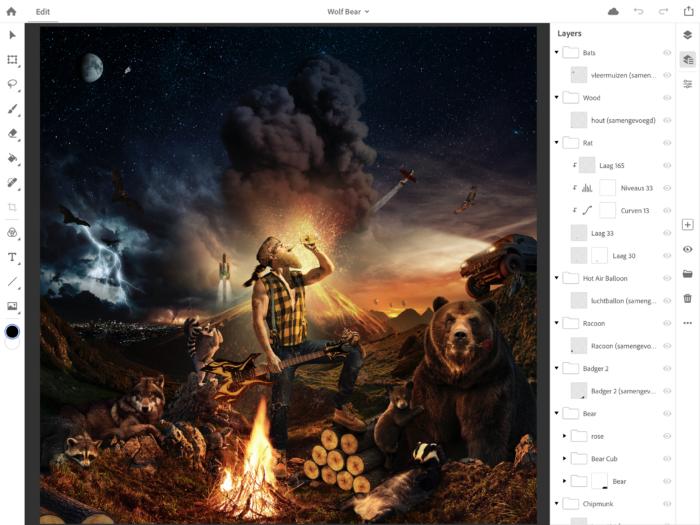 It opens and saves the same .PSD files as the desktop version; you can start work on one device, save to the cloud, and continue working on a different device from right where you left off. It has all the same core masking, filters, adjustments, and layering features as the Photoshop desktop we're used to.
In Adobe's on-stage demo, it showed how the iPad version will rely heavily on context-sensitive menus that disappear when not in use, to keep the visible interface from becoming too cluttered on those 10.5-inch iPad displays. There are new touch interface features too, like a "touch modifier" button that allows you to quickly perform a second related action when it's held down, without digging into menus. You might draw with the Pencil, but hold down the touch modifier button to switch to an eraser, for example.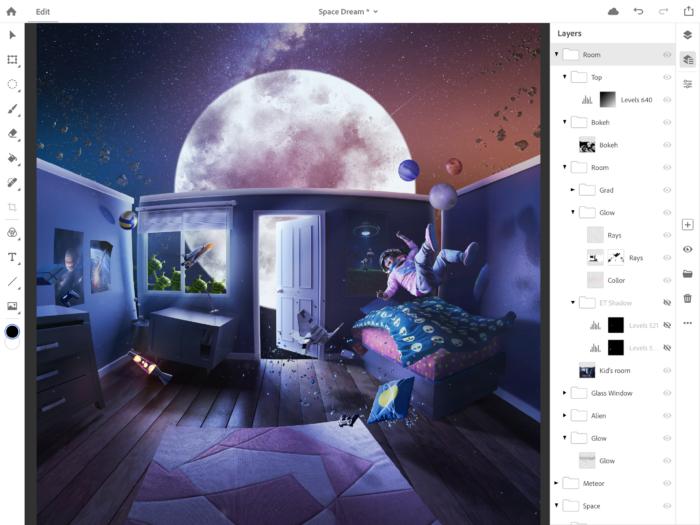 Adobe isn't promising everything you get in the desktop version of Photoshop in the initial release. Its news site says, "We will release a smaller set of features on the iPad first so we can ship the 1.0 version to you quickly, and gradually add the rest over time." Even so, what's already there should be a huge boon to digital artists that have been itching to work on the iPad for years.