Well, it's just another quiet week here in the Apple worl—JUST KIDDING! Thursday brought news that Apple has another event in the works, this one coming just before the end of October in a slightly unusual location: Brooklyn, New York.
As with any Apple event, there's plenty of speculation about what the October 30 show could bring. So far, those whispers have largely been about new iPads with Face ID and edge-to-edge displays, and possibly a new Mac mini and/or consumer-level MacBook. Plus, of course, there's always the expectation of there being a few surprises up the company's sleeves.
Of course, those surprises are the most interesting part, so let's focus on what the company might have in store for announcements that aren't about the company's major product lines.
Pencil it in
A revamped Apple Pencil is one item that there has been talk of, especially if it turns out that the new version of the iPad does indeed eschew a Lightning port in favor of USB-C. The current Apple Pencil charges and pairs via the iPad's Lightning port, which means that it would either require a dongle to charge and pair or get a USB-C connector of its own, which would potentially mean it wouldn't be compatible with current iPads.
There is some precedent here. Earlier this year, Apple announced a partnership with Logitech to create another stylus, the Crayon. Rather than using the Apple Pencil's hardware pairing method, the Crayon instead just instantly pairs when it turns on. (However it doesn't work with any iPads other than the low-cost model Apple released at the same time.) It does still charge via a Lightning port, though.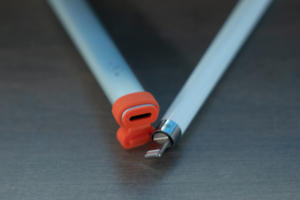 Perhaps the new Apple Pencil takes a cue from the Crayon—not to mention Apple and Beats headphones—instantly pairing wirelessly with a nearby iPad in range? It would still need a way to charge, but perhaps it wouldn't be ridiculous to suggest that it might be able to charge via the magnetic Smart Connector (or whatever replaces the current Smart Connector)? If nothing else, a magnetic connector would finally make it easier to store the Apple Pencil when not in use.
Finally, what is an Apple Pencil 2 going to bring to the tablet that the original doesn't already? There are always more degrees of pressure sensitivity and less latency, but the colorful Apple invitations do suggest a focus on not only art but handwriting. Could the iPad finally get more robust support for handwriting recognition? (And, if so, hopefully it'll come to the earlier iPads as well as any new models.)
Now hear this
Rumors of a new version of AirPods have been floating around for some time, with the occasional tea-leaf-reading events, such as when they briefly went out of stock in Europe this week. (Don't worry: they're back for now.)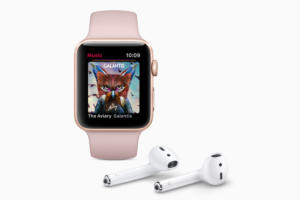 One thing a new set of AirPods might include is a revamped version of the W1 chip that powers their wireless connections. The Apple Watch Series 3 and later have included a W2 chip that could certainly find its way into the AirPods: the chip is supposedly faster and more power efficient than its predecessor, and getting more battery life out of the AirPods would no doubt be welcome.
Other possible rumored features include support for "Hey Siri" (teased in the Mission: Impossible intro video for September's event), water resistance, and possibly support for noise-cancellation, though the last would no doubt jack up the price a bit, suggesting perhaps two different price points of AirPods. Plus there's been the lingering suggestion that Apple might expand its headphone offerings beyond simply earbuds, adding an over-the-ear model to its lineup. (As someone who has a lot of trouble getting earbuds to work, that would be a most welcome development.)
AirPower to the people
This is probably the last opportunity for Apple to deliver on its promise of shipping the AirPower charging mat in 2018. The wireless charging mat has been the subject of a lot of discussion, especially since most evidence of it has been wiped from Apple's site (though not, apparently, from iPhone instructions), and word has it that the project has run into unexpected engineering challenges.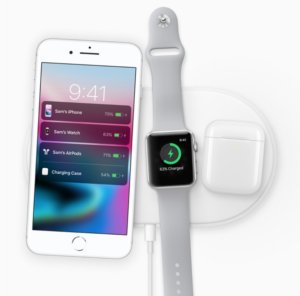 Not shipping the AirPower would be an interesting message from Apple: the company put a lot of attention on wireless charging by integrating it into all of its iPhones; the AirPower and the wireless charging case for the AirPods were the other parts of this strategy and, as it stands, the story is incomplete. This is the point at which we'll see whether Apple's still committed to the idea of wireless charging.
While it's unlikely that either new iPads or new Macs would come with wireless charging capabilities, the other indications that AirPower might still be a going concern would be the AirPods wireless charging case and the aforementioned Apple Pencil update. Apple could in theory build wireless charging into the stylus, though giving the engineering problems with the AirPower itself, that's not a foregone conclusion. But whether the company goes in that direction or not could tell us a lot about the future of the AirPower.