At a Glance
Expert's Rating
Pros
Supports HEIF and HEVC formats
Sceneline feature makes editing multiple clips easier =
Useful and easy new guided edits
New home screen makes sharing to social media easy
Cons
No feature updates to the Organizer
Can't resize the Home Screen
Must sign in with an Adobe ID
Smart trim notifications can be confusing
Guided edits don't improve every video
Our Verdict
The new version of Adobe Premiere Elements may be a bit lighter on new features that most people are used to, but the 2019 version puts a laser focus on automated operations that make quick work of editing your family videos.
With increasing reliance on its Sensei artificial intelligence engine, Adobe assists users with tedious and complex tasks like picking the best photos or videos for a collage or trimming the fat out of movies before splicing them together.
The first place you encounter improved automation is the brand new Home Screen, identical to the one in Photoshop Elements 2019. It lets you access new auto- generated collages and slideshows derived from the photos and videos you loaded into the Organizer, the built-in asset manager that ships with the program. Premiere Elements dives into your photos and videos to create presentable and sharable social media posts, some of which are specifically designed for Instagram and Facebook.
Premiere Elements 2019 now supports Variable Frame Rate (VFR) as well as HEVC (High Efficiency Video Coding) and HEIF (High Efficiency Image File), both highly- compressed image and video formats that Apple adopted for its newer mobile devices and macOS High Sierra. The app also features a complete overhaul of its Quick Edit mode. There are only two new guided edits, but they are creative and unique.
Automated editing
Premiere Elements' revamped Quick Edit mode is the heart of the program that lets you trim your videos and splice them together into longer and more complex movies. The new Quick Edit gives you two simple buttons that govern the pathway into the program and how you approach editing your video.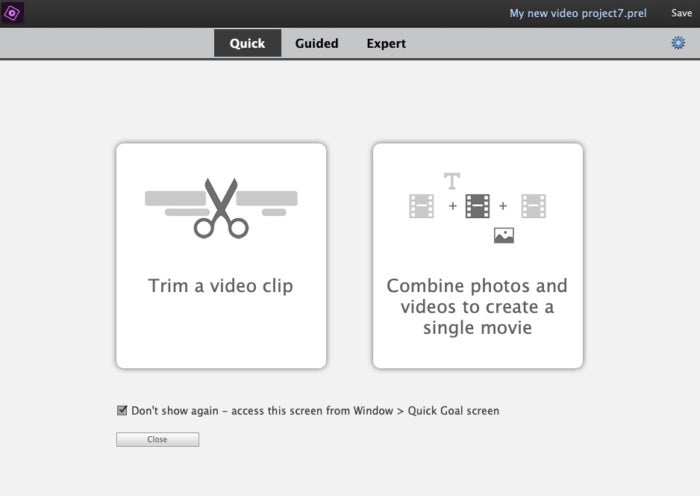 "Trim a video clip" helps you automatically trim without you having to manually scrub through it to make cuts yourself. You certainly can do that if you want to, but the automated feature is pretty good at selecting areas of your footage that have a mix of people and action, the major focus of interest in most family-style videos.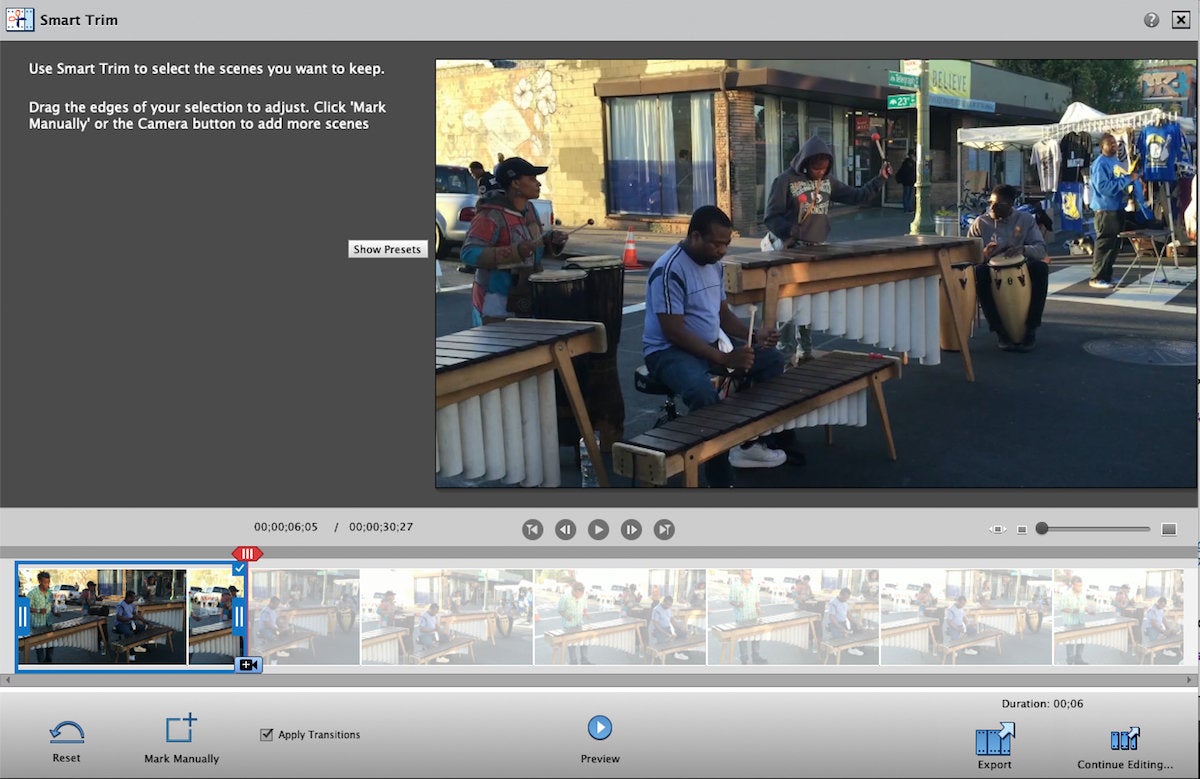 The concept behind the interface was a bit confusing at first, in Adobe's effort to make the feature more familiar to novice users. The Smart Trim feature always selects the first few seconds of each clip to show you how to select video. You can also click the Show Preset button, which automatically directs the app to concentrate on Action, People, or a mix of the two on a sliding scale. A notation I found confusing—which you can dismiss after the first use of the preset button—warns users that if you first tried to cut the video yourself, using the presets later would wipe out your edits.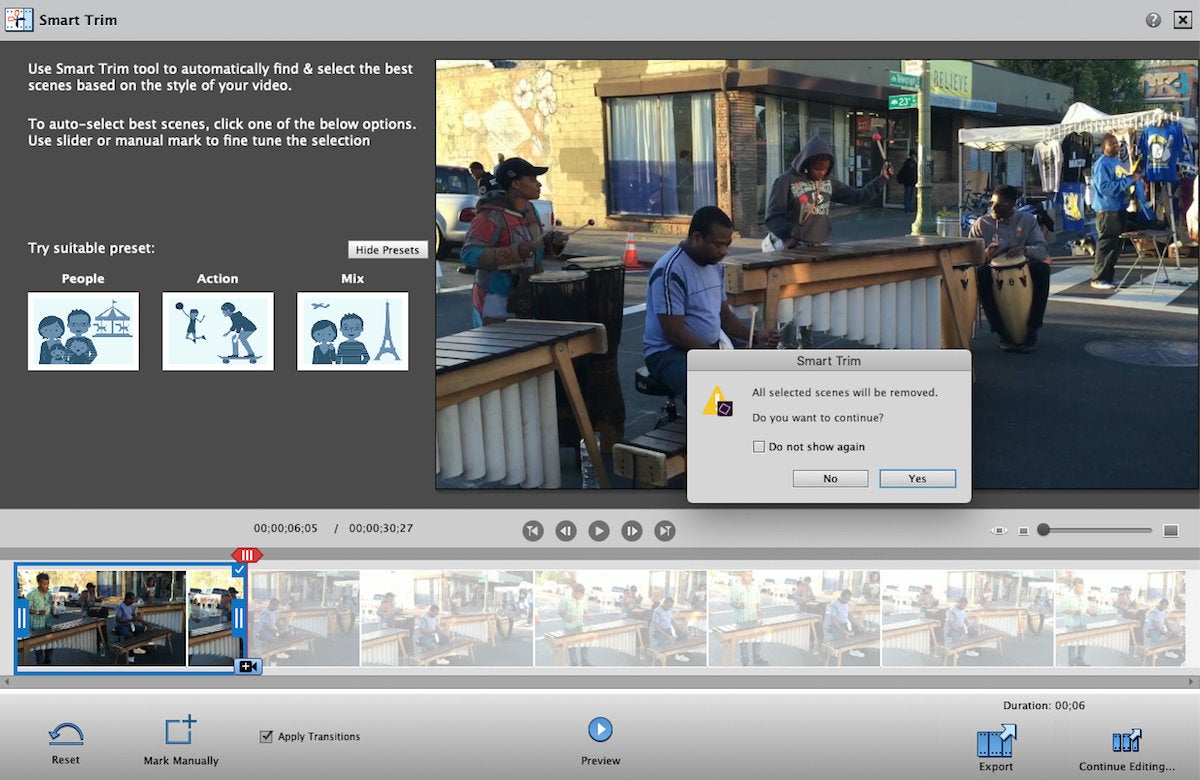 You can opt to dismiss that notation after the first appearance, and I suggest doing that. Letting the presets work their magic first is a good start, and from there I was able to manually remove additional bits and restore others either by using the preset slider or by manually choosing which frames to add or cut.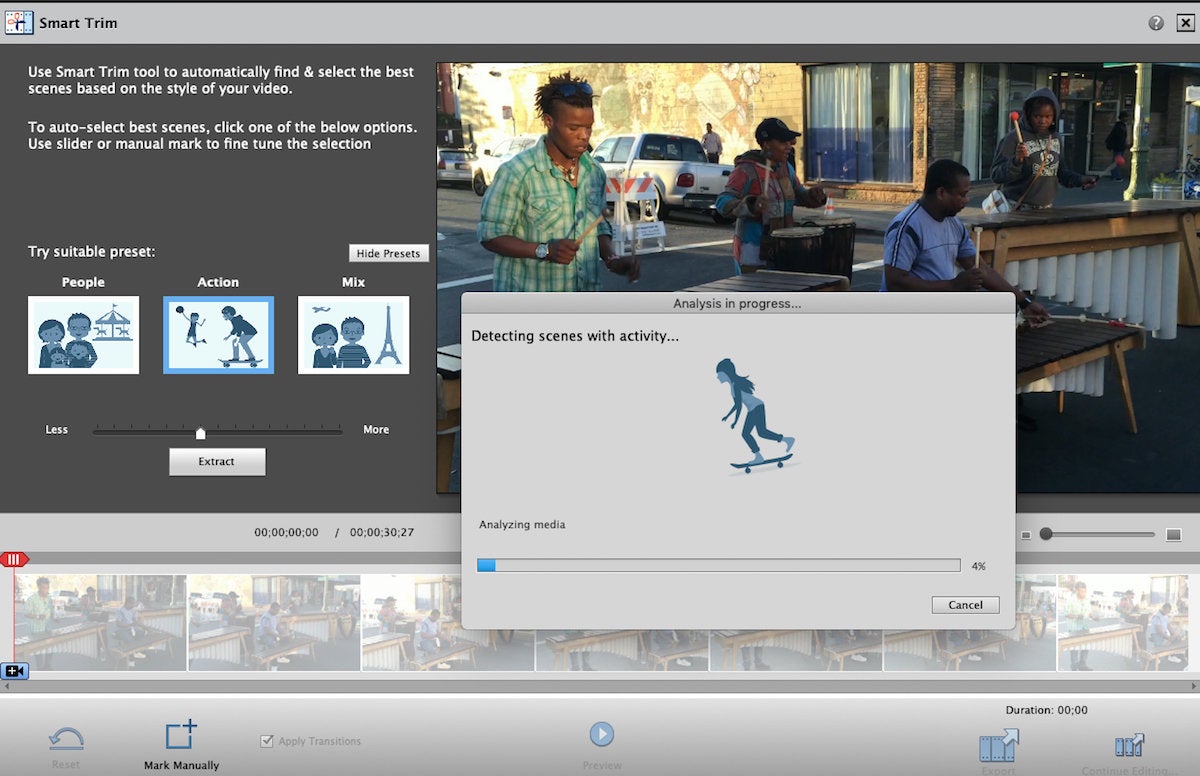 The Combine photos and videos to create a single movie debuts the new Sceneline feature, a storyboard view that lets you assemble multiple clips and still images on the timeline, giving you a broad view of how your movie is organized. Sceneline brings all the cinematic elements you need into a single workspace so you can access titles, sound, pan and zoom, and trimming features directly from the timeline. Sceneline is an elegant solution that lets you edit each clip individually while staying on the storyboard.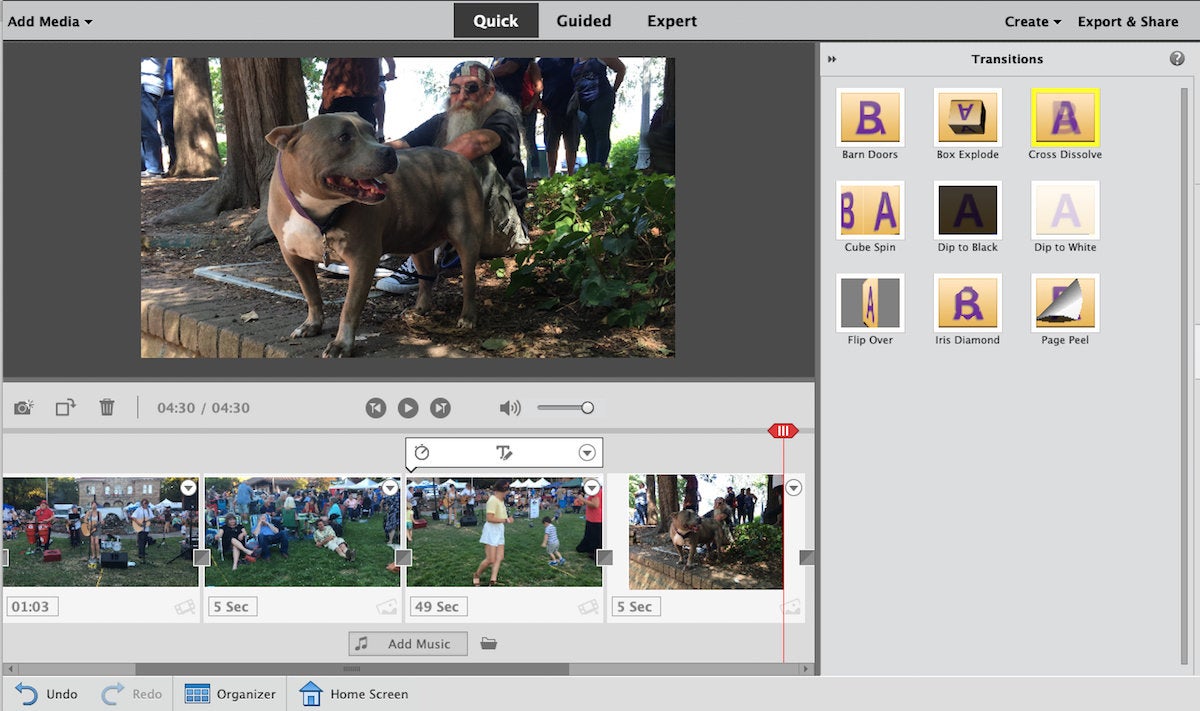 Guided edits
This year's roster of guided edits is slim, but they are easy to use and create some special effects that you don't see every day.
Luma fade transitions. These are, first and foremost, transitions designed to last just a second or two to connect one clip to another. It uses a still image derived from the video to fade in colors from darkest to lightest. It seems to work best with facial or object closeups as opposed to busy scenes. I found that increasing the softness control and making the transition a little longer enhanced the effect.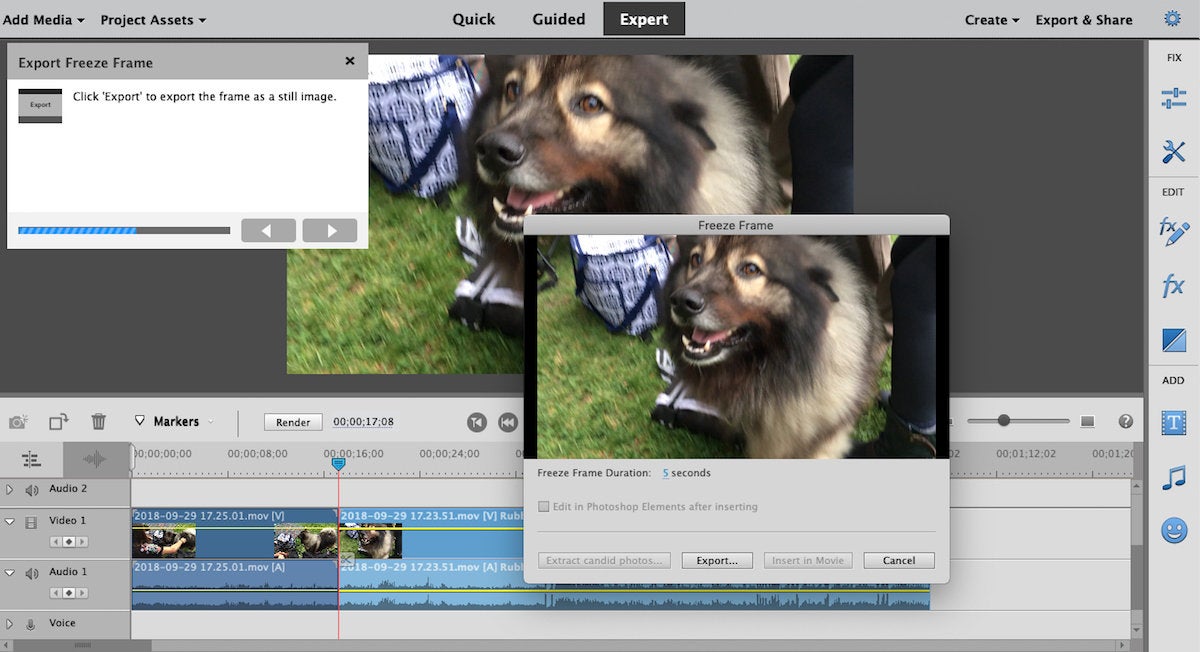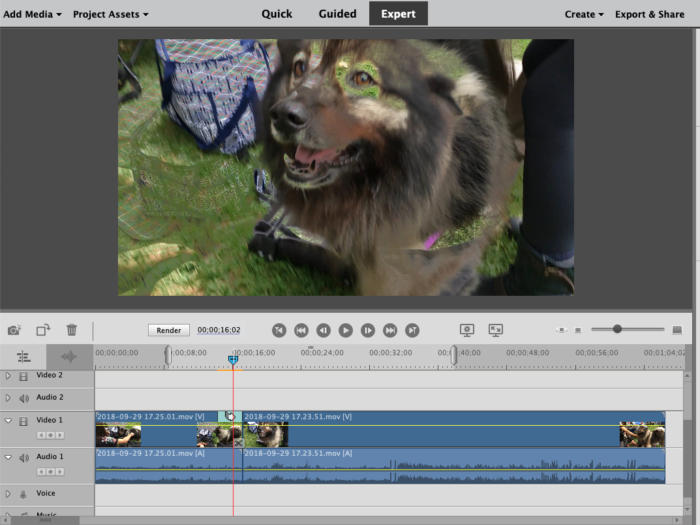 Make glass pane effect. This unusual special effect makes your video look like it was shot through glass. The app provides several different glass pane templates, and you can use multiple ones in the same video. It's an intriguing way to present footage, but it's not suitable for every video.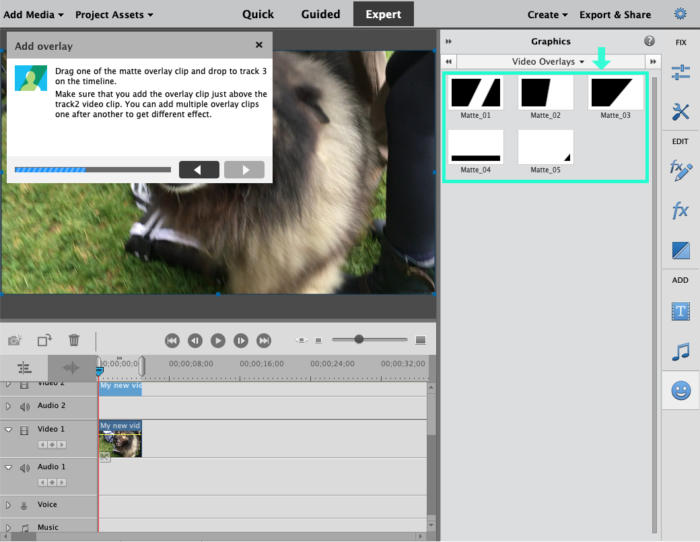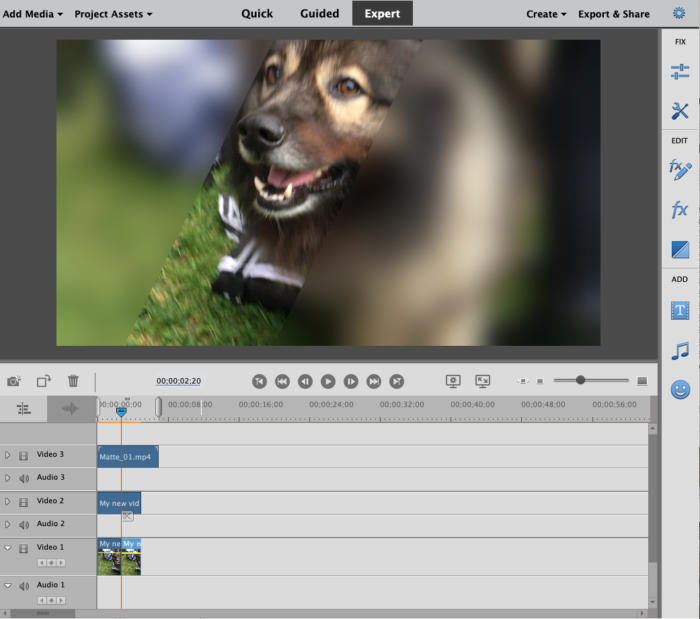 Adobe ID, Home Screen, no 360 support
Despite it being a standalone app with a perpetual license, all users must sign in with an Adobe ID to use the Elements apps.
Elements has separated out the Home Screen from the rest of the program so that you now have two dock icons open as you edit your footage. Adobe seeks to make the Home Screen an independent reference and resource that is always available to users regardless of whether they are in the editing process.
And despite the popularity of 360 video for VR presentations, Adobe still considers that a pro feature supported by Premiere, but not by the consumer app.
Bottom line
Adobe Premiere Elements 2019 concentrates on two major areas, both of which rely on its Sensei AI engine. Users will appreciate the Auto Creations feature, accessible from the new Home Screen because you literally don't have to do anything but hit the Share button. With its overhaul of the Quick Edit mode, the program channels two major kinds of edits to their most useful interface and then provides all the tools needed to accomplish the editing task. It is remarkably streamlined and will make for a faster and easier workflow for most home-based moviemakers.
As with most Adobe Elements upgrades, which are delivered like clockwork every year, it is always fine to skip particular versions if you have bought or upgraded the program fairly recently. New users will find Adobe Elements fun and easy to use, which takes so much of the daunting challenge out of video editing. Owners of older versions have much to look forward to with the 2019 version.
Note: When you purchase something after clicking links in our articles, we may earn a small commission. Read our affiliate link policy for more details.