On October 18, Apple sent out colorful invitations to a new event, to be held at the Howard Gilman Opera House in the Brooklyn Academy of Music on October 30. Each invitation had its own uniquely stylized Apple logo with the tagline "There's more in the making."
One never knows exactly what Apple will announce until they say it on stage, but there are always some strong rumors and leaks ahead of any major product unveiling. And the invitations and the venue provide clues. Here's what we expect from Apple on October 30.
How to watch the event
Apple will livestream the event from its Events Page. Simply head there shortly before the start time of 10 a.m. Eastern time.
You can stream the event using Safari on a Mac or iOS device, or Microsoft Edge on Windows.
If you want to watch on your Apple TV, you'll have to tune in using the Apple Events app.
New iPad Pros
The highlight of the event is expected to be a pair of new iPad Pros. Rumors suggest they will feature iPhone X-style design with slim, perfectly even bezels all the way around the display. The display will have curved corners, and there will be no room for a Touch ID sensor—rather, Apple will include the TrueDepth module and Face ID.
The bezels will be a bit wider than on iPhones, so there will be no need for a notch to house the TrueDepth module. The most recent rumors claim that, while you'll have to hold the iPad in portrait orientation to complete the initial Face ID setup, it will then work in either portrait or landscape orientation.

Despite this major design change, we still expect iPads to maintain the classic 4:3 aspect ratio, rather than pushing to a taller/narrower ratio. It will probably still have a 120Hz ProMotion LCD display, as OLEDs of that size are too expensive.
The other major rumored change is that Apple is dropping the Lightning connector in favor of USB-C. This would allow the iPad to output video at up to 4K with HDR to external monitors supporting Thunderbolt 3.
There's also said to be a new magnetic connector on the back of the iPad to replace the current smart connector. This would be the connection point for smart keyboards and other accessories.
We don't know what silicon the iPad Pro will have inside, but we can surely expect either the A12 Bionic found in the iPhone XS and XR, or a more powerful A12X variant.
New Apple Pencil
If the new iPad Pro switches to USB-C, Apple will have to make a new Apple Pencil. The current Pencil charges via a Lightning connector on the back end. If the iPad Pro has no Lightning connector, you'd have no way to charge the Pencil with it.
We don't know much about the new Pencil, but rumors suggest a new charging method (perhaps by attaching to the magnetic connector on the back of the new iPads?), a new design, and support for gestures. Apple may also seek to improve pressure sensitivity, accuracy, and latency, though all of those are already quite good on the existing model.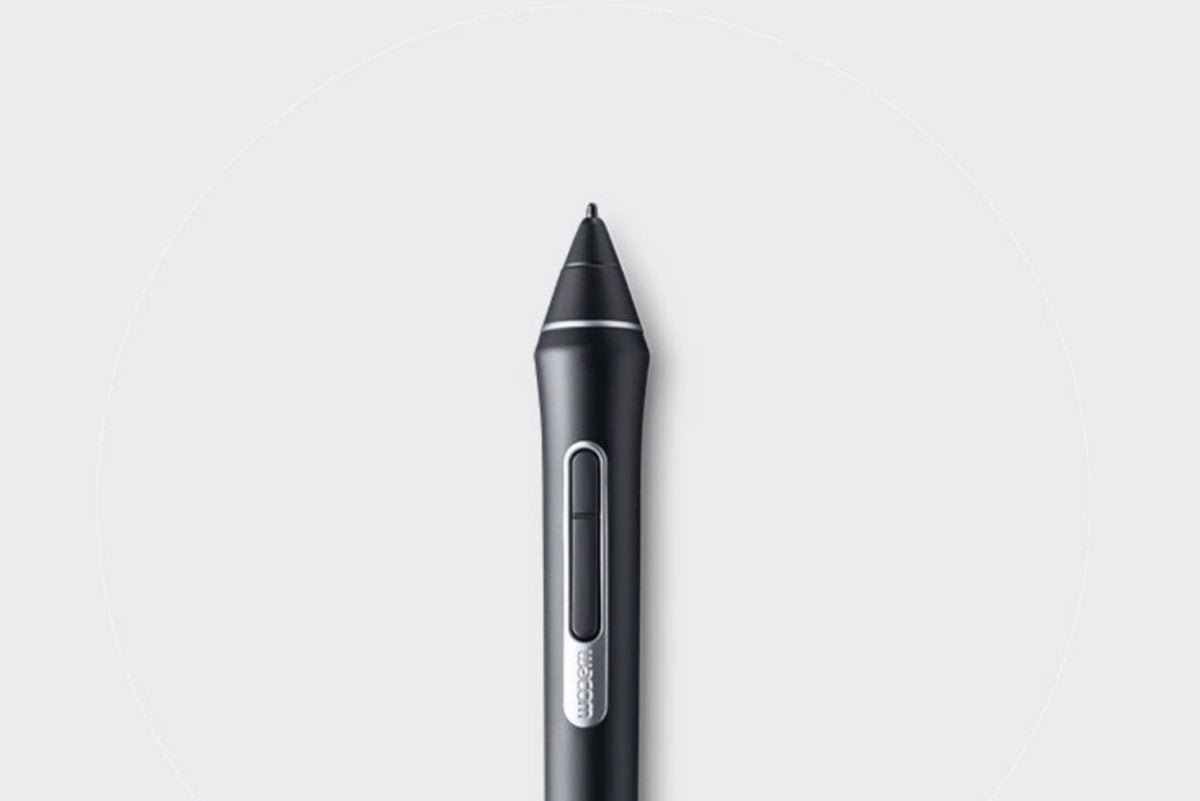 The so-called "gestures" could come in the form of a button you hold that provides a context-sensitive menu, allowing you to adjust brush sizes or colors by sliding the pencil tip up and down. App developers would be able to make the button do what they want, and artists used to Wacom tablets would have very little learning curve—their styli have had similar buttons for years.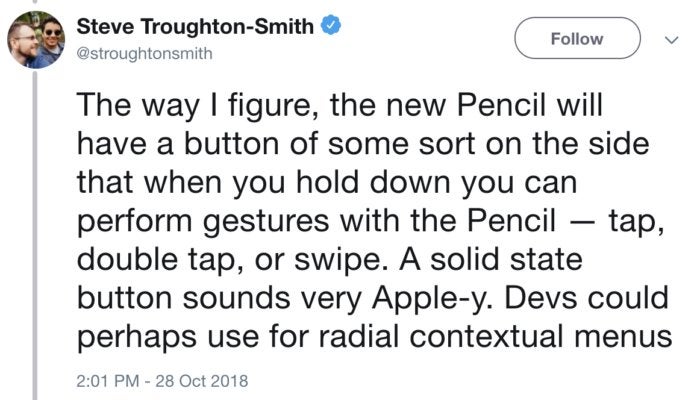 We're not sure what Apple has in store for a Pencil 2, but here are 6 things we'd like to see.
New MacBook
There have been rumors all year long about Apple replacing the 12-inch MacBook and the 13-inch MacBook Air with a single new thin-and-light MacBook. It's expected to carry a lower starting price than the MacBook Pro, and to have a similar design to the MacBook and Air (e.g. tapered front edge, aluminum unibody), but beyond that we don't know much about it.
We've made a few predictions about the hardware, and we have our list of features we'd like to see (but won't necessarily get). Rumors suggest new Intel processors, probably the Whiskey Lake generation, and Touch ID but not Touch Bar. That means it will need a T2 chip inside, perhaps even a newer T3 chip.
It's also expected to have a Retina display; the MacBook Air is the last Apple product not to have one, and that's only because it hasn't had a significant upgrade in years.
We expect Apple to do away with MagSafe charging and USB-A ports in favor of all-USB-C, just as it has done on the MacBook and MacBook Pro.
Upgraded iMacs
It's about time for the iMac to get a spec bump, so that may be announced during this event as well. We don't expect a new redesign, just a bump to 8th-generation Intel chips and maybe some new storage options.
Mac mini
Together with an all-new MacBook, Apple has been long-rumored to be finally updating the Mac mini. It's been four years since Apple's little computer got an update, but it's still prominently featured on the Apple website.
The new Mac mini is said to be focused on the pros and enthusiasts who still use the Mac mini today. That means it's less about making a simple and affordable Mac for "switchers" who want to keep using their existing monitor and keyboard, but those who have an inexpensive Mac quietly whirring away in a closet somewhere as a file server, Plex server, or developers who use them as dedicated systems to generate software builds.
iPad mini
You can still buy an iPad mini 4, but it feels positively ancient. Released over three years ago, it features an A8 processor and starts at $399. That's more money than the far more powerful and larger new iPad (though the iPad mini comes with 128GB of storage—now the only storage option).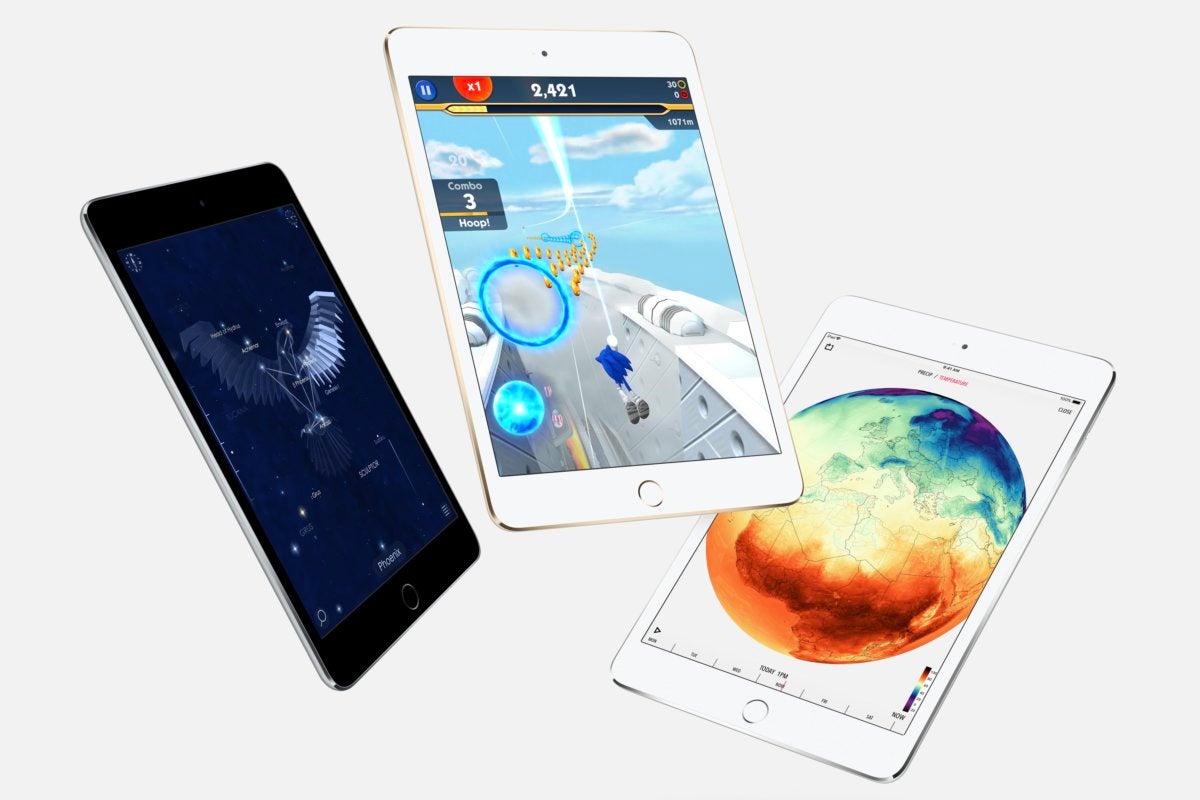 It's definitely time for the iPad mini to be either updated or ride off into the sunset. The only strong rumor we have of the existence of a new mini comes from analyst Ming-Chi Kuo, who is more often right than wrong, but even he seems skeptical about whether it will be announced at the Oct. 30 event or early next year.
He says the new iPad mini will feature a lower-cost display and new processor, but that's all. We don't know if, for example, it would support the Apple Pencil as the new 9.7-inch iPad does.
AirPower
We're still waiting on Apple's multi-device wireless charging pad, which is apparently harder to make that expected. Apple might take some time on Oct. 30 to announce its price and release date, but we've been waiting so long that it's become something of an embarrassment for Apple. AirPower may still come this year, but we expect it to launch with little fanfare.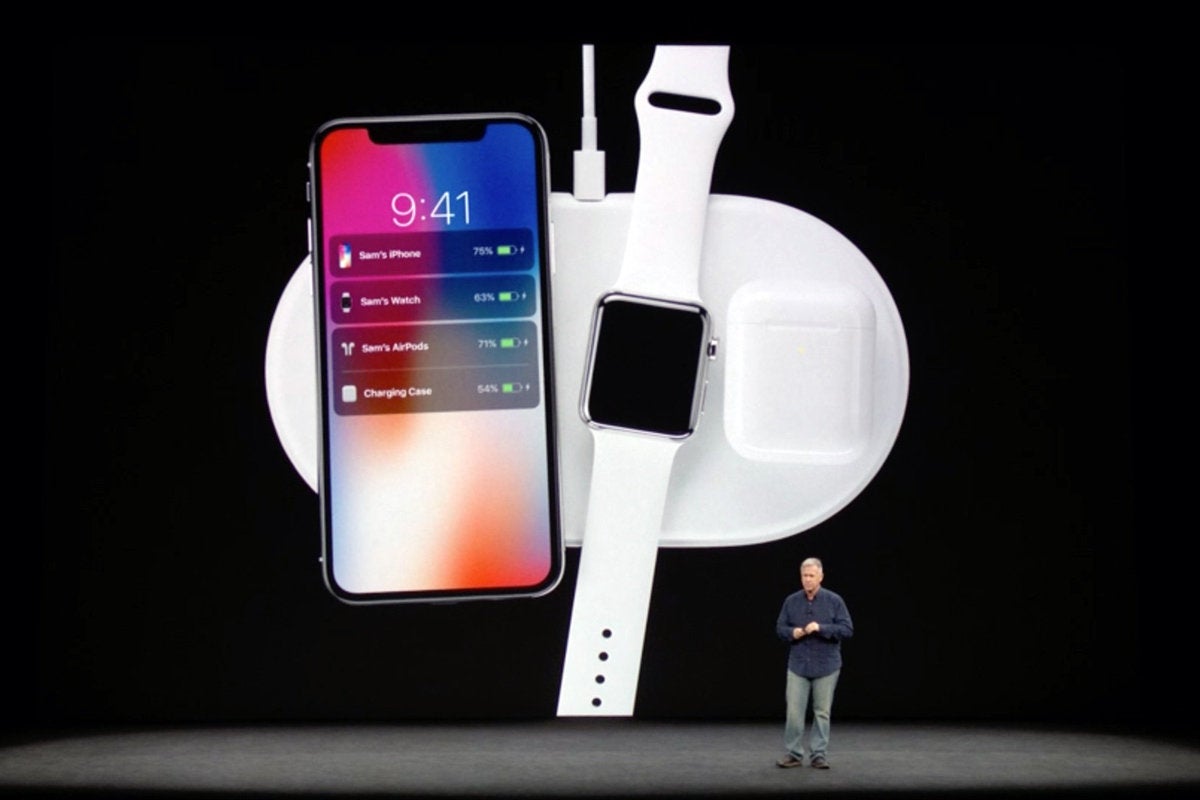 New AirPods
Apple is said to be working on second-generation AirPods that, among other things, support "Hey Siri" without tapping on them first. Frankly, this doesn't seem like the right event for new AirPods, and we haven't seen any leaks from the supply chain or regulatory agencies to suggest they're coming soon.
Odds are strong that we'll see new AirPods next year, perhaps at a spring event.
Software
Given the tagline "There's more in the making" and the hundreds of individual artistically-rendered Apple logos on the invitations, we expect the focus of this Apple event to be on creative work. The new iPads and Apple Pencil certainly fit into that, but new software might, too.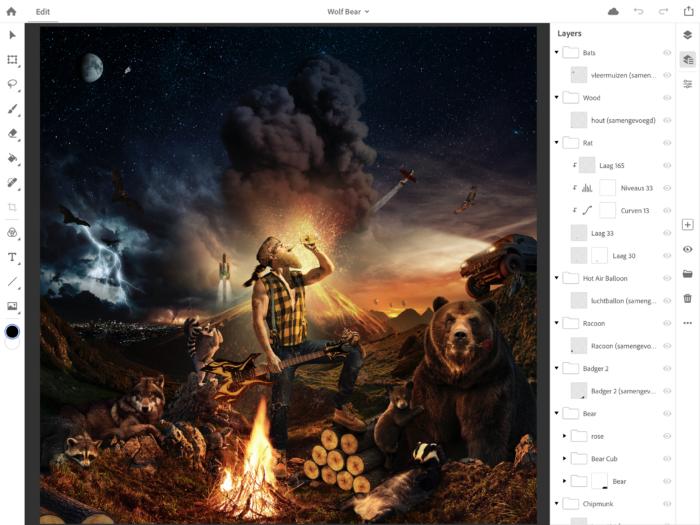 Adobe just announced that it is bringing real Photoshop to the iPad, and we can probably expect a representative from Adobe to jump on stage to show it off. But that's not the only professional creative application we've long wanted on iPad. Could Apple announce Final Cut Pro for iPad? Or Xcode for developers? Are there other third-party professional creative apps that will make the jump from Mac to iPad?