When we took a look at the iPhone XS and XS Max performance in September, we confirmed what we expected: They are not only the fastest iPhones ever made, but the fastest phones, period. Apple's A12 Bionic just crushes every other phone processor.
Now that the iPhone XR is available, with the same A12 Bionic processor running at the same speeds, we expect it to deliver similar performance in a package that costs $250 less. And because it's a big phone with a big (for Apple) battery, and a much lower-resolution 1792×828 pixel LCD display, it should deliver battery life that outpaces every other iPhone on the market.
In other words, if you only cared about benchmarks, the cheapest new iPhone of 2018 would be the one to get. Let's see how the iPhone XR shakes out against the XS and XS Max, last year's iPhone X, and the iPhone 7 Plus from two years back.
Geekbench 4
Geekbench is a mainstay of performance benchmarking in part because it is available for so many platforms: macOS, Windows, Linux, iOS, and Android. There's no one synthetic benchmark that is perfectly comparable across platforms, but Geekbench 4 comes about as close as you can get.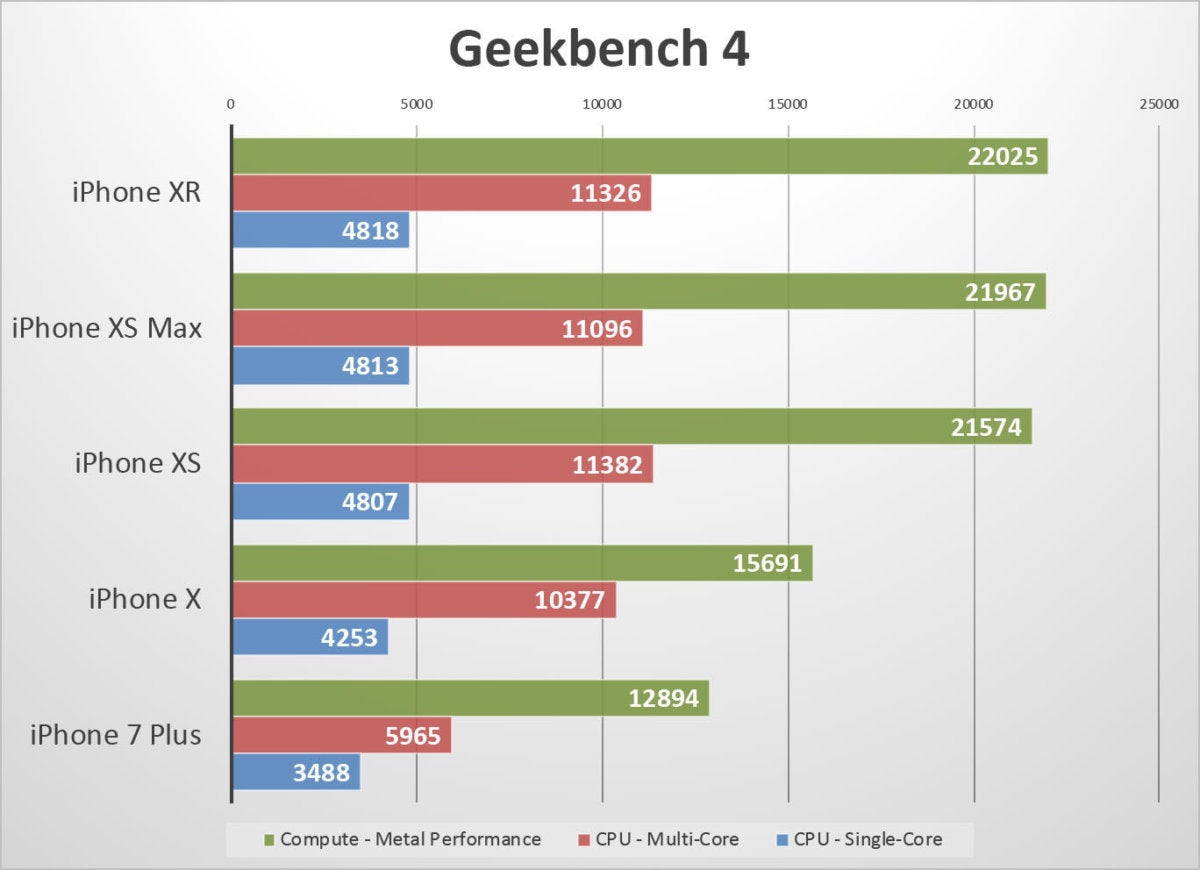 The iPhone XR is right in line with the XS and XS Max—easily within a margin of error of a couple of percentage points. This makes it 13 percent faster in single-core performance than the thousand-dollar iPhone X of last year, and about 10 percent faster in multi-core performance.
In the GPU-powered Compute benchmark (which uses the Metal API), performance is about 40 percent faster.
AnTuTu v7
The AnTuTu benchmark is best known in the Android world, but it is also available for iOS. We had quite a few problems getting a stable score out of the latest version, as results often vary significantly from one run to the next. We don't suggest putting a ton of stock into these particular numbers, as it's not always clear what's being tested or how tests differ between platforms. Nonetheless, we present the results to satisfy the curious.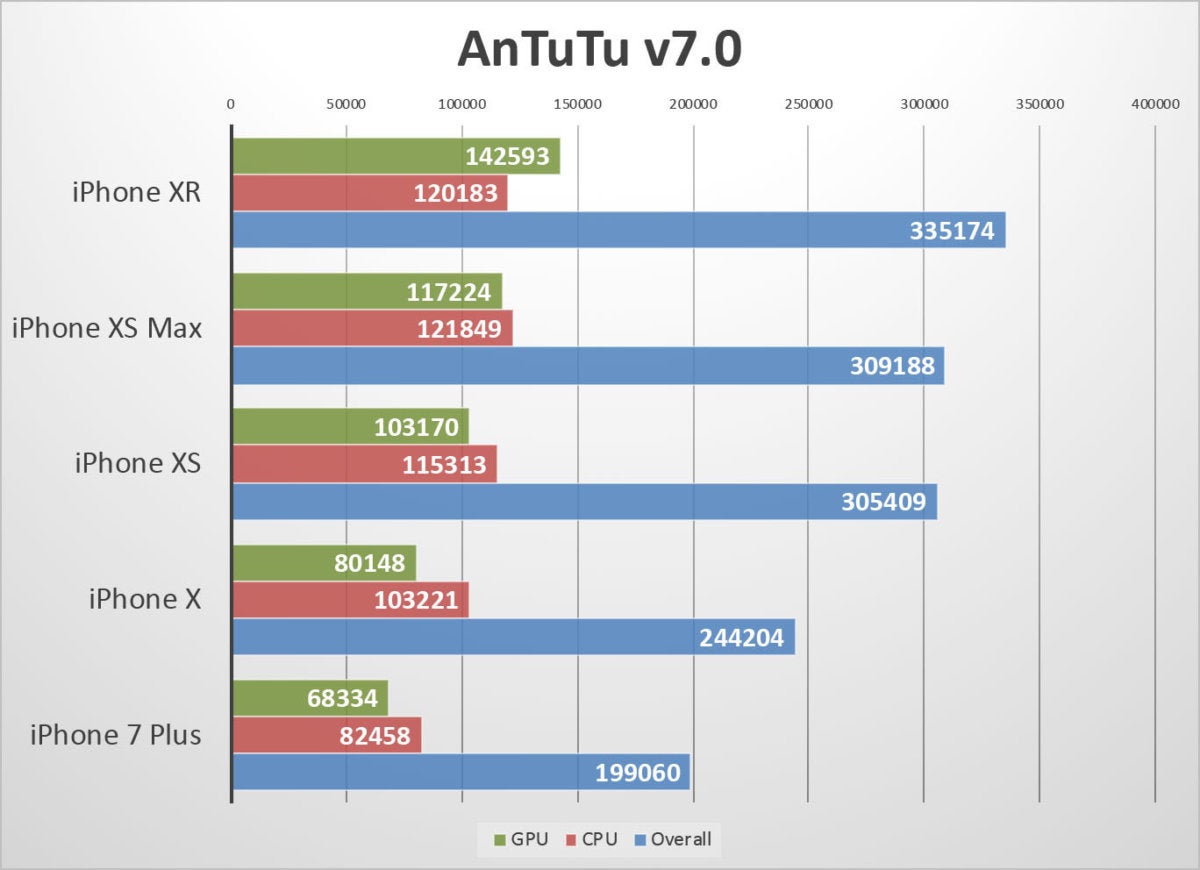 It is curious that the iPhone XR scores better in the GPU test than the XS or XS Max (which helps boost the overall score). This is probably due to the lower resolution of the iPhone XR's display. The graphics tests here are rendered on-screen and not at a fixed or off-screen resolution. The A12 Bionic's GPU will deliver faster frame rates on the XR because it has to render about 85 percent more pixels on the XS and 125 percent more on the XS Max.
3DMark
Our favorite 3D graphics performance test is 3DMark. The Sling Shot version of the test runs a graphically intensive game-like scene before delivering a final performance score.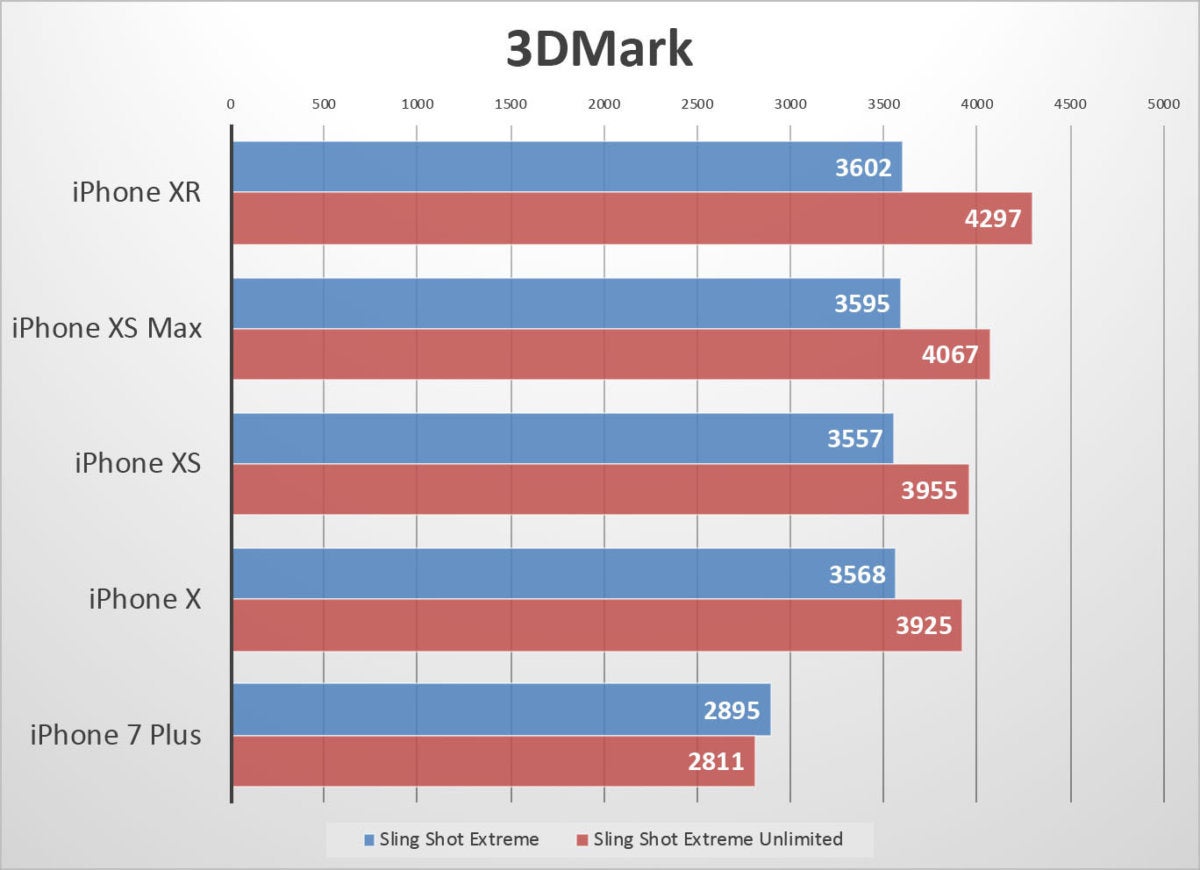 There are two versions of the test here. Sling Shot Extreme runs the benchmark using Apple's Metal API at a resolution of 2560×1440, which is then scaled up or down to the output resolution of the test device. Sling Shot Extreme Unlimited renders the same test off-screen to avoid any speed limits from display scaling or Vsync. Therefore, neither test is impacted by the lower display resolution of the iPhone XR.
The results are basically identical to the iPhone XS and XS Max, which means they're also nearly identical to the iPhone X. What happened to the "up to 50 percent" GPU speed improvement of the A12 Bionic? We suspect that this test, with all of its large art assets, is entirely bottlenecked by memory bandwidth and cache performance rather than the GPU's ability to perform computations.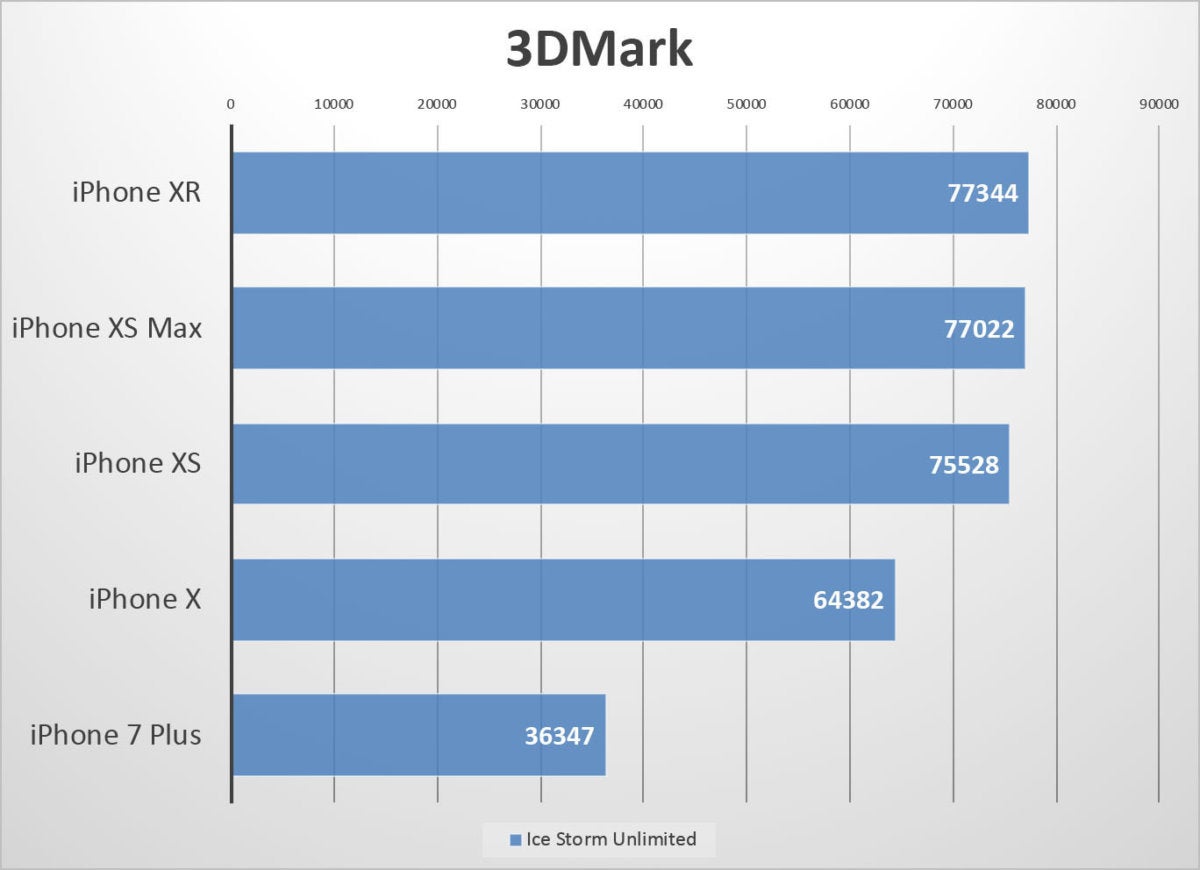 The simpler Ice Storm Unlimited test somewhat validates our memory bandwidth theory. It runs a simpler game-like scene using OpenGL ES 2.0 at a resolution of 1280×720 with a fixed time-step between frames (so all devices render the exact same frames).
This less strenuous test, with comparatively low-res art assets and a lower output resolution, puts less demand on memory bandwidth. It runs around 18 percent faster on the A12-powered phones than on the A11-powered phones.
If you're upgrading from an iPhone 7 Plus to an iPhone XR, you can expect real game frame rates to be anywhere from 50 percent higher up to twice as fast, depending on the complexity of the game. That's a huge win for everyone upgrading their two-year-old phones.
Battery Life
This is where it gets interesting. When comparing the iPhone XS to the iPhone XS Max, the battery life considerations were relatively simple. The XS Max is the same phone with larger battery (3174mAh vs. 2658mAh), but also a larger and higher-resolution display (though with the same pixel density and OLED technology). The end result is that the iPhone XS Max lasts for about an hour more screen-on time than the iPhone XS.
The iPhone XR is a different matter. Its 6.1-inch display falls in between the 5.8 and 6.5-inch sizes of the iPhone XS and XS Max. Its 2942mAh battery falls in between the battery capacities of those phones, too. But it's not just the same display at a different size; it's an LCD instead of OLED, with a density of 326 pixels per inch instead of the 458 pixels per inch of both iPhone XS models. The power drain from the processor should be the same as its more expensive brothers, but the power use of the display may be drastically different.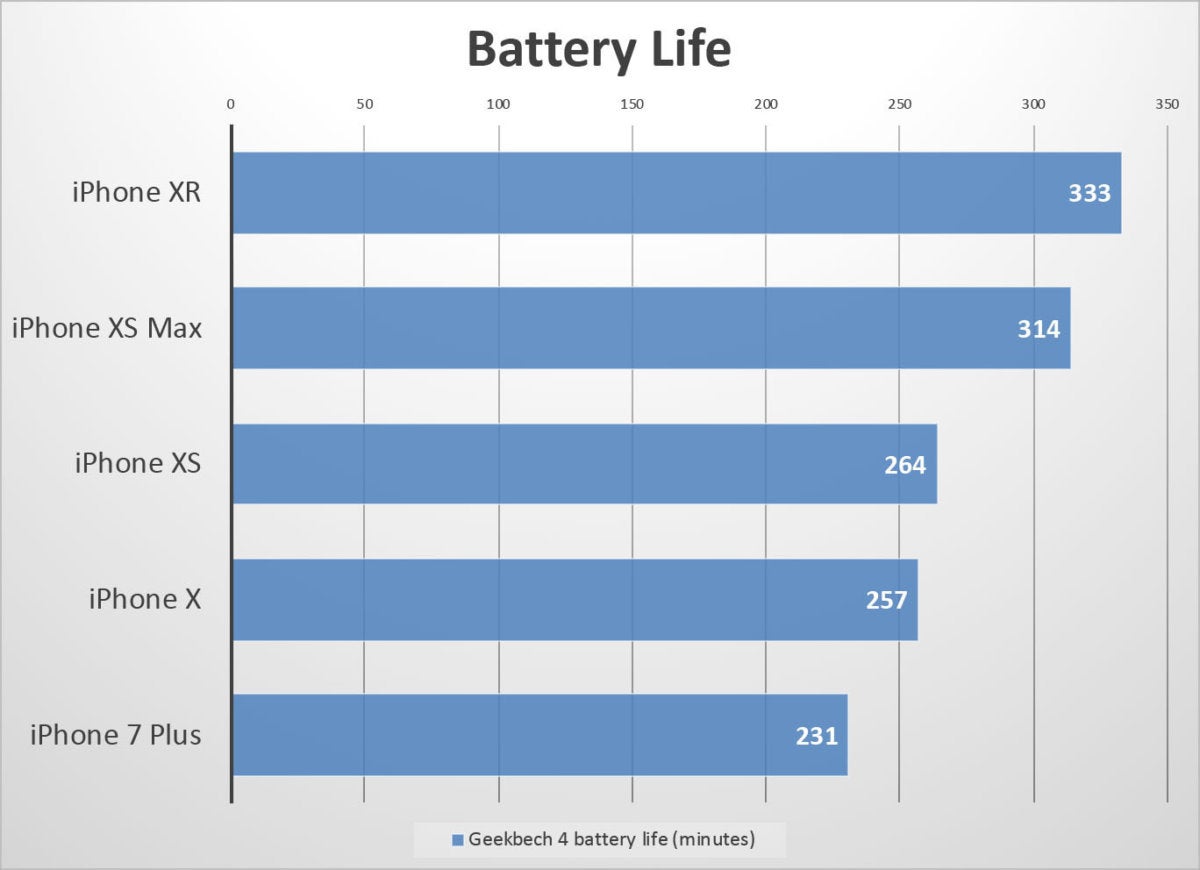 We'll remind you that this test is a nearly a worst-case scenario—the screen is always on at comfortable "bright indoor office lighting" setting (200 nits) and running very CPU- and GPU-intensive tests nonstop. In the real world, you're going to get a lot longer battery life than this, especially if you perform mostly simple tasks. It's not a great analog to everyday use, but it's a consistent and repeatable test that fairly compares devices.
In this test, the iPhone XR ran 19 minutes longer than the iPhone XS Max, and more than an hour longer than the iPhone XS. In a real-world scenario (i.e. not running benchmarks nonstop), that will likely translate into about 30-45 minutes more screen-on time than the iPhone XS Max and two hours more than the iPhone XS, depending on how you use your phone. The iPhone XR holds a charge better than any other iPhone ever made.
It's especially interesting to compare the battery life of the iPhone XR to the iPhone 7 Plus. They have almost the exact same-sized batteries—the iPhone 7 Plus battery is 2900mAh—and both have LCD displays with similar total area. The iPhone XR's display has a total area of around 90 square centimeters, the iPhone 7 Plus about 83 square centimeters, about 7 percent smaller. Yet the iPhone XR, with its slightly larger display and same-sized battery, lasted about an hour and 45 minutes longer in this test.
That's a roughly 45 percent improvement in battery life with a slightly larger display and similar battery capacity. What an impressive improvement in just two years!
Overall performance notes
If you were to do nothing but look at the benchmarks, you'd wonder why anyone would ever buy the iPhone XS over the iPhone XR. It's got the same performance, shorter battery life, and costs $250 more!
But the quality of a phone is determined by far more than just its benchmark numbers. The iPhone XS has a higher-resolution OLED display with support for HDR, dual rear cameras (which allows you to take Portrait Mode photos of subjects other than human faces), 3D touch, better waterproofing, higher maximum storage options–it's simply a better phone. The iPhone XR also has only 3GB of RAM, while the XS and XS Max have 4GB. That difference didn't show up in these benchmarks and it probably won't make a difference in your daily use today, but it might have more of an impact a couple years down the line.
The exciting thing about the iPhone XR benchmarks is that, unlike when Apple released the iPhone 5c, this year's less-expensive model makes no compromises on performance or battery life. In fact, it's got the best battery life of any iPhone ever. There's little reason to think that this phone will be obsolete any sooner than the iPhone XS.
iPhone XR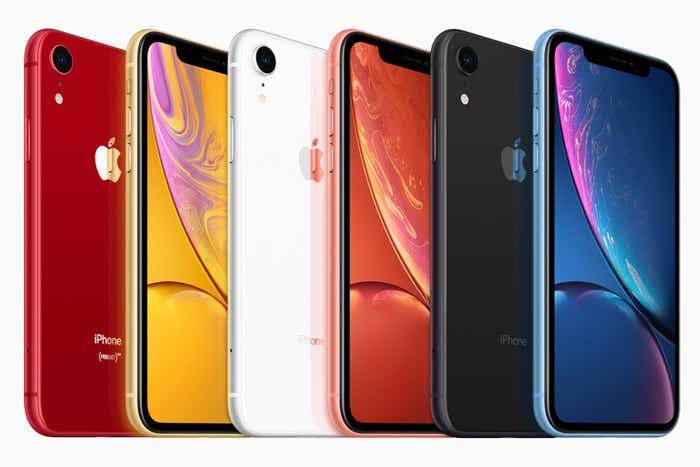 Read our full
Review iPhone XR
iPhone XS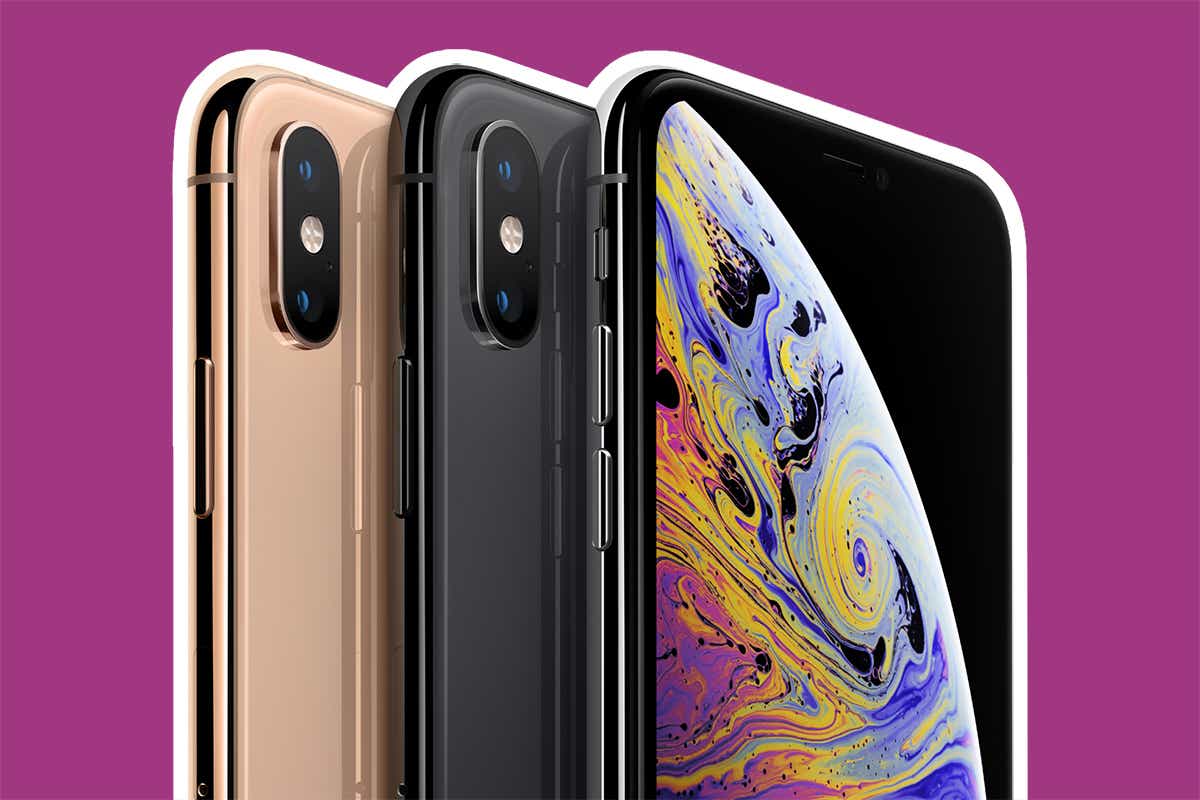 iPhone XS Max