Sandwiched between the new MacBook Air and iPad Pro during Apple's "More in the Making" event was an update to the Mac mini, a computer most of us thought was dead. It's not just that it had been more than four years since Apple last updated its mini PC, it had also been twice as long since it had anything resembling a redesign.
And guess what? We're still waiting for a truly new Mac mini. The new model might come in space gray now, but it's a small consolation to those of us who were waiting for Apple to truly rethink and reimagine its tiniest Mac. Just like it has been for the past eight years, the Mac mini is 7.7 inches square and 1.4 inches thin. The placement of the ports have shifted and the rear vent is slightly bigger, but for the most part, the new Mac mini is merely a darker version of the old Mac mini.
What the heck took so long?
Basically a refresh
If you've been patiently waiting for a Mac mini ever since Tim Cook promised it will be an "important part" of Apple's product line, you were no doubt thrilled to see Tuesday's update. From a pure spec standpoint, it checks off a lot of boxes that the previous Mac mini didn't:
Quad-core Intel Core i3 or 6-core Core i5 or i7 processor
Up to 64GB of RAM
Up to 2TB of SSD storage
Four Thunderbolt 3 ports
Up to 10Gb ethernet
That's nothing to sneeze at. Compared to the prior generation, the new Mac mini is a veritable powerhouse packed in the same diminutive square. You can even upgrade the RAM after you buy it, a rarity among Apple products. But in 2018, the new Mac mini feels like more of a concession than an innovation.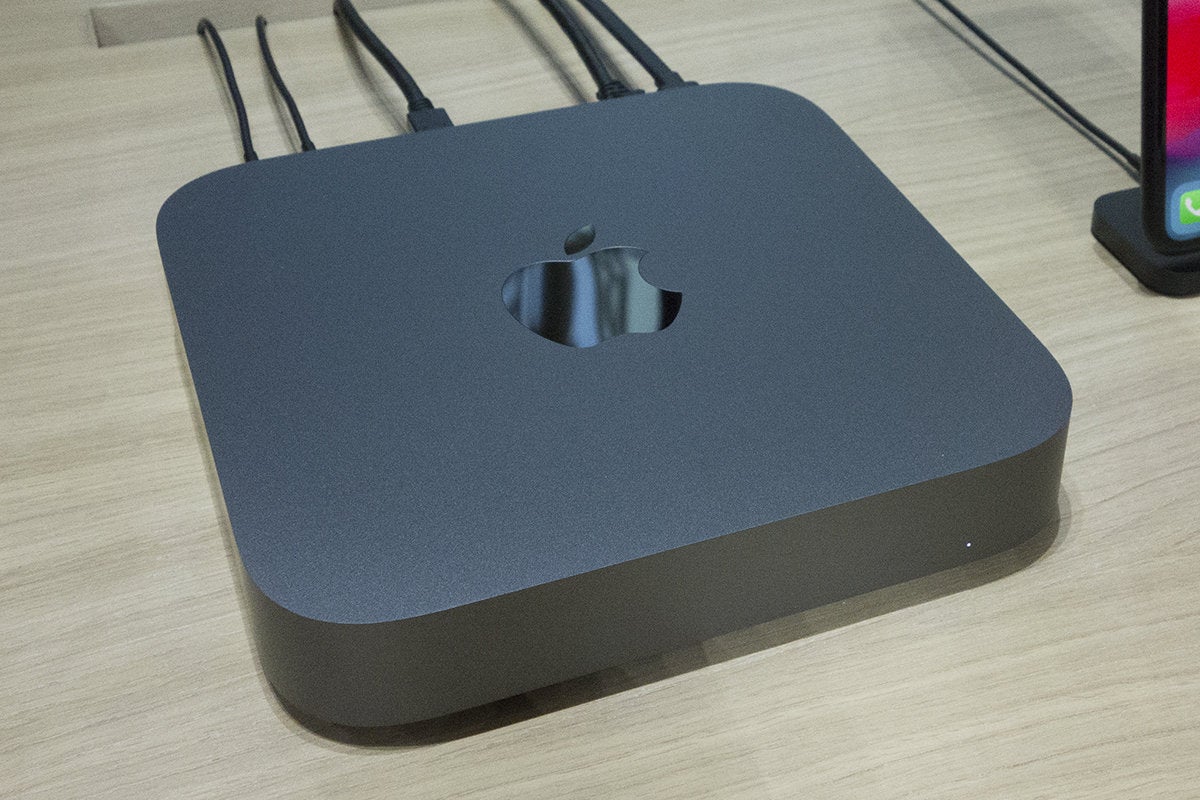 After four years, Apple basically gave us the barest minimum Mac mini upgrade to get us through the next four years. I have little hope that Apple will pay any attention to the Mac mini until sometime in 2022, if it ever does. With the exception of the MacBook Pro, Apple tends to upgrade its Macs just enough so it can safely ignore it for a few years. See: the new MacBook Air. Go get your new mini while it's hot but don't expect this to be a sign that Apple is committed to its smallest Mac.
A new definition of pro
The other thing that has changed about the Mac mini is the price, and it's here where Apple's new PC really starts to feel like a disappointment. It now starts at $799, $300 more than the previous $499 starting price, and clearly aimed at so-called pro users. In fact, if you max out the mini with a 6-core Core i7 CPU, 64GB of RAM, and 2TB of storage, it'll set you back—wait for it—$4,199. For a Mac mini.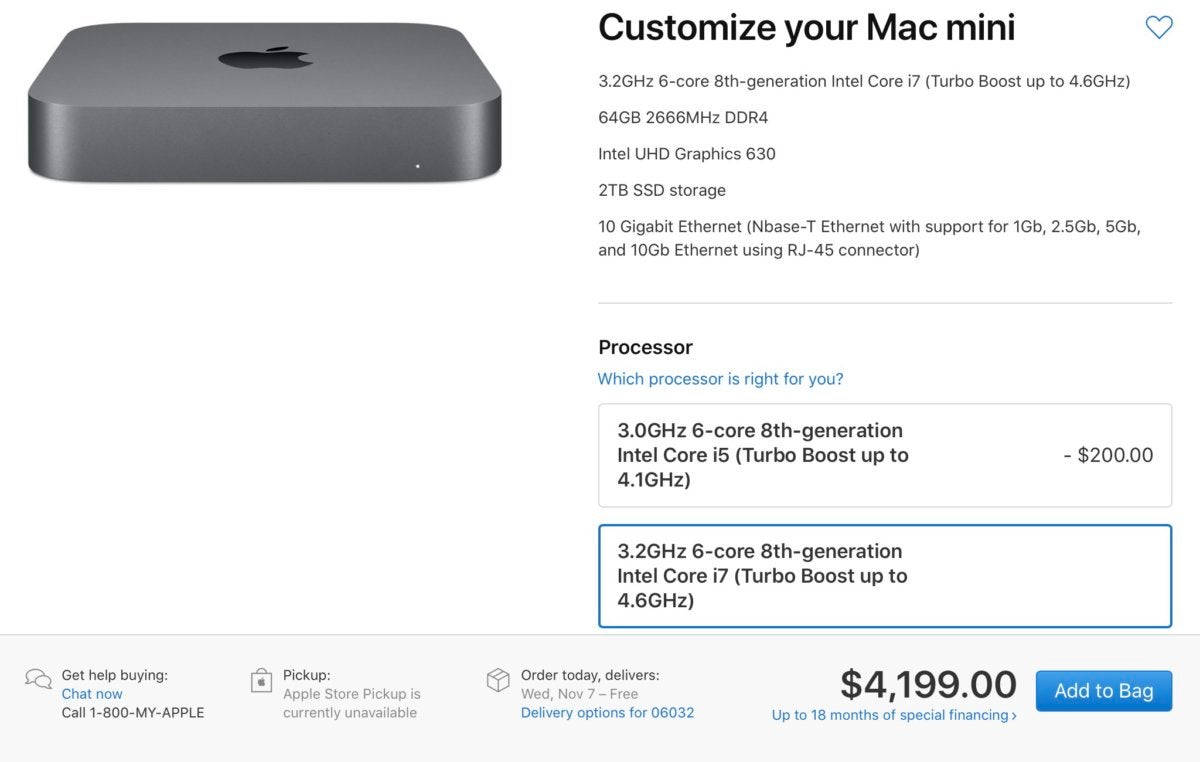 Aside from that being absurd, it's also kind of insulting to fans. The original point of the Mac mini was to offer people a budget Mac in a small package, but now it's a more of a "pro" machine with a higher price tag in a small package. Apple is calling it "the update of a lifetime," but really it's still a middling Mac that's now a little overpriced to boot. And what's more, there's nothing about it that Apple couldn't have accomplished with regular updates. Sure you can update the RAM, but not without taking it apart. And there's no way to upgrade the storage. Intel's NUC machines are more innovative in those departments.
Apple made a conscious decision to pigeonhole the Mac mini. During my hands-on with it yesterday, the demos were of the Mac mini as part of a server farm or running as a MacBook Pro companion rather than a cheap home Mac. But without discreet graphics it still stops short of what most pros need. Where's the 8-core option? Radeon or even Iris Plus graphics? Even if you're rich (and crazy) enough to buy a $4,000 Mac mini, it's still only going to be powered by an Intel UHD Graphics 630 card. It's basically an Xcode machine.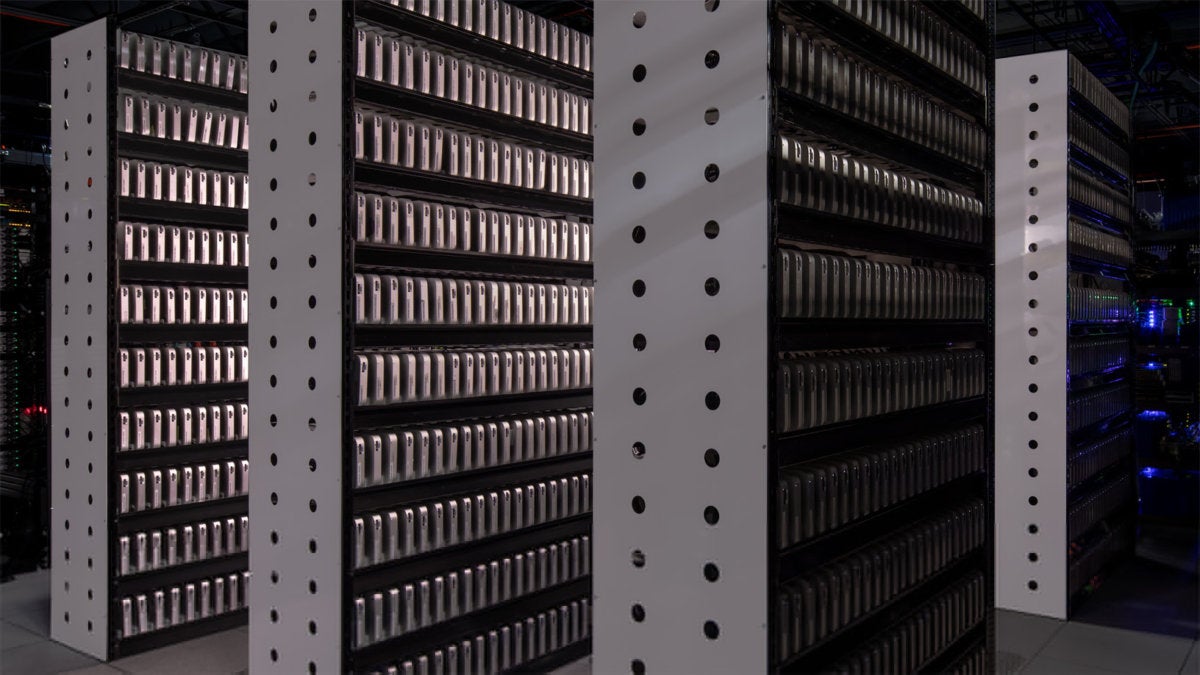 The Mac mini is kind of in no-man's land, too expensive to be a budget Mac and too underpowered on its own to be a real pro machine. And that's not to speak of whether Apple will actually update it before the iPhone XIII.
Waiting for the real Pro
The Mac mini update leaves the Mac Pro as the longest-in-the-tooth Mac, having been stagnant since its 2013 launch other than a modest speed bump here and there. But we've been repeatedly promised that a new modular Mac Pro is coming sometime next year, and we all assume it will be worth the wait.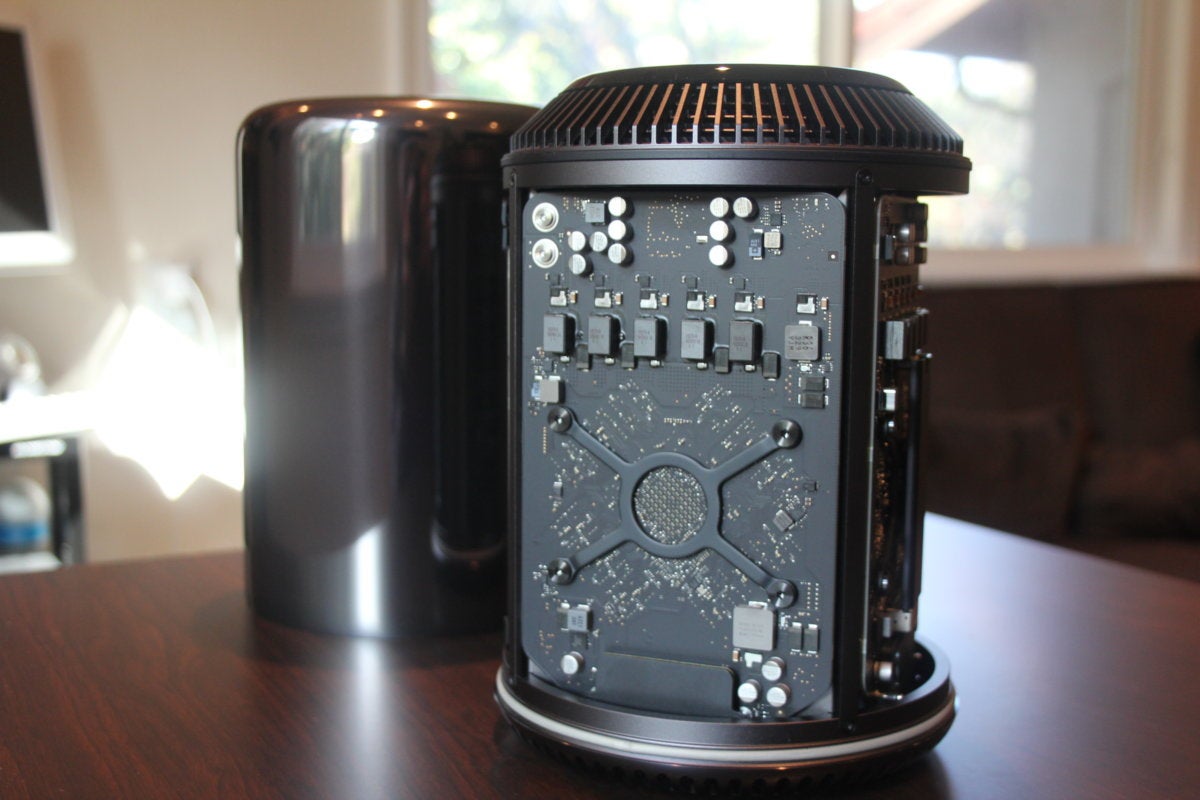 But who's to say the new Mac Pro won't be just as disappointing? I have no doubt that it'll be loaded with the latest Xeon processors, gobs of RAM, and loads of storage, but will it deliver the innovation and ease of use that professionals really want? It's pretty clear at this point that Apple's R&D dollars have disproportionately shifted to the iPhone and iPad, and based on the new mini update, the Mac is little more than an afterthought. The specs are fine, even good, but if the design didn't change, why did it it need to take four years?
Pardon me if I'm a little concerned about the Mac Pro. A lot is riding on the redesign and while I was once confident that the extra time Apple is taking means it is tweaking, fine-tuning, and refining the design, the Mac mini makes me skeptical. The specs are almost secondary to the Mac Pro update—it needs to deliver a completely new experience to make pro users happy. What if Apple merely tweaks the case and adds a few Thunderbolt 3 ports?
There was a time when Apple would blow us away with new Mac updates and set the trend for the whole industry. That's certainly the case with the iPhone and iPad. But after the not-so-triumphant return of the Mac mini, I'm not so sure anymore.