It's another record quarter as a part of a record fiscal year for Apple. The revenue was nearly $63 billion, the profit more than $14 billion, and for the year Apple generated $265 billion in revenue and nearly $60 billion in profit. It's the company's eighth straight quarter of revenue growth, and that growth has accelerated every one of those quarters. This is a healthy company; you couldn't find a healthier one if you tried.
Yes, Apple's stock is getting hit because its guidance—the amount of money it expects to make during the current quarter—is actually slightly below what Wall Street analysts were expecting. For the record, the revenue Apple has guided to—between $89 and $93 billion—would be the most revenue Apple has ever generated in a quarter, and somewhere between 1 and 5 percent growth. In other words, get ready for another record Apple quarter, because this one's shaping up to be huge.
As always, it's worth reading between the lines of the federally-mandated financial disclosure tables and listening to the specifics of the company's ritual phone call with financial analysts to see what else is on the company's mind. Here are a few things that I noticed.
iPhones shipping backward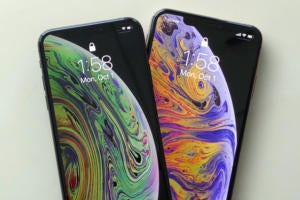 One of the reasons Apple cited for its forecast of slower revenue growth next quarter than in previous quarters is the simple fact that its iPhone roll-out strategy is the opposite of its strategy last year. Then, the lowest-priced models (the iPhone 8 and 8 Plus) shipped months before the higher-priced iPhone X. This year, the reverse is true, with the iPhone XS and XS Max shipping toward the end of the quarter, and the iPhone XR not shipping until just a week ago.
The implication is that during the holiday quarter last year, the first wave of iPhone X sales happened, while this holiday quarter will miss the release of the iPhone XS and XS Max entirely. This is what they call, in the explaining-things-to-analysts business, a "tough compare." (That's the phrasing Apple CFO Luca Maestri used on the call when questioned about the revenue guidance by analyst Shannon Cross.)
Tim Cook likes China and the global economy
If you've been listening to Tim Cook for the last few years, you know that he has been, and remains, bullish on the future of Apple in China. When asked on Thursday by Analyst Wamsi Mohan about Apple seeing slowdowns in some emerging markets, Cook blamed currency issues that required Apple to raise prices (thereby hurting sales) in some countries: Turkey, India, Brazil, and Russia were the markets he cited.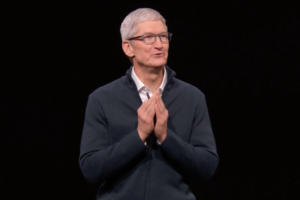 But Cook went out of his way to exclude China from Mohan's thinking. "Our business in China was very strong last quarter—we grew 16 percent," he said, citing strong iPhone growth.
The cloud hanging over all discussions of China is the possibility that an escalating exchange of tariffs and other aspects of a trade war might hurt Apple, which assembles many of its devices in China as well as selling many products there. Analyst Katy Huberty asked Cook if he had any plans to diversity Apple's supply chain, presumably to provide the company with a hedge on production in case U.S.-China relations deteriorated to the point that they might have an impact on Apple's ability to produce and ship products.
Cook would have none of it. First, he rejected the premise of the question, pointing out that Apple products are "really manufactured everywhere," with contributions from the U.S., Japan, Korea, and China.
He went on to explain why this is the best approach. "I think that basic model, where you look around the world and find the best in different areas, I don't expect that model to go out of style," he said. "I think there's a reason why things have developed in that way, and I think it's great for all countries and citizens of countries that are involved in that. And I'm still of the mindset that I feel very optimistic and positive."
Tim Cook is excited about health and AR
It's not an analyst call without at least one attempt to divine a future product direction from the usually buttoned-up Apple. This time it was Wamsi Mohan's to tempt Cook with a question about Apple's future role in healthcare. And Cook, somewhat surprisingly, answered with a vague-yet-positive response: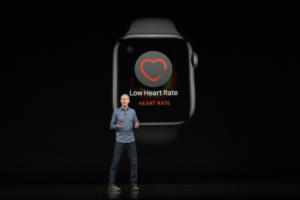 "Apple has a huge opportunity in health, and you can see from our past several years that we have intense interest in the space and are adding products and services… I don't want to talk about the future because I don't want to give away what we're doing. But this is an area of major interest to us."
Look, that's pretty much the most you're ever going to get out of an Apple executive regarding future product directions. Expect everyone else to spend the next six months trying to interpret what Cook might mean by health being "a huge opportunity" and "an area of major interest."
Meanwhile, another area of major interest—augmented reality—also still makes Cook's heart sing. Analyst Mike Olson cited a slowdown in stories about AR and Cook jumped in to proclaim that he has "a different view" on the matter. He cited seeing demos of new AR products being built during his travels around the world last month, and said he's "really happy with where things are at the moment."
10 Units Or Less
Finally, in a bit of a surprise, Apple announced that it would no longer report the number of individual products it sells beginning next quarter. This means that while we'll still know how much revenue the Mac, iPad, and iPhone generate every three months, we'll no longer be able to see exactly how many Macs, iPads, and iPhones Apple sells.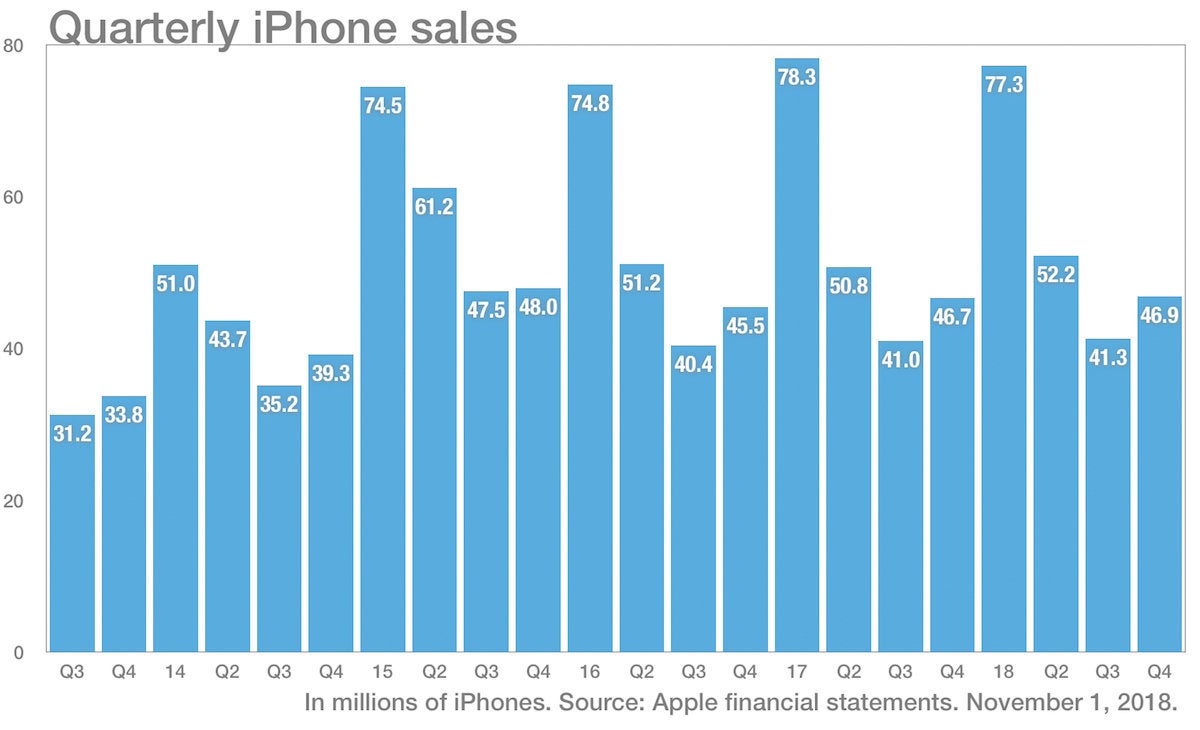 Maestri chalked this change up to the fact that Apple feels the numbers can be misleading, since the company doesn't break out which models are selling well—this quarter, he said, Apple saw strong iPhone growth at the high end of the product line, but that was hidden by an overall flat unit-sales number. Of course, Apple's current strategy seems to be to grow revenue in an era with flattening sales growth, and this move plays into that strategy. Also, let's not forget that if Apple really wanted to communicate how well particular models are doing in unit sales, it could disclose that information.
Make no mistake: this is about Apple wanting to limit the information it discloses about its business. Since there are apparently no federal regulations that require companies to disclose unit sales (as opposed to revenue), we're not going to see those numbers anymore. Instead, we will be left to guess, based on revenue figures, occasional factoids thrown out by Apple executives in analyst calls or on slides at media events, and the (frequently poor) estimates of independent analysts.
Or you could take Tim Cook's view, via a somewhat strange supermarket analogy that ended up being the final words of Thursday's hour-long analyst call. The growth of the installed base (a number that can be defined in a bunch of different ways so that it reflects what you want it to reflect) and customer loyalty figures matter more than the unit figure, he said. And besides, who cares how many items you have in your cart when you get out your credit card at the checkstand?
"This is a little bit like if you go to the market, and you push your cart up to the cashier, and she says or he says, 'How many units you have in there?' It doesn't matter a lot how many units there are in there, in terms of the overall value of what's in the cart."
I'll keep this in mind the next time I'm buying peanut butter at Whole Foods.