If you use iTunes to backup your iPhone, the actual backed-up data starts to pile up. Backups often run from gigabytes to tens of gigabytes, retaining anything unique on an iOS device that isn't synced via iCloud or available from the App Store. For example, if you have iCloud Photo Library enabled, the iTunes backup doesn't include the Camera Roll.
Apple oddly doesn't have an automatic "garbage cleaning" routine, or prompt to delete, or ask you if you want to delete these backups.
You can easily fill up your drive with iOS backups, and it will feel mysterious as you won't even know why you're running out of storage. However, you can find these backups and delete older ones, as well as archive them on an external drive if you have a need or desire to retain them.
How to manage iOS backup files though iTunes
Open iTunes and choose iTunes > Preference > Devices. In the Device Backups list, you'll see a list of all the backups that are stored on your Mac. If you're like most people, you will be amazed by how many. (In the image below, you see just one: I switched long ago to iCloud backups, and had mostly deleted older archives.)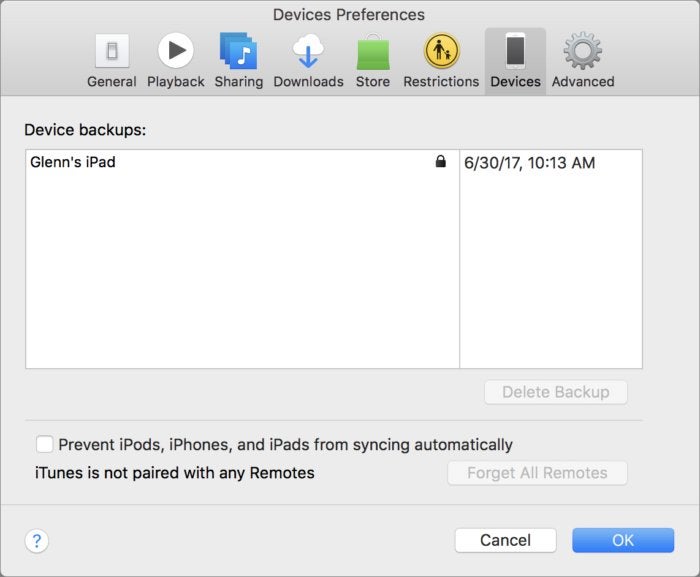 To delete older backups, I recommend using the iTunes interface, as it handles everything correctly and updates the list in the process:
Right-click the backup name.
Select Delete.
Confirm the deletion.
Repeat steps 1 to 3 for as many backups as you want to delete.
Click the OK button.
Only when you click OK are the backups removed, and it's immediate and irreversible: iTunes doesn't throw the files in the trash, but removes them from the drive.
You can instead select Archive, and iTunes prompts you for a location to move the backup.
How to access the iOS backup files on your storage device
If you want to delete the backups manually, or find them to archive them to an external drive, in the Finder either choose Show in Finder from the above menu or:
Choose Go > Go To Folder.
Enter ~/Library/Application Support/MobileSync/Backup
Click Go.
The backups are labeled by device UDID (Unique Device Identifier), which is the unique identifier for each iOS device. If you have multiple iOS devices you back up, this can help differentiate among them. You can find this UUID in iTunes by plugging your device in via USB, clicking its icon in the iTunes toolbar, and then click the Serial Number field until UDID appears.

For multiple backups, the most recent has just the UDID label, while older ones have the date (year/month/day) and time (24 hour-clock plus seconds) as suffixes, as in -20181101-130144. You can move these folders elsewhere and can then drag them back if you need to restore from one of them as a backup. This may require quitting iTunes and relaunching it to get the backup recognized in the Devices tab in Preferences.
This Mac 911 article is in response to a question submitted by Macworld reader Todd.
Ask Mac 911
We've compiled a list of the questions we get asked most frequently along with answers and links to columns: read our super FAQ to see if your question is covered. If not, we're always looking for new problems to solve! Email yours to mac911@macworld.com including screen captures as appropriate, and whether you want your full name used. Every question won't be answered, we don't reply to email, and we cannot provide direct troubleshooting advice.