At a Glance
Expert's Rating
Pros
Blazing fast A12X Bionic chip
Greatly improved Apple Pencil
Attractive, expansive display
USB-C support expands support for peripherals
Cons
Subject to the same frustrating iOS limitations
USB-C support is 'luck of the draw'
Our Verdict
Best Prices Today: iPad Pro (12.9-inch, late 2018)
Apple really wants us to believe a tablet can take the place of a MacBook, and it's spared few resources in its quest to proselytize us with the 2018 iPad Pro. The iPad Pro is a beast, one that can hold its own alongside powerful laptops. It's a stunner, especially with a redesigned Apple Pencil and Smart Folio Keyboard that feel more like essentials than peripherals. It's versatile, thanks to the new support for USB-C, and it achieves all this while looking both familiar and futuristic.
Oh, how I've waited for it. I'm one of the loons who willingly used an iPad Pro as my primary writing machine for almost two years, and I loved its portability and the ease of switching between typing and longhand writing. Yet for all that, switching back to a MacBook felt like getting new glasses after months of living with a faulty prescription. Little frustrations vanished. Formerly complex tasks became simple. My productivity skyrocketed. Never again, I figured, would I ever reach for the iPad Pro for work.
But the 2018 iPad Pro makes a compelling case with all that power, all that potential. I've been using it as my main work device, and at times I'm in awe of what it can do. At other times, though, I find myself wondering why Apple hasn't taken better advantage of all that fancy hardware. Too often, I found myself thwarted with the same complications that led me away from the iPad Pro in the first place.
There's never been a better tablet. Regardless of what Apple wants you to believe, though, there are still plenty of better laptops.
The regal pad
The iPad Pro certainly looks like it means business. After so many years of the same basic iPad design, Apple has treated us with sleek, flat, angular edges that were partly designed to wirelessly charge the new Apple Pencil, but also make it easier to hold. Curves still assert themselves in the device's corners (and, beautifully, on the edges of the display), but they're subtle. Indeed, if anything, it looks a lot like a massive iPhone 5s—and that's not an insult.
Still, the changes stand out. No one will mistake the 2018 iPad Pro for anything but an iPad, but I was astonished by how many people in public immediately recognized it as the new iPad.
That's due to the display. The 2732×2049 Liquid Retina LCD display with 264ppi isn't terribly different from what we saw in the iPad Pro last year, and it's packed with all the goodies like TrueTone color adjustment and ProMotion refresh technology that we've come to expect from the Pro line. I admire the color range you get from its DCI P3 specifications, but its 600 nits of brightness still don't match the more than 700 you'll get on the iPhone X and newer devices.
The display is about the only thing you see when viewing the device from afar. Apple likes to say the display spans "edge to edge" in its marketing, but you'll find a roughly half-inch black bezel encircling the screen that helps hide the 7MP TrueDepth camera for Face ID without adding a notch. Some apps like Spotify still haven't adjusted to the new aspect ratio on the smaller 11-inch model.
The display dominates all impressions, partly because Apple scrapped the device's "forehead" and "chin," thereby shearing off an inch while keeping the full 12.9-inch display. In the process, the iPad as a whole better mimics the feel of an 8.5-inch by 11-inch piece of paper. It feels more comfortable holding it while reading on the couch. It minimizes the differences between the two models, as many people had trouble figuring out if I was using the 11-inch model or the 12.9-inch model (and there would have been no question with previous designs.) I'd call it perfect if the otherwise improved anti-glare coating weren't so ridiculously prone to smudges, to the point that I wondered if that messiness was the main reason why we've yet to see touchscreens in the MacBook line.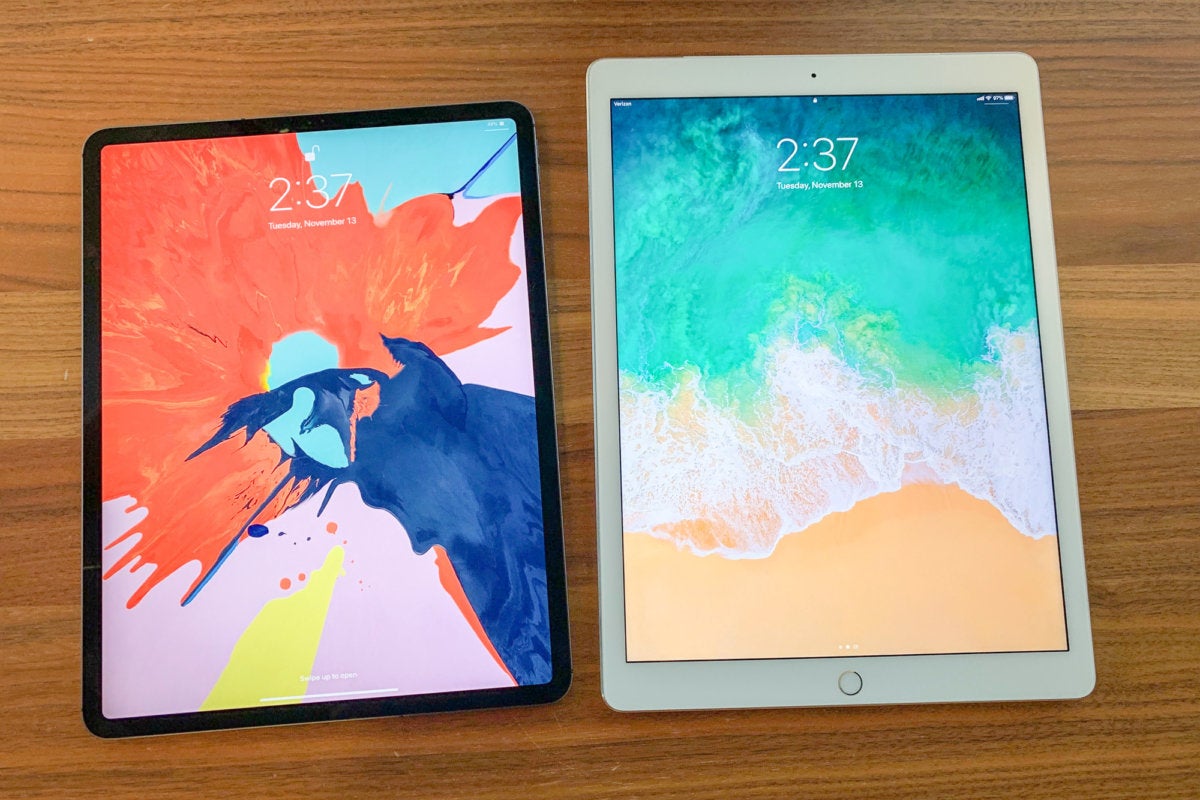 The storage options alone emphasize that Apple wants us to see this as a "pro" device that's capable of handling what artists and photographers will need when full Adobe Photoshop lands on the platform next year. Along with 6GB of RAM—the entry model has 4GB—our particular unit has a whopping 1TB of space for storing RAW photo files (or games or movies), which is twice as much as we got last year.
And there are other wonders as well, such as an improved four-speaker system that includes a woofer and tweeter in each speaker. The iPad has always sounded magnificent for what it is, and now it sounds divine. It's also got a 12-megapixel camera and a f/1.8 lens on the back, although Apple sacrificed the optical image stabilization we loved in the previous models, presumably in an effort to make the iPad slimmer. Despite that effort, the camera now protrudes from the back much as the camera on the iPhone XS, although fortunately this doesn't cause the tablet to wobble at all while writing longhand.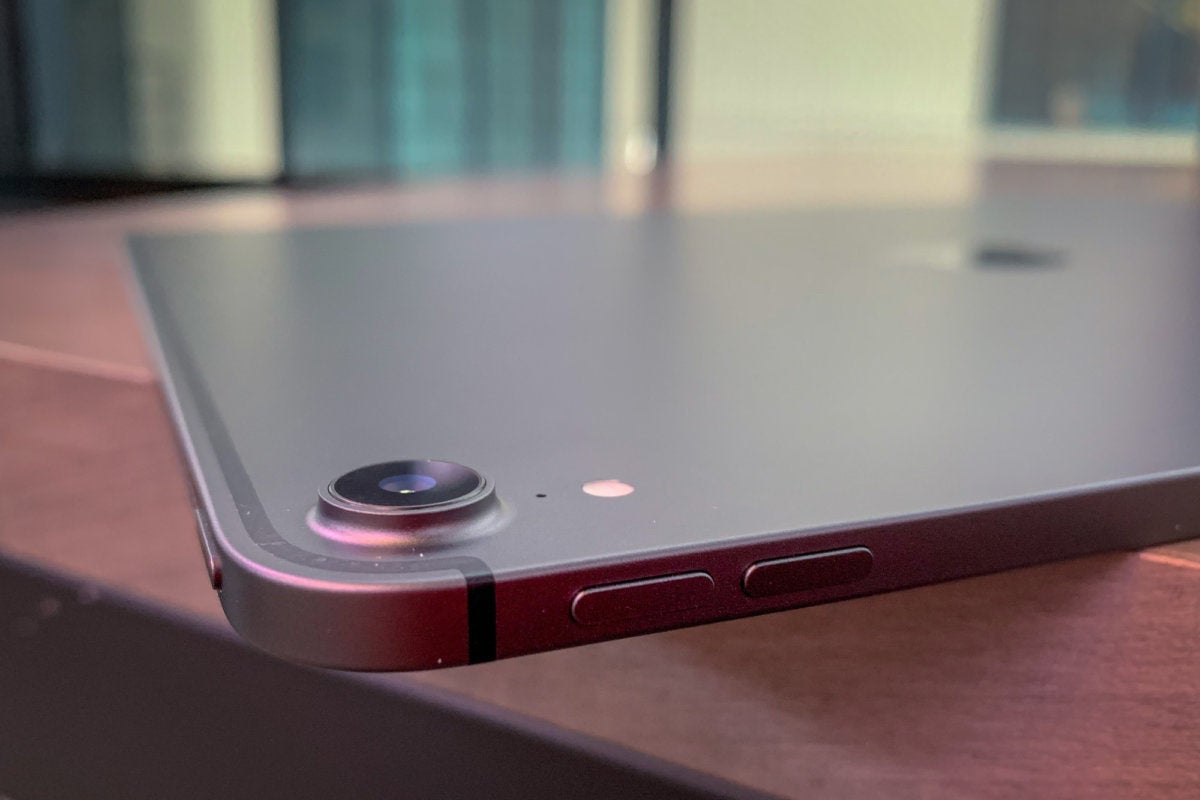 The 12.9-inch iPad starts at $999 with 64GB of storage, but the powerhouse I'm currently typing on costs $1,899 and that doesn't even include the $199 Smart Folio Keyboard or the $129 2nd-gen Apple Pencil. That's a "pro" price, and we should expect "pro" performance from it.
Tower of power
Good thing, then, that the iPad Pro's A12X Bionic chip delivers it. We were already impressed with the A12 Bionic in the iPhone XS and XR, and that chip "only" had a six-core CPU and a four-core GPU. This little beast is a bit of a show-off, with an eight-core CPU and a seven-core GPU, and all eight of the CPU's cores can flare to life at once when needed. Apple claims this kind of power makes it more powerful than 92 percent of portable PCs sold last year, and we see some evidence of that in our benchmarks.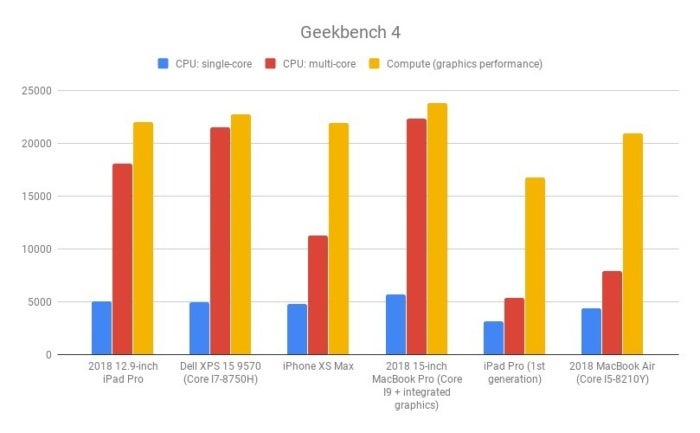 This kind of power would be impressive enough on its own, but it's especially impressive that Apple managed to wield it in a device that's devoid of cooling fans and only slightly thicker than a drugstore clipboard. Even more remarkably, all this power has little impact on the battery life. Apple claims it can deliver around the same 10 hours of juice we saw in last year's model, and that holds up in our tests. It holds up in the field, too: On an entire day without a charger—writing, playing games, watching a boring movie—the meter had only slipped to around 43 percent by twilight.
Perhaps that's because there aren't many apps for the iPad Pro that can properly challenge it at a moment. It'll be interesting to see how it handles RAW files when Photoshop drops next year. As for games, Fortnite and Civilization VI already run well on the 9.7-inch iPad, and there wasn't much of a difference on the iPad Pro. Certainly the iPad Pro doesn't currently support anything that approaches the power of the Xbox One S games that Apple compares it to. Whether we're talking about games or productivity, we're largely still waiting for developers to release apps that can push it to its limits.
For its part, Apple is doing its part to pave the way for such apps by ditching the beloved Lightning port in favor of USB-C. That'll be especially important once we start handling RAW image files in Photoshop, as the connection can handle data transfers of 10Gbps and mirror both video and data to an external 5K display.
"Mirror" is the key word here, and one that limits the feature's usefulness. Perhaps in time we'll see more apps that let us use an external display as an extended display, but as it is we could only see what we were doing on the iPad itself. That may be useful for presentations, but not for work.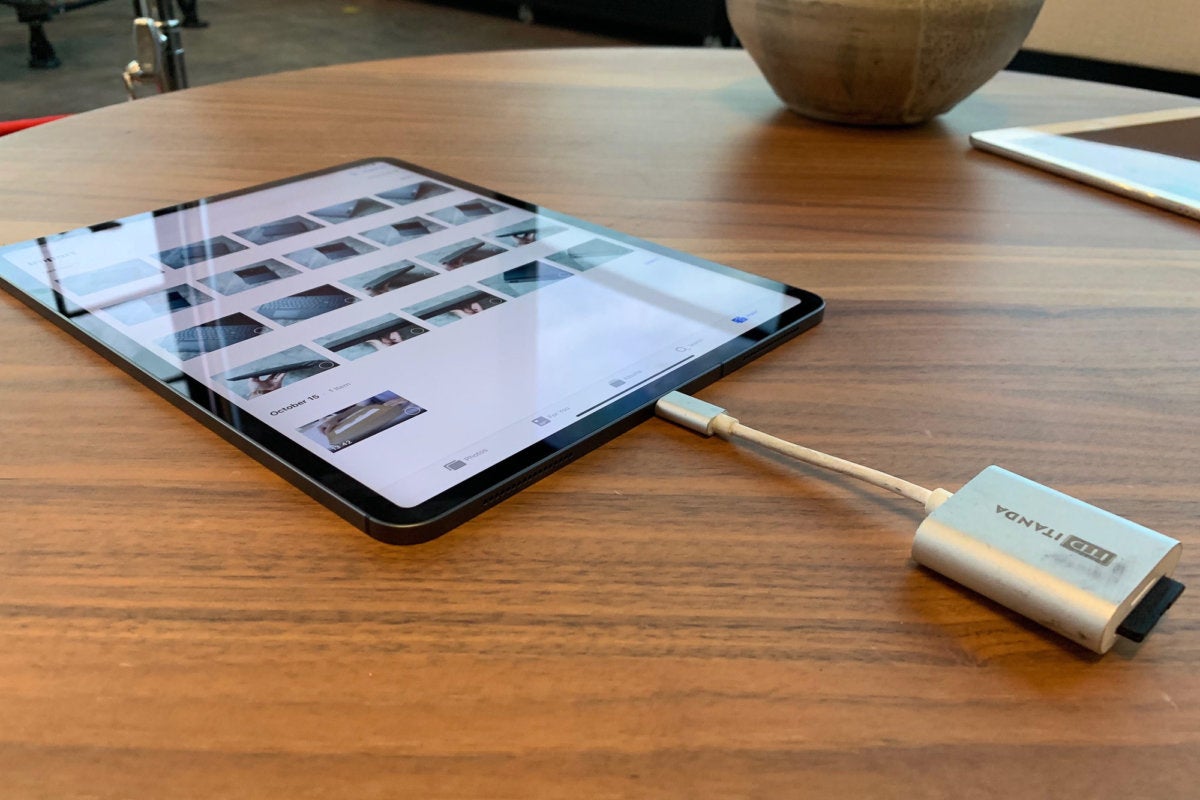 In theory, USB-C 3.1 connectivity lets you hook up all kinds of things with it. For instance, I plugged in my MacBook Pro's 87-watt charger and watched the iPad Pro's battery fill far faster than it will with the rinky-dink 18W changer that comes in the box. For that matter, it's fun to have a new use for all the USB-C dongles I've amassed, such as one that connects to the office ethernet or one that reads SD cards directly.
In time, hopefully, wider adoption of USB-C will eliminate the need for dongles—but only in time. Despite Apple's eagerness, there still aren't a lot of devices that support USB-C natively. Even when they do, it's never clear which devices will work with the iPad Pro, so you're always going to need to experiment. Most of the time, it's merely annoying—as in the way the USB-C cable used to charge the iPad Pro doesn't also let you hook up to an external display. You'll have to buy another cable for that. In the case of external hard drives, though, it's depressing. External storage drives don't even work with the iPad Pro—or at least they merely ask if you want to import the photos on them to your Photo reel. Even then, you'll need to have the photos in a folder titled "DCIM" in order for them to show up.
It's frustrating, and it also suggests that you won't be able to import images directly into Photoshop with a storage device if you so choose. That's a bummer for anyone who assumed that the beastly device would finally allow them to set aside their MacBook Pro for creative work.
Facing the facts
If you're using the iPad Pro for creative work, though, there's a good chance you're already familiar with those limitations. Accept it on its own terms, and you'll find that some of the latest additions greatly improve the day-to-day experience.
No interface improvement is quite so welcome as the switch from the home button to Face ID. The home button worked fine on the iPhone, but it was always awkward on the iPad. Whenever you wanted to unlock something, whenever you wanted to see every app, you had to reach and press your finger a button that was awkwardly placed no matter how you used it.
I had doubts that Apple could pull off Face ID on the iPad when rumors first started dropping and we saw the hints of the coming feature when Apple introduced iPhone X-style gestures to the iPad. I was wrong to worry: It works beautifully. More remarkably, it uses the same 7-megapixel True Depth front-facing camera found on the iPhone XS (which means we also get Portrait mode on an iPad for the first time), but in this case there's no notch. Even better, it works regardless the iPad Pro's orientation, and a little arrow helpfully pops up to show you where the sensor is if you're blocking it.
While we're at it, the headphone jack is also gone, but it was similarly unsuited to the iPad. Headphone cords always get in the way, and that frustration led me to buy my first set of Bluetooth headphones. I believe the iPad Pro is better without it, but, in fairness, its removal is another example of Apple removing options that a "pro" crowd might expect.
The write stuff
For the right audience, the new Apple Pencil is equally transformative. Perhaps even more so. It's everything the first Apple Pencil should have been, and I say this as someone who adored the first model. It's also a pleasant reminder that Apple still remembers how to keep designs simple while adding functions.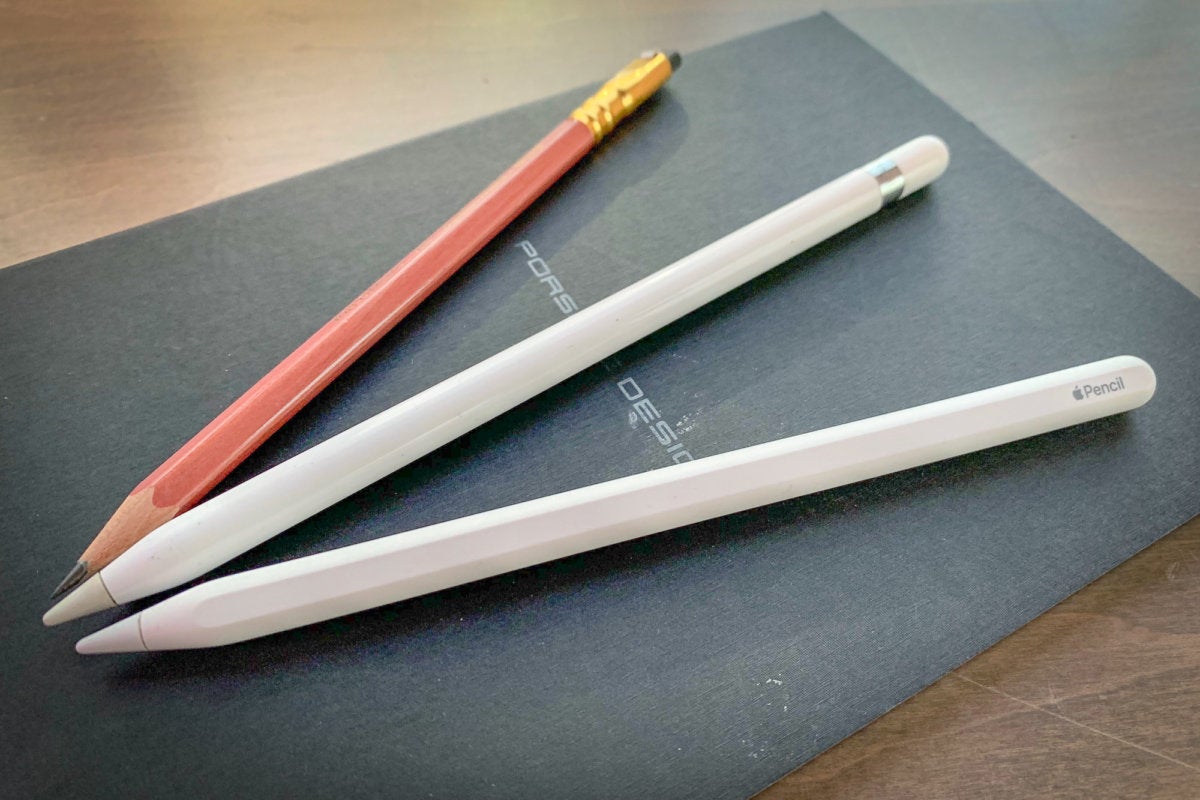 Consider the shift to wireless charging: All the other improvements build off it. Gone, for example, is the need to worry about losing the cap, for there is no cap. Gone, too, is the need to jam the Pencil's exposed male part into a Lighting port. Instead, you merely rest the Pencil along the iPad's right edge, where it clings to the 105 magnets stuffed within (and also instantly pairs). Within seconds, a little notice pops up proclaiming a successful pairing and the battery status, thereby eradicating the frustration of learning how much charge the Pencil had left.
The new charging method also solves the problem of having no place to stow the Pencil. Just don't get the impression that you'll never have to worry about it. The magnets are strong—so strong, in fact, that I could slap the whole $1,900 tablet on my fridge and have no fears about it falling off. On the other hand, the Apple Pencil simply sits perched on the edge of the iPad, and a firm flick of the finger suffices to knock it off into oblivion.
The magnetization adds weight to the new Pencil, and Apple appears to have compensated for that by making it slightly shorter. It retains much the same balance as the previous model, but it's also grippier thanks a light matte coating. Its cylindrical shape is interrupted only by a single, subtle flat edge that allows you to stick it on the tablet; I worried this would affect the writing experience over long sessions, but I've barely noticed it.
The new Pencil now lets you switch between writing and erasing modes simply by double-tapping the edge of the shaft, and it's admirable how this design adds functionality without sacrificing the elegance of the original. But how will artists warm to this in the absence of physical buttons? I have a habit of twirling my pencil while writing longhand, and often I'd discover I'd accidentally switched the settings while deep in thought.
The new Pencil is a great tool for drawing, much as the last one was. (Again, nothing has changed regarding the actual line technology.) It's also great—but not perfect—for writing, especially with 120Hz refresh rate you get from ProMotion. As precise as the Apple Pencil is, I still write more swiftly with real pencils like my beloved Blackwing 602s. It's so close, but it's not quite there yet.
The new Pencil is undeniably great, and it's a marvel of engineering and design. But it's a bummer that Apple boosted the price to $129 while keeping the old model priced at $99. The new one does more, but it would've been nice if, say, Apple sold the new for $99 and lowered the price of the previous model. The old Pencil is largely aimed at students these days, after all.
Awkwardly, you can't use the old Apple Pencil with the new iPad Pro. It is understandable; the new Pencil requires a different charging mechanism. But in this case you should simply be able to include the Lightning adapter Apple used to include in the original Apple Pencil box with a USB-C to Lightning cable. As we've shown in a video, that's simply not possible. Not only does this feel slightly sinister, but it also points to intentional limitations of the new iPad Pro's USB-C compatibilities.
The keys to success
I also admire the Smart Keyboard Folio, even if it's not quite so transformative. It's thin and light like the previous folio case, but Apple moved the Smart Connector to the iPad's lower back edge, allowing the case to envelop the entire device. As further proof that Apple designed the Pencil, Folio, and iPad Pro as one unified design, the Apple Pencil perches on the edge that's opposite the spine in such a way that the case doesn't force it to tumble off.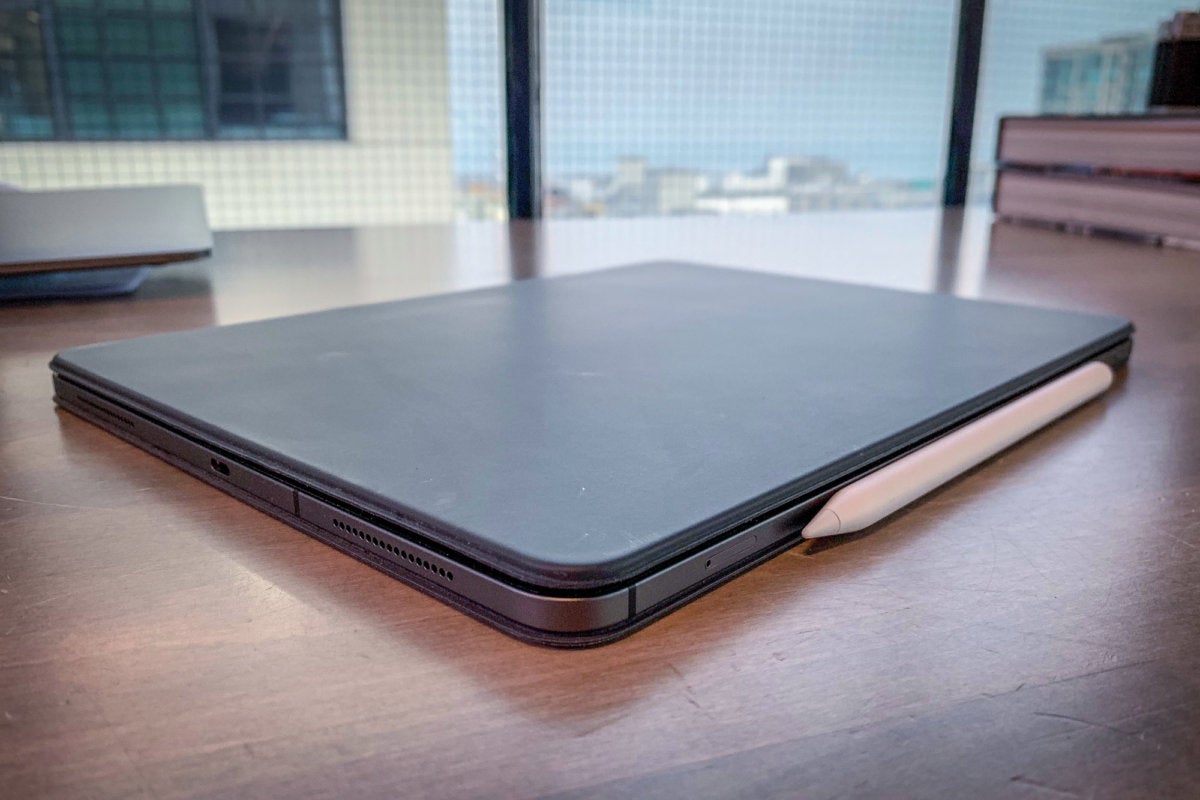 And I dare say that tapping on its fabric-covered keys is a little more enjoyable than tapping on the MacBook's butterfly keyboard, although I miss the latter's backlight. The key travel—while not massive—manages to satisfy. The same magnets that charge the Apple Pencil also keep the tablet firmly in place while you're typing on your lap (even to the point of making it lightly annoying to close it again).
Choosing this type of design, though, meant that Apple had to sacrifice the "origami" style smart cover, which it turns means it chose to sacrifice some flexibility. As it is, you can really only adjust it to two angles. Worse, when you flip the cover backward so as to use the iPad like a legal pad, the keys are awkwardly exposed on the back (though disabled).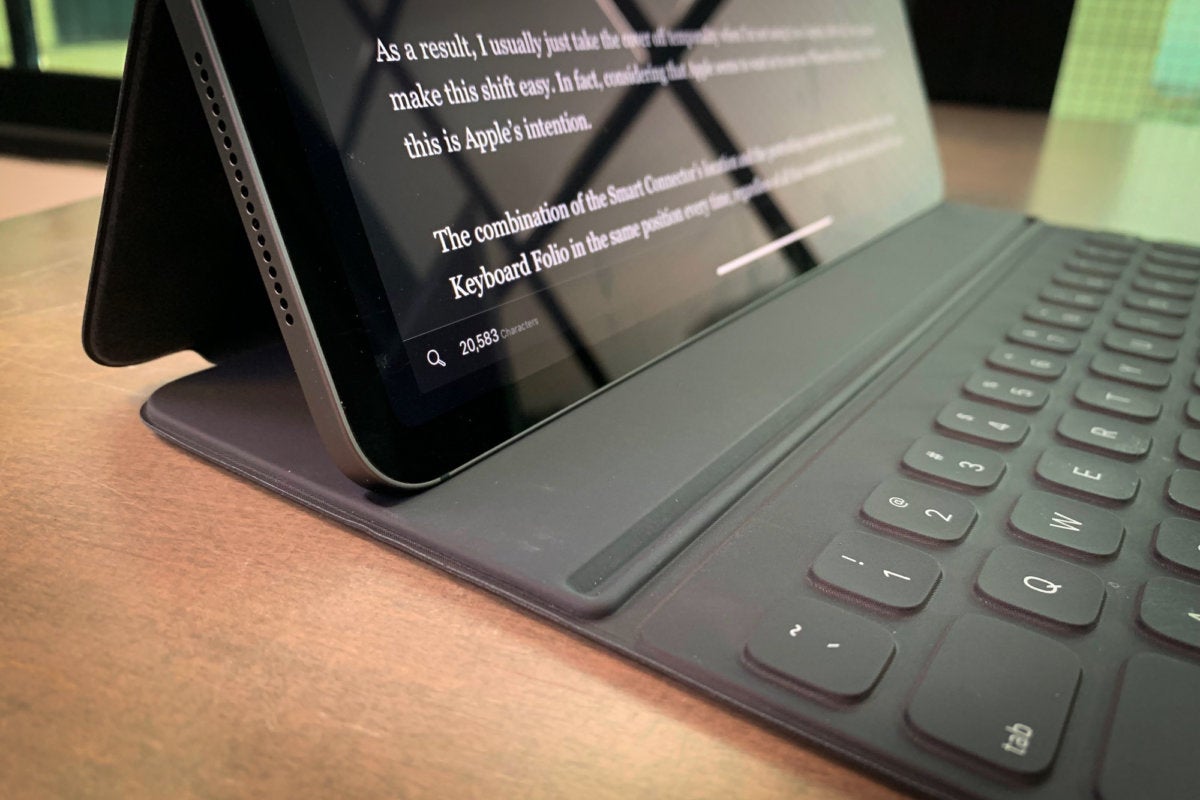 I usually just take the cover off temporarily when I'm not using it like a laptop. The magnets make this shift easy. Considering that Apple seems to want us to use our iPhones without cases, I believe this is Apple's intention.
The combination of the Smart Connector's location and the protruding camera also force you to use the Smart Keyboard Folio in the same position every time, regardless of all that wonderful talk about using Face ID in any orientation. This wasn't much of a problem until I noticed that I have a weird habit of holding my left hand in such a way that it blocked the Face ID camera when I wanted to unlock the device.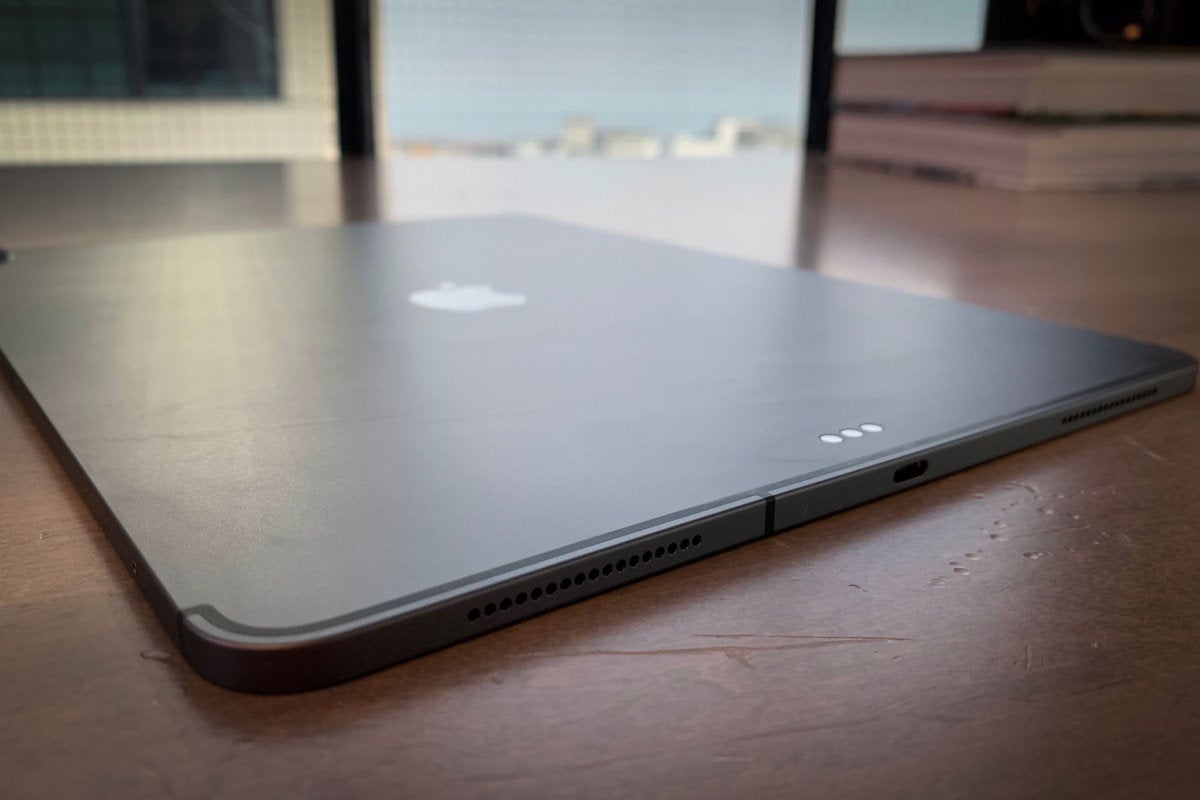 And gosh, I'd give so much to have external mouse or trackpad support. If you've never tried to work exclusively on an iPad before, you might be surprised to learn that you need to perform every action with your fingers or the Apple Pencil. It's more time-consuming than it probably sounds. You can simulate a trackpad by holding down two fingers at once on the display, but this is a fiddly solution at best. Sometimes it doesn't register. Sometimes it doesn't select the exact text you want. It always feels like a gamble.
File it away
I typically write my longer articles on my MacBook with the Ulysses apps, keeping one Ulysses window open to an outline on the left while I write the actual article in a window to the right. On the iPad, though, I can only use split-view for multitasking for two separate apps, so I need to paste the outline in a separate app like iA Writer if I wish to maintain that workflow. For that matter, there are still many apps that don't support split-view multitasking at all. That's not even mentioning some of the other problems with using an iPad Pro for work, such as the not-so-intuitive Files app for file management or the difficulty of resizing images with Apple's native tools.
You may have heard some of these complaints from me before in reference to other iPads, but that's also essentially the problem. The new iPad Pro is a fantastic machine. It's a triumph of technology, and a reminder of why Apple dominates the tablet market almost as thoroughly as it dominates the smartwatch market. Jony Ive called it a "single, clear product" and that's a justified phrase, especially considering how well Apple implemented the Apple Pencil and Smart Folio into the design. Face ID simplifies interaction, USB-C support promises to keep it better integrated into Apple's ecosystem, and of course it's so ridiculously powerful.
And yet, for everything else, I might as well be talking about the 9.7-inch iPad. True, for artists, I imagine this machine may be a godsend, particularly when Adobe Photoshop drops (and notably, considering my criticisms, with Adobe cloud support). Yes, it's more powerful than many other tablets out there, but it lacks simple, work-friendly features that usually come with the shoddiest laptops. I'm not an enemy of iOS—in fact, in some ways I prefer it over macOS—but its dogged omission of true trackpad support and a proper file system hold the iPad back from its potential. It's so close to being the device we all want and yet so far.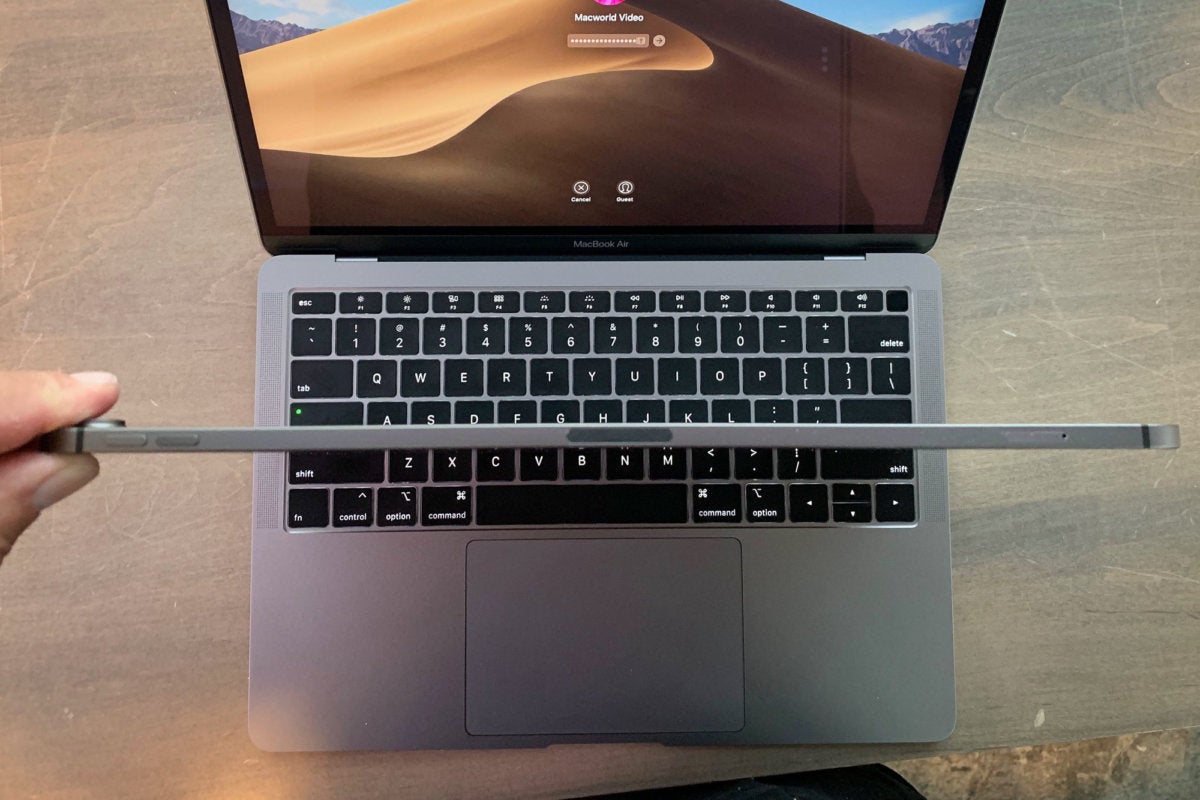 Ultimately, the new iPad Pro is wonderful if you came to terms with the limitations of the iPad long ago. It's approaching the kind of power I never would have expected to see in it a few years ago, and it has never looked better.
But I can't bring myself to believe this power lead many potential first-time buyers to abandon MacBooks or PCs for this scrappy machine. The limitations prove crippling. Let's put it this way: I've written this whole review on the iPad Pro itself, but now I'm going to switch back over to my MacBook to edit it. And that, my friends, is a shame.
Best Prices Today: iPad Pro (12.9-inch, late 2018)