At a Glance
Expert's Rating
Pros
Easily adjusts for right-handed or left-handed users
Cam-lock strap allows for easy adjustments
Roomy main compartment despite overall small bag size
Cons
Flimsy leather shoulder pad
Our Verdict
The Sutter Tech Sling combines style, comfort, and accessibility in one attractive package. The shoulder pad takes some getting used to, but the strap itself is a wonder of design.
Best Prices Today: Sutter Tech Sling
I was getting fed up with bags. I'm a carless San Franciscan, so good bags rank right up there with good shoes among my priorities, but for months I've struggled to find something that nails the sweet spot between comfort and convenience. Backpacks win for comfort (and they're better for my back), but getting anything out of them usually demands convoluted acrobatics. Messenger bags win for urban convenience, but they gnaw into my shoulder when I've crammed them with MacBooks, iPads, and regular books.
But then I found the Sutter Tech Sling from WaterField Designs. The name makes it sound a bit like a 1920s-themed shindig in Silicon Valley, but it comes as close to perfection as anything I've ever used. Comfort? Check. Convenience? Check. And as with almost product from WaterField, it's made with Apple products specifically in mind.
I picked up the larger 14-inch x 9.5-inch x 3-inch "Full" version, but WaterField also makes a smaller "Standard" model that looks a bit like a hefty fanny pack slung across one's back. It's supposedly good enough to hold the new 11-inch iPad Pro, but it'd never do for the larger MacBooks I need to carry for work.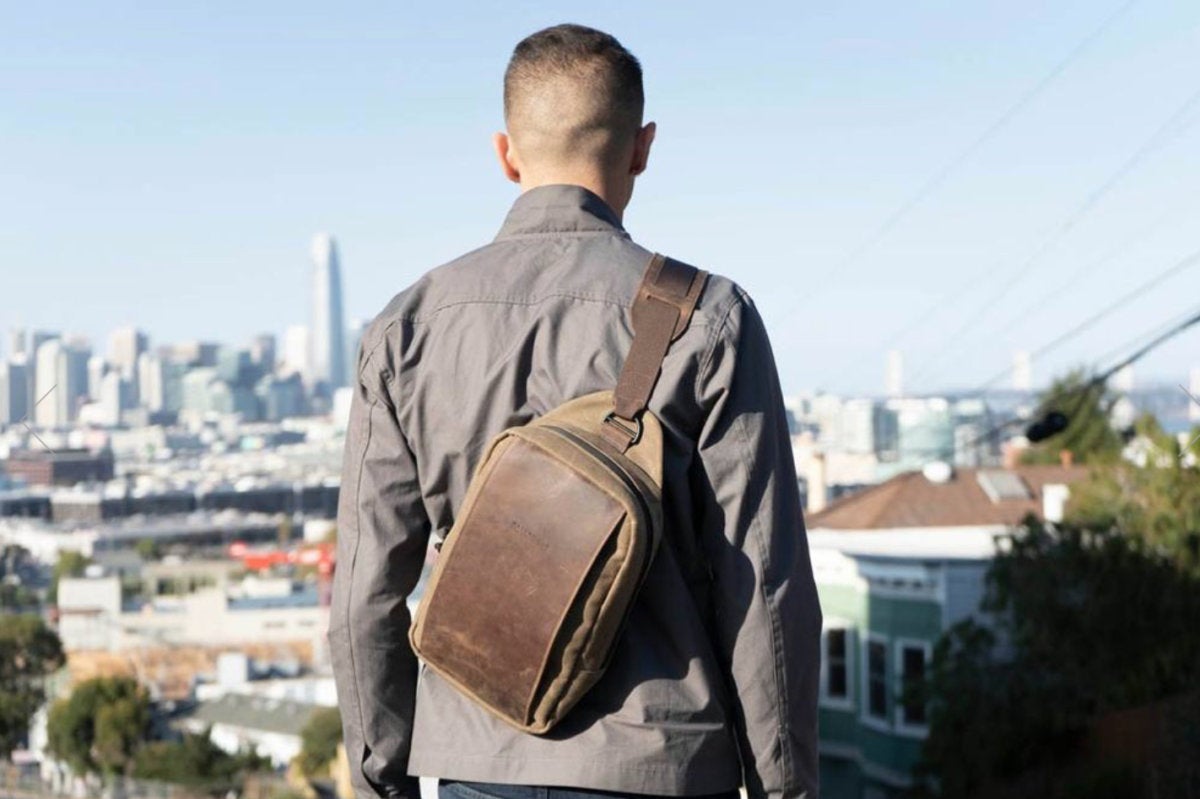 But the full version? This is my jam. Being a sling bag, its strap reaches across my chest in the style of a messenger bag while the bag itself rests against my back like a slanted backpack. I've tossed loads in there that would have had me wincing with my favorite messenger bags, but heavy loads with the Sutter Sling cause me mild discomfort at most. That slant means it'll never deliver the full comfort you'll get from a backpack, but it comes closer to the mark than most other cross-body or sling bags I've worn.
We can thank the cam-lock for most of that. It's a latch on the strap that lets you adjust the slack in mere seconds, which makes a massive difference when the bag's load puts undue tension on your spine. Just flip up the latch, pull it up or slide it down, and the bag slips into a more comfortable position. The large D-ring the strap attaches to aids in this comfort, as it lets the strap swivel to the same position regardless of how tight the strap is.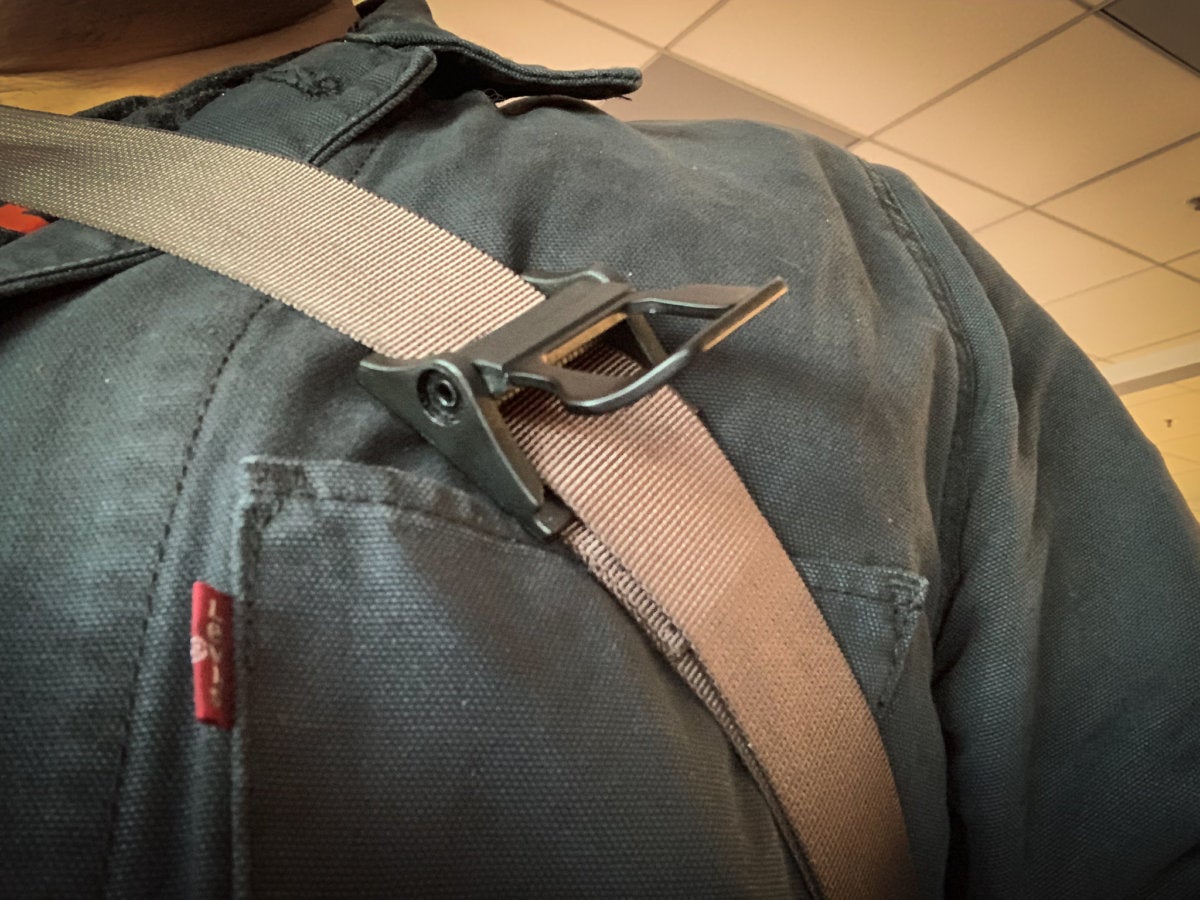 It's magnificent, really. I can't count the times I've tolerated badly balanced loads in other bags because I dreaded taking off the bags off on busy sidewalks or crowded subway cars, to say nothing of the frustrating guesswork of adjusting straps to comfortable lengths. That's never been a problem with the Sutter Sling.
Ease your burdens
The city dweller in me loves that I never have to take it off during commutes. It works as a backpack on the sidewalk, but I can pull around the whole bag on the train or bus so it sits on my lap. While in my lap, the two zippers on either side of the front compartment become the "top" or "bottom" openings, allowing me to pull out my sunglasses, AirPods, or similar small items with the ease of opening a purse.
Impressively, it works this way regardless of whether you're right- or left-handed. The single back strap snaps to one of two D-rings on the bag's lower side, which in turn determines whether you wear the strap on the right shoulder or the left and how the front compartment aligns when you pull the bag around.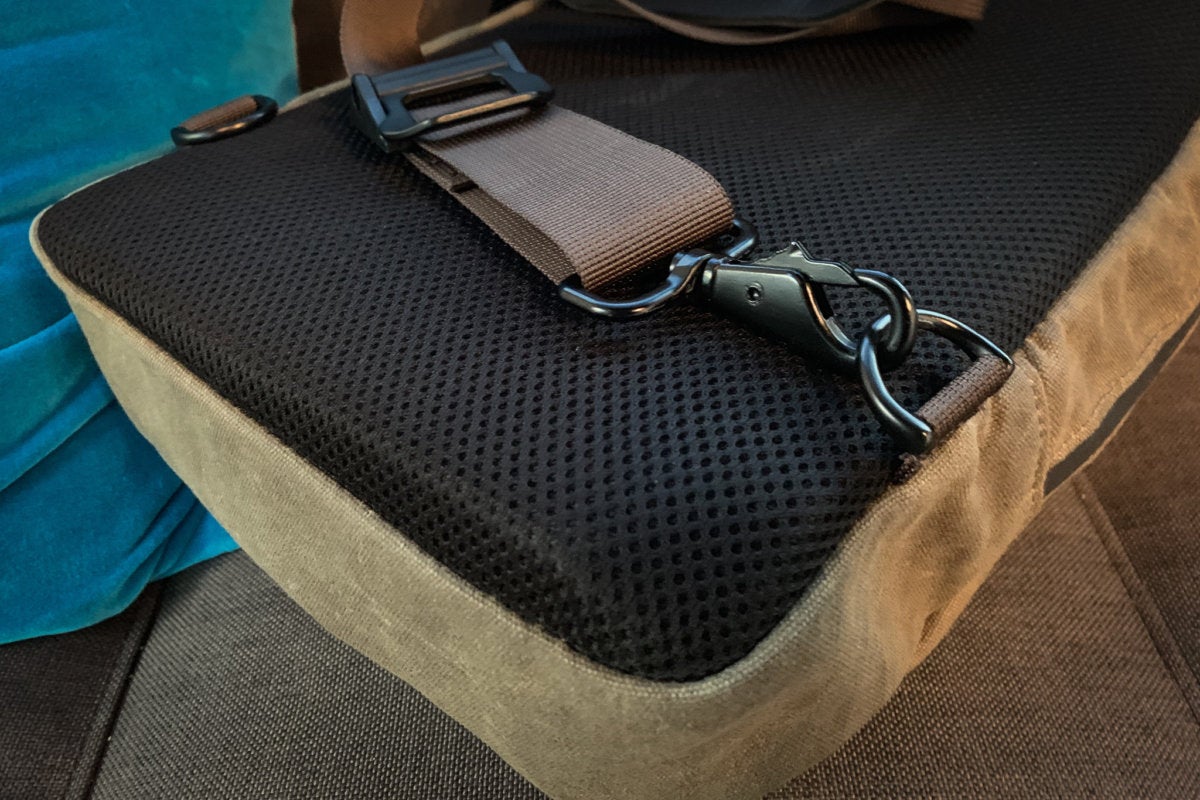 It's a smart design, so long as you're smart enough to keep track of which side you've opened. During my first few days with the Sutter Sling, I'd open a random side of the front compartment when it was off my back and then forget I'd left it open. I had a bad habit of opening the "wrong" side, so everything would tumble out when I'd hoist it on my back at 5:00. Fortunately, four days sufficed to break the habit.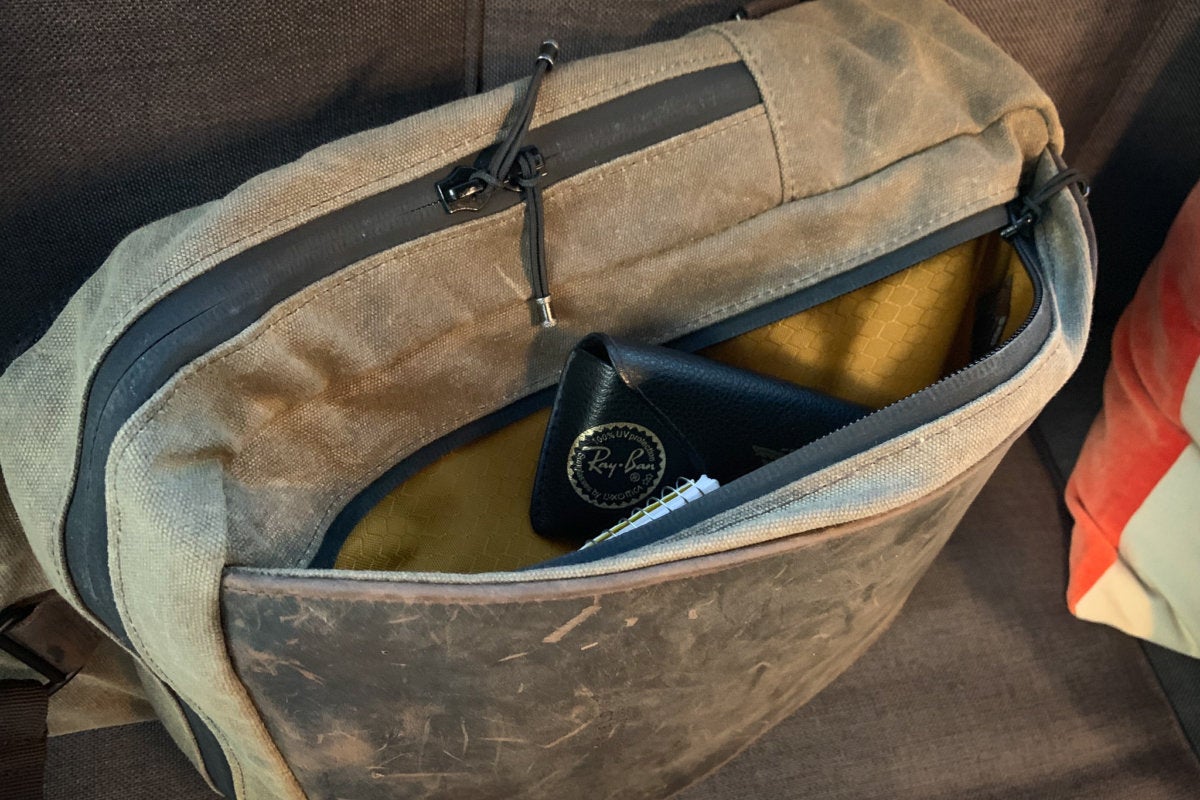 The Sutter Sling looks fantastic, too, which you won't hear me say about many other slings. WaterField crafted it with the same rugged waxed canvas that's a hit with its other bags, although you can buy it in a sleeker "black ballistic" variety if you find the canvas clashes with your suit. The leatherwork is minimal, save for the shoulder strap and a 7.75-inch by 14-inch slab of leather that looks snazzy and smells delightful. Flip it on the back, and you'll find a mesh lining that both pads your back from the weight and lets the bag "breathe" in hotter climes.
Some bag makers scrimp on the inside, but not WaterField. Open the main zippers—each covered with a rubbery water-resistant material—and you'll find WaterField's signature gold honeycomb lining that makes everything inside stand out more starkly than it would with darker material. In the back of the main compartment you'll find a padded laptop sleeve that's roomy enough to hold both a 13-inch MacBook Pro and 2018 12.9-inch iPad Pro at once, although it'll be a bit of a tight fit.
Share the load
It's still a small bag compared to most backpacks, but you'll still find a wealth of room in the main compartment. Indeed, I once managed to stuff a 15-inch MacBook Pro in there, although the zipper was tight and I couldn't cram in much else.
On a typical day, it carries almost everything I need: my Bose QuietComfort 35 headphones, my little pouch of cables and wall chargers, and my pencil pouch. There's usually enough room left over for at least two bottles of water, and one day I even managed to stuff my clean gym clothes in there. Along with a key fob, you'll also find some smaller pockets lining the wall opposite the laptop sleeve. Four of them mainly exist to hold the Apple Pencil (or real pens and pencils), although there's a larger pouch that's roomy enough to hold two Magic Mice and a deck of cards.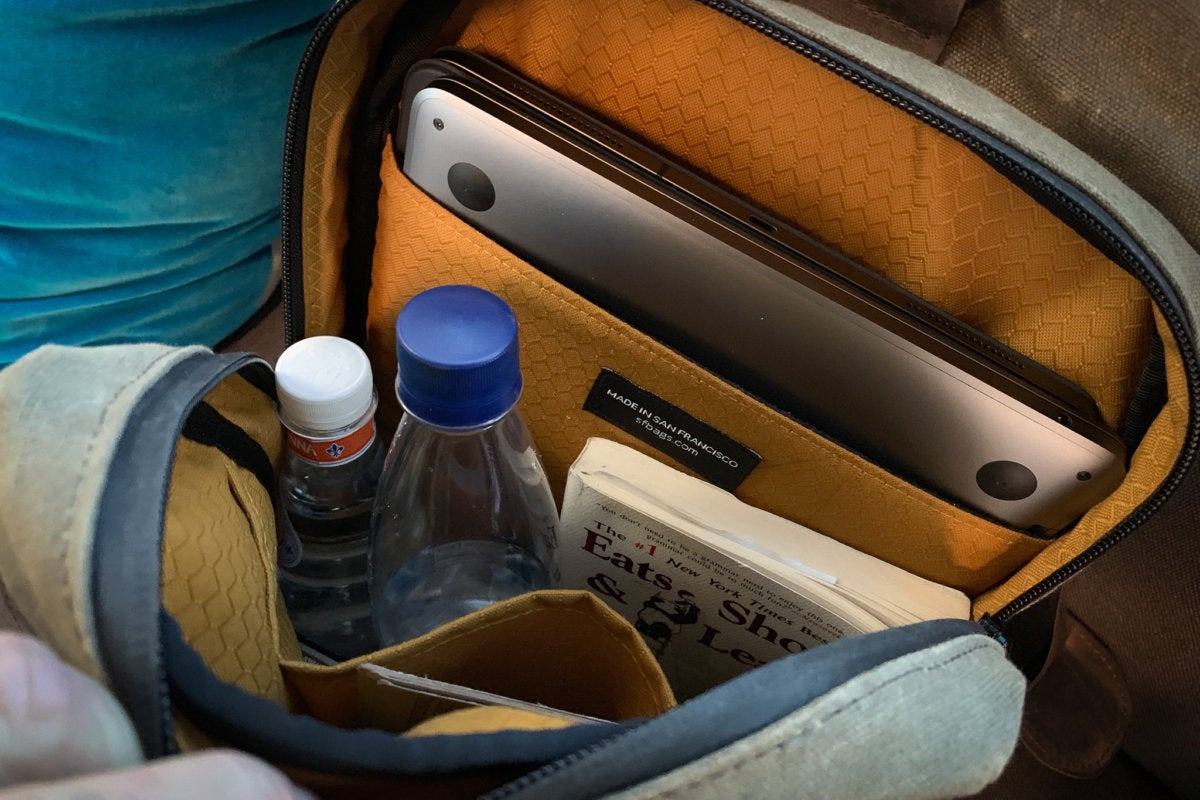 So there's just one problem: that dang shoulder strap. It's made out of leather, but it's very thin leather, and so it often bunches up on my shoulder when I'm in a hurry. The whole point of this bag is that it's easy to adjust the bag along the strap, but those frequent adjustments often leave the shoulder pad hanging pointlessly on my chest or (more annoyingly) against my back after I've swung the bag around. Should I try to adjust it, it usually ends up bunching on my shoulder again.
I'm tempted to cut it off. The Sutter Sling is still comfortable without it, although the pad mitigates the weight of heavy loads enough to justify keeping it around. I long to replace it with a thicker pad I love from a competitor, but the cam-lock strap is crafted from one stitched piece and so replacing it is out of the question.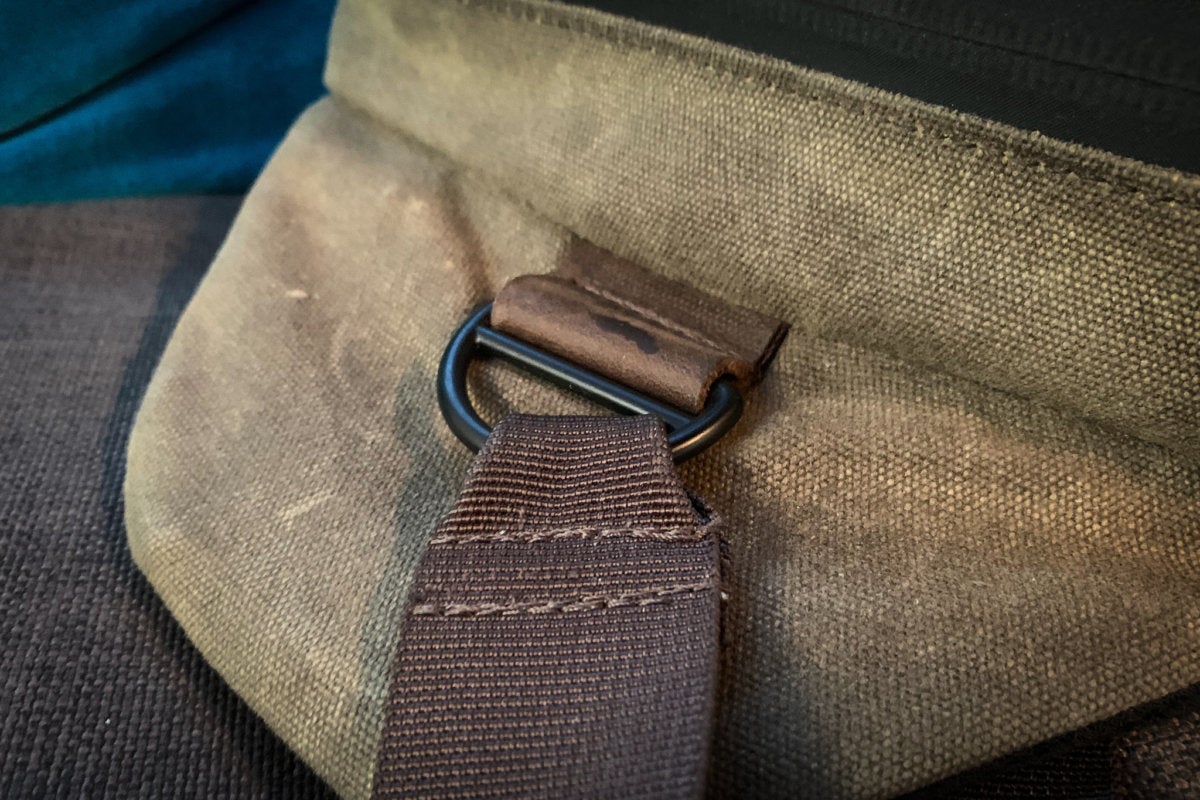 Everything else about the Sutter Tech Sling is so good that this doesn't bother me much. It's the perfect bag for navigating the streets of WaterField's native San Francisco, as I can load up my gadgets from work but quickly access my wallet from the same bag when I saunter into bodegas. I can carry my gadgets comfortably on the sidewalk, but pull the bag over to my lap in one motion when I sit on the train.
No other bag does this so well. It's too bad about the shoulder strap, but even so, it'll be hard to find a bag that beats the Sutter Tech Sling for my everyday carry.
Best Prices Today: Sutter Tech Sling