After Apple received a spate of bad publicity about how it chose to throttle older iPhones with degraded batteries, it apologized and offered a battery replacement program for many phones at reduced cost. But it also pledged to improve how it disclosed to users the state of their battery.
It's a little hidden, as you have to launch Settings and then tap Battery to see monitoring details. Tap Battery Health, and you see two important stats.
Maximum Capacity measures the peak charge that the battery can hold. (Mine is currently 91 percent after about 14 months of solid use.) It's normal for this to decline slowly over a period of time, and decline faster the more frequently you run through a charge on your phone.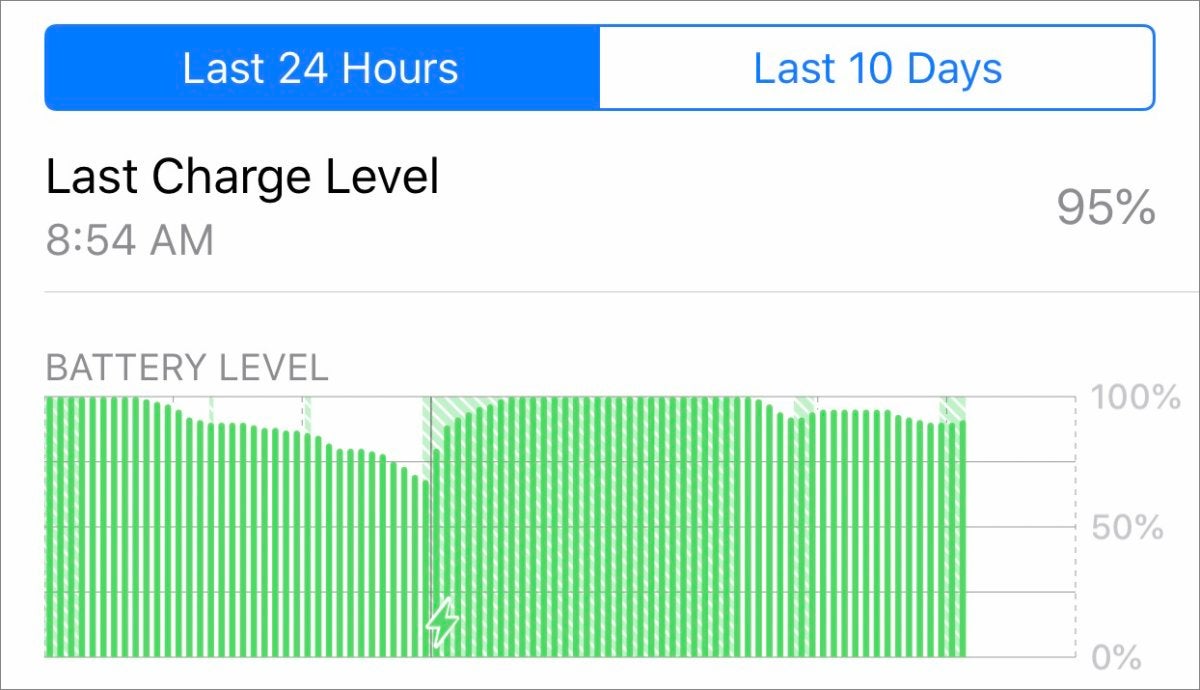 Even at 70 to 80 percent, you can typically get a full day's use out from a charged battery. To understand better how you're running down your phone's battery, the main Battery view shows battery usage over the last 24 hours and last 10 days, which can give you a sense of whether you should start carrying a USB battery pack or pay to replace the battery.
Apple will replace a battery under the included one-year warranty if it has a defect, which often means it's degraded substantially in the first year or won't hold a charge at all. With the AppleCare+ two-year extended warranty, Apple charges nothing to replace a battery that can't hold more than an 80 percent charge. You can also pay $29 (through December 31) to replace iPhone 6 through iPhone 8/8 Plus/X batteries.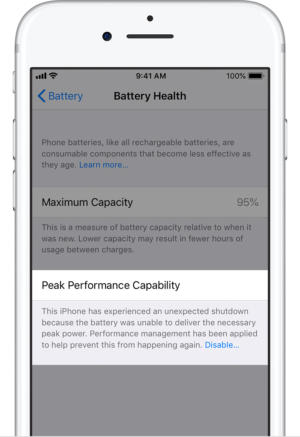 The second label, Peak Performance Capability, features a description beneath of it of the fitness of your battery. If it's shown as "supporting normal peak performance," that means iOS isn't throttling the hardware to prevent unexpected shutdowns when iOS has a battery-demanding task.
However, if your phone has shut down abruptly because iOS demanded more power for an intensive activity than the battery could immediately provide, you'll see a label explaining that such a shutdown occurred, and that "performance management" is now active. If iOS believes your battery has degraded, it will show additional text explaining that.
There's a Disable link after the power management explanation that lets you turn off processor throttling, and keep using your iPhone at full speed—although it could abruptly shut off again in a similar circumstance.
Once disabled, you can't turn it back on. However, if the phone does shut off again for battery reasons, the feature is re-enabled automatically.
This Mac 911 article is in response to a question submitted by Macworld reader Gwen.
Ask Mac 911
We've compiled a list of the questions we get asked most frequently along with answers and links to columns: read our super FAQ to see if your question is covered. If not, we're always looking for new problems to solve! Email yours to mac911@macworld.com including screen captures as appropriate, and whether you want your full name used. Every question won't be answered, we don't reply to email, and we cannot provide direct troubleshooting advice.