It's easy to think that an iOS backup would include all the personal data stored on your iPhone or iPad. But Apple explains in a support page that some things aren't copied off your phone, because they're stored elsewhere. This includes "data stored in other cloud services, like Gmail and Exchange mail."
What if you download messages from an email account to your iOS device and they're deleted from the server? Those emails are gone for good when your iPhone or iPad is restored from backup or dies. Apple doesn't mention this in the support note or elsewhere, even though it can affect people who store certain messages locally on their devices instead of synced with a mail server.
The main issue is for folks using an outdated method of email retrieval called POP3. POP3 pulls down messages from an email server, but it doesn't really record the state of messages that remain on a server. Most POP3 configurations download a message then delete it from the server.
The IMAP protocol has almost entirely replaced POP3. It allows synchronization of messages and folders between clients and servers, giving you access to the same messages and message filing organization on all your devices, like Dropbox or iCloud Drive for mail.
Mail largely remains on the server, with some exceptions. You can opt to configure iOS so that any or all of your Drafts, Deleted, and Archive folders are stored locally on a device. (See Settings > Passwords & Accounts > your mail account > Account > Advanced, and tap any item under Mailbox Behaviors.)
This has left a gap for people either using POP3 or local storage for some of their IMAP special folders because if you have a sudden device failure, need to restore a phone or tablet from a backup, or want to migrate from one device to another, this locally stored email is lost.
Move your POP3 mail
However, you can move all this email to an IMAP-supporting email account. It's easy if you use a set of actions that Apple doesn't document, but will save you an enormous amount of time—you don't have to select each message individually.
(This is the best trick I've learned about in iOS Mail in years, and a big hat tip to this 2015 article at TapSmart, that explains it in terms of deleting all messages in a folder.)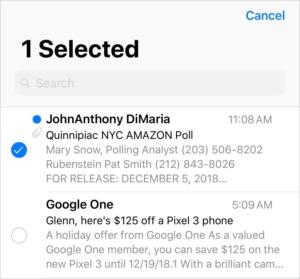 If you don't already have an IMAP account set up, create one and set it up in iOS, even if it's temporary. Services like Gmail let you create free accounts and support IMAP. You can also use iCloud email, but check that you have enough free iCloud storage.
Now in each individual folder that has downloaded messages, follow these steps, which require close attention. (The video after the instructions demonstrate the steps below.)
Tap Edit.
Tap the checkbox to the left of the topmost message.
Now tap and hold the Move button at the bottom.
While still holding the Move button, use another finger to uncheck the message selection box at the top.
Release the Move button.
In a few second, a Move message appears that shows that all messages in that mailbox are available to be moved.
Tap Accounts at the upper left, and then tap the mail account to which you want to move the mail, and then tap the folder.
I don't know of any email service that only allows POP3 retrieval, so you should be able to switch from POP3 to IMAP on any mail host you currently use. (Because IMAP syncs messages, you might lose any downloaded mail. Make sure and copy all your messages off before switching to IMAP even at the same mail host.)
Visit your mail host or talk to a system administrator to get the IMAP settings, and use the Settings path above to update your account. If you can't use IMAP, set up a new account!
This Mac 911 article is in response to a question submitted by Macworld reader John.
Ask Mac 911
We've compiled a list of the questions we get asked most frequently along with answers and links to columns: read our super FAQ to see if your question is covered. If not, we're always looking for new problems to solve! Email yours to mac911@macworld.com including screen captures as appropriate, and whether you want your full name used. Every question won't be answered, we don't reply to email, and we cannot provide direct troubleshooting advice.