The Series 4 is the first truly big update to the Apple Watch line. It changes everything: the display, size, the shape, the sensors, the processor, the speaker and microphones—you name it. It truly elevated Apple's wrist-wearable to a new level, but its most exciting new feature has been missing action since the Series 4's September launch.
With today's release of watchOS 5.1.2, though, that feature is finally here. Apple has given us the first smartwatch with a built-in electrocardiogram (ECG) feature (and they say Apple doesn't innovate anymore!).
Here's what you need to know about ECG on the Apple Watch Series 4.
How to take an ECG reading
Once you have updated your Apple Watch Series 4 to watchOS 5.1.2, you'll notice there's a new ECG app. The first time you run that, you'll be prompted to open the Health app on your iPhone.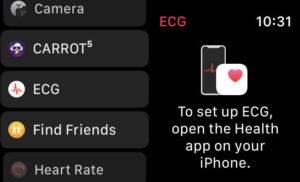 In the iPhone app, you'll be prompted to set up the ECG app by entering your age, as the app is not approved for use by people under 22 years old. You'll then pass through several screens describing the kinds of results you may see: Sinus Rhythm, Atrial Fibrillation, Low or High Heart Rate, or Inconclusive.
After passing through several more screens with explanations and warnings, you will be prompted to take your first ECG.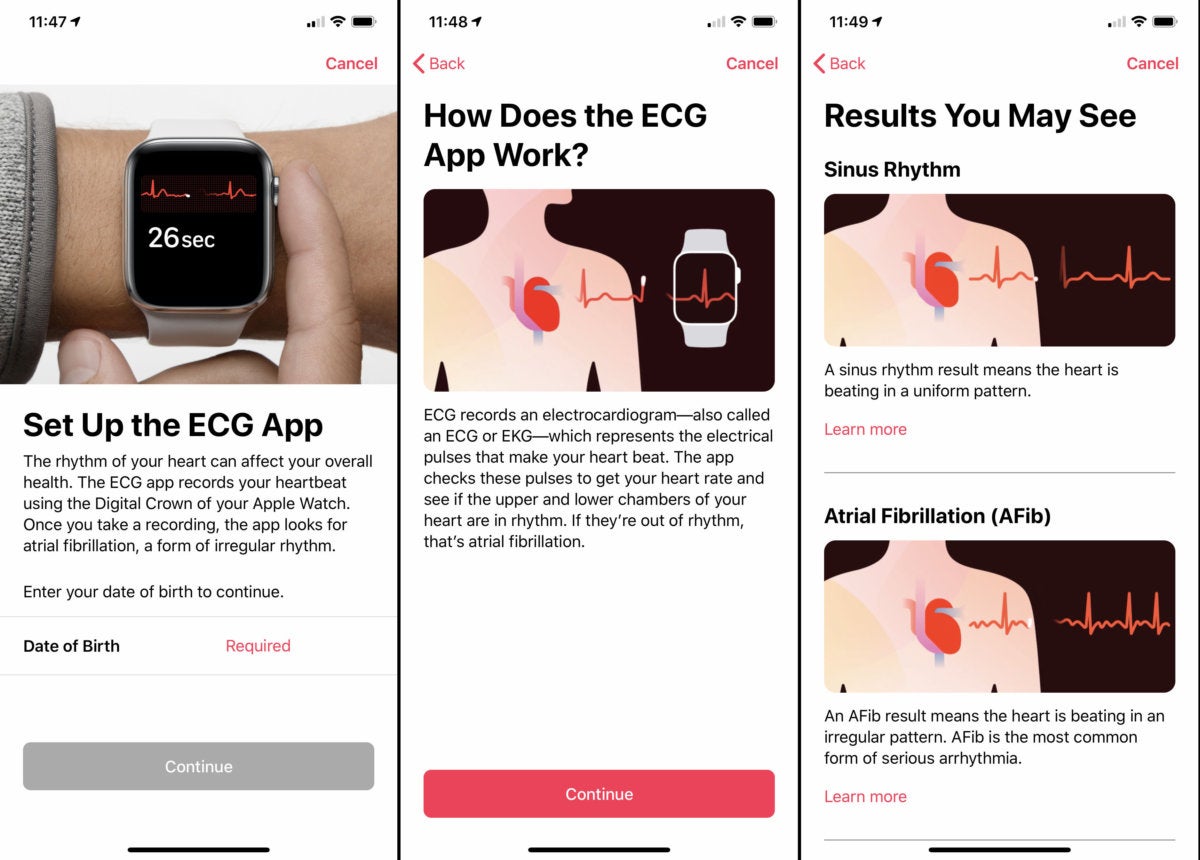 To take the ECG, first make sure your Apple Watch is snug—a loose band can cause a bad reading. The open the ECG app on your Series 4 Apple Watch.
When you see the cloud of dots form a heart, touch your finger to the digital crown and hold it there for 30 seconds. You'll see a countdown on your watch.
At the end, you'll see a summary showing what kind of rhythm was detected, and a notification on your iPhone to see more detailed results in the Health app.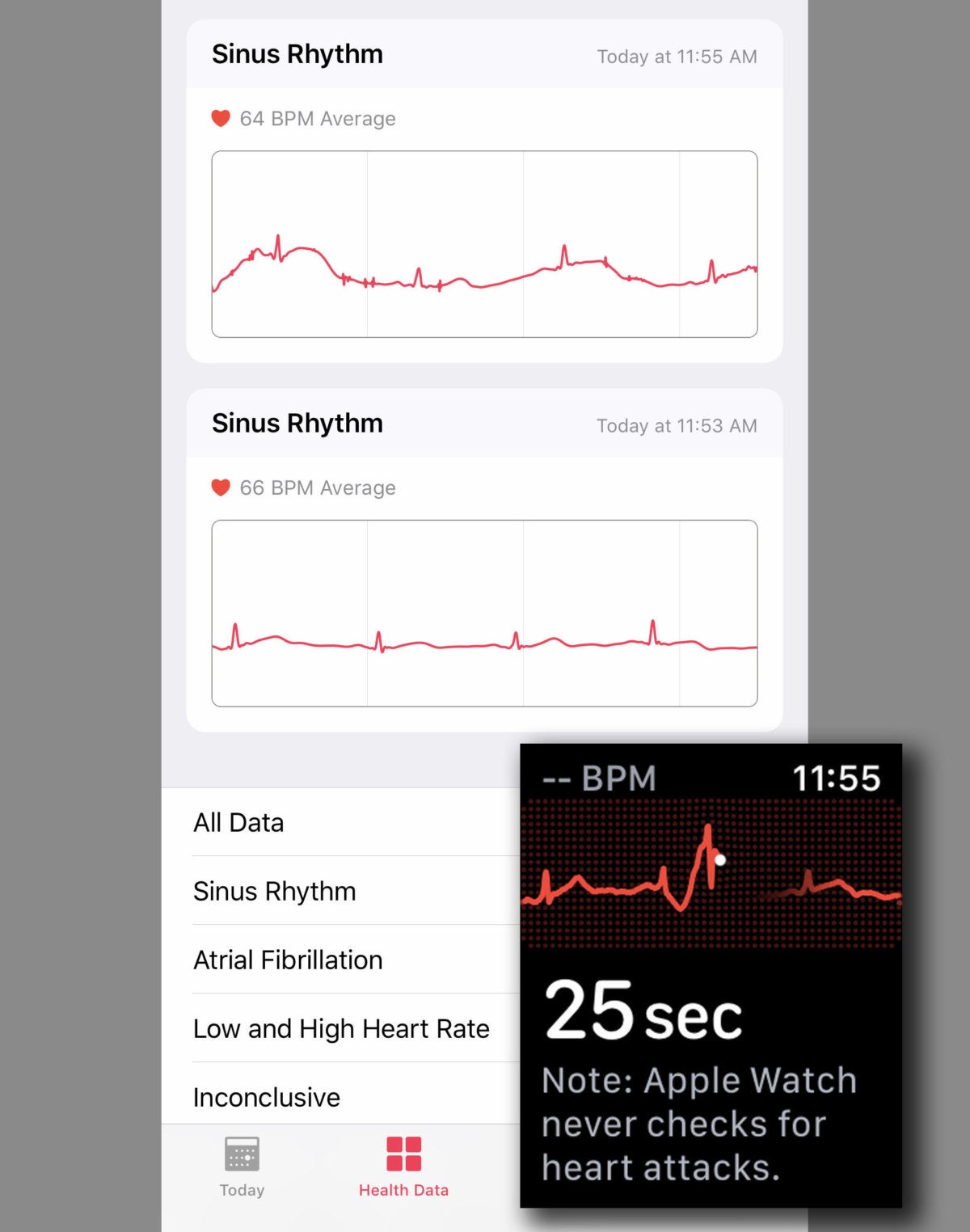 Important details about ECG on Apple Watch
While the ECG feature is indeed slick and useful, you should keep a few things in mind.
It's only for the U.S. (for now)
The ECG app only appears on Series 4 Apple Watches in the United States and U.S. territories because it has been given clearance by the Food and Drug Administration. Apple says it is working with other regulatory agencies around the world to bring the feature to other regions, but has given no indication as to when that might happen.
This is not a medical-grade ECG
Apple's single-lead ECG may give you a tip that you should visit your doctor, but it is definitely no substitution for professional medical diagnoses. Apple's warning during the setup process is clear:
These results are not a diagnosis. Do not change any medications or treatment without talking to your doctor.
If you receive a warning about an irregular heart rhythm or rate, you should make a doctor's appointment to get a proper exam.
An ECG is not a total picture of your heart health
The ECG feature is simply a means of detecting atrial fibrillation (one of the more common irregular heart beat conditions) or a particularly low or high heart rate. It does not detect all heart conditions, and there's no reason to think that you have perfect heart health just because your ECG reading comes back "Sinus Rhythm" every time. Again, Apple provides a clear warning:
The ECG app does not detect a heart attack, blood clots, a stroke or other heart-related conditions including high blood pressure, congestive heart failure, high cholesterol or other forms of arrhythmia.
Do not assume that good readings from the Apple Watch ECG app means that nothing is wrong. If you suspect you may have any sort of heart problem, you should contact your doctor for proper tests and diagnosis.
Apple Watch Series 4 (GPS only)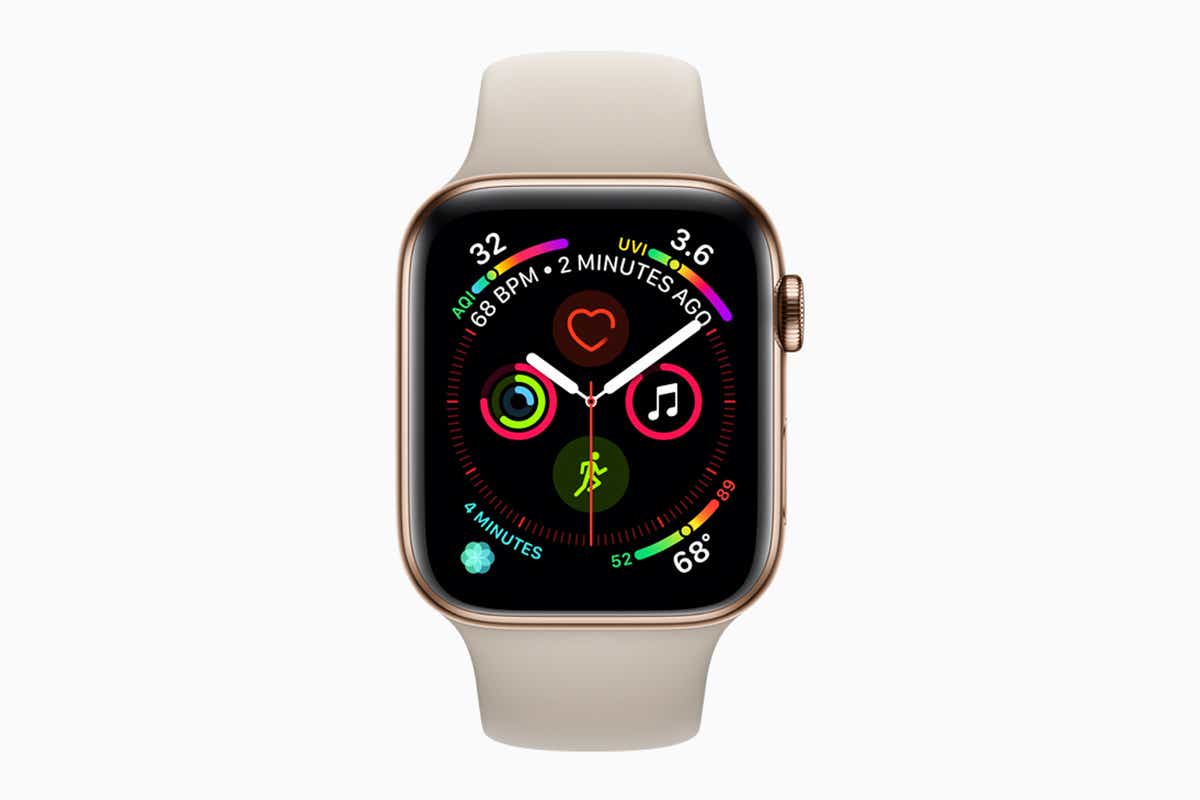 Price When Reviewed:
$279
Read our full
Apple Watch Series 4 (GPS only) review