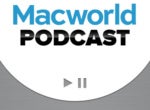 For this episode of the Macworld Podcast, we'll be discussing Epic Games' removal of the Infinity Blade series from the App Store and what it says about app maintenance and game preservation. We'll also be discussing The New York Times' report on how apps constantly track your location data, even when using an otherwise secure device like an iPhone. We'll then close by discussing the best Apple products to give as holiday gifts.
We also respond to your comments and questions for Jason Cross, Leif Johnson, and Dan Masaoka in the Macworld Podcast, episode 633.
Watch us live
The Macworld Podcast broadcasts live on the internet on Wednesdays at 10 a.m. Pacific. You can watch on Twitter via Periscope or on the Macworld YouTube channel.
Giveaway: Win a 2018 11-inch iPad Pro
Update: We have a winner! If your name is Steven and you're from Florida, be sure to check your email (and your spam folder) for a message from us. Congratulations!
We're teaming with AnyTrans to give away an 11-inch space gray iPad Pro. The contest remains active until an hour before the show, so sign up while you still can! Get more details on the giveaway.
Take our poll on Twitter
We're currently running a poll on Twitter that ask what Apple products you'd like to receive for a holiday gift. Head over to Twitter and let us know!
Get info
Below you'll find relevant links to get more info on stuff we'll discuss on the show.
Listen on SoundCloud
Subscribe to the audio version
You can subscribe to the Macworld Podcast—or leave us a review!— right here in iTunes. Or you can point your favorite podcast-savvy RSS reader at: http://feeds.soundcloud.com/users/58576458-macworld/tracks
To find previous episodes, visit Macworld's podcast page or our home on Soundcloud.