Added in iOS 9, Wi-Fi Assist recognizes when you're connected to a Wi-Fi network, but have a poor or erratic signal. When this happens, Wi-Fi Assist kicks over automatically to cellular for foreground apps to keep data flowing. This feature is enabled by default.
Wi-Fi Assist automatically excludes third-party audio and video streaming, and doesn't relay data from apps working in the background. Nonetheless, some users wound up with surprising cellular bills when they thought they were on Wi-Fi networks—it turned out Wi-Fi Assist used cellular data because the Wi-Fi connections were marginal. (U.S. carriers have largely switched to a fixed or flexible monthly maximum after which your cellular data rate is throttled to a very slow speed, so surprise bills are less likely.)
When a Wi-Fi network fails
But Apple also may quietly switch your iOS device to cellular data in another circumstance when you think you're connected to Wi-Fi: when the Wi-Fi network's broadband connection fails, and there's no internet link.
iOS can tell if there's no active internet connection via Wi-Fi, which is distinctly different than an active connection but poor Wi-Fi reception. At least one reader has encountered this problem with a problematic ISP, which regularly drops their broadband connection, and their family's iPhones switch to cellular data, even though they all have Wi-Fi Assist disabled.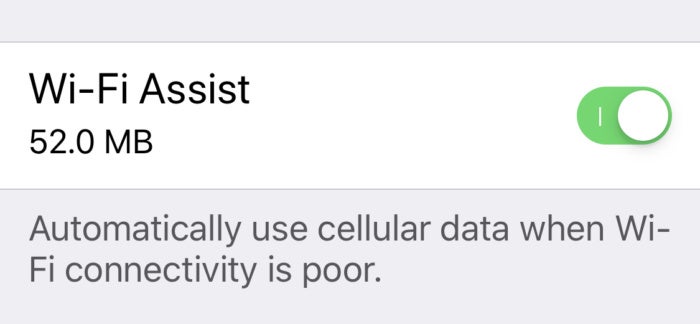 Unlike with Wi-Fi Assist, which limits data usage, this "no internet over Wi-Fi" scenario appears to use all your cellular settings for system activities and apps. (You can modify how apps and iOS use cellular data in Settings > Cellular, then swipe down for apps and System Services.)
If you're not sure whether you're consuming data in this way, you can use Settings > Cellular to view current usage.
The only way to avoid using cellular data in this circumstance is to open Settings > Cellular and disable the Cellular Data switch whenever you're on such a network. This means you won't have internet access when the broadband connection isn't working, but it also means you won't consume cellular data unexpectedly.
This Mac 911 article is in response to a question submitted by Macworld reader Anisa.
Ask Mac 911
We've compiled a list of the questions we get asked most frequently along with answers and links to columns: read our super FAQ to see if your question is covered. If not, we're always looking for new problems to solve! Email yours to mac911@macworld.com including screen captures as appropriate, and whether you want your full name used. Every question won't be answered, we don't reply to email, and we cannot provide direct troubleshooting advice.