The turn of the year is when we take stock of our habits and strive to do better. Many people pledge to improve their health with diet and exercise. Others make a commitment to the environment, like composting. For some, this is the year they'll finally quit smoking.
But kicking bad old habits and starting good new habits should extend to your digital life, too. Our iPhones are ever-present tools that we spend so much of our waking hours with, so it's important to cast our self-improvement gaze on how we use them, too. Here are five New Year's resolutions for iPhone users that will help you form lasting good technology habits.
Curb excessive use with Screen Time
Apple gave us quite a gift in iOS 12 with Screen Time. It's more than parental controls: It's a tool anyone can use for insight into how much they're using—or over-using—their iPhone or its apps. If you didn't turn on Screen Time when you first installed iOS 12, you should do so now. It doesn't really make a difference in battery life, and it doesn't do anything by default other than give you interesting information about how you use your iPhone.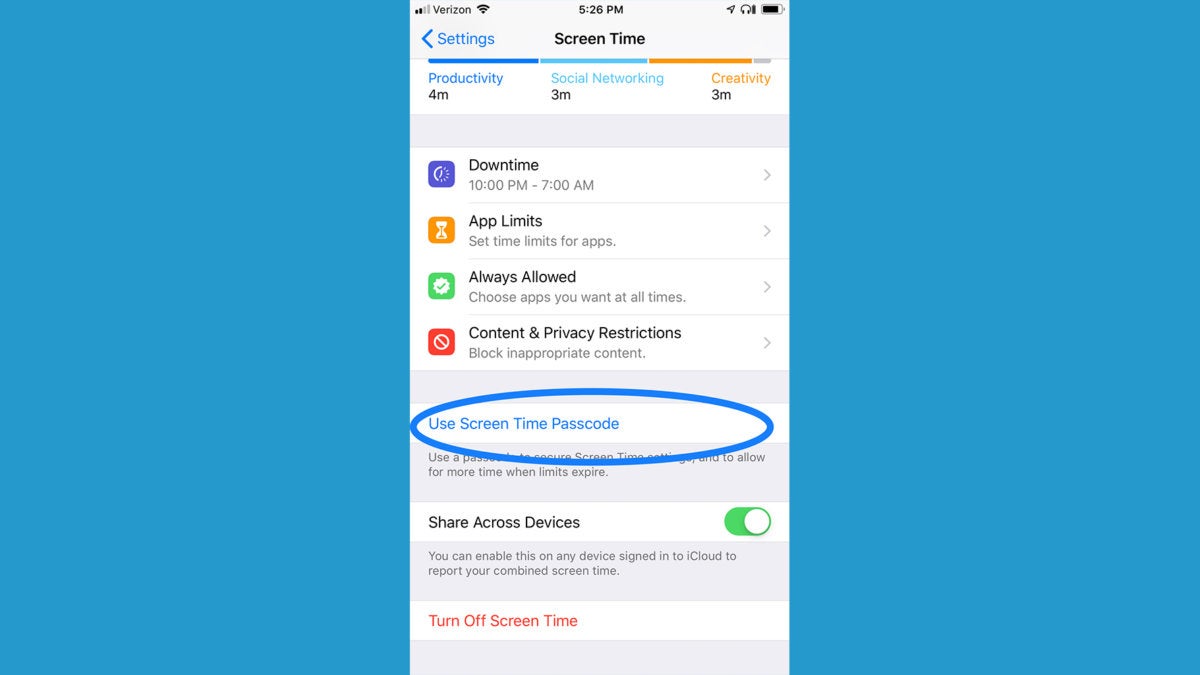 Once you've had it running for a week or more, dive into the Screen Time menu in Settings and poke around. Do you pick up your phone 200 times per day? Are you getting 500 daily notifications? Maybe you average two and a half hours a day in the Instagram app alone? It's time for an intervention! You can use this information to decide which ways you're over-using your phone and make some changes. If there's a particular app or service you're spending way too much time with, consider using Screen Time to force limits on yourself.
We show you how to do all that in our Screen Time guide. If you really lack self-control, have your spouse, roommate, or friend set a passcode for Screen Time that you don't know. It'll be okay; there's nothing happening on Snapchat that's so important it can't wait until tomorrow.
Get those notifications under control
If Screen Time is telling you that you pick up your phone too much—well over 100 times a day—it's likely that you're also getting hundreds of notifications a day. It's hard not to pick up your phone if it's screaming "Hey, look at me!" every few minutes.
By default, many apps notify you about every little thing, complete with banners and sounds and all sorts of distracting annoyances. Limiting notifications to those things that actually need your immediate attention is a quality of life improvement you'll notice right away.
Start by going into the notifications settings and examining the settings for nearly every app on your phone. No, seriously—it won't take as long as you think. Our notifications guide shows you how the settings work.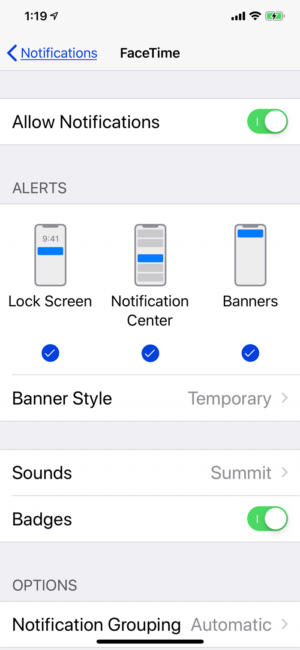 Consider adhering to these principles: If you truly need to take action on an app's notifications right away (as with a smart doorbell, home security app, or Messages) then let it annoy you with banners and sounds. If you only need notifications to tell you about something that happened but doesn't require immediate action, then turn off sounds and banners, and maybe even lock screen notifications and badges—you can see those apps only in the Notification Center. Finally, for apps you only rarely use or those where you open the app several times a day anyway, just turn off notifications entirely.
Err on the side of fewer notifications. You can always go back and make them more permissive for an app if you find you're missing anything important.
Next, go into apps where you do need notifications, and limit the sorts of things you get them for. You'll have to do this in each app's settings menu, and every app is different. Take Twitter, for example—you may want to leave notifications enabled but turn them off for everything except Direct Messages. (You don't really need a notification popping up to tell you that someone retweeted you, do you?)
Even if you don't feel like your notifications are a problem, you'll be surprised how much more you enjoy using your phone when you only see notifications you truly need. It's opening your mailbox every day and never finding junk mail or fliers.
Finally delete all the old apps you never use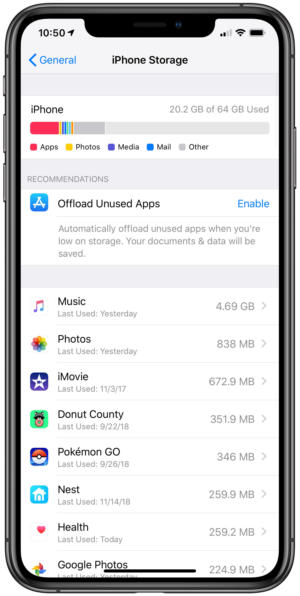 Do you have home screen after home screen full of apps, even though you only really use about eight of them? You're not alone. It's so easy to download an app and try it out, and the next thing you know you've got an iPhone loaded with icons you haven't tapped in months (some of them still producing copious notifications…see above).
Do you really need that airline app for the flight you took two years ago on an airline you don't usually fly? Aren't you done with the free-to-play game that updates itself every week even though you haven't launched it in six months?
If you really need any of those old apps, you can always download them again without re-purchasing them. Our guide will show you two ways to delete apps, including a method that lets you see how much space they're taking up and how to remove the app but not its data if you want to. The whole point is to get some of those icons off your home screen, though, so don't lean on the "Offload App" option too heavily.
Set a rule for yourself: If you haven't used an app in over a month, get rid of it! You can even delete many of Apple's built-in apps and grab them again later if you want to.
Start taking password security seriously
By now you've heard it a hundred times: It's extremely important to use a unique, strong password for every site and service, and you should use a password manager to help make that easier. For your most important sites and services, you should use two-factor authentication (2FA). That means popular social media accounts, banks, email, and large "ecosystem" accounts like your Microsoft, Amazon, or Google accounts.
And yet year after year, we read stories about password breaches where millions of people got compromised by re-using passwords. The most common passwords, year after year, are "password" and "123456."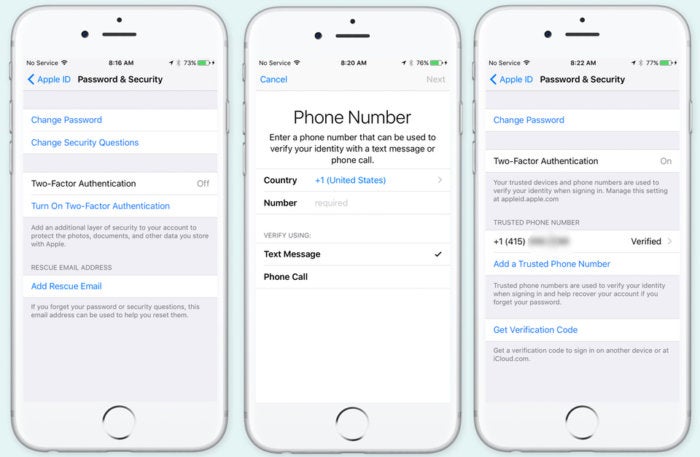 This is the year you start to take this stuff seriously. Apple's got your back! In iOS 12 there's a fairly good built-in password manager that even warns you about re-using passwords. If you want to use a third-party password manager (handy if you use non-Mac computers, browsers other than Safari, or share passwords with family members for things like your Netflix account), iOS 12 works better with them than ever. Password managers can now auto-fill passwords and forms in webpages and apps and use Touch ID or Face ID for authentication.
Don't know where to start? We suggest either 1Password or LastPass for password managers, and Authy is a great app for generating codes for two-factor authentication. Using an authentication app like Authy is more secure than relying on SMS messages for 2FA.
At the very least, you should set up 2FA for your Apple ID!
Oh, and make sure your six-digit numeric passcode to unlock your iPhone is not the same one you use on any other device or site. If it's not, it's time to change that, too.
Stay on top of your backups
Should anything happen to your phone—if it's lost forever or damaged beyond repair—would you be able to get back everything on it? All those photos you can never re-take? Your painstakingly created playlists? Those saved games with hours and hours of progress in them?
This is the perfect time to make sure you're up to date with backups. For starters, turn on iCloud backup. Open the Settings app and then tap your account name—it should appear at the very top—then tap iCloud, then iCloud Backup. Make sure that is enabled.
But your iCloud backup doesn't keep everything on your phone. To do that, you want to make an encrypted backup to iTunes. Connect your iPhone to your Mac or PC, launch iTunes, select your iPhone by clicking the little phone icon in the toolbar, and under Backups, choose This Computer. Check Encrypt local backup, so your account passwords and Health data gets backed up too—just be sure to use a password you won't forget. Click the button to Back up now.
It's not necessary to do an encrypted iTunes backup all the time. Once a month should suffice. Want an easy way to remember? Just say, "Hey Siri, remind me every month to back up my iPhone." Siri will set up a monthly recurring reminder for you.