At a Glance
Expert's Rating
Pros
Offer great situational awareness
Lightweight
Water resistant
Cons
Difficulties pairing with audio source during testing confirmed by third-parites
Limited audio controls
No on-earphone Siri controls
Charging case zipper could be of better quality
Our Verdict
Remove non-productPlantronics has a reputation for churning out well-made, reliable hands-free Bluetooth communications gear that drivers and corporate I.T. types adore. Its headphones and earphones, however, tend to fly under the radar of most music lovers. It's a shame, as their consumer audio gear not only sounds great (for the price) but also comes packed with features typically reserved for headphones that cost significantly more. As such, I expected great things from Plantronics' first stab at a pair of true wireless earphones, the BackBeat Fit 3100.
After a week of testing I can tell you that, while the company got a great deal right with these earbuds, there's still room for significant improvement.
Note: This review is part of our roundup of wireless and true wireless earbuds. Go there for details on competing products and our testing methods.
Design
The size of the Fit 3100 make them look heavy. This is a deception: Pick up one of the earbuds and you'll discover that, despite their beefy, rugged build, they're reasonably light. The large, rubberized ear caps that contain the headset's batteries and electronics have an IP57 rating. So you can expect them to stand up to dust or even take them swimming (although you might not hear much music). Need to wash mud or grime off of them after a workout? No problem.
That the Fit 3100 were designed with athletics in mind is clear to see. Soft, pliable silicon ear hooks ensure that the earbuds will stay attached to your skull as you navigate highly technical trail runs or cycle down city streets. Plantronics' Ambient Aware ear tips all but do away with the passive noise blocking that most other true wireless earphones aspire to. Provided you're not listening to your music at a ludicrous volume, you'll always be able to hear what's going on in the world around you. That's important for staying safe while you're out for a jog or sharing a gym with others. Unfortunately, the earphones don't ship with a second set of ear tips. If you happen to lose one, you'll have to contact Plantronics for a replacement.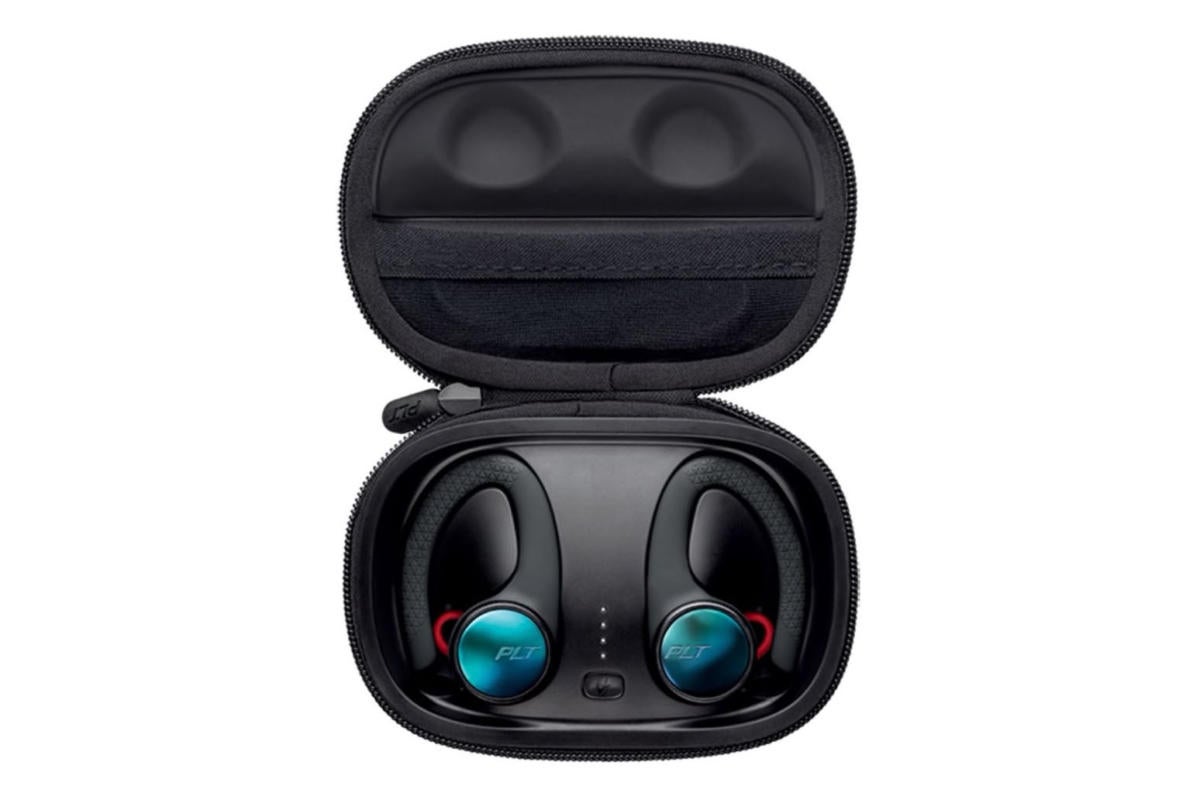 The Fit 3100 battery case, for better or worse, is unique among the ones shipping with true wireless earphones. Where most companies rely on a mechanical latch or magnets to keep their cases closed when not in use, Plantronics has opted to use a zipper. The upside of this design is that, should the case ever get dropped, there's no way that it can fly open to send your earbuds skittering across the ground. The downside is that the zipper Plantronics has employed is of middling quality. I found that the zipper pull was easily bent, and while opening or closing the zipper, I noted a couple of spots that gave a small amount of resistance. Neither of these flaws suggest long-term durability. That said, the rest of the case seems sturdy enough and should protect the earbuds inside of it from casual abuse.
Plantronics claims that the Fit 3100's battery case can provide two additional charges, which is good, as you might need them: while these earphones are advertised as having a five hour runtime, I found that they averaged around 3.5 hours, per charge. You should know that some care is needed while placing the Fit 3100 back into their case: if they're seated in the wrong position, they won't charge.
Usability
The Fit 3100 don't have the most intuitive control scheme that I've tested, but it's not the worst, either. Both earbuds have large, clicky buttons built into their end caps. The right earbud's button offers users track controls and the ability to accept or end phone calls. The left earbud's button is capped with a touch panel: a quick touch of the panel decreases the volume, a long press will increase it. Through Plantronics' free BackBeat Fit Companion app, it's possible to customize the left ear cap click—in theory. I tried and failed multiple times to get the app to recognize my pair of Fit 3100s, despite the fact that the earbuds were connected to my iPhone 7 Plus and worked in every other respect. I attempted to pair them to the app on an iPhone SE and OnePlus 6t, to ensure it wasn't an issue with my handset. After checking with both the iOS App Store and Google Play Store, I found that many other Fit 3100 were having the same issue. Given the price point of these earbuds, this is a difficult issue to overlook.
During the week that I tested these earphones, connectivity issues became something of a theme. Beyond the failures in trying to get the Beat Fit Companion app to pair with the earbuds, I also experienced frequent Bluetooth connectivity hiccups anytime I wore the Fit 3100 outside of my home. A car passes by as I walk down the street: hiccup. Putting my phone in my left jacket pocket inside of my right: lots of hiccups. Using them in a crowded coffee shop while I do a bit of work… well, you get the idea.
Sound
The Fit 3100 won't win any prizes for audio fidelity. But that's okay, they're not supposed to. In order to ensure good sound with a pair of in-ear headphones, you'll need a modicum of passive or active noise cancellation. This ensures that much of the noise from the outside world gets blocked out while you're wearing them and, at the same time, allows for the sound generated by the tiny drivers in the earphones to be fully realized as it's pumped into your skull. A good in-ear seal allows the user to enjoy richer bass and more detailed mid and high frequency sound.
As the Fit 3100 shy away from passive noise cancellation in favor of providing the users with situational awareness, they don't sound as good as other sports-oriented earphones, like Jaybird's X4 do. Despite this, the audio that they serve up is definitely up to the task of powering athletes through their workout. If you find that you're unhappy with the sound that these earphones provide but want the level of situational awareness that they afford, you might want to consider Bose's outstanding SoundSport Free true wireless earphones, which typically sell for around $50 more.
The Bottom Line
Despite their sturdy build quality and the amount of situational awareness they afford, I can't recommend the Plantronics BackBeat Fit 3100. Their sub-par battery life and spotty connectivity are impossible to ignore.