At a Glance
Expert's Rating
Pros
Outstanding sound quality
Comfortable to wear
Sleek, modern design
User scupltable EQ
USB-C charging
Cons
Not ideal for those with smaller ears
touch controls aren't always responsive
Expensive
Frequent connectivity issues
Our Verdict
Best Prices Today: Sennheiser Momentum True Wireless earphones
In 2018, a solid set of true wirelesses earphones, like Apple's AirPods or the Jabra Elite 65t, can be had for around $150. They sound good, are reasonably well-made and, for the price, have few enough problems that most people will be happy with them.
Some companies, such as Bang & Olufson or Master & Dynamic with their excellent MW07s, offer their true wireless earphones for twice as much money. In exchange for this steep premium, it's reasonable to expect a well-built, stylish set of true wireless earbuds that offer a vastly superior listening experience.
Sennheiser's $300 Momentum True Wireless Earbuds meet this criteria. Their handsome design and outstanding audio quality smack of luxury. Unfortunately, especially given their high price, they come with a number of flummoxing flaws that drag what should be a top-crust listening experience down into the realm of frustrating mediocrity.
Note: This review is part of our roundup of wireless and true wireless earbuds. Go there for details on competing products and our testing methods.
Design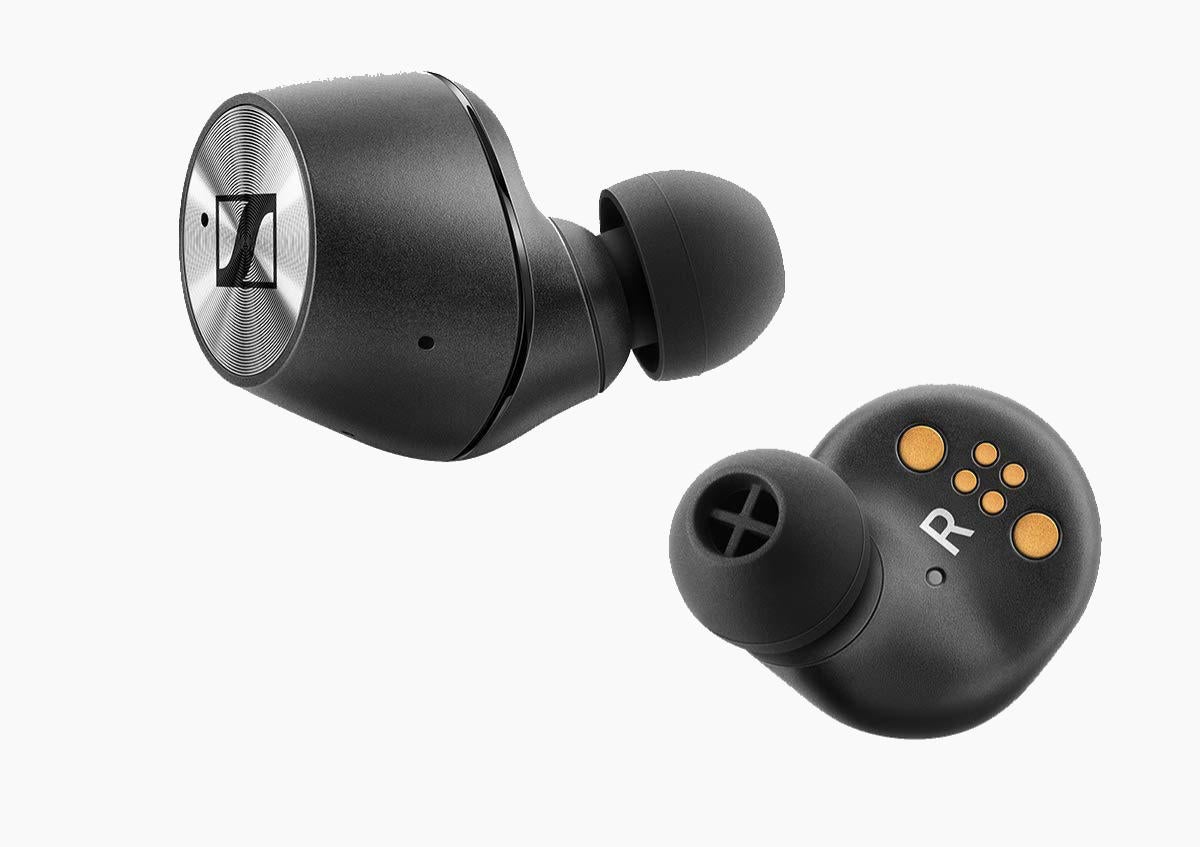 Weighing in at around a quarter of an ounce each, Sennheiser's Momentum True Wireless (let's call them SMTW for brevity's sake) aren't what you'd call heavy. They are, compared to many of the true wireless earphones, relatively large. I found that the SMTW didn't stick too far out of my ears while wearing them, but they did fill up a good deal of my ears between their antihelix and the tragus. For some, this means a snug fit, especially when paired with one of the four sizes of included silicon ear tips. For others, especially those with small ears, it means that the SMTW may not be comfortable to wear or could wind up simply falling out.
As such, be sure to check on the return policy pulling the trigger on their purchase. In my case, the snug fit that the SMTW and the correct set of ear tips afforded provided me with some very respectable passive noise cancellation. While listening to music at middling to high volumes, I wasn't able to hear much of the world around me. You should know that these earphones come with an IPX rating of 4, meaning that they'll likely survive a splash of liquid, but will fry if submerged—as such, they're a reasonable choice for anyone who occasionally gets caught in the rain on their commute or is thinking of wearing them while sweating it out at the gym.
The ear caps and stems of the SMTW are made with a matte black plastic. A large, metallic touch panel emblazoned with the Sennheiser logo can be found on the end of each cap, giving what might otherwise be a sleek, minimal design a bit of bling. Most of the interactions you'll have with the SMTW will be conducted through taps on these touch panels. In order to control your music, take a call or interact with Siri using the earphones, you'll have to summit a steep learning curve. A finger tap on the right earbud will summon your audio source's digital assistant. A tap on the left earbud plays or pauses the audio currently playing. Two or three taps on the left 'bud advances or shifts back an audio track, respectively. Holding a finger on the left earbud will lower the volume while a finger held to the right earbud increases it.
This is far from intuitive. It took me a couple of days of use before navigating the SMTW's features began to feel like second nature—but even then, there were problems. I discovered that my touch input wasn't always registered by the headphones. Pausing music frequently took two or three stabs of my finger. When tapping twice to advance a track, the earbuds often thought that I was looking to quickly pause and then start playing my music again. I found altering volume with anything approaching granularity was impossible. In order to nudge the volume of music up or down as I went throughout my day, I found myself reaching for my iPhone.
Pairing the SMTW with an audio source is pretty easy: Take the earbuds out of their case, hold the touch sensors for five seconds and you're in business. Once paired, I found that the earbuds linked up to my iPhone and tablet almost faster than I could stuff them into my ears. Unfortunately, once I was wearing them, I found their Bluetooth connectivity to be periodically problematic.
I experienced audio dropouts with middling frequency while walking with my iPhone in my pocket, holding it in my hand, and leaving it sitting on my kitchen table while doing the dishes. On one occasion, while listening to music using a Bluetooth speaker, the SMTW decided to connect to my phone while they were sitting in their charging case in another room. This disconnected me from the speaker I was using. To ensure that the issue wasn't with my iPhone 7 Plus, I switched to using my Microsoft Surface Go as an audio source. A quick online search revealed that I wasn't the only reviewer experiencing this issue.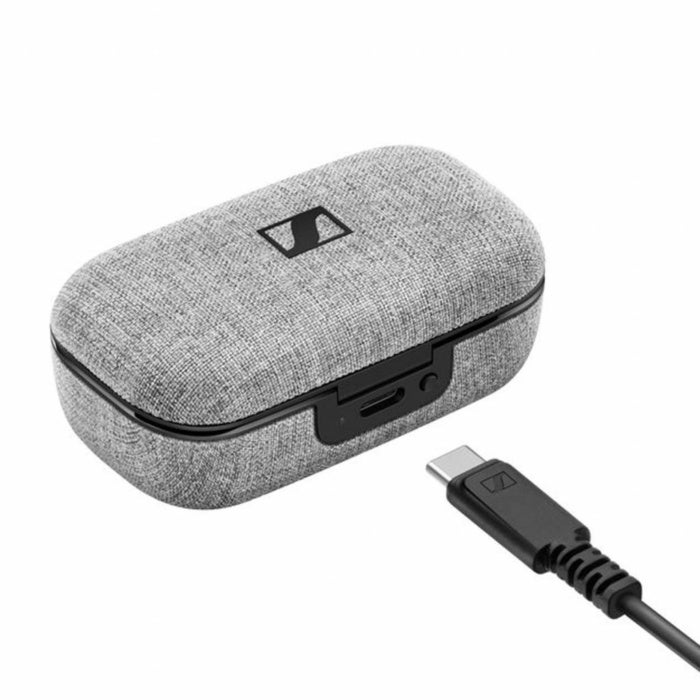 Sennheiser claims that the SMTW gives you up to four hours of playtime before they need to be recharged. I found this estimate to be accurate. Thanks to the handsome cloth-covered charging case, users can expect a total of up to 12 hours of battery life while they're out and about. To completely charge the earbuds, expect to leave them in their charging case for around an hour and a half. When the time comes to top everything off, the charging case connects via USB-C.
Sound Quality
If you're able to see your way past the difficulty that comes with using the SMTW's controls or Bluetooth connectivity issues, these earbuds sound absolutely wonderful. Out of the box, they offer rich, neutral audio with warm, but never overwhelming bass along with mids and highs that are both crisp and clear at any volume. No matter what song I listened to from my audio testing playlist or which genre of music I chose to zone out to, the SMTW performed admirably, making their shortcomings all the more frustrating. These are arguably the best sounding true wireless earphones that I've tested so far—it's a shame that they proved so frequently irritating.
While they sound fabulous as they are, through their free Smart Control iOS app, Sennheiser also makes it possible to tweak the EQ to suit every need. While the app's interface for this task might not be to the taste of audiophiles who know what they're doing, its very approachable to the layman looking to unleash a little more bass or increase the mids of their favorite music with a minimal amount of hassle.
Bottom Line
It's maddening how close Sennheiser's Momentum True Wireless earbuds come to greatness. Their sound sits at the pinnacle of what can be achieved by a pair of true wireless earphones. It's all the more unfortunate that they're so deeply hamstrung by unintuitive controls and spotty connectivity.
Best Prices Today: Sennheiser Momentum True Wireless earphones