If you're reading this, there's a good chance you told yourself that you're going to lose weight as a New Year's resolution. Congratulations! The bad news is that there's a good chance you're going to fail, at least if thousands of personal anecdotes and studies have any weight.
But these days it's easier to avoid falling into that trap. The iOS App Store is as stuffed with helpful apps for losing weight as I was stuffed with turkey and bread in the aftermath of Christmas dinner.
These are the best of the bunch. Almost all of them track activity and calories, but a couple go so far as to pester you throughout the day to stay on focus (and some of us need that). I recommend parking them on your home screen, as they'll be there to glare at you every time you're tempted to open Uber Eats or check Safari for the hours of the local Chipotle.
MyFitnessPal: The best overall weight loss app
Exercise is a big part of losing weight, but you could pump iron for weeks and see little difference if you keep stuffing your face with calories when the workout's done. Thank goodness, then, for calories counters like UnderArmour's MyFitnessPal. If you don't want to fatten your phone with a smorgasbord of apps, this is the one to download.
The star attraction, though, is MyFitnessPal's massive database that lists the nutritional information of millions of different foods. You'll see the best benefits from MyFitnessPal if you log every single munchie that enters your mouth, and the app simplifies this process with a barcode scanner and a centrally placed button. As I've said before, the mere obligation to log each food is often enough to dissuade me from overeating.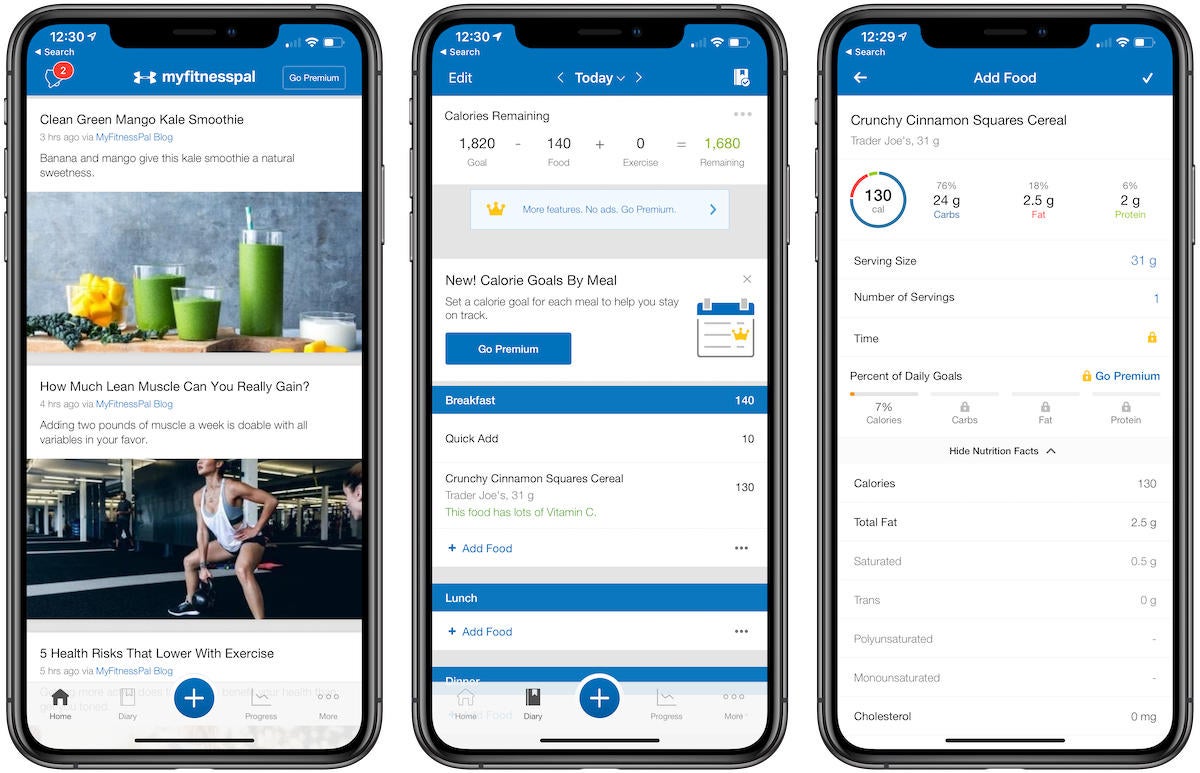 That's merely the tip of what MyFitnessPal offers. The interface is a little drab, but it provides charts for tracking everything from weight to the width of your neck. I especially admire how it lets you document your journey with photos. It also has a busy blog filled with articles like "What to Eat and Avoid for Better Sleep" and recipes like the scrumptious-sounding "peanut butter banana sushi." It syncs with virtually every fitness device out there, ranging from the Apple Watch and Fitbit devices to apps from Pact and Garmin.
MyFitnessPal is also one of the few apps listed here that comes with a dedicated Apple Watch app. I wouldn't recommend using it for logging calories since the watch app has no access to the database, but it's excellent when you need a quick look at how many calories you have left to work with.
Lose It! The best app for streamlined calorie counting
With Lose It!, you could be forgiven for thinking you were looking at screenshots of MyFitnessPal with the blues swapped to orange. They're so similar, in fact, that choosing one over the other makes little difference in the long run.
But the few differences are notable. Lose It is laser-focused on the business of counting calories, and so it does away with its rival's labyrinthine menus and barrage of blog posts. It's a slightly more accessible and fun experience, as revealed by its playful icons and clearly visible forums for socializing among friends and communities. On a more practical level, it allows you to connect with apps ranging from Runkeeper and Nike+, and the premium plan of $2.99 per month produces meal plans tailored to your needs.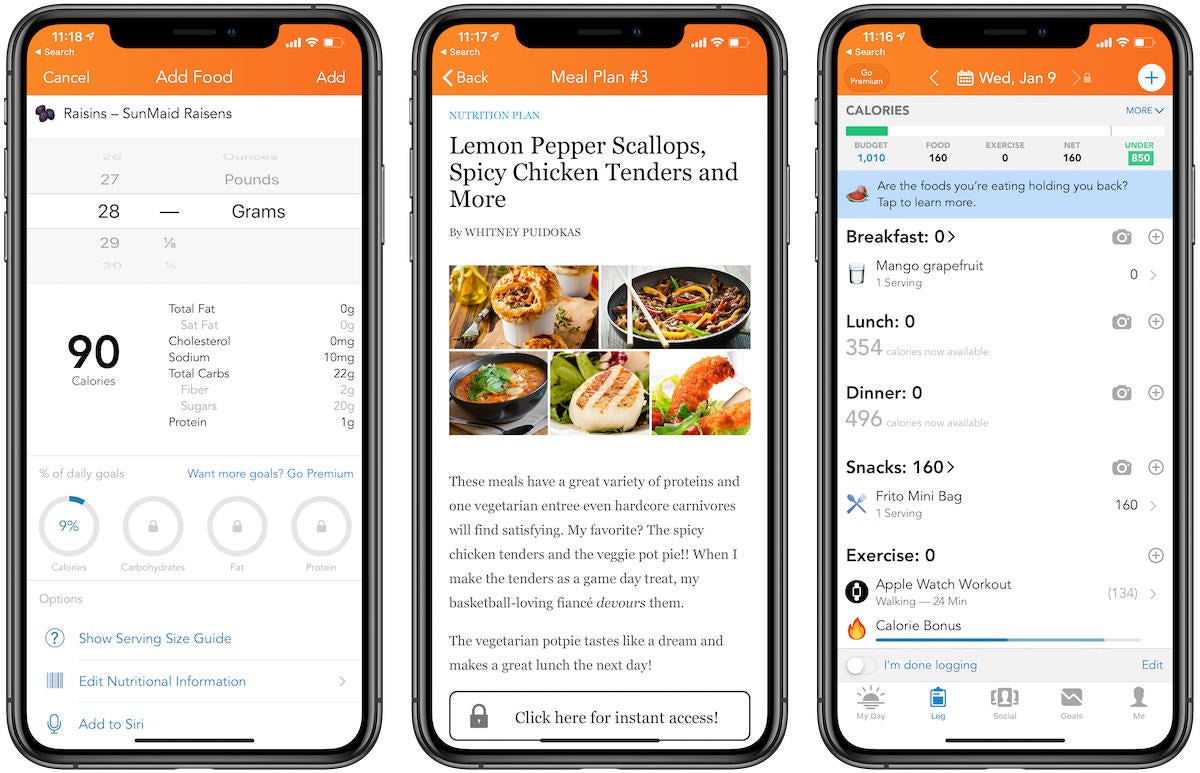 Lose It has a massive food database as well, and it does one better than MyFitnessPal by letting you identify the food you're eating solely by a photo. Sometimes the SnapIt feature nails it, but more often than not you'll need to choose the proper food from a list after the snap.
It's a cool option in situations when barcodes aren't available, but the results and calorie estimates vary wildly. That's true of Lose It in general, which sometimes differs from similar listings on MyFitnessPal by as much as 200 calories. That's not entirely Lose It's fault, though, as the majority of entries in both apps were submitted by users, which is obvious from the way typos and misspellings outnumber preservatives in a Twinkie. With so mistakes like that in the letters, some goofs are bound to pop up in the numbers as well.
My Diet Coach: The best app for making weight loss feel like a game
I find I'm most motivated to lose weight when the experience resembles a modern game filled with achievements and challenges, and no other app delivers that experience so well as My Diet Coach. The opening screen reveals two avatars—one that represents your current weight and one that represents your future self—and your quest is to make the two match up. It's enough to make losing pounds feels like gaining levels in an RPG, or getting good gear to show for weeks or a months of effort.
My Diet Coach also turns mundane acts of self control into challenges that reward points. Want to take the easy route? Avoid sugary drinks for a day for 20 points. If you want a real challenge, avoid refined grained foods for 70 points. I even like the weight tracker, which does away with simple data entry in favor of an adjustable measuring tape. Adjusting the tape to ever-smaller numbers is one of the most rewarding moments of my mornings.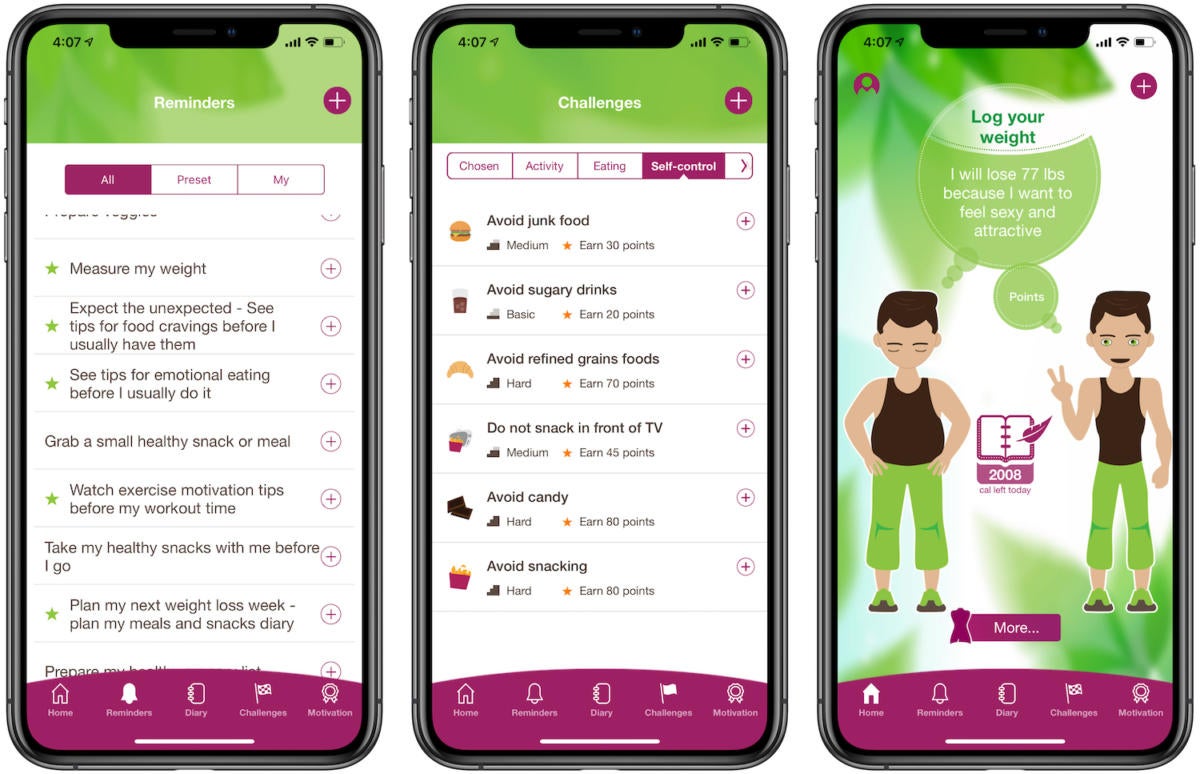 Nothing makes My Diet Coach so essential as the way it nags you into losing weight as frequently as necessary. As I've said before, this works for me. You can set all kinds of reminders and notifications, ranging from the presets—"Drink water"—to custom ones suited to your specific needs. "Stop grabbing Fritos from the snack drawer," works particularly well for me, and I have that sucker set to go off every four hours. These notifications also get pushed to your Apple Watch.
Beyond that, My Diet Coach comes with a barcode scanner that imports nutritional information to your diary and it syncs with your data from Apple's Health app. A premium version makes it easier to log activities and offers more challenges for $6.99 a month, but I find the free ad-supported version works more than well enough for my needs.
Fooducate: The best app for explaining the pros and cons of food
Chances are you've looked at the nutritional information on the back of a food package and had little idea of what to do with it. Most of us at least understand that fewer calories is generally a good thing, but that understanding dwindles the further we dive into the arcana of sodium and carbohydrate percentages. Fooducate, though, translates all those numbers into a language we can all understand. It specifically lets you know why a certain food is good or bad for you, and all it takes it a simple scan of a package's barcode.
The scan, in turn, takes you to a page where you'll see the letter grade Fooducate gives the food based on a number of factors. When I scanned a stick of Toblerone chocolate, for instance, it warned me that it scored a D+ because it contains five teaspoons of sugar per serving and because the package size leads to overconsumption.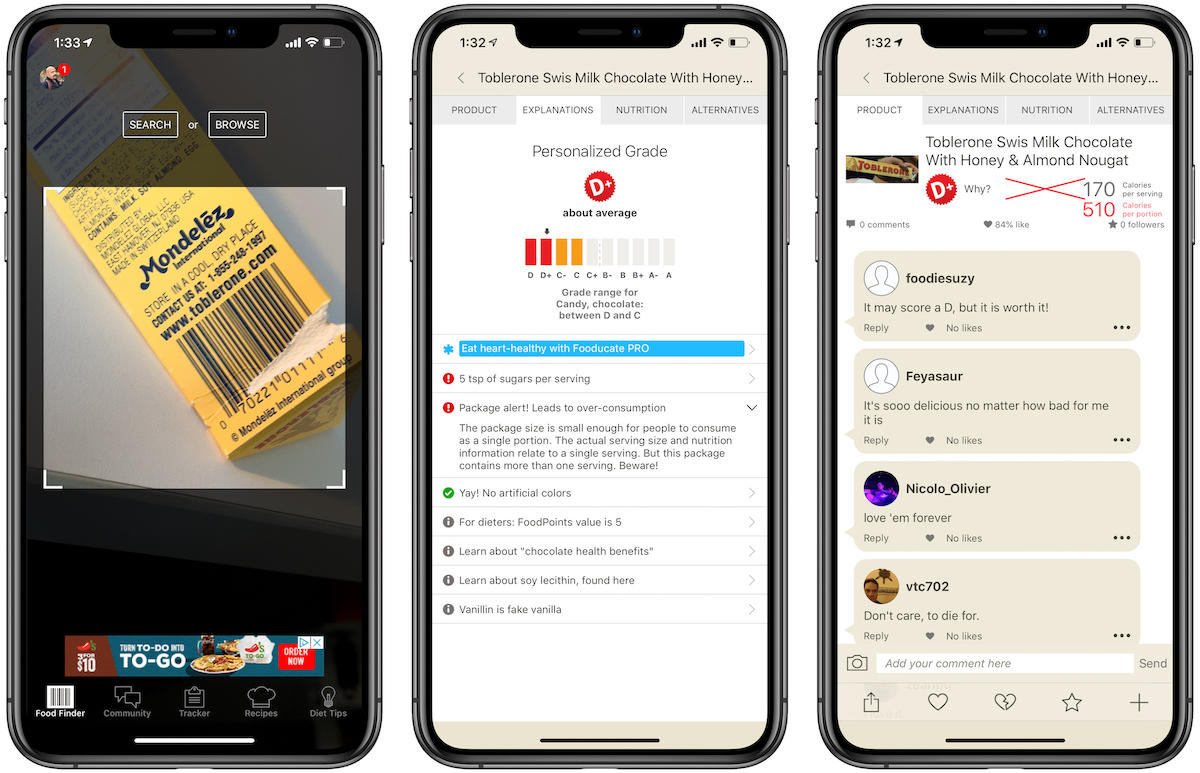 In this case, that means that even though the big black number on the box says it contains 180 calories per serving, you're at high risk of consuming 510 calories if you eat the whole thing. (It's worth noting that Fooducate lists it as 170 calories by serving and thereby reveals the danger of inaccuracies in the listings, to say nothing of the misspelling of "Swiss" in the product's title.)
Fooducate fortunately recommends some alternatives, such as a Godiva milk chocolate bar with almonds (C-) or a bag of Sun-Dried California Raisins (A-). For a solid A, you could just eat an orange.
Meh, right? I find the commiseration and defiance in Fooducate's comment sections rewarding in these moments. As user Feyasaur says in regard to the Toblerone, "It's sooo delicious no matter how bad for me it is."
Beyond that, Fooducate lets you share recipes and ask questions in forums. Upgrade to Fooducate's premium plan, and you'll even get Fooducate's detailed information for pet food.
Nike Training Club: The best for learning workouts
Getting the most out of a weight loss drive requires sweating through some workouts. As I well know, the thought of visiting a gym can be terrifying if you haven't visited one in years and lack a gym-ready body, but the Nike Training Club app makes eases that transition by acting as a friendly private coach. Even better, many of its workouts require nothing more besides some space on your living room floor. Many of the other apps listed here track workouts, but I love this one because it shows you how to do them.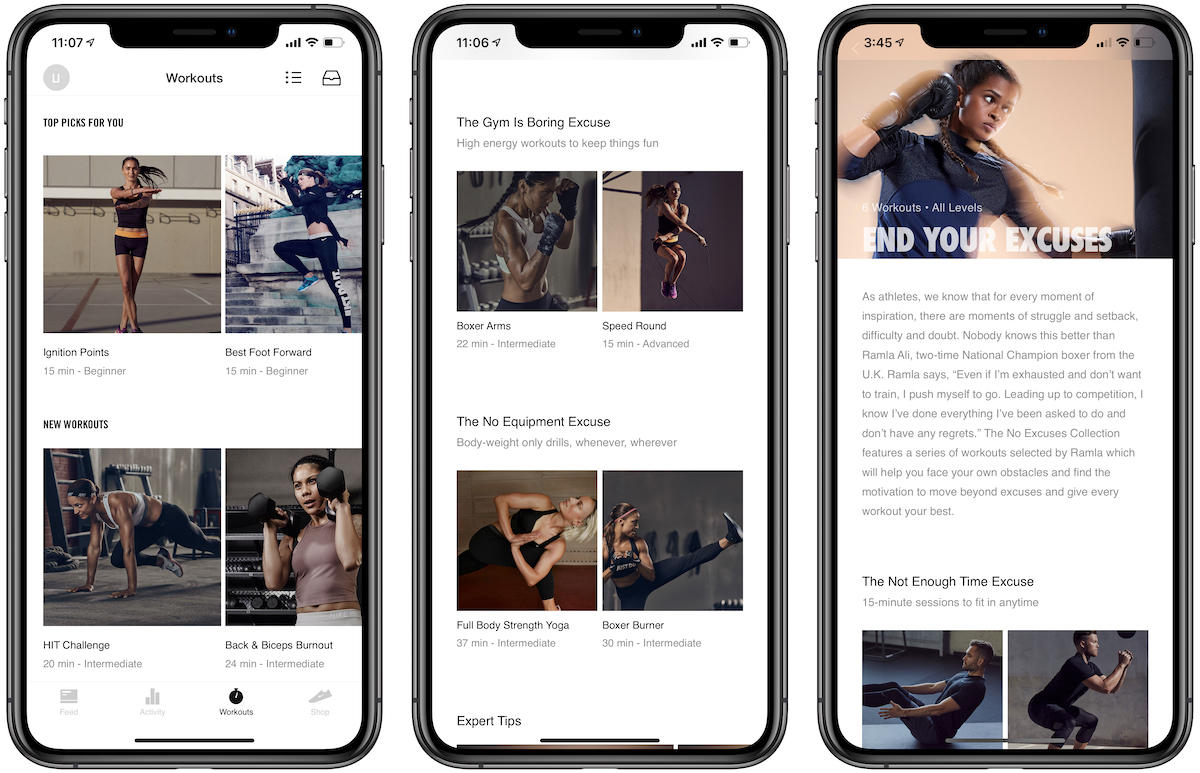 This isn't a hodgepodge pile of workouts without explanation or curation. Nike Training Club suggests workouts based on factors like your available time and level of activity, and it'll draw from your Apple Watch data to determine workouts you're ready for. I especially like the way it assembles some workouts in collections, such as the "No More Excuses" series that shows it's possible to stay fit without a gym or with little free time in your schedule.
Nike being Nike, you'll also find actors and athletes like Serena Williams or Michael B. Jordan showing off their favorite routines in video clips. It feels a little like having them as coaches or gym buddies. Nike Fitness Club reminds us that maintaining bodies like theirs is largely a matter of sticking to a few good habits, and with this app, you'll know what some of those habits are.
Charity Miles: The best app for improving the world while losing weight
Most other apps on this page emphasize tracking, but Charity Miles is all about motivation. For every mile you walk or run during a range of preset workouts, it shoots off a small donation to your choice of 42 different charities—and well, that's it, really. If you wish, you can also participate in teams. The charities include everything from the ASPCA to The Nature Conservancy, but you'll never have to pay a dime.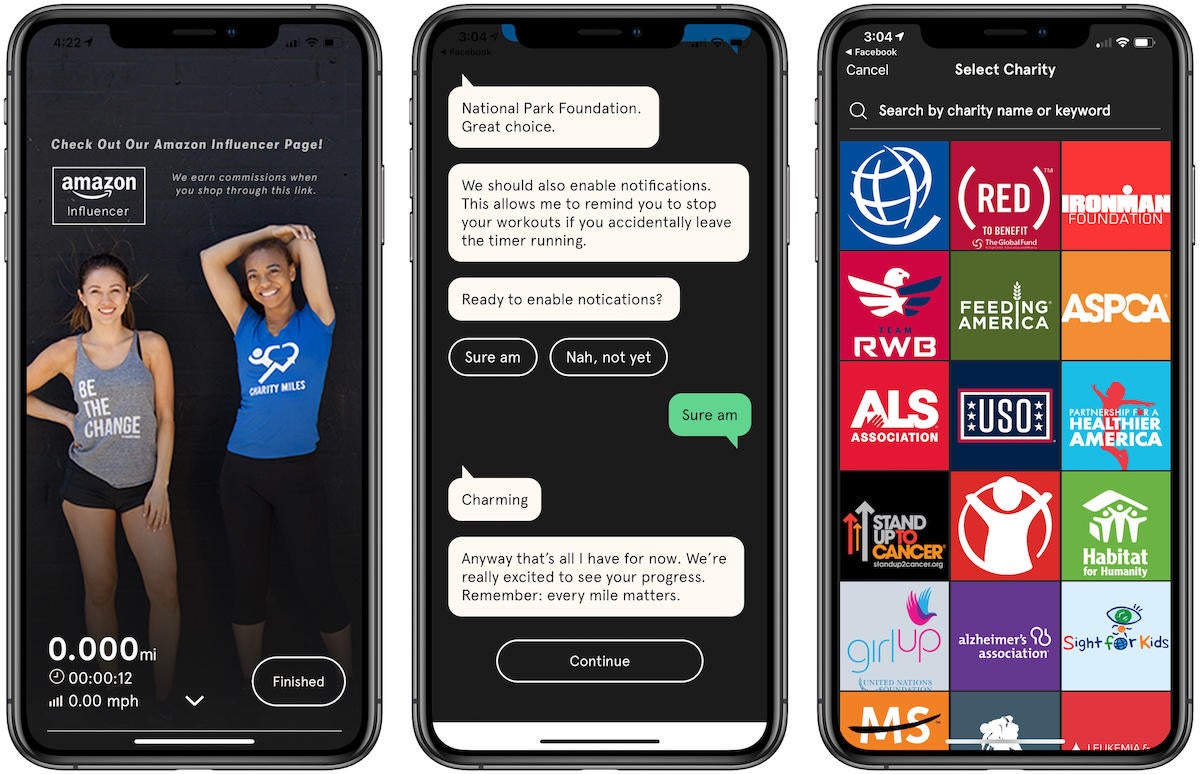 Of course, the money doesn't just come from nowhere. Charity Miles exists through the generosity of sponsors like Johnson & Johnson and Del Monte Fresh who decided to put some of their advertising budget toward this project rather than spending it on yawnworthy alternatives like website banner ads. And you probably guessed it: That means you're going to see their ads when you open the app to start or end a workout.
But it's for the greater good, right? And at any rate the ads are usually catered to Charity Miles itself and barely resemble the jarring things you'll see on other sites. If you can't get excited about losing weight for yourself, Charity Miles makes it easy to do it for other people. And that, I believe is a noble goal.