At a Glance
Expert's Rating
Pros
WireGuard is a nice addition for VPN enthusiasts
Very good speeds
Cons
It's expensive at $100 per year
Not many features for power users
Our Verdict
IVPN doesn't have the hundreds of servers that other companies do, but what it does have is solid connections with good speeds. The addition of a point-and-click WireGuard option is a first and a great feature for those interested in trying out the new protocol.
Price When Reviewed
$6.00 per month
Best Prices Today: IVPN
Hang around in the world of VPNs long enough, and you'll inevitably hear about Wireguard, a new VPN protocol that's supposed to deliver fast transfer speeds and be easy to implement. To try it out, however, you need to be running a Unix-y system such as macOS or Linux, find a VPN service supplying WireGuard, and then get it up and running via the command line.
That all changed when IVPN implemented WireGuard in 2018 as a beta option in its macOS app. IVPN warns that the protocol is still under development, and you shouldn't use WireGuard "except for testing or in situations where security is not critical." Nonetheless, the protocol is available and it's easy to use, so we gave it a try to see how it works, and what IVPN can offer.
Note: This review is part of our best VPNs roundup. Go there for details about competing products and how we tested them.
IVPN: Security, software, servers, and speed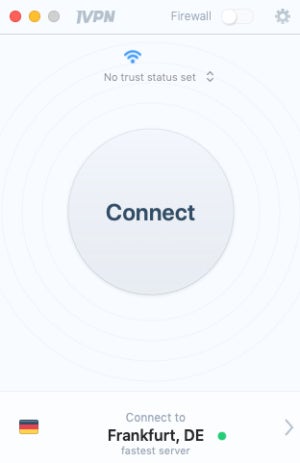 IVPN's official business location is Gibraltar, though the team is based throughout various countries in Europe. The CEO is Nicholas Pestell and the CTO is Fedir Nepyivoda. The company's privacy policy promises it does not keep any logs of your VPN activity. It does, however, require an email address to sign-up.
When using the OpenVPN protocol, IVPN uses the following:
Data Encryption: AES-256-GCM
Data Authentication: AES-256-GCM
Handshake: TLS (4096 bit, SHA-256) with 4096-bit DH algorithm
And when using WireGuard:
Data encryption: 256-bit ChaCha20
Data authentication: 128-bit Poly1305
Handshake: 128-bit Curve25519 – ECDH algorithm using Noise Framework
IVPN offers a very basic user interface that's easy to understand and is reminiscent of ExpressVPN. The primary part of the window is taken up by a large Connect/Disconnect button. At the top it shows the name of the current Wi-Fi network you're on and allows you to set it as trusted (which only matters if you've set IVPN to autoconnect to untrusted networks).
At the bottom of the screen you'll find options for single or multi-hop VPN connections, as well as a country location selector. Select the latter option and a list of country connections come up. Beside each country option is a red, yellow, green light to quickly indicate whether a particular connection is good for you. It also lists the ping time to each server to help you find the best option in the country you wish to connect to. IVPN offers 27 countries on 57 servers via OpenVPN, while on WireGuard the number of countries drops down to 7 with 11 servers.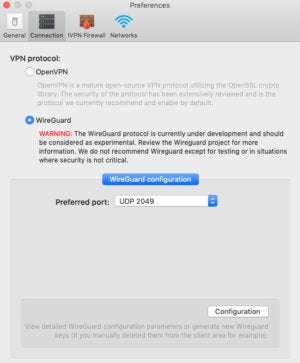 If you want to try WireGuard you have to enable it under Settings > Connection > VPN Protocol, which is accessed via the settings cog in the upper right corner of the main window or via the menu bar.
One final feature to note with IVPN is its Firewall, which is the company's approach to an Internet kill switch. It operates independently of the rest of the IVPN app, and the company says it allows for more effective protection of your actual IP address should your connection to the VPN fail.
In our performance tests, IVPN was very fast using either OpenVPN or WireGuard. On OpenVPN we saw the best speeds, with about 44 percent of base speed based on performance in five regions (USA, UK, Germany, Australia, and Japan). Perhaps that's to be expected though, since WireGuard is still in beta. (It got about 36 percent of base speed.) Regardless, using OpenVPN and WireGuard every IVPN location test hit double digits.
Pricing
IVPN costs $100 per year, which is really high for a VPN–unusually so given that the high end is usually $80 with the typical price closer to $60. You can also get a quarterly subscription for $40, and the month-to-month cost is a jaw-dropping $15.
That's a lot when you have the typical five device limit. And there are few extras, such as a guarantee to work with Netflix or ad-blocking.
IVPN justifies its higher cost by saying its VPN provides faster servers and better support, while the cheaper competitors usually have too many customers hitting their servers, thus impacting your performance.
I don't necessarily buy that argument as I've seen cheaper options with similar service, but IVPN's speeds are very good.
Conclusion
IVPN offers fast servers, an easy-to-use app, and the option to try the WireGuard VPN protocol without dipping into the command line. While you can find cheaper options out there, you definitely get value if speed is your primary concern.
Editor's Note: Because online services are often iterative, gaining new features and performance improvements over time, this review is subject to change in order to accurately reflect the current state of the service. Any changes to text or our final review verdict will be noted at the top of this article.