Like clockwork, Apple releases a major revision of iOS every year. The company formally unveils the new operating system for iPhone and iPad at WWDC in June, followed by a beta testing period and then a final release in the fall (typically in September, just before the new iPhones hit the shelves).
One never really knows exactly what new features and design changes Apple will bring until the company gets on stage at WWDC, but the rumor mill churns early and often. After all, iOS is one of the widest-used and most influential consumer operating systems in the world. We have our own wishlist of iOS 13 features, but we've also collected all the rumors about iOS 13 here.
Update 05/31/19: A new report from Bloomberg says that iTunes is finally going away, replaced by Music, Podcasts, and TV. On iOS, this would mean an expansion of the Music app to allow purchases.
Faster, fewer bugs (again)
Last year's focus on cleaning up bugs and improving performance was a big hit with users. Mark Gurman's report in Bloomberg states that Apple will continue to push on this front for the second year in a row. He cites new multitasking and app-closing animations, too.
Plausible? The way iOS 12 made old devices feel new again was one of its most beloved features, though it may have had a negative impact on iPhone upgrades. We wouldn't be surprised to hear Apple talk this up again, though there may not be as much low-hanging fruit for optimization. Instead, expect the sort of cosmetic changes that make the phone "feel" faster, rather than hard metrics about app-launching times.
Dark Mode
Easily the top requested feature among Apple fans online, Dark Mode would presumably operate much as it does on macOS—with darker wallpaper and dark backgrounds with light text in supported apps. In a Bloomberg article focusing primarily on upcoming iPhones, Mark Gurman and Debbie Wu assert that Dark Mode is finally coming in iOS 13.
In a later report, Gurman reaffirmed Dark Mode's existence, and said users will be able to toggle it in the Control Center. Hopefully, it can be toggled automatically by time of day, too.
The week before WWDC, 9to5Mac published alleged leaked screenshots, that show the new dark mode in action.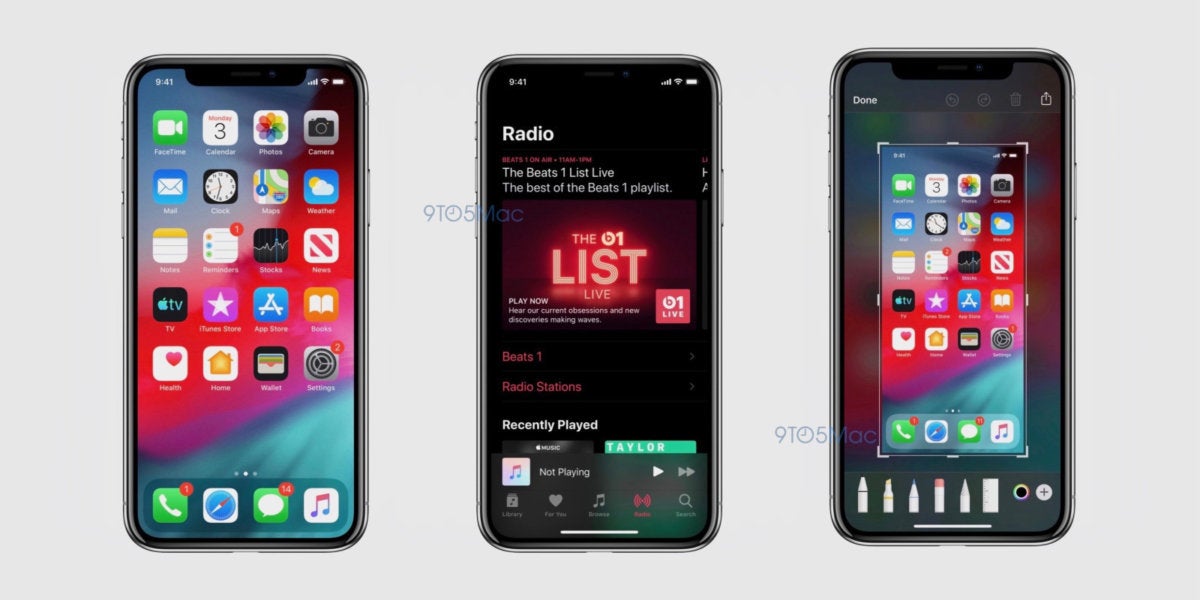 Plausible? You bet. Dark Mode is already here in macOS Mojave, and with UIKit coming to the Mac and bringing easy iOS ports along with it (see: News, Stocks, Voice Memos, and Home), it only makes sense to have similar Dark Modes on both platforms.
Swiping keyboard
The default keyboard on most Android phones, and many iPhone third-party keyboards, allow users to enter text by swiping quickly from one letter to the next. Once you get used to it, it's a very fast way to type on a small mobile keyboard.
Mark Gurman's big Bloomberg expose says Apple is testing such a feature, but "could choose to keep [it] internal."
Plausible? We'd love to see this on the default Apple keyboard, and it's sort of surprising that Apple hasn't delivered it yet. Here's hoping it makes it out of internal testing and into the final iOS 13.
Revamped Health app
Apple is supposedly re-working the Health app, with a homepage that better reflects your daily activity. There will also be a "hearing health" section that incorporates data about how loud you play your headphones or the loudness of your environment, and comprehensive menstrual cycle tracking.
Plausible? Apple's really into health. We'd be shocked if there wasn't a bunch of new health stuff in iOS 13. The menstrual cycle tracking is long overdue, and hearing health seems like a really neat way to use the "always listening" feature of Siri for a totally different purpose.
A new Reminders app
Mark Gurman says a new Reminders app is coming, that "better competes with the several to-do list programs available on the App Store." He says it "has a main screen with four default sections laid out in a grid: tasks to be done today, all tasks, scheduled tasks, and flagged tasks. Each section has its own different-colored page that users can add items to."
One of the leaked screenshots published by 9to5Mac the week before WWDC shows a revamped Reminders app on iPad, side-by-side with the Calendar app. It shows a sidebar with new categories, search, and lists.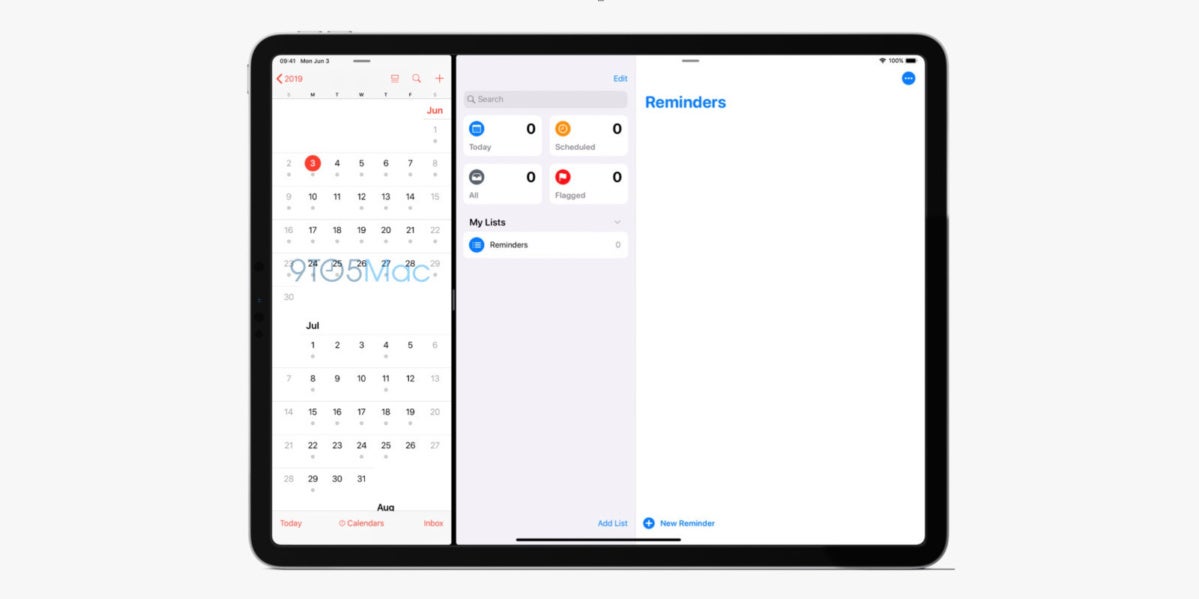 Plausible? Gurman is rarely wrong about imminent releases, and he has a lot of very specific information here. Plus, the current Reminders app is pretty old and long overdue for a refresh. We just hope it makes it easier to maintain a shared family shopping list.
iMessage enhancements
The ubiquitous messaging app will supposedly get an upgrade that lets users choose a different display name and picture, and choose who gets to see it. According to Bloomberg's Mark Gurman, "There's also a dedicated menu in the conversation view to send sticker versions of Animojis… and Memojis."
Plausible? iMessage is one of the shining features of Apple's walled garden, and the company has to keep enhancing it. It sounds like it's taking on Bitmoji with its new stickers features, and WhatsApp with its profile features.
Updated Maps app
An update to the Maps app will apparently let users more easily find places they frequently travel to, and to create groups of frequent locations.
Plausible? Apple's working on on improving its Maps app, but has a long way to go. It's not surprising to see some interface improvements like this, but we hope this interface change isn't all it has in store.
Better parental controls
Apple is said to be updating the Screen Time app so that parents can control who their children are allowed to contact at certain times of the day.
Plausible? Apple has publicly stated that it "continues to develop" Screen Time, so we expect new digital health and parental control features to roll out all the time. This specific example seems plausible, and we wouldn't be surprised if there are other enhancements.
No more iTunes Store app
A report published just days before WWDC by Bloomberg's Mark Gurman summarizes what we can expect from the event. It mostly summarizes previous reports, but this passage is new information:
iTunes has been the way Apple users listen to music, watch movies and TV shows, hear podcasts, and manage their devices for almost two decades. This year, Apple is finally ready to move into a new era. The company is launching a trio of new apps for the Mac – Music, TV, and Podcasts – to replace iTunes. That matches Apple's media app strategy on iPhones and iPads. Without iTunes, customers can manage their Apple gadgets through the Music app.
It had been previously reported that iTunes would remain as a means of purchasing content (and managing iPhones and iPads on the Mac), but this report makes it seem as though that functionality is being rolled into the Music app.
On iOS, the Music app is currently for consumption only; we still have an iTunes Store app for purchases. That app allows us to purchases movies and TV shows as well, but we can also do so through the new TV app. If Apple is going to add music purchasing to the Music app on macOS, it would make sense for it to do the same on iOS, and get rid of the iTunes Store app on that platform as well.
Find anything
In a project code-named "GreenTorch," Apple is said to be combing Find My Friends and Find My iPhone into a single app, as well as developing a Tile-like product that you can attach to anything else in order to find it.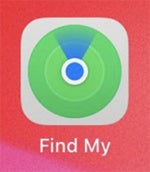 In 9to5Mac's leak of iOS 13 screenshots, we get our first glimpse of the new app. Or rather, it's icon, which is now simply labeled "Find My."
Plausible? Keeping track of all your stuff, from other iPhone users (with their permission) to your Apple gear to your physical objects, all fits well within Apple's public stance on privacy and security. Giving users the ability to track what they want to, without Apple having any of the data necessary to do the same, makes a lot of sense.
Sleep Mode
Gurman says Apple will deliver a new system-wide "Sleep Mode" that ties into the Bedtime feature in the Clock app (which will also be enhanced). Bedtime is currently little more than a glorified alarm clock, allowing users to set a bedtime and wake time, with the iPhone reminding them when it's time to turn in and setting an alarm when it's time to wake up.
The new Sleep Mode will integrate with future sleep-tracking products (including, maybe, a new Apple Watch) and will do more when enabled from the Control Center—it will dim the screen, mute notifications, and turn on Do Not Disturb.
Plausible? Sleep is one of the most important aspects of our health, but for a company obsessed with health, Apple does a really poor job of providing tools for better sleep. This Sleep Mode seems likely, but it should be paired with the ability for urgent notifications to get through (not just repeated phone calls). These days we get notifications from security cameras and baby monitors and the like, which shouldn't necessarily be silenced.
Multi-user HomePod
The HomePod has a host of problems, but chief among them is that it treats every voice as though it is the user who set it up and tied it to their Apple ID. For a device meant to be used in the home, it's a startling oversight and, frankly, a security and privacy problem.
With iOS 13, Apple will apparently let HomePod respond to multiple different users' voices.
Plausible? This must be addressed. That anyone can walk into your house and use your HomePod as though they were you is not at all in keeping with Apple's stance on privacy and security. You should be able to tie your HomePod to multiple users' voices and Apple IDs, and any unrecognized voice should be treated as a "guest" with limited capabilities.
CarPlay Improvements
Gurmin and Wu's Bloomberg feature also claims there will be "improvements to CarPlay" in iOS 13, but that's all. We have no idea what they may be. Certainly, CarPlay is due for an interface refresh and more extensive developer tools.
Plausible? An overhaul to CarPlay was supposedly one of the things originally scheduled for iOS 12 that was pushed back a year. CarPlay could use a fresh coat of paint and some new tools for developers, so this rumor doesn't seem sketchy at all.
iPad-focused upgrades
According to the lone paragraph about iOS 13 in a Bloomberg feature about future iPhones, iOS 13 will incorporate several new features aimed at the iPad. They include a new home screen, the ability to tab through multiple versions of a single app like pages in a web browser, and improved file management.
In April, well-connected developer Steve Throughton-Smith tweeted that rumors of mouse support for iPads in iOS 13 are true, and that it will come as an accessibility feature. His intel has been solid in the past on Apple software features.
A recent report from 9to5Mac claims we'll see a host of other features for iPad users. These include the ability for apps to have multiple windows, and "sheets that are initially attached to a portion of the screen, but can be detached with a drag gesture, becoming a card that can be moved around freely."
Supposedly, we'll be able to use our iPads as a second display for our Macs, similar to Luna Display or Duet Display.
iOS 13's Files app will apparently work better with third-party apps and services, and Safari will get a download manager so you can see what files you've downloaded.
Plausible? These would all be welcome, sensible improvements. The iPhone-like home screen is a silly waste of space on a 12.9-inch iPad Pro, and the poor file management was a common complaint in reviews of the new 2018 iPad Pro. Apple's top-end tablet is increasingly targeted as a laptop replacement, but the ability to multitask effectively and manage files are holding it back. It makes sense that these would be priority areas of development.
New Undo gesture
Currently, you "undo" something on iPhone or iPad by shaking it. It's an awkward and hard-to-discover gesture that many users don't even know about. That could change in iOS 13. According to 9to5Mac's sources, the standard Undo gesture for text input will change to a three-finger tap in the keyboard area, after which you can swipe left or right to undo/redo actions.
Plausible? This is long overdue, and it's a gesture that makes sense. We only question how Undo would work in apps where you don't have keyboard input (like photo editing). Will the shake action remain as well?
Easier font management
Those who want to use custom fonts on iOS are often frustrated by how complicated it is. You have to install a custom profile (in much the same way you do to install iOS betas). With iOS 13, according to 9to5Mac's sources, this complex workaround will be replaced by a standard font manager in Settings, and a font picker interface element for developers. This is a big deal for creative apps.
Plausible? Apple is pushing the iPad—especially the iPad Pro—as a laptop replacement for many people. But roadblocks such as difficult font management have made it hard to get the most out of creative apps like image and video editors. iOS 13 seems focused on lifting some of the roadblocks people encounter when using the iPad to do "real work."
New volume interface
The big obtrusive volume indicator in iOS has been something of a running joke for years now, and is always prominently featured on iOS wishlists. According to 9to5Mac's sources, iOS 13 will finally change the default volume indicator! Yay!
Plausible? At this point, we would have expected Apple to address this in iOS 10, iOS 11, and iOS 12. We are hopeful, but we've been burned before.
Changes to developer features
Every new version of iOS brings changes to the frameworks and APIs developers use to make apps, and iOS 13 will be no exception.
According to 9to5Mac's "sources familiar with the development of Apple's new operating systems," we're in for some big improvements.
Siri will get a bunch of new intents (specific functions that apps can integrate with Siri), ARKit will improve with the ability to detect human poses and new easier development tools, developers will have more control over the Taptic Engine for haptic feedback, and apps that use NFC will be able to read more tag formats. Apps that use Core ML for machine learning will be able to improve their neural networks right on device, and new tools for image classification and audio analysis will allow developers to make smarter apps more easily.
Plausible? All these developer features sound well-grounded and likely. Our big hope is that new Siri intents and maybe even domains will give it the ability to work better with many more apps and services