At a Glance
Expert's Rating
Pros
Lightweight and good looking
IPX7: can be submerged in one meter of water for 30 minutes
Customizable EQ
Cons
Underwhelming ear tip/fit options
situational awareness could be better
Proprietary charging cable required
Our Verdict
While not as inexpensive as some bluetooth earbuds, the Tarah cost far less than Jaybird's X4s and deliver good sound, waterproofing, and style.
What do cars and a MacBook Air have in common? They both come with tiered pricing. Your new car could roll off of the lot with its manufacturer's base-level interior or you can pay to swank out your seats in rich Corinthian leather (which mostly came from a tannery near New Jersey, but that's beside the point.) Investing in the least expensive version of the latest MacBook will land you a great little laptop. But spending a little bit more will set you up with more RAM and additional storage. Jaybird's Tarah Wireless Sports earphones are a little bit like that.
Available for around $100, they cost considerably less than the company's exceptional Jaybird X4 Sports earbuds. For some, the base model experience that the Tarah provide might prove to be 'good enough,' especially given their lower price. Others, however, may find that, in comparison to the more luxurious X4s, the Tarah come up short.
Design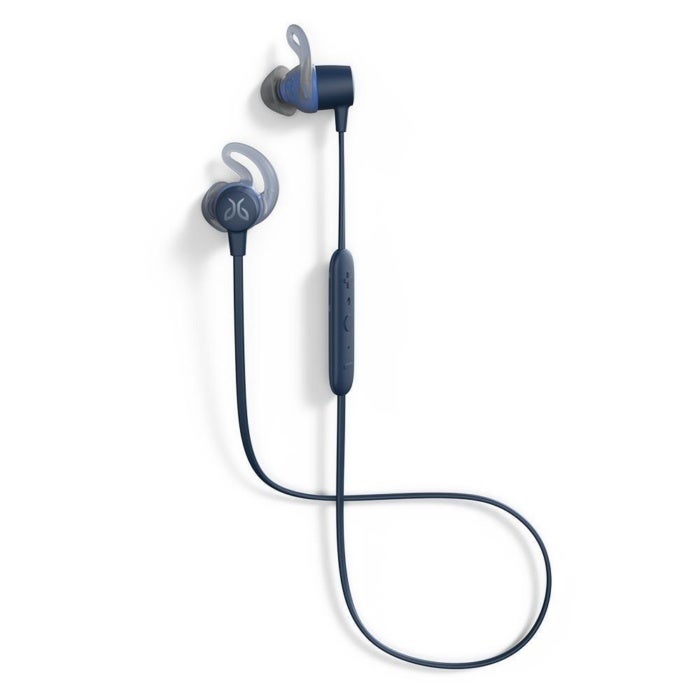 At first glance, the design of the Jaybird X4 and the less expensive Tarah looks pretty much the same. Both boast a sleek, matte design. Unlike many exercise-oriented earphones with their brash color schemes, you won't feel weird about wearing these in an open office while you work. Flat connective cables keep both sets of earphones from getting tangled up when they're not in use and, happily, seem to help keep movement and jostling from creating unwanted noise.
Both the X4 and the Tarah come equipped with in-line controls, which houses their volume/track control and multi-function power/pause/play/Siri buttons. The Tarah's inline controls are just a little larger than those on the X4. As I found the buttons easier to landmark on the larger pod, it's a welcome change.
There were some differences, however, that I wasn't as thrilled about. One of the best things about Jaybird's X4 was the wide number of fit options the earbuds included. Because of the assortment of fit wings, silicon and foam ear tips that they shipped with, most anyone could be assured that they'd be able to find a secure fit. That's important those looking to wear a pair of earphones while they exercise: too much jostling around and your earbuds could fall out. The Tarah only come with three different sizes of ear tips. That may not be an issue for some people, but if you've had trouble finding a comfortable pair of earphones in the past, the lack of options might be enough to pay a little extra for.
As with the more expensive X4, the Tarah ship with an IPX rating of 7: this means that they can be fully submerged in up to one meter of water for at least half an hour. Feel free to use them out in the rain and to sweat all over. At the end of your workout, wear them right into the shower or give them a quick rinse under a tap. Unfortunately, in order to provide this level of waterproofing, Jaybird had to equip the earphones with a pogo plug power connector and charging cradle instead of a more common microUSB or USB C port. In the short amount of time between the release of the X4 and the Tarah, it appears that Jaybird's designers were hard at work: I found it far easier to mate the Tarah with their charging clip than the X4 to theirs.
Arguably, the most significant difference between the X4 and the Tarah can be found in their run times. According to Jaybird, the X4 are capable of offering up eight hours of audio playback between charges. The Tarah come in two hours shy of that and, in real world use, a little less than that. Over the five days that I tested the Tarah, I found that, with the volume of my iPhone 7 Plus set to around 70%, I was only able to milk an average of just over five hours out of them. That's a reasonable amount of battery life, given their price, but you'll definitely find yourself charging them more in the moments between your commutes or workout sessions. As such, those with busy lives might want to consider investing in a second charging cradle for these earbuds, available for under $10 from Jaybird and occasionally from Amazon. If you're in too big of a hurry to give these earbuds a complete charge, you're in luck: a ten-minute quick charge will net the Tarah around an hour's worth of listening.
It's also worth noting that the Tarah don't ship with a carrying case like the more expensive X4 do. This is the most minor of complaints, but worth noting, nonetheless.
Sound
One of the best things about Jaybird's in-ear audio products over the past few years is that, thanks to the free Jaybird MySound app, it's possible to sculpt their sound to your liking with a digital EQ. The Tarah have this going for them and it's great. Right out of the box, the earphones offer punchy bass and crisp highs. Their mid-range audio seemed a little mushy to my ears, but a little tweaking with the MySound app sorted the issue out. I also noted that when playing music at higher volumes, the separation of what I was listening to began to suffer. The X4 presented this same issue and, for the record, listening to music at crazy loud volumes is terrible for you, anyway.
The final feature that we'll talk about that the Tarah and their more expensive sibling share is mediocre call audio quality. While using the Tarah to make audio calls, I was told by the people on the other end of the line that I was understandable, but there was a good amount of background noise.
Bottom line
If you don't have a problem finding earphones that fit well and can live with a few fewer hours of battery life, there's little reason to pay for Jaybird's more expensive X4; the Jaybird Tarah will serve you well. They sound great, offer exceptional protection against liquid damage and look great.