You probably already know the Apple Watch is great at making phone calls. It's still something of a secret, though, that you can unleash your inner Dick Tracy by using the Apple Watch as a walkie-talkie. As long as the person on the other line has you as a contact in their Apple Watch's Walkie Talkie app and has watchOS 5 installed, you can immediately contact them with a real-time voice message regardless of where they are or what they're doing.
In the wrong hands, of course, this could be maddening. Fortunately, Apple makes it easy to turn the feature on or off, and it's also easy to get rid of contacts who abuse it. You can also add a complication for easier access.
It's gimmicky, sure, but Walkie-Talkie does have its uses. On a recent hiking trip, for instance, a friend and I used it to send each other updates after we split up to look for his missing wallet. It beat both calling and texting for by-the-second convenience. I imagine all such uses are that specific (although I could also see parents using it to keep track of kids in an amusement park), but even so, it's a welcome option in an ecosystem that's resistant to options.
Here's how to use it. You don't have to worry about installing it: if you have watchOS 5, it should already be there.
How to add a contact to the Walkie Talkie app
Open the Walkie-Talkie app on your Apple Watch. It's got a bright yellow-and-black icon with a walkie-talkie on it, so it's hard to miss.
Scroll down to the bottom to the interface and hit the big yellow plus sign at the bottom.
You'll see a list of everyone you have in your iOS/macOS contacts. If the desired contact isn't listed, you'll have to enter them on either your iPhone on Mac for the listing to show up.
Select the desired contact. It will send them an invitation.
If they accept, they'll immediately show up on your contact list and you'll be ready to chat.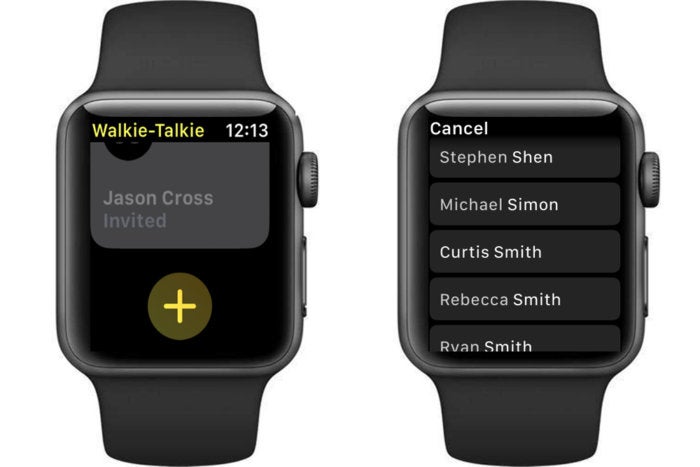 How to accept a Walkie-Talkie invitation
If you're on the other end, you'll receive a notification saying that a contact "wants to talk with you over Walkie-Talkie." Press Always Allow to agree—sorry, there's no middle ground—or Dismiss to decline (or at least put it off.)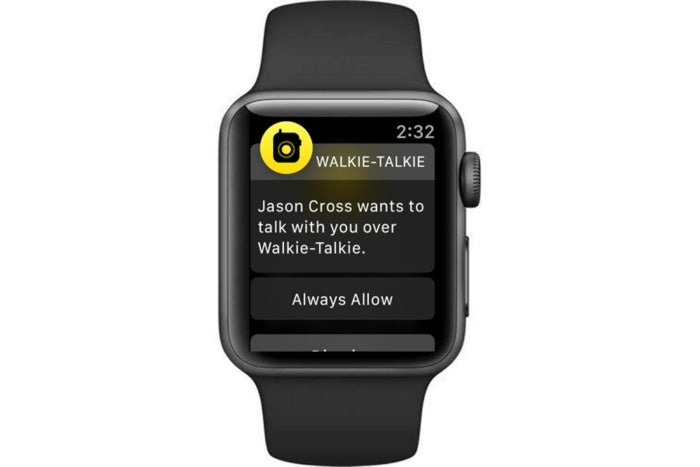 How to talk with someone through the Walkie-Talkie app
Open the Walkie-Talkie app.
Scroll down to the contact you walk to talk to. Press the big yellow rectangle with their name.
You'll see a huge yellow circle with the word TALK on it.
Press and hold it down in order to chat. It'll stop transmitting your message once you untap it.
If the user on the other end isn't wearing their Apple Watch or has their contact preference set to Unavailable, you'll only see the app trying to connect with them, followed shortly by a notice that the person is unavailable.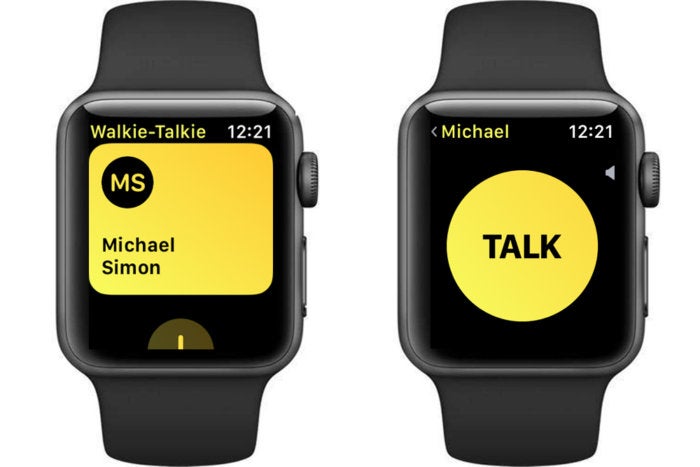 How to temporarily prevent being disturbed by Walkie-Talkie
Even if you find Walkie-Talkie useful, you'll want to disable it on occasion. You might be in a movie theater, for instance, or an important meeting. Apple Watch makes it easy.
Open the Walkie-Talkie app.
Your contact list will appear. Scroll up to the very top.
You'll see an icon with the word Available followed by a toggle to the right. If it's green, press the toggle to turn off Walkie-Talkie.
If you want to use Walkie-Talkie again, you'll have to repeat these steps.
Alternatively, you can simply turn on Theater Mode or Do Not Disturb Mode through your Apple Watch's Control Center. Keep in mind, though, that Silent Mode doesn't affect Walkie-Talkie, so you'll still hear dings for incoming calls as well as the voice of the person on the other end.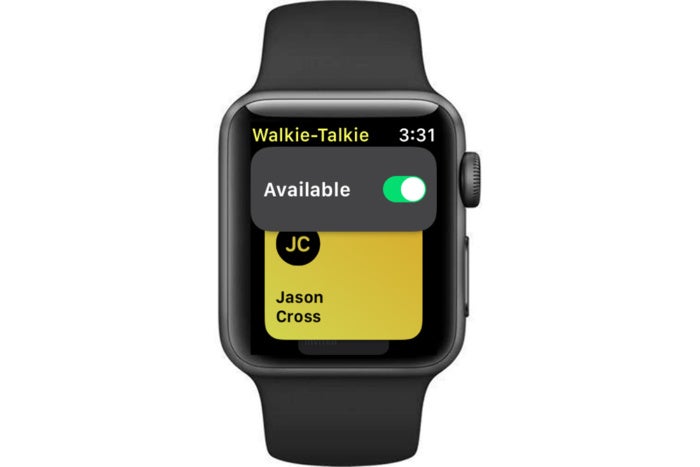 How to remove a Walkie-Talkie contact
Open the Walkie-Talkie app.
Scroll to the contact you want to remove.
Swipe left on the contact's name. You'll see a big red X pop up on the right. Press it.
You're done.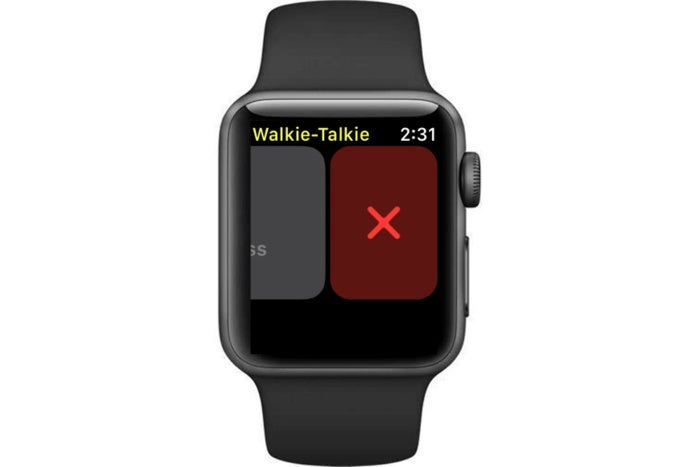 How to cancel a Walkie-Talkie invitation
If someone doesn't respond to your Walkie-Talkie invitation, the invite loiters around until you dismiss it. Annoyingly, these invitations tend to stack on top of the contacts you can already interact with. Fortunately, it's easy to make them go away.
Open the Walkie-Talkie app.
Scroll to the name of the contact who hasn't accepted your invitation. It should be grayed out. Select it.
You'll see a prompt asking if you want to Invite Again or Remove. Do what you want, of course, but hit Remove if you want to clear the contact. And then you're done.