At a Glance
Expert's Rating
Pros
Inexpensive
IPX7: can be submerged in one meter of water for 30 minutes
ship with foam ear tips
Cons
Could be more comfortable
Limited audio controls
limited soundstage
Our Verdict
A pair of exercise-oriented earphones only need to do a few things well in order to be a success.
First, they need to serve up a brain-rattling amount of bass without swamping out the rest of the audio you're listening to: sometimes a little extra thump is exactly what's needed to power yourself to the end of a particularly grueling workout.
Second, they need to be resilient enough to survive your workout: moisture and salt can both be hard on electronics, so a pair of workout cans have to be water resistant, if not waterproof. This makes it possible for them to not only stand up to sweat, but also a quick dunk underneath of a tap to clean them off after exercise so that they're fresh and ready for your next swole-seeking adventure. If your earphones can't master this latter feat, they'd best be inexpensive because, sooner or later, your sweat is going to kill them dead.
Mpow's bargain basement-priced Flame Bluetooth Earphones pretty much tick off all of these boxes. They come packing an IPX7 water resistance rating, offer some pretty compelling bass, and are available via Amazon for just over $20. Were it not for a few shortcomings, they'd be just about perfect for the price. But, being as you can get your hands on a pair for around the same price as a fast food dinner for two will set you back, it's easy to see beyond their issues.
Design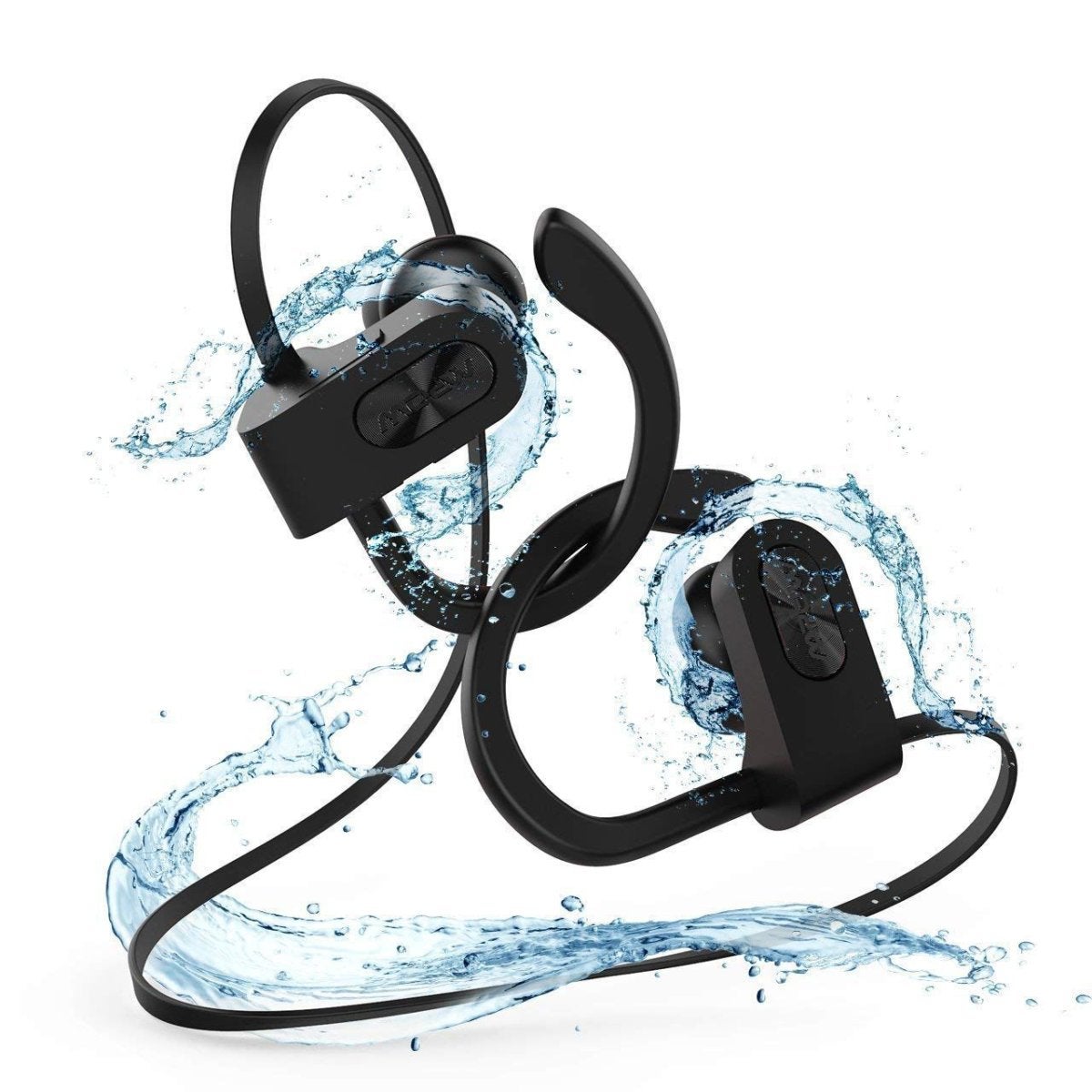 It's not often that a company is considerate enough to provide me with two pairs of their product for testing. As I had a backup, one of the first things I did before gearing up for a week of testing was to pair one set of the earphones with my phone before, in the name of science, proceeding to drown them under the spray of my kitchen faucet.
After ten seconds, I removed them from the deluge, dried them off and jammed them in my ears. They still worked as well as they had before their swim. While these things are almost inexpensive enough that one could consider them to be disposable, their IPX7 rating, which I feel comfortable in calling bona fide after my quick field test, suggests that you'll be able to hold on to them for the long term.
That said, they're in no way competitive with high-end waterproof earphones like Jaybird's X4. The plastic they're made from is of a much lower quality. Additionally, despite the fact that they come with flat connective cables, I found them insanely easy to tangle up if they're not carefully stuffed into your gym bag or their included nylon pouch. But that's OK: the Flame cost over $100 less than a pair of Jaybird X4 do. That they can stand up to even an iota of exposure to liquids that the X4 can is no small matter.
There's no getting around the fact that the Mpow aped the Flame's design from Beat's Powerbeats 3. Beats' legal team might have an issue with this, but you shouldn't. The Flame's soft but stiff silicon ear hooks ensure that the earphones stay planted in your ears, no matter what exercise you take part in. I found them comfortable enough to wear for around an hour at a time.
If you're a gym rat, this might be a deal breaker. For those with a more varied work/gym/life balance or who are looking for a cheap pair of 'buds to see them through their daily commute on public transit, they'll do the trick. Mpow provides small, medium, and large-sized ear tips for the Flame, as well as a pair of foam tips that make for a better seal. That means superior passive noise cancellation and more bass. As I'd mentioned earlier, lots of bass is something you want in a set of exercise earbuds.
Noise cancellation, however, is not. It's important to be able to hear the world around you while you're cycling or running. The Flame don't allow for this. I'd hesitate to suggest them as exercise headphones for anyone who's exercise routine involves any road work. In the gym, however, they'd likely be fine.
If you choose to invest in a pair of Flame, you should know that the earphones remote control capabilities are spartan, at best. They'll let you turn the volume up or down and play or pause the track you're listening to. You can also accept or reject a call with them, but that's pretty much it. This may not be a problem if you use an Apple Watch or similar device as an audio source while you're working out. Everyone else will need to reach for their iPhone every time they want to change up what they're listening to. If this is a deal breaker for you, consider picking up Aukey's EP-B40 Latitude wireless earbuds instead.
According to Mpow, the Flame should provide between 8 and 10 hours of listening time, per charge. I found, over a week of testing, that the average battery life was closer to 7.5 hours while using my iPhone 7 Plus as an audio source at around 70% maximum volume.
Sound
So long as the Flame was within 10 to 20 feet of my audio source I had no reception issues, save the occasional audio hiccup—with Bluetooth, one can expect that while using even the most expensive pair of wireless cans.
While not as aurally pleasing as the $27 Aukey EP-B40 Latitude, the Flame offered rich, booming bass and, so long as you don't listen at volumes higher than around 70%, pleasing mids and highs. That said, music with a lot of moving parts, such as classical tracks featuring a full orchestra or larger groups like Kila or the Polyphonic Spree, tend to get a bit muddy-sounding. This would be a serious complaint to level against a more expensive pair of earphones. But, as you can have a pair of these for around the same price as downloading two new albums from iTunes will set you back, it's a gripe that I feel that many people will be happy to live with.
Bottom line
If you're in need of a decent, if not great sounding, pair of budget-priced wireless earbuds, Mpow's Flame Bluetooth Earphones a fine option.