At a Glance
Expert's Rating
Pros
They didn't catch on fire while in my ears
Cons
Terrible build quality
medicore audio quality
Large, poorly designed battery case
Our Verdict
The Altec Lansing name has been around for decades. Over the years, the brand's fortunes have risen and fallen as its owners have fought to find were the company's audio gear fits among the hundreds of companies jockeying for the attention of audio aficionados. Over the past few years, Altec Lansing has settled into a reputation for making competent, mid-ranged headphones, headsets, and speakers that offer reasonable sound for a reasonable price.
Available for around $100, its True Evo Wireless Earphones appear to be well-suited to helping the company keep on keeping on with this reputation. They come with an IPX6 water resistance rating, a respectable four hours of runtime between charges, and foam ear cushions that usually mean richer bass and better noise isolation. However, after spending a week with these earbuds, I can tell that, while they do indeed offer a reasonable audio experience for the price, the number of dramatic build quality issues has left me with a bad taste in my mouth.
Design and build quality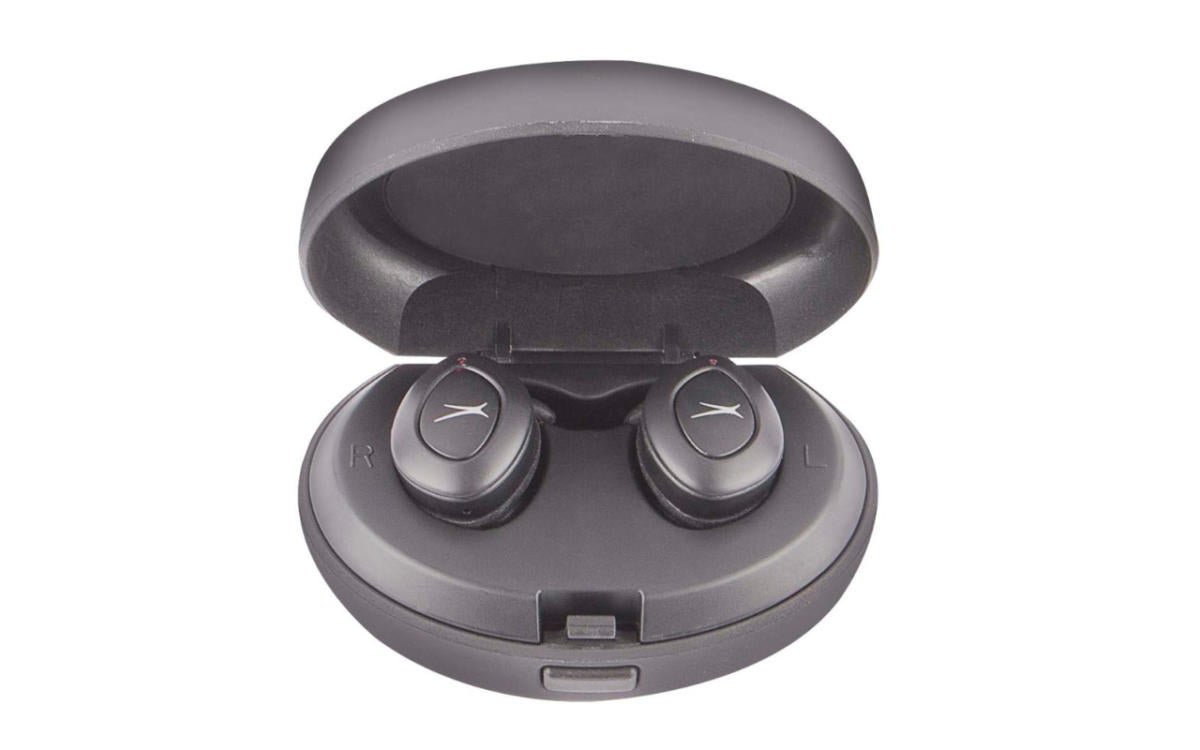 It's not often that I have to start a review by warning of quality control issues and shoddy workmanship, but here we are. In order to write this review, I was forced to call in two different pairs of the True Evo. With the first pair, I didn't notice anything wrong… at first. I set them up in their charging case to juice up overnight. In the morning, I went to use them and discovered, upon opening the case, that the plastic in in the left earbud's ear cap was cracked all the way through. I was able to remove the plastic rim of the ear cap with my finger.
In and of itself, this was not cause for alarm: where mass produced products are concerned, it's unfortunate, but not uncommon, to run across a defect. That's what warranties are for. What was cause for concern was the fact that the other earbud's end cap was not well-glued to the rest of the earbud. I was able to flick it away with my thumb, exposing the electronics inside. I informed Altec Lansing of the issues I was seeing. In a few days, a new set of True Evo showed up at my front door. At first, the replacement earphones appeared to be working fine. However, the default foam ear tips weren't a great fit. As I changed them out, the same piece of plastic that I'd found unglued on the first set of True Evo broke away from the earbud as well.
The True Evo's charging case also has its problems, not so much in the area of build quality as in its design. It's huge. From lid to base, it's about the same width as a Double Quarter Pounder With Cheese. You won't be able to stick it in the hip pocket of your jeans on your way out the door. If you stash it in your jacket pocket, that's likely all there's going to be room for. You will never have to worry about losing it in the depths of your purse of backpack.
Much of this is due to the fact that the case comes with Qi wireless charging capabilities. As many folks don't own a wireless charging base to take advantage of this, Altec Lansing includes a wireless charging base to get you started. The charging system works as advertised, but the Qi hardware inside of it adds unwanted bulk to something that's meant to be portable. That the case can also be charged via microUSB makes the addition of wireless charging feel that much more unfortunate. In its advertising, Altec Lansing states that charging base is worth $25. If the company opted to sell the True Evo at $75 instead of $100, sans charging base, I feel that these earbuds would be much easier to recommend.
You know, if they weren't falling apart and everything.
Sound
Despite the fact that both sets of earphones I was shipped literally came apart in my hands, I was able to gingerly reassemble the second pair and give them a listen.
The True Evo provided me with ample bass tones, weathering the tsunami low-frequency madness that Lustmord's Dark Matter album threw at them like a champ. High and mid-frequency sound didn't fair so well, however. The hi-hat work in Louis Prima's "Lazy River" were shrill, walking all over the sound of Prima's horn section. I came across these same issues while listening to my dedicated playlist and tunes I know intimately, such as The Pogues' "Sick Bed of Cuchulainn" and Gord Downies's "Pascal Submarine." At this time last year, I'd have told you that sound quality of this sort was what you could expect from a pair of true wireless earphones available for $100. In 2019, this isn't the case: over the past few months, we've run across a number of true wireless earbuds that sound just as good, and in some cases better, for as little as $50.
The Bottom Line
For many people, $100 is a lot of money, especially for what one could consider to be a luxury item, such as a set of true wireless earbuds. When spending so much, it's not reasonable to expect to get so little. As they are plagued by quality control issues, poor design decisions, and lackluster audio quality, I can't recommend Altec Lansing's True Evo to anyone.