Apple's AirDrop feature first appeared in 2011 for transferring files and other kinds of information. It first worked only intra-platform: from iOS to iOS and macOS to macOS. Later versions could cross between iOS and macOS. It's useful for your own equipment, when you want to send a photo from your Mac to an iPhone, and just as handy as when you're reading an article and want to share the URL with someone you know nearby.
AirDrop relies on proximity, and requires both Bluetooth and Wi-Fi turned on. It also won't work on an iPhone or iPad while you have Personal Hotspot enabled, as it relies on a some Wi-Fi functions that are shifted to other purposes.
Readers often report difficulties getting AirDrop to work correctly, and that can be for a number of factors. Here's a brief guide to the latest in setting up, constraining, and troubleshooting AirDrop.
Whom you're sharing with
You control what AirDrop on your device will receive by selecting among Everyone, Contacts Only, and disabled. That last state is labeled as Receiving Off in iOS and No One in macOS.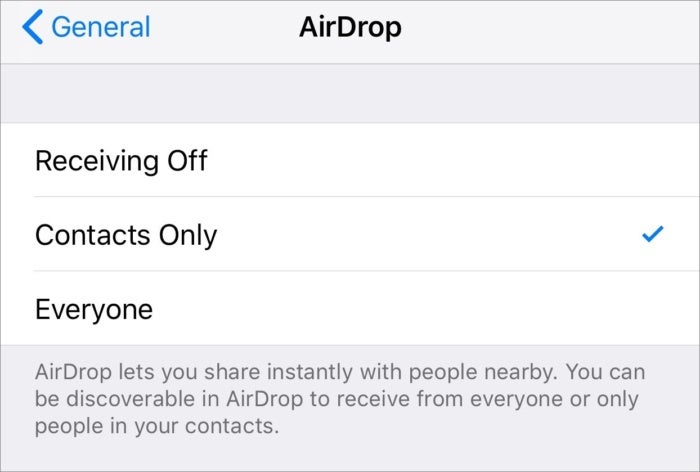 iOS: You can use the Control Center (on an iPhone X or later, or on an iPad with iOS 12 or later, swipe down from the upper-right corner; on other devices, swipe up from the bottom edge of any scree ), and then hold down on the network area (the box with the Airplane Mode, Cellular Data, Wi-Fi, and Bluetooth, buttons). Now tap the AirDrop button on the lower left. Alternatively, you can open Settings > General > AirDrop and choose from the same options.
macOS: Switch to the Finder and select Go > AirDrop (Command-Shift-R) to open the AirDrop window.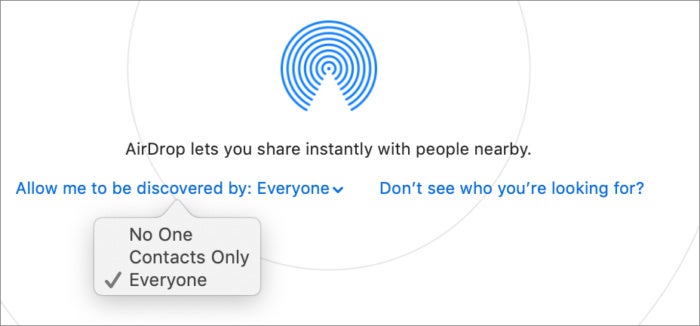 I recommend most people leave AirDrop set to Contacts Only, as it's the safest and simplest way. Then, anyone whose email address or phone number is in your Contacts list can send you files or other shared items. You can also send files to any device you own that's in range and logged into the same iCloud account.
A number of people have reported receiving unwanted files, often obscene in nature, when they leave AirDrop set to Everyone and are in public places, like subway stations. Even if you sometimes need to switch to Everyone, I recommend switching back to Contacts Only or fully disabled afterwards.
How to send in AirDrop
AirDrop makes itself available through the Sharing sheet in iOS and Sharing menu in macOS. Whatever item is currently being viewed—like a webpage, photo, video, map location, Pages file, and so on—can be shared. In macOS, you can additionally use the Finder AirDrop window to drag and drop files onto a recipient's icon.

When you select an item to share and choose a recipient's device, that person receives a message on the selected device with a preview or other details, and the option to accept or decline it. If you're sending an item to another of your own devices, it will be accepted without a prompt.
In most cases, the received item opens in the correct app: a photo opens in Preview, a URL opens in Safari, and a map location opens in the Maps app.
When you can't see the recipient
It's a frequent issue with AirDrop that you want to send something to either another device you have nearby or to someone who wants to receive it, but the icon for the correct device doesn't appear in iOS or macOS as a destination.
This typically happens because the right combination of features aren't enabled on the receiving machine. When sending, AirDrop provides a warning or an error if your device can't use it, or the option to use AirDrop won't appear in a Sharing sheet or menu.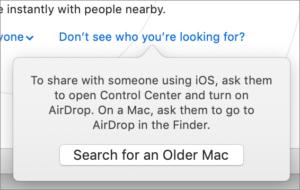 If you're trying to AirDrop something to yourself on another device and your device doesn't appear, try turning Bluetooth off and back on with both devices. That often clears the state. If that fails, switch the receiving device briefly to Everyone so you can send the file or item, then switch it back to your standard default.
macOS's original AirDrop flavor isn't compatible with the later version supported by iOS and macOS. In macOS, you can click "Don't see who you're looking for" and then click Search for an Older Mac to find Macs several releases back that are reachable via AirDrop.
Parental control over AirDrop
While macOS has granular parental controls for a lot of elements of the operating system, AirDrop isn't one of them. However, iOS 12 added AirDrop as something you can manage via Screen Time, and some parents (including your correspondent) uses Screen Time with a passcode to mediate access for their child.
In iOS 12, open Settings > Screen Time > Content & Privacy Restrictions, tap the switch to turn it on, then tap Allowed Apps. You can tap AirDrop to disable it.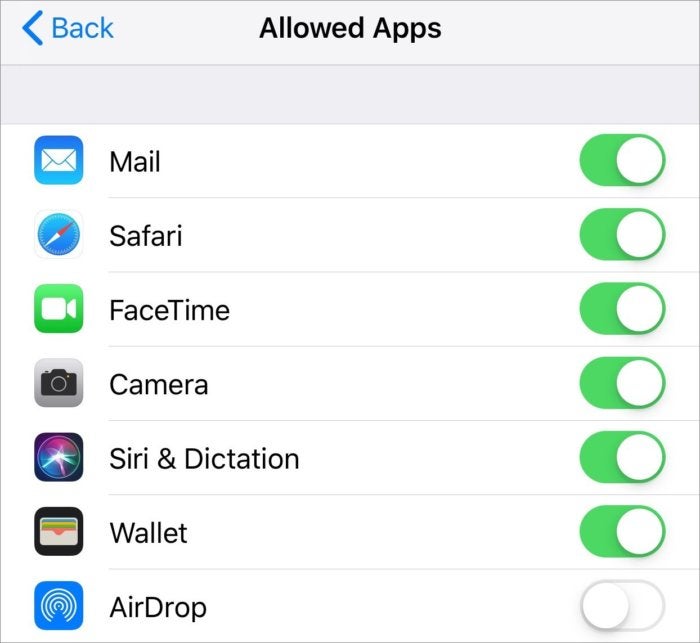 Ask Mac 911
We've compiled a list of the questions we get asked most frequently along with answers and links to columns: read our super FAQ to see if your question is covered. If not, we're always looking for new problems to solve! Email yours to mac911@macworld.com including screen captures as appropriate, and whether you want your full name used. Every question won't be answered, we don't reply to email, and we cannot provide direct troubleshooting advice.