The Media Browser in macOS's Open dialog was a powerful addition many years ago. You may not even know it's called that: it's the area in the left-hand sidebar in any Open dialog below the Media label. For most people, it will show Music, Photos, and Movies. Clicking any of those items will access libraries created or managed by GarageBand, iTunes, iMovie, iPhoto, Logic, Photos, Photo Booth, and others.
But Media Browser can be fickle. In May 2017, I wrote a column on how to disable the feature, because I'd tracked a system slowdown's cause to the Media Browser's underlying plug-ins—a problem some other users had seen at the time. Apple apparently fixed the problem or my Mac silently repaired itself, as Media Browser works fine for me now.
If you're having problems with Media Browser displaying the contents of your libraries, here are some common scenarios and advice on troubleshooting.
Some photos are missing
iCloud Photos (the relatively new name for iCloud Photo Library) used with the Photos app lets you stash full-resolution versions of your images and movies in iCloud while opting to retain "optimized" versions, or low-res thumbnails, on your Macs and iOS devices. That's great, but it can interact poorly with the Media Browser.
With Photos selected in the Media Browser, macOS omits showing any images or movies if the high-res version of the image isn't downloaded locally. You can work around this either by double-clicking the media in Photos, which forces a download, or by creating an album in a particular way.
In Photos, follow these steps:
Select File > New Album.
Add all the images and videos you want to use.
Control-click the album and select Download Originals to This Mac.
Once they've completed downloading, you can return to the program from which you wanted to select them, choose the Open dialog and select the Media Browser's Photos link.
Correct Photos library doesn't appear
The Media Browser only shows the Photos library that's been anointed as the System Photo Library in the app. You may have multiple libraries that you use, and you can switch which one is designed that way through these steps:
Quit Photos if it's already launched.
Hold down the Option key and launch Photos.
Choose your preferred library in the dialog and click Choose Library. (Click the Other Library button if the one you want isn't shown in the libraries list.)
Select Preferences, and in the General pane, click Use As System Photo Library.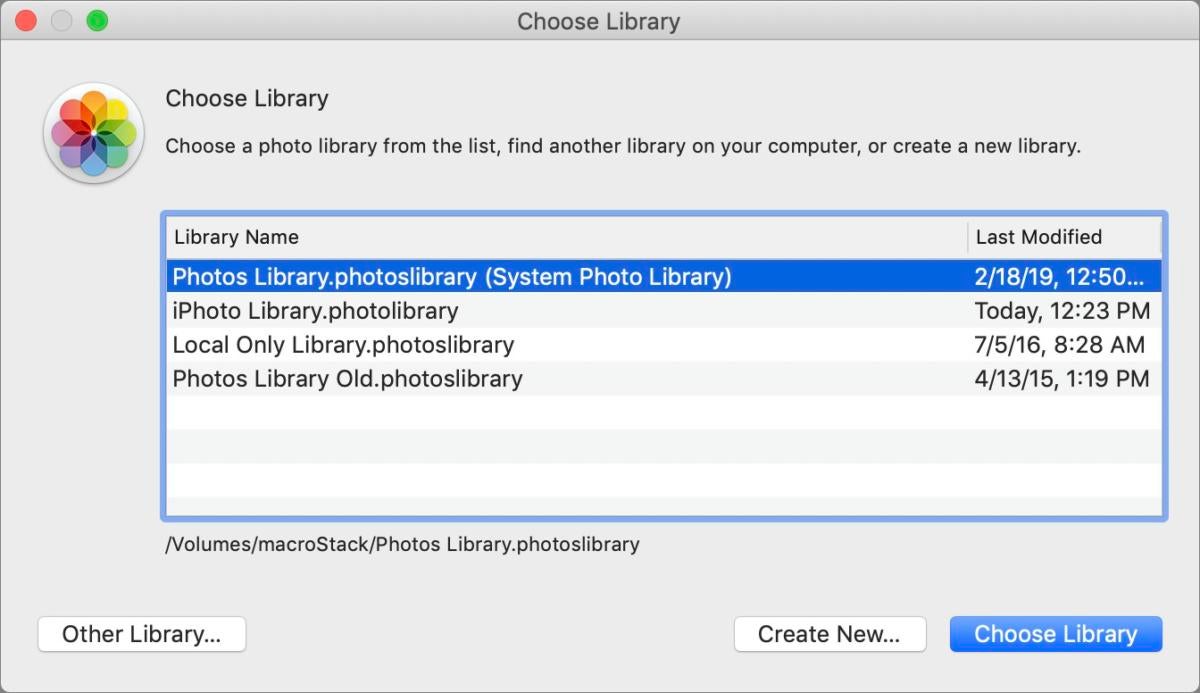 Warning: With iCloud Photos enabled, switching your System Photo Library will disconnect the previously selected choice and cause a resync with whatever library you choose. It's not advisable to make this switch just to make Media Browser work.
Check the plug-ins aren't disabled
In that article referenced above, I told you how to disable Media Browser. But that could also be a problem: plug-ins required for it to work could be missing.
In the Finder, choose Go > Go To Folder and paste in:
/Library/Application Support/iLifeMediaBrowser/
This will show you the various plug-ins included for displaying the contents of many library types, including for discontinued software and older releases of current Apple apps. (You can see the vintage of this feature, in that the folder is called "iLifeMediaBrowser".)
Check that the ones with names corresponding to the media you're trying to include are present. For Photos, you should see iLMBPhotosPlugin.ilmbplugin, for instance. If there's a Plug-Ins (disabled) folder, make sure the plug-in hasn't been moved to that folder.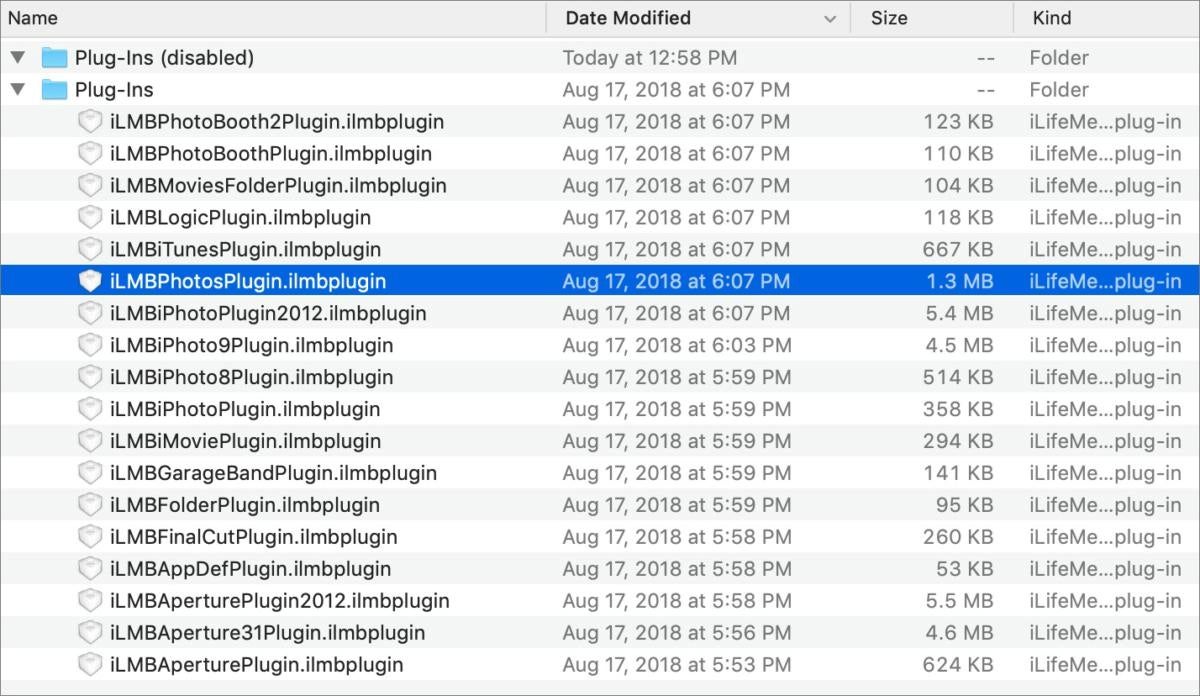 If any are missing, there's no good way to restore them individually. Instead, you should follow instructions for reinstalling macOS non-destructively—but first make a backup, as always!
As an alternative to Media Browser
If you have problems making Media Browser work with any of the various libraries, you can always select the media you want to use, and then choose the export option in each program to make a temporary copy that you can import directly. Don't get so enamored of Media Browser that you pour too much time into making it work when that alternative exists!
This Mac 911 article is in response to a question submitted by Macworld reader Beth.
Ask Mac 911
We've compiled a list of the questions we get asked most frequently along with answers and links to columns: read our super FAQ to see if your question is covered. If not, we're always looking for new problems to solve! Email yours to mac911@macworld.com including screen captures as appropriate, and whether you want your full name used. Every question won't be answered, we don't reply to email, and we cannot provide direct troubleshooting advice.