At a Glance
Expert's Rating
Pros
Super compact design
Fits most iPhones since the iPhone 6
Lightning connection delivers better latency than Bluetooth
Cons
Shoulder and trigger buttons don't always respond
Our Verdict
Best Prices Today: Gamevice Controller for iOS
Hook up any latter-day iPhone to the Gamevice and you'll wind up with a device that looks a lot like a Nintendo Switch. An iPhone XS Max in particular does a good job of masquerading as the Switch's expansive central touchscreen. The Gamevice controllers themselves hug the phone's edges like Joy-Cons. So fully does the Gamevice pull off the illusion that I spent the week before its arrival envisioning a future where we wouldn't even need devices like the Switch. With the help of peripherals like these, I was ready to proclaim, the iPhone alone would suffice.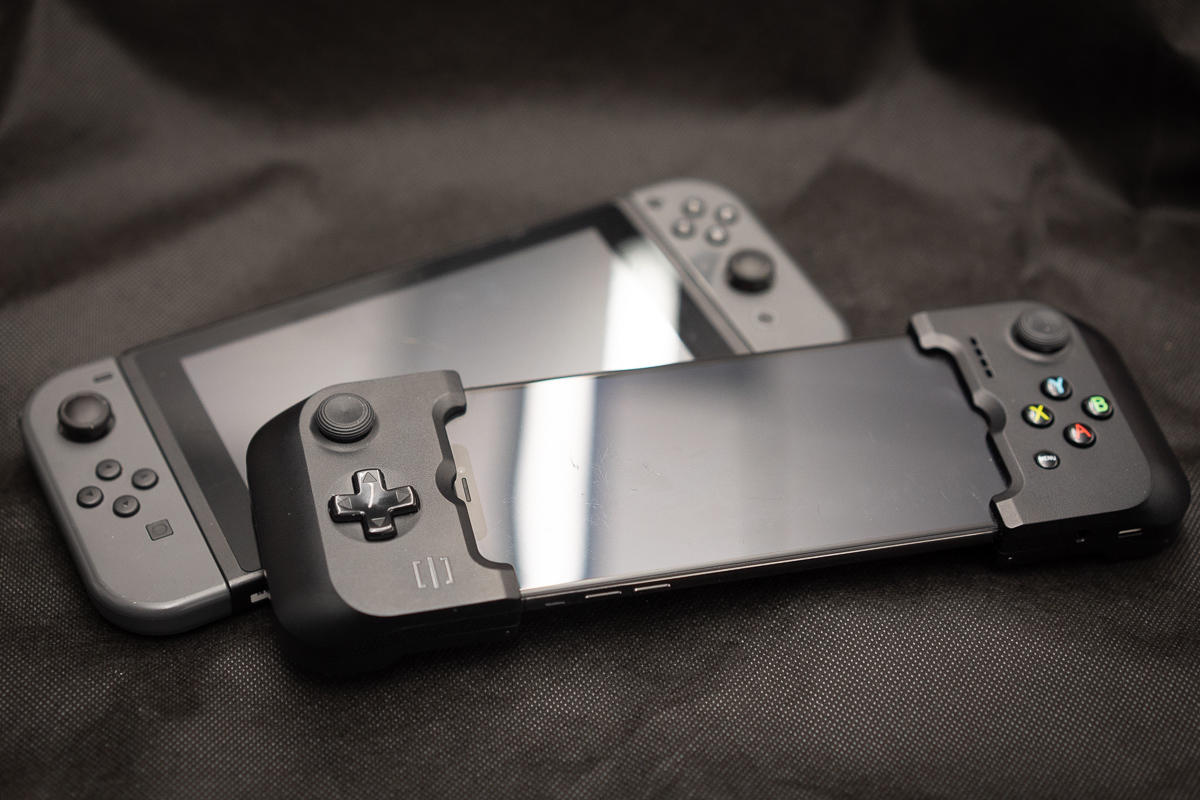 Naturally, the truth is a bit more complicated, which is probably why we haven't heard about a Gamevice revolution in the six years since it launched. But let's start out with the good things.
Portable power
Gamevice is pleasantly portable. It even has a leg up on the Switch because its use of a phone for the display means there's one less gadget hogging space in your bag. It takes up less room than traditional gamepads like the SteelSeries Nimbus. The two halves on the Gamevice (largely thanks to two weak magnets) neatly collapse into a boxy shape that's more compact than a standard Rubik's cube when not in use. I don't carry a particularly large bag, but I barely notice the Gamevice when I bring it along.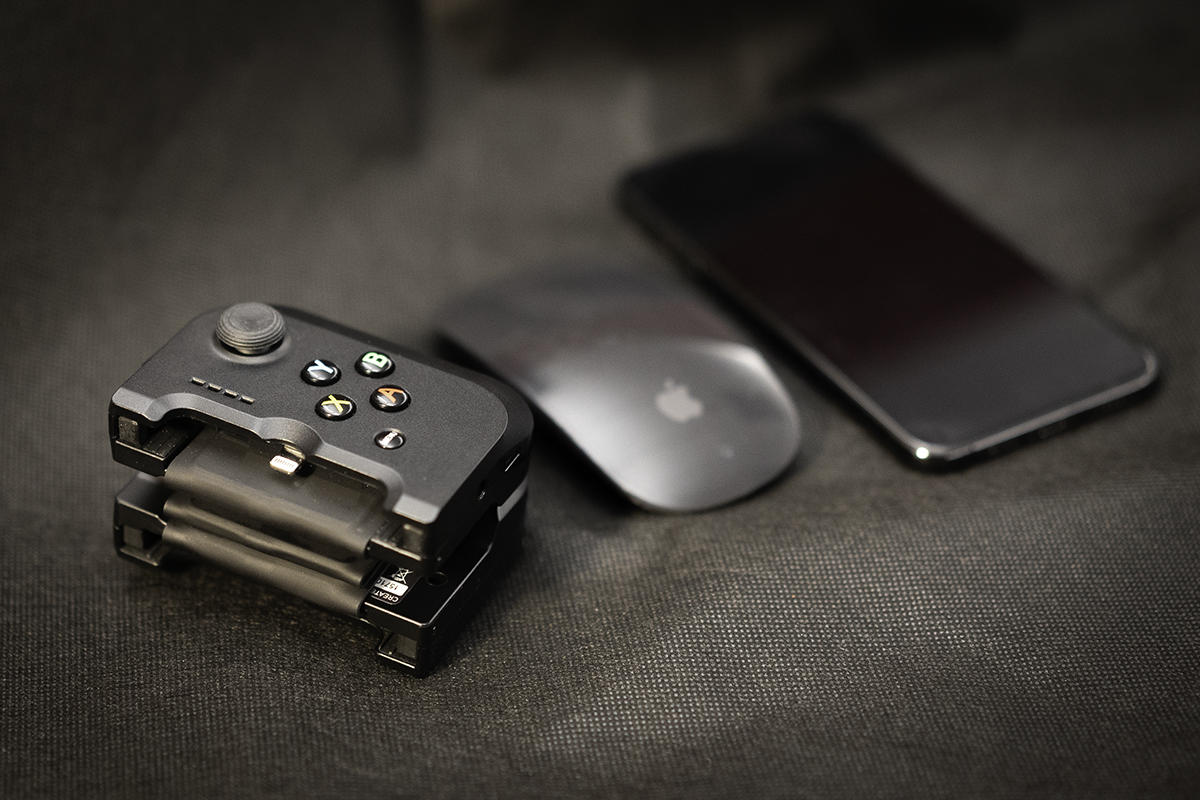 You can find this kind of good design all over the Gamevice. Setting it up requires nothing more than slipping the phone onto the male Lightning port protruding from the right-side pad, which in turns delivers a more stable connection than you'll get from Bluetooth-powered controllers. It fits most iPhones (so long as you don't expect to keep them in their cases), thanks to an adjustable two-inch wide rubber strap along the back that expands or contracts to fit phones of different widths.
My particular box claims the Gamevice worked with the iPhone 6 through the iPhone 7 Plus, but it embraces my iPhone XS Max with ease (although I can tell a screen protector would probably be enough to ruin it). Other smart touches include an unobtrusive Lightning charging port along the bottom and a headphone jack. The Gamevice doesn't even prevent me from using Face ID, so long as I remember to put it in portrait mode before it works its magic. Should you need to take it off mid-game for some reason to use a non-gaming app, it easily re-pairs when you slip it back on.
So far the $80 Gamevice looks like everything I could want from a game controller. Much like the Switch, the controls stay close enough to the screen to keep me from feeling like I'm holding an accordion. The Xbox-like controls all sit in smart places, whether we're talking about the D-pad, the four analog buttons, or the shoulder and trigger buttons (although I'd prefer that the right-side thumbtack was lower). In handling, weight, and intuitiveness, it's almost perfect.
Slow on the draw
But alas, it isn't—certainly not if you plan on using it for the fast-paced gameplay demanded from a game like Fortnite (which, let's be honest, is probably why you're considering buying the Gamevice in the first place). And gameplay is where you least want to encounter a device's vices. Weirdly enough, the two thumbsticks and four analog buttons respond with wonderful speed regardless of what game I'm playing, but the shoulder and trigger buttons suffer from sluggish delays when attempting to fire a weapon or chop down a tree.
There's little rhyme or reason to these delays. Most of the time they work if you apply a lot of pressure, but that's not always the case. Sometimes the triggers and bumpers respond as readily as the analog buttons. At other times, you'll face down an enemy and gasp in horror when your rifle fails to fire. In a game like Fortnite, delays like these are matters of digital life or death. Some viewers of my video on how to use a controller with Fortnite poked fun at me for the slow speed compared to the touch controls, but the Stratus XL was I was using sometimes feels as though it plays at warp speed compared to the Gamevice.
This isn't just a problem with Fortnite. The delays sometimes get me killed in shooters like Shadowgun Legends. Less annoyingly, they slow me down when switching menus in Stardew Valley. The catch is that few games actually offer support for the trigger and bumper buttons, so the Gamevice is fantastic when I use it for games like Alto's Odyssey and Grimvalor, which don't use those buttons at all. Considering that the Gamevice costs more than some replacement controllers for the Xbox One or the PS4, though, I can't say it's always worth the risk. I want to argue that these problems could be fixed with a software update, but the truth is that it's possible to find similar complaints about the Gamevice going back many years.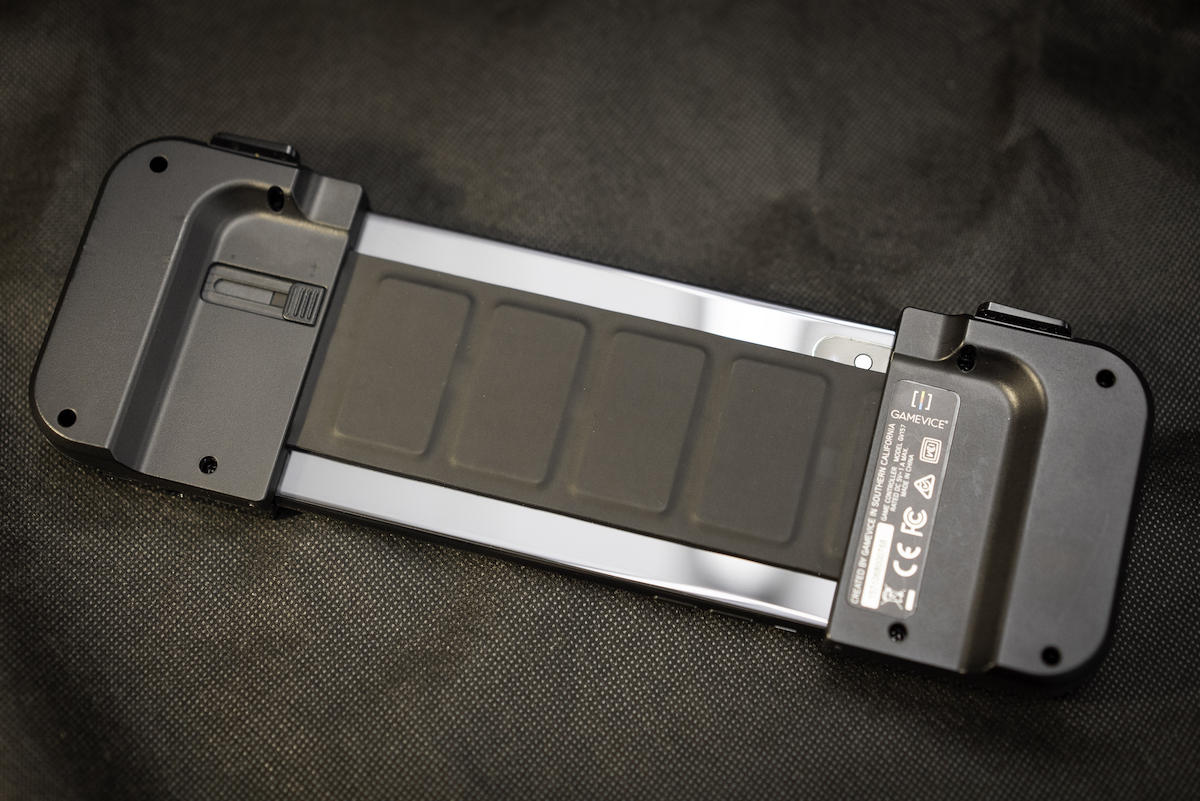 There's also no guarantee that the Gamevice will work with your favorite iPhone game, but that seems more the fault (or intention) of game developers than the Gamevice itself. When Epic Games announced that MFi controllers now worked with Fortnite, Gamevice announced support within a day.
There's also a handy app called Gamevice Live that lets you see every iOS game that's compatible with the controller, along with a default keybind map for each game. Plenty of favorites ranging from Minecraft and The Witness to Grand Theft Audio: Liberty City Stories makes appearances here, and the vast majority of them don't assign major actions to the shoulder buttons or triggers. You can even use the OneCast service for Xbox streaming with the Gamevice, although, again, you'll want to watch out for those triggers.
Bottom line
The Gamevice looks like everything I'd expect from a perfect iPhone game controller. It pairs easily, it takes up little room in my bag, requires no separate charging cables aside from what I use with my iPhone, and it even complements the shape of the iPhone itself. When it works the way it's meant to—and that's a good amount of the time—it's awesome.
But those sticky triggers leave me not wanting to stick with the Gamevice when playing Fortnite. Again, that's the hottest reason to get the Gamevice right now, and as it is, this controller too often robs you of a Victory Royale and leaves you with a royal pain.
Best Prices Today: Gamevice Controller for iOS