At a Glance
Expert's Rating
Pros
Beautiful analog camera presets
New light effects makes images shine
Nearly full complement of basic and advanced image editing tools
Smart Collections aid in sorting huge number of photos
Smooth performance with no lag time
Tethering feature benefits pro users
Cons
Camera card import does not let you preview photos first
No chromatic aberration tool
Program does not support GPS
Our Verdict
Best Prices Today: Exposure X4
Alien Skin Exposure X4 is a prosumer app targeted to photo hobbyists and enthusiasts who want to kick their photographic output up a notch or two.
While the app—which works both as a standalone or a plug-into Photoshop—specializes in raw images, it's also compatible with a variety of formats including TIFF, JPEG and PSD. Version X4 offers improved shadow and highlight recovery for improved detail. New, customizable light effects add drama to your compositions while new transform tools let you correct keystone tilt and other skewed perspectives.
In addition to photographic features, Exposure X4's Smart Collections let you more efficiently organize your photo library using keywords, ratings, and colors. A tethered shooting feature, mostly targeted to professional photographers, lets you monitor folders and do tethered shooting directly from camera to screen.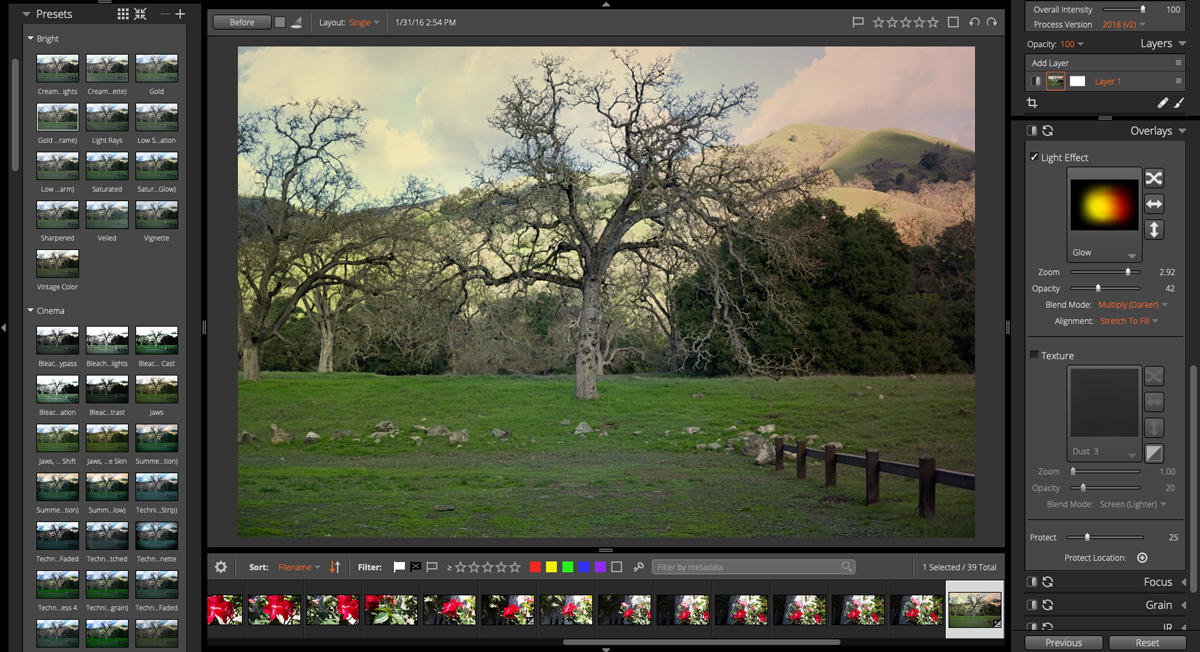 Shadows and highlights
Nothing could be easier than Exposure's new Shadow and Highlight sliders, part of the app's large assortment of basic and advanced editing tools. Moving the sliders adjusts images in real time with immediate previews and no lag time.
As you bring out much of the hidden details in underexposed images, you can use other editing controls like Detail, Color, Tone Curve, Lens Correction, Focus, and more to tweak photos even more. Unless you do a lot of compositing, Alien Skin Exposure X4 works pretty well as a standalone image editor.
Presets
Exposure is famous for its nearly three dozen analog inspired film simulated historical preset categories—including 10 types of color films, 9 types of black and white films, Lo-Fi, Portrait Touch Up, Graduated Filters, Bokeh, Cinema, and more with 500 presets.
You don't have to keep clicking to sample results. Just mouse over the presets to dynamically view which ones will best improve your image.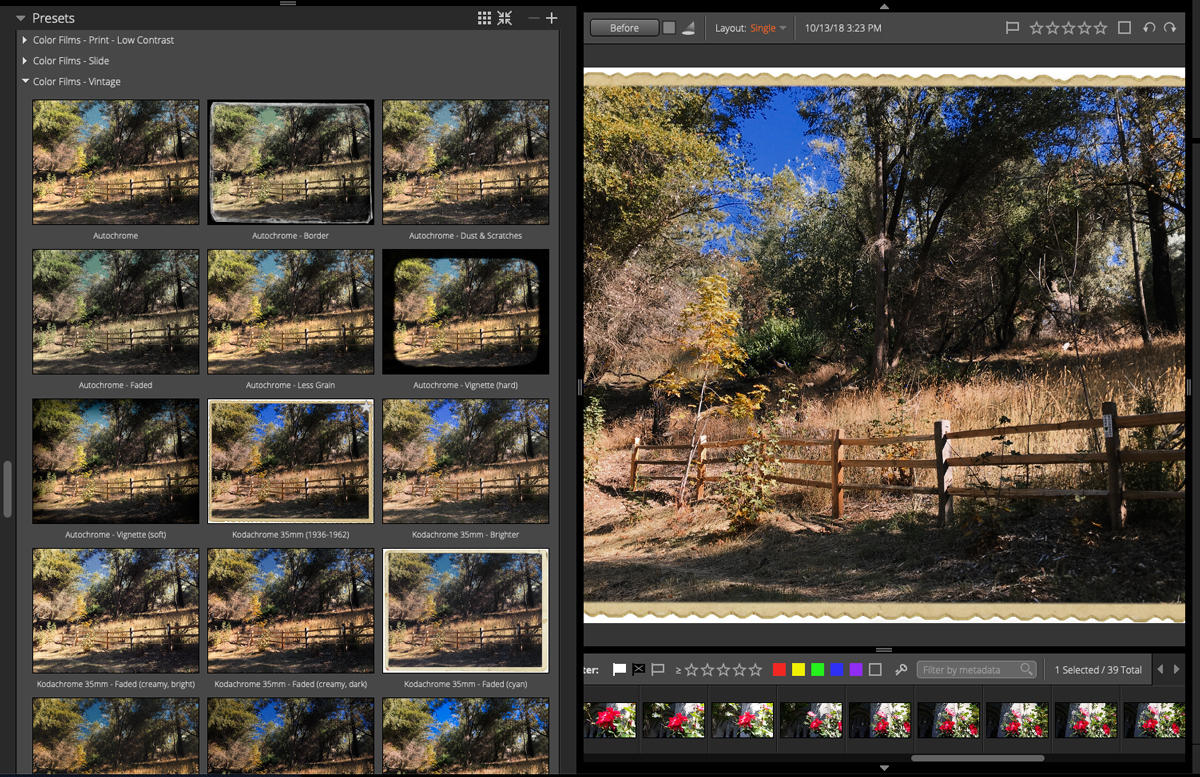 With Exposure's non-destructive layer and masking features, you can add presets to an image as well as brush on edits and apply gradients to discrete parts of the photo.
Transform and light effects
When you are shooting upwards at a tall structure, you generally encounter the keystone effect—the structure appears to be tilting away from the camera lens. To correct this perspective, Exposure X4 has a new Transform section that lets you straighten, crop, scale, and position your subject on an X-Y axis. This easy-to-use adjustment makes all buildings look the way you had intended.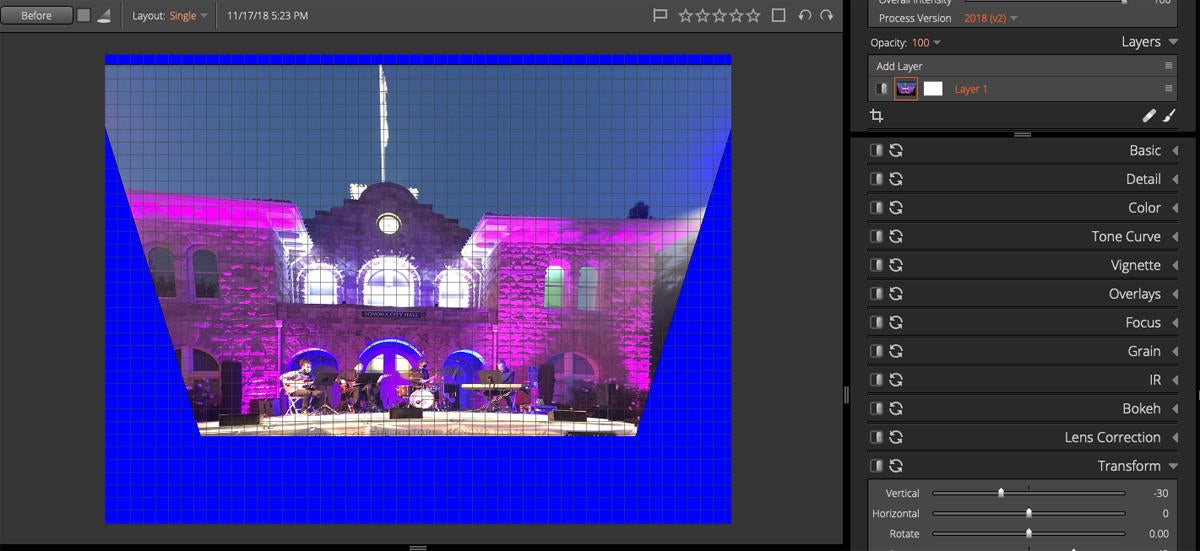 The new version also features enhanced light effects, which are super easy to adjust. Just choose from a library of effects, or use positioning controls or your mouse to move or rotate various flares, glows, rays, and light leaks to different parts of the image. You can adjust their intensity and opacity and even block off parts of the image you don't want affected. There is no chromatic aberration tool as yet, a staple of most image editors.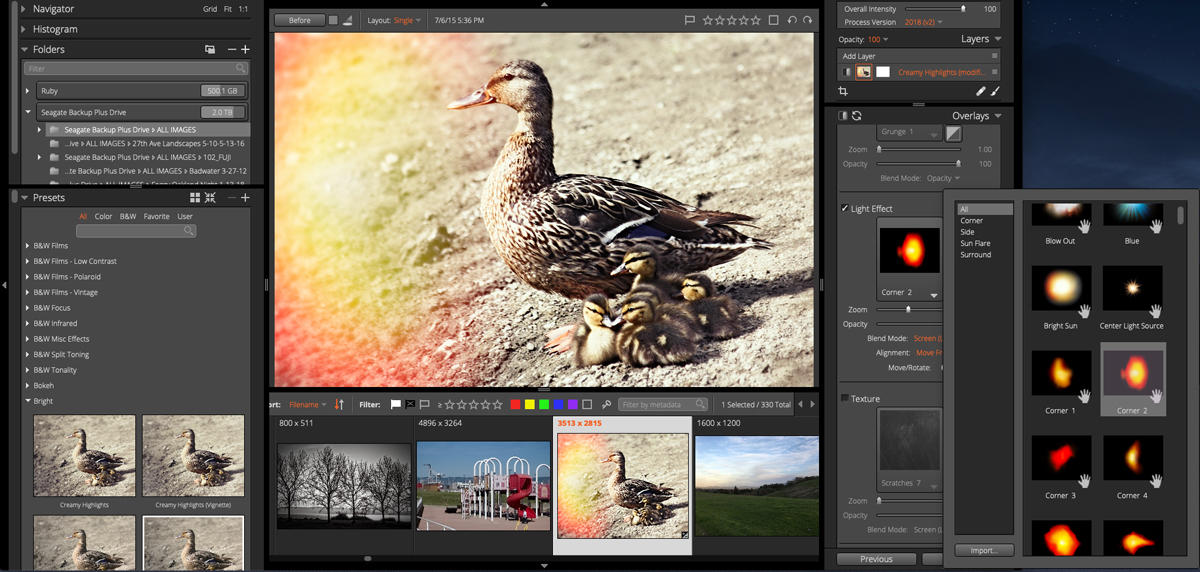 Organization
The new version assists with using metadata to create Smart Collections, which make it easy to cut through a mass of different kinds of images to single out landscapes, portraits, cat pictures, or whatever you select. You can use metadata like ISO, keywords and ratings or assign keywords as you share images from your camera card.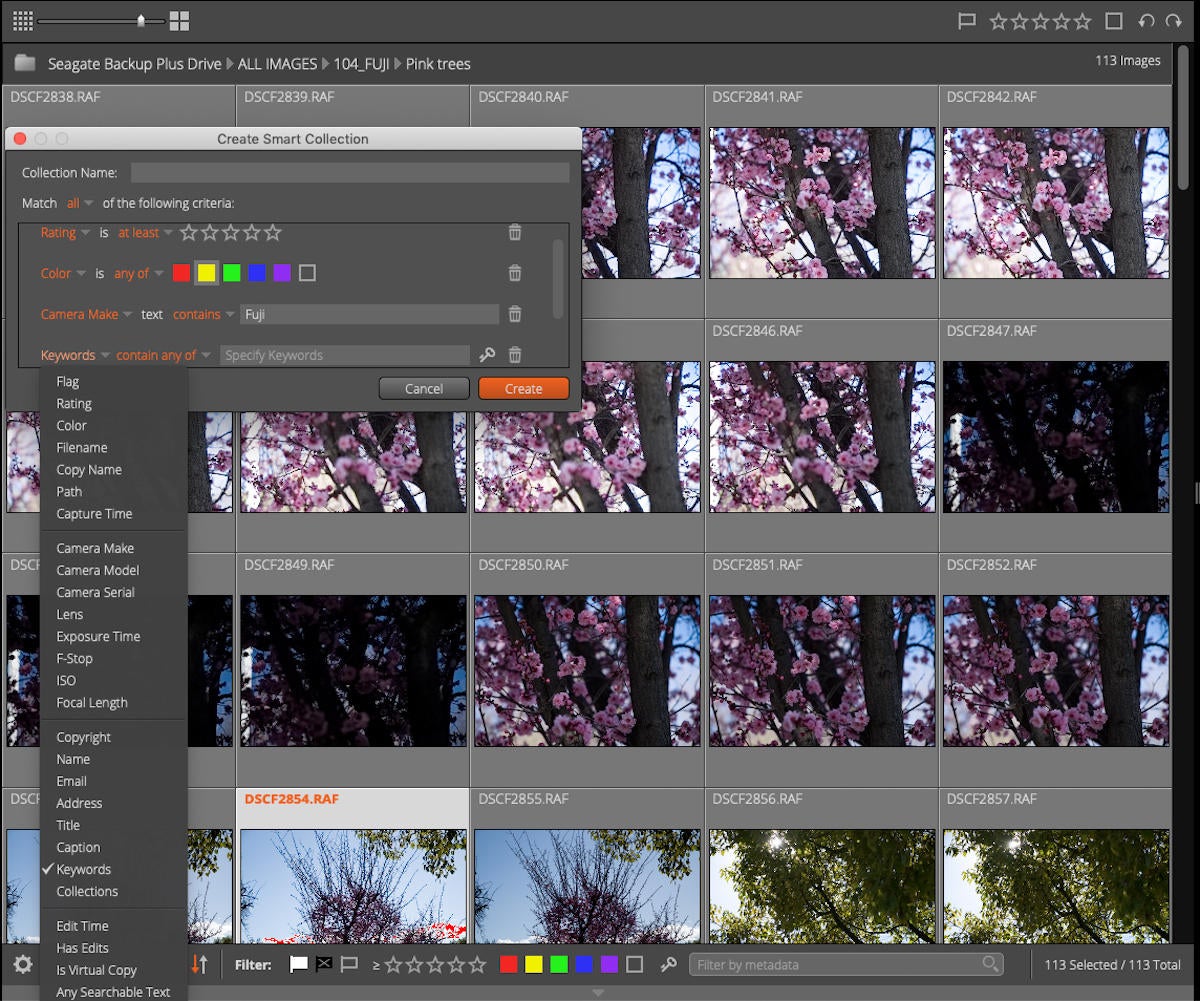 Alien Skin's folder setup relies on the Finder for allowing access to photos from your Desktop and Documents folders without importing them into a catalog. Instead, a Bookmark feature lets you add any folder you want to use in the app as well as monitor those folders for additional images.
Because the app is targeted to more advanced users, Alien Skin assumes that users were organizing photos in Lightroom rather than Apple Photos and the app does not see directly into your Photos Pictures folder. For those organizing in Apple's Photos app, an undocumented workaround lets you peer into the desktop Photos Pictures package and then drag the Masters folder into the Finder Sidebar to make images stored in Apple Photos immediately accessible to Exposure X4. The app does not display thumbnails of videos stored with images, and they show up as inelegant blank white placeholders.
Lightroom users get an extra incentive to ditch Adobe's subscriptions with Exposure's new Lightroom Migration Tool, which can convert Lightroom folders to Exposure bookmarks while retaining metadata like flags, keywords, labels and more.
Copying images from a camera card into Exposure gives you vast flexibility in naming conventions, metadata, and even the ability to automatically apply presets to the new images, but you can't preview images before importing them.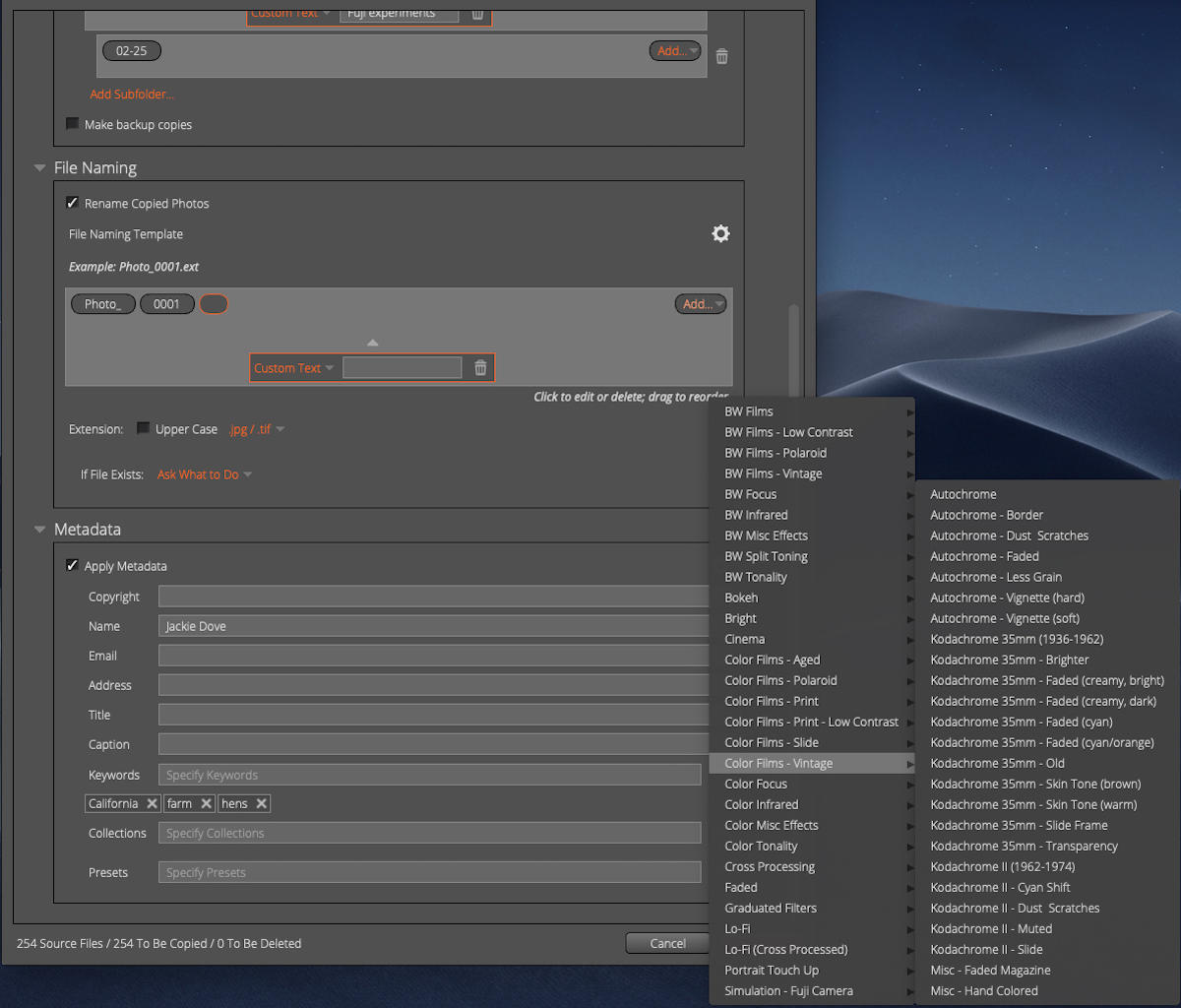 Bottom line
Alien Skin Exposure X4 is a streamlined, intuitive image editor with most of the editing controls you need and many more that will give your images an artistic boost. As a plug-in to Photoshop and Lightroom, Exposure gives you the choice of sticking with Adobe's subscription-based Creative Cloud and still getting the benefit of a tremendous number of beloved film-based presets. At the same time, it also offers a viable alternative to Lightroom, which recently made the transition from standalone perpetual license to joining the subscription family.
Best Prices Today: Exposure X4