The indicator lights for active Ethernet connections might help you troubleshoot problems with a Wi-Fi router. While Wi-Fi and Ethernet may seem like two utterly different pieces of technology, they combine in a wireless router, in which the device's software interconnects networking traffic across the two types—and on some models, across a third via DSL or cable standards.
That can provide a problem if the Wi-Fi part of the gateway remains active and healthy, meaning that client devices, like smartphones and laptops, can connect to the network and report back that everything's fine, but the Internet connection appears dead.
I've found frequently that when a Wi-Fi router appears at fault, Ethernet is the actual culprit. While Ethernet is an extremely reliable and long-running technology, cables fail through wear (if you move them around) and over time. It's especially a difficult issue when Ethernet is threaded through the walls of your home. (Some homes were also wired long enough ago that they use an older standard of Ethernet cable that can't consistently support gigabit Ethernet signalling.)
One reader recently described a problem in which their Time Capsule was chained to another router for their network, and it would maintain a green LED status light on its front even when it would routinely drop the Internet connection. They could connect to the base station and configure it, too. They tried resetting and reconfiguring everything to no avail.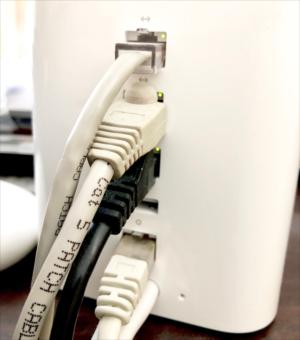 The AirPort Extreme Base Station, Time Capsule, and other Apple gateways may be discontinued, but they still shouldn't show a green LED on the front if the Internet can't be reached. In the reader's case, their Time Capsule is connected to another router that serves the home, and its assigned network address would switch to a "self-assigned" address, one that a network adapter on a computer, mobile device, or base station will employ when it can't obtain a legitimate network address.
The issue did turn out to be a faulty in-wall Ethernet cable, but there's a way you can try to diagnose this without swapping all your cables. Apple's AirPort line and many modern routers incorporate some kind of LED or indicator symbol that's directly tied to each Ethernet port.
On the AirPort models in recent vintages, there's a tiny LED embedded inside the port (see photo). If a solid green, there's an active link; if it flickers or is unlit, there's a poor connection or none at all. On other models, like the TP-Link Archer router I use as my main base station at home, the Ethernet lights are on the front panel: a solid green indicator indicates a connection, and it flickers to note active traffic.
If you see any errant behavior or obvious Ethernet LED or indicator symptoms, Ethernet cables are cheap and readily available: obtain another fresh one and swap it in to see if it solves the problem.
This Mac 911 article is in response to a question submitted by Macworld reader David.
Ask Mac 911
We've compiled a list of the questions we get asked most frequently along with answers and links to columns: read our super FAQ to see if your question is covered. If not, we're always looking for new problems to solve! Email yours to mac911@macworld.com including screen captures as appropriate, and whether you want your full name used. Every question won't be answered, we don't reply to email, and we cannot provide direct troubleshooting advice.