A webcam can be easily misused—and sometimes hijacked by malicious software. While macOS has been generally free of malware that can tap into the camera, and Apple has a hardware-linked green LED that can't be disabled in software when the camera is active, you may still want to prevent the camera from being used at all.
This typically comes up with kids, but it's also a tool to disable any app from making use, although macOS will always ask (at least once) before granting access. (There's a security argument to be made that you can use an account with admin access for setting things up, but in your return use, you use a Standard account, which could even have parental controls enabled for your own focus or safety that you can bypass as needed.)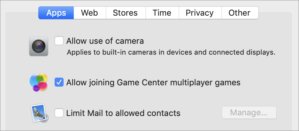 In System Preferences > Parental Controls, under the Apps tab, you can uncheck the option Allow Use of Camera. If you try to use an app that requires a camera, no video source option appears or when selected it won't stream video from the FaceTime camera. (Sadly, plugging in an external webcam that doesn't require drivers to be installed bypasses this restriction.)
If you launch QuickTime Player with this parental control set, the app shows a yellow yield sign next to the FaceTime camera. Even when you turn that option back in Parental Controls and quit and relaunch QuickTime Player, the yield sign persists.
The solution? Either log out and back into the account or perform a standard restart. That appears to clear the hardware lockout.
This Mac 911 article is in response to a question submitted by Macworld reader Ben.
Ask Mac 911
We've compiled a list of the questions we get asked most frequently along with answers and links to columns: read our super FAQ to see if your question is covered. If not, we're always looking for new problems to solve! Email yours to mac911@macworld.com including screen captures as appropriate, and whether you want your full name used. Every question won't be answered, we don't reply to email, and we cannot provide direct troubleshooting advice.