With all the features Apple has crammed into iTunes for macOS, it's a Swiss Army knife of an app (or maybe more like a 20 pounds of potatoes in a five-pound bag). But despite all of its the non-audio parts, iTunes can help you with music files. Notably, you can correct or modify metadata—information about the files—in bulk.
But beware! These changes are made to the files, not just within iTunes, and there's no warning and there's no undo.
My strong suggestions before you make bulk metadata changes in iTunes:
If you have iCloud Music Library enabled (via iTunes Match or Apple Music), make sure all the files you want to modify have been downloaded to your Mac and aren't stored in the cloud. (See this September 2018 column on how to make sure your music is locally downloaded.)
Make a full backup of your iTunes Media folder. You can make sure you're backing up the right folder by looking in iTunes > Preferences > Advanced, where the iTunes Media Folder Location is listed.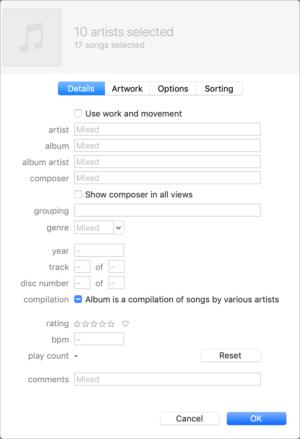 Now you can proceed with an option to revert in a pinch.
Select multiple items in iTunes.
Choose Edit > Get Info.
For any field in Details in which there are multiple entries, you will see either the word "Mixed" (for text) or a dash ("-") for a number. You can modify any of these entries and they will be applied to every song you selected.
Click OK. There's no going back: iTunes immediately updates the metadata in the chosen files.
This Mac 911 article is in response to a question submitted by Macworld reader Colin.
Ask Mac 911
We've compiled a list of the questions we get asked most frequently along with answers and links to columns: read our super FAQ to see if your question is covered. If not, we're always looking for new problems to solve! Email yours to mac911@macworld.com including screen captures as appropriate, and whether you want your full name used. Every question won't be answered, we don't reply to email, and we cannot provide direct troubleshooting advice.