USB4 is coming soon, and while it probably won't mean a whole lot to Mac users, it could have a big impact on the iOS ecosystem. Here's what we know about the forthcoming spec and what it could mean for Apple's devices.
What is USB4?
Currently, USB4 is just an agreed-upon idea. The USB Promoter Group recently announced the specification, which hasn't been finalized or published yet. That spec should get published around the middle of this year, and then USB4 devices can start being built, tested, and brought to market.
From the announcement, we can get a good sense of what USB4 will be, and it sounds like it's just USB 3.2 with Thunderbolt 3 and the USB-C connector. The announcement claims: "The USB4 architecture is based on the Thunderbolt protocol specification recently contributed by Intel Corporation. It doubles the bandwidth of USB and enables multiple simultaneous data and display protocols."
Perhaps the most important line in the announcement is this one: "Even as the USB4 specification introduces a new underlying protocol, compatibility with existing USB 3.2, USB 2.0 and Thunderbolt 3 hosts and devices is supported; the resulting connection scales to the best mutual capability of the devices being connected."
If USB4 is compatible with USB 3.2 and Thunderbolt 3, both hosts and devices, then it's going to be a match for, or superset of, the Thunderbolt 3 spec.
The document further outlines three key characteristics of USB 4:
Two-lane operation using existing USB Type-C cables and up to 40 Gbps operation over 40 Gbps-certified cables
Multiple data and display protocols to efficiently share the total available bandwidth over the bus
Backward compatibility with USB 3.2, USB 2.0, and Thunderbolt 3
It might not be called USB4
The USB Promoter Group is in charge of building USB specifications, and is made of members from several companies: Apple, Hewlett-Packard, Intel, Microsoft, Renesas Electronics Corporation, ST Microelectronics, and Texas Instruments.
But the USB Implementer's Forum (USB-IF), a separate non-profit group, is the one responsible for the marketing and branding of USB. That's the group responsible for frequently and confusingly naming and re-naming the various USB protocols and logos used on devices. So while the protocol itself is a nice tidy "USB4," we might end up with "USB 4.0 40×2" or "USB 3.2 2×2 Plus Display" or some other confounding nonsense. We can only hope the USB-IF opts for optimum simplicity and clarity and simply sticks with the USB 4 name.
Thunderbolt 3 all the things!
Apple already supports Thunderbolt 3 on nearly every Mac it makes. Only the 12-inch MacBook and Mac Pro do not. The MacBook has USB 3.1 and DisplayPort but not Thunderbolt 3, and the aging Mac Pro predates Thunderbolt 3 (it supports up to six Thunderbolt 2 displays, however).
So what can this do for Apple? Simply put, it makes it easier for its iOS devices, Apple TV, and every other product without an Intel chip inside to support all the features of Thunderbolt 3.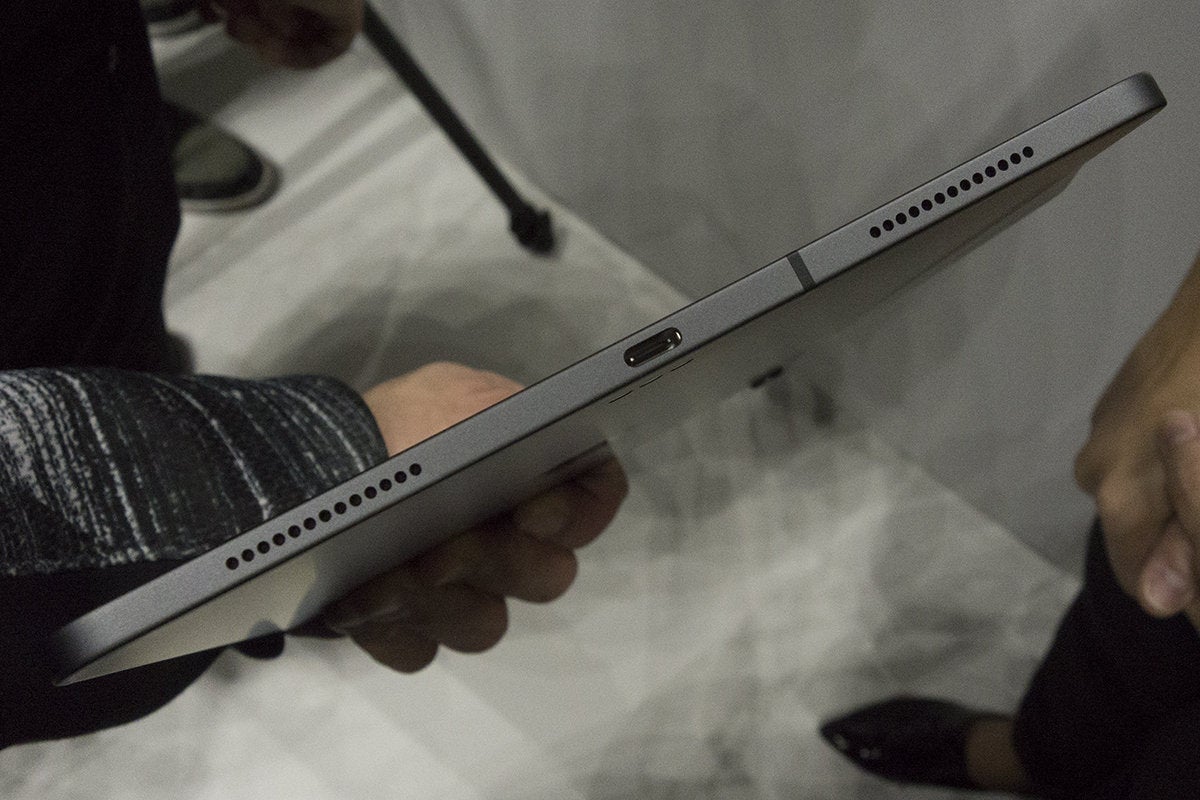 Recall that the new iPad Pro, though it has a USB-C port, does not support Thunderbolt 3 displays. Rather, it only supports displays that accept the USB-C display output protocol. So, while its connector looks just like the one all those Macs use to connect to Thunderbolt 3, it doesn't support that protocol. Confusing, right?
Thunderbolt is a brand owned and maintained by Intel. Though the company made the protocol license-free last year, implementing it still requires working with Intel to use or license the Thunderbolt trademark and to pass compatibility testing. If USB4 is as advertised, it will allow basically anyone who makes USB controllers to produce products that can hook up to USB4 gear, without Intel getting in the way.
That means a future iPad Pro's USB-C port could be USB4 compatible and hook up to all sorts of monitors, including the Thunderbolt 3 monitor you may have. Also: Thunderbolt 3 hard drives, docks, audio interfaces, and so on. USB4 enables Apple to in effect (if not in name), bring USB 3.2 plus Thunderbolt 3 to future A-series chips and thus future iOS devices, Apple TVs, and so on.
But it could be even more important. Apple has been long been rumored to be hard at work transitioning its Mac line from Intel chips to its own. That may not happen this year, but if and when it does happen, the USB4 spec enables these new Macs to be compatible with all the Thunderbolt 3 gear Mac fans have accumulated. It's just one more annoying technical barrier to the Intel/Apple Mac transition that Apple won't have to worry about.
It also makes it a bit easier for AMD chipsets to support Thunderbolt 3 products, making it easier for Mac desktops to dump Intel in favor of AMD, should the company find that to be a good strategy.