Touch ID is old hat, having first appeared in 2013 with the iPhone 5s. However, some features still remain obscure, based on reader email and conversations I have. A key one is that you don't have to use only your own fingerprints for Touch ID for a device that is nominally yours.
Touch ID allows you to set up to five fingerprints total, including one you enroll initially when first configuring the phone, tablet, or laptop. In Settings > Touch ID & Passcode, you can enter your passcode and then tap Add a Fingerprint to enroll more. On a MacBook Air or MacBook Pro with Touch ID, open the Touch ID preference pane.
While this has been possible since the start on each model and platform, it's clear that many people think of these fingerprints as locked to their hand. But if you have someone else in your family or a loved one or other party you want to also have access, simply enroll one or more of their fingertips, too.
What's critical here is to use the label feature to identify whose print belongs to whom. By default, Touch ID just adds a generic label, like "Finger 2," to any additional fingerprint. Tap or click the entry and change it something description: "Bill left index finger," for example. Otherwise, if you want to remove that person's access, or add more of your own fingerprints in the future instead, you won't know which fingerprint except the first was yours. (That's always the fingerprint of the person setting up the device.)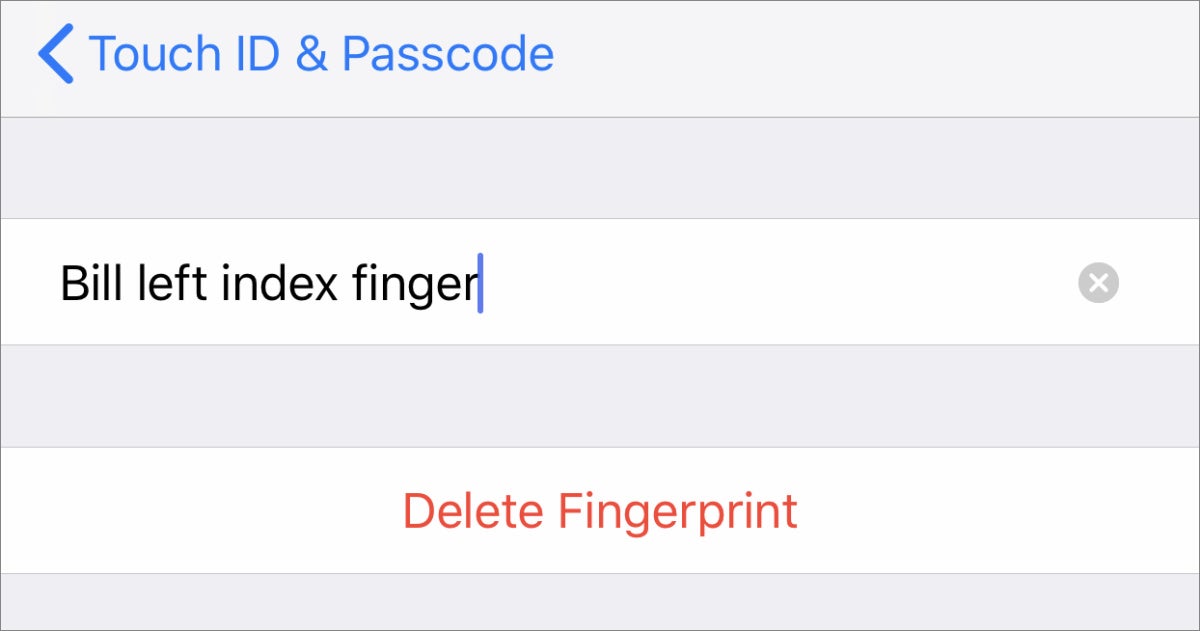 Of course, Touch ID has a variety of cases in which you have to enter a device passcode or password, such as having a fingerprint not recognized five times in a row or restarting a device.
In that case, you need to consider if the other person is also worthy of your device's passcode or password—otherwise, they'll need to find you to unlock it.
Ask Mac 911
We've compiled a list of the questions we get asked most frequently along with answers and links to columns: read our super FAQ to see if your question is covered. If not, we're always looking for new problems to solve! Email yours to mac911@macworld.com including screen captures as appropriate, and whether you want your full name used. Every question won't be answered, we don't reply to email, and we cannot provide direct troubleshooting advice.