This week, Apple finally announced the sequel to the AirPods, its true wireless earbuds that have proven to be way more popular than anyone ever expected. After more than two years, Apple's follow-on to the AirPods is…AirPods?
Okay, so the new second-generation AirPods aren't exactly the true sequel we've all been hoping for. They still look and act like the AirPods we love. But they are substantially different than the first-generation model. Here are the most important things you should know.
They're not AirPods 2
The new AirPods are just that: new AirPods. They are not named AirPods 2, not billed as such on Apple's site, and not sold separately from original AirPods. Apple still has only one AirPods page on its site, and it only sells the new model. If you buy AirPods from Apple, you will only get this new version. In fact, if you buy AirPods from another source, you may want to double-check that they're not selling you the old model.
When Apple really needs to make a distinction between the new and old model (such as in the fine print about its performance claims), it calls the old ones "AirPods" and the new ones "AirPods (2nd generation)."
This is the same thing as a spec bump in a MacBook—the new model is a little better, but carries the same name and completely replaces the old model.
They cost the same (sort of)
Since its introduction, the AirPods have cost $159. The new version maintains the $159 price. In a way.
Along with a new version of the AirPods, Apple has released a new Wireless Charging Case that looks almost exactly like the original charging case (save for a small LED light on the front), but you can plop it down on your Qi wireless charger to juice up. Apple also still sells a standard, non-wireless-charging case. If you buy AirPods with that case, the price is still $159.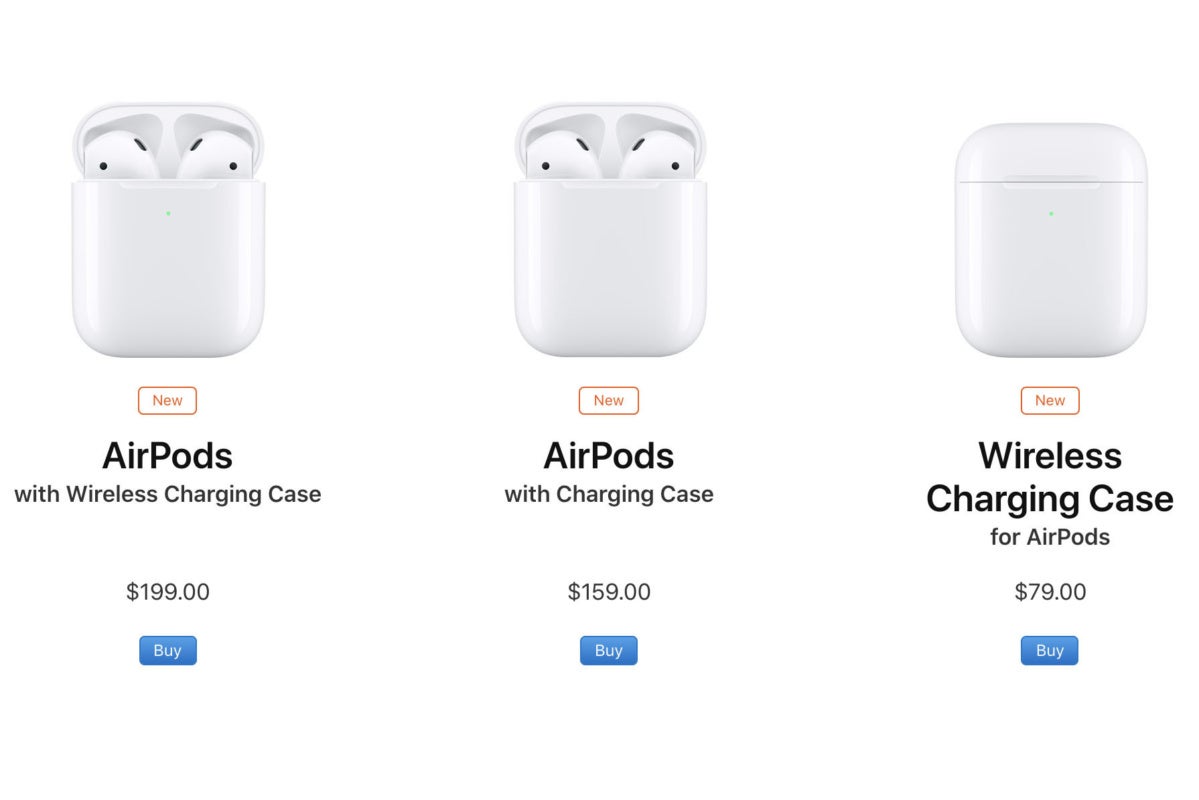 Old AirPods with plug-in case: $159. New AirPods with plug-in case: $159. Easy.
But if you want the Wireless Charging Case with your new AirPods, you'll have to pay $199. Apple also sells the Wireless Charging Case by itself as an upgrade for users who have first-generation AirPods. That will cost you $79.
Everyone complained about the seemingly exorbitant price of AirPods back in 2016, but since then a ton of other truly wireless earbuds have hit the market, and most of the really good ones cost as much as AirPods or more. Apple's price was more reasonable than we initially expected, and that still holds true.
They probably sound the same
For all the glowing language Apple uses to market the various improvements in the new AirPods, it doesn't say anything about sound quality. Not on the site, not even in the press release. If the new AirPods sounded better, you can bet Apple would make a big deal about it.
We can only assume that the new AirPods sound just like the old AirPods. We'll know for sure once we test them, but until then, it's probably safe to expect sound quality that is a little better than wired EarPods but not as good as other similarly-priced wired headphones.
You can use 'Hey, Siri' hands-free
The new AirPods offer the same features as the old AirPods, save one: You can now say "Hey, Siri" to trigger Apple's digital assistant, instead of having to double-tap on one of the earbuds. The tapping functions are still there (you can still change them in your Bluetooth settings), but the earbuds will now recognize when you're talking and listen specifically for that phrase.
We don't yet know how reliably this feature works and whether or not it is as easily triggered by other voices as, say, the HomePod.
This is the new AirPods' only legitimately new feature, but other existing functions are improved.
Battery life is the same, except for talk time
Apple says the new AirPods last for five hours on a single charge, with 24 hours of battery charge in the case. That's exactly the same as the original AirPods, and it's on the good side of average for true wireless earbuds (especially for ones as small as the AirPods).
Apple has dramatically improved battery life when making phone calls, though. The old AirPods were rated at two hours per charge, while the new model bumps that up to three hours. Those who spend a lot of time on the phone will notice a huge difference in longevity.
The Wireless Charging Case is optional
Don't have a wireless charging pad and don't plan to get one? You don't need to pay for the Wireless Charging Case if you have no plan to use it. You can now buy AirPods with the old-style charging case (which uses a Lightning connector) for the same $159 price AirPods have always cost.
Buying your AirPods with a Wireless Charging Case will cost $199. The Wireless Charging Case works with the old version of the AirPods, too, and can be bought separately for $79. Oh, and the Wireless Charging Case still has the Lightning port, if you need to power it up the old-fashioned way.
The H1 chip means faster pairing and switching
The new AirPods look the same on the outside, but inside they're packing a brand new, Apple-designed H1 chip. Apple says it is "developed specifically for headphones," which makes us think it is destined for a few other devices, much in the same way the W1 wireless chip found its way into a few wireless Beats headphones.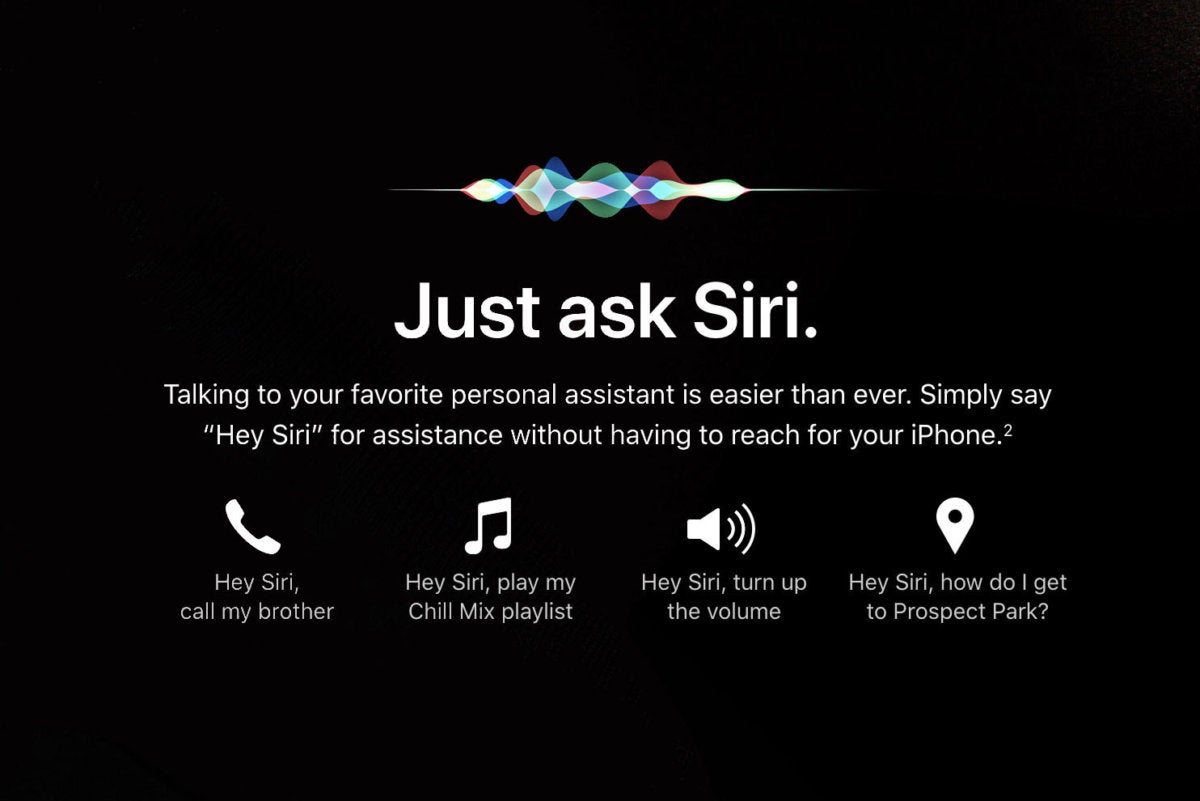 This is the chip that makes hands-free "Hey, Siri" possible, but it also has a few other benefits. It's the reason you get an extra hour of talk time, and it also improves connection speed in other situations. Apple says transferring a phone call from the iPhone to AirPods is 50 percent faster, and switching between devices is twice as fast. If you use your AirPods with your iPhone, Mac, and iPad, you'll definitely appreciate that. Gamers will appreciate that Apple says audio latency when playing games is down 30 percent, too.
Of course, we haven't tested all these claims yet. Our review, coming in the next few weeks, will cover all this ground and more.