What if your iCloud.com address receives so much spam or other unwanted email that it's useless to you and you want to abandon it? If it's also your Apple ID account name, you might think you were out of luck. Apple doesn't let you change an Apple ID's email account login to any other address if it ends in icloud.com, mac.com, or me.com.
Apple does let you add email aliases that end in @icloud.com, but these aliases can only receive email. They can't be converted into an Apple ID login.
However, iCloud.com's Mail interface can let create a mail rule that can offer what you need while also preserving your Apple ID account. You simply push all incoming mail to the iCloud address you no longer want to use into the trash.
In these instructions, let's say the address you want to stop using is phyll123@icloud.com and the new address you want to start using is phyll456@icloud.com. Here's how to make it happen:
Log into iCloud.com with your current account login. (This can't be handled as well using Mail in iOS or macOS; see below.)
Click the Mail icon, then click the gear at the lower-left corner of the browser, and select Preferences.
Click the Accounts button.
Click Add an Alias.
Enter an alias name that you want to use in the future with email and click OK. In this example, that would be phyll456@icloud.com. iCloud warns you if the address isn't available.
Click the Rules button in Preferences.
Click Add a Rule.
Under If a message, select is addressed to and enter your main icloud.com address at which you no longer want to receive emails. In this example, that's phyll123@icloud.com.
Under Then, select Move to Trash and Mark as Read.
Click Done for the rule and then Done to exit Preferences.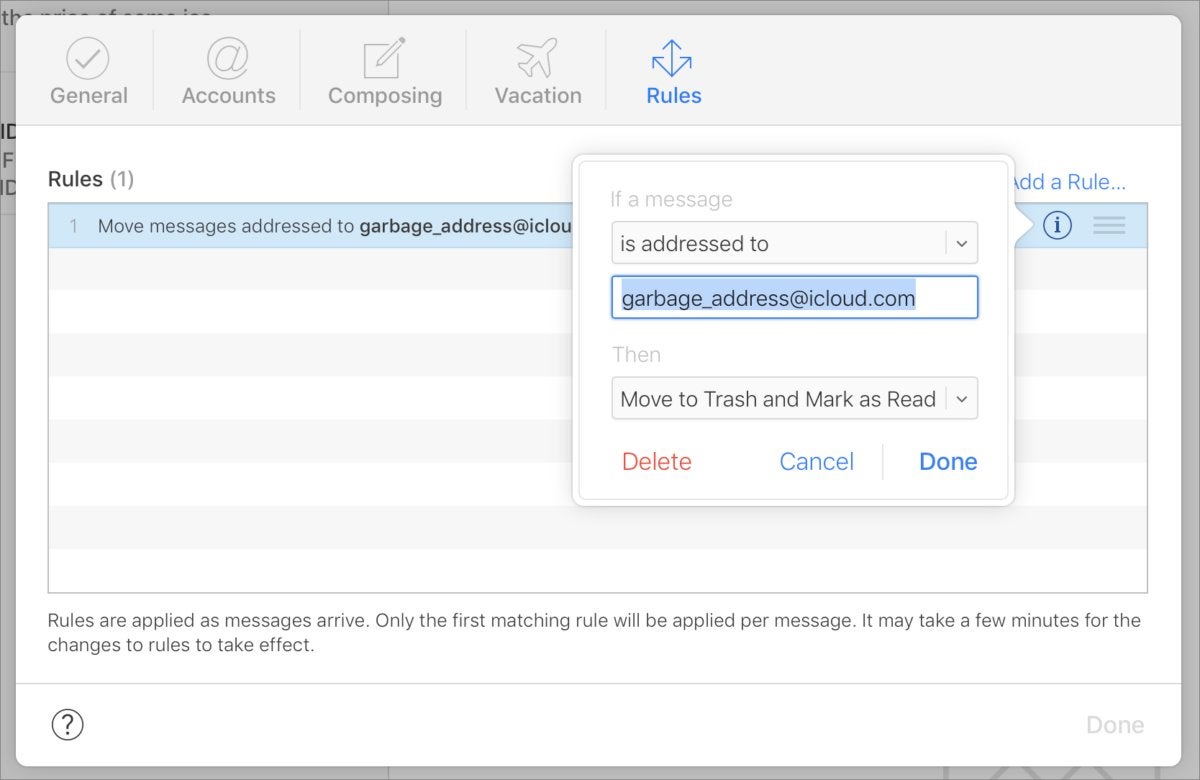 Now all incoming messages to phyll123@icloud.com are placed in the Trash folder, but not deleted (unless you have a time-based setting to remove deleted mail in the Mail app in iOS or macOS). You can still look through the Trash folder if you want to see what's coming in. (You can alternately shunt all phyll123@icloud.com to another folder in step 9.)
All emails to phyll456@icloud.com appear in the Inbox.
I mentioned in Step 1 above that iOS and macOS Mail can't handle this as well. Mail for iOS lacks rules, but you can set rules in Mail for macOS—including defining one exactly like the iCloud.com rule above, as well as much more sophisticated operations.
However, for this to work your Mac must be powered on, not sleeping; it must be connected to the internet; and the Mail app has to be running. If you set the processing rule directly at iCloud.com, the rule is always applied when mail arrives. iCloud never sleeps.
This Mac 911 article is in response to a question submitted by Macworld reader Jerome.
Ask Mac 911
We've compiled a list of the questions we get asked most frequently along with answers and links to columns: read our super FAQ to see if your question is covered. If not, we're always looking for new problems to solve! Email yours to mac911@macworld.com including screen captures as appropriate, and whether you want your full name used. Every question won't be answered, we don't reply to email, and we cannot provide direct troubleshooting advice.
When you purchase through links in our articles, we may earn a small commission. This doesn't affect our editorial independence.