Apple wants us to believe that augmented reality will be a transformative technology. I want to believe it. It sure as heck feels like it has better potential than virtual reality, which still strikes me as little more than a means of escaping the world by sticking your eyes to a sweaty box. AR, though, can add wonder to the mundane. It can provide information at a glance that we could otherwise only guess at (especially when Google Lens finally makes a full debut on the iPhone). And yes, in some cases, it can even make the world more fun.
But even in its flashiest keynotes, Apple struggles to show us any compelling reason why we should embrace AR technology now. With that in mind, here's a list of AR apps from the App Store that best show what AR technology is currently capable of, and how it's evolved from the simplistic days of Pokémon Go. Whether you want to learn how to waltz or feed donuts to mythological creatures, you'll find something to like here.
Sky Guide ($2.99)
I've admired Sky GuideRemove non-product link for years for the ways it uses your iPhone's GPS to delivers star maps that reflect the way the sky looks above you at that precise moment. Recently, though, it introduced support for AR, and in the process, a great app became ever greater. Just press the camera button in the star map mode and it overlays the sky above you with a star chart.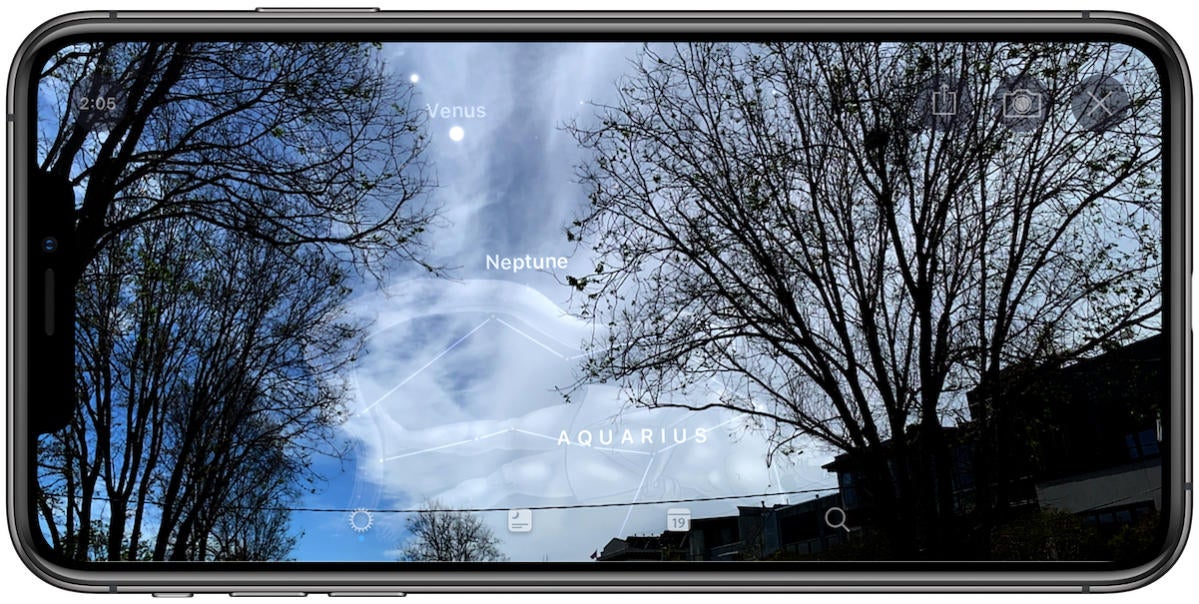 I find this even works with our office windows in the middle of the day, to the point that it even hides the areas of the map that are obscured by the building. You can also change the sky to look the way it will a certain point of the day. Since the AR mode allows you to align the digital stars with the real ones, it's an especially helpful way to assist with stargazing in light-polluted urban areas where it's hard to identify some stars from context.
Sun Seeker Sun Tracker Compass ($9.99)
Sun Seeker Sun Tracker CompassRemove non-product link has a lot in common with SkyGuide, but the big difference is that the focus here is entirely on the sun. Set it to 3D view, and the app shows you where the sun will be during various hours of the day and where it will be at both equinoxes and the solstices. (In other words, you'll see the full range of the sun's trajectory in the sky throughout the year.)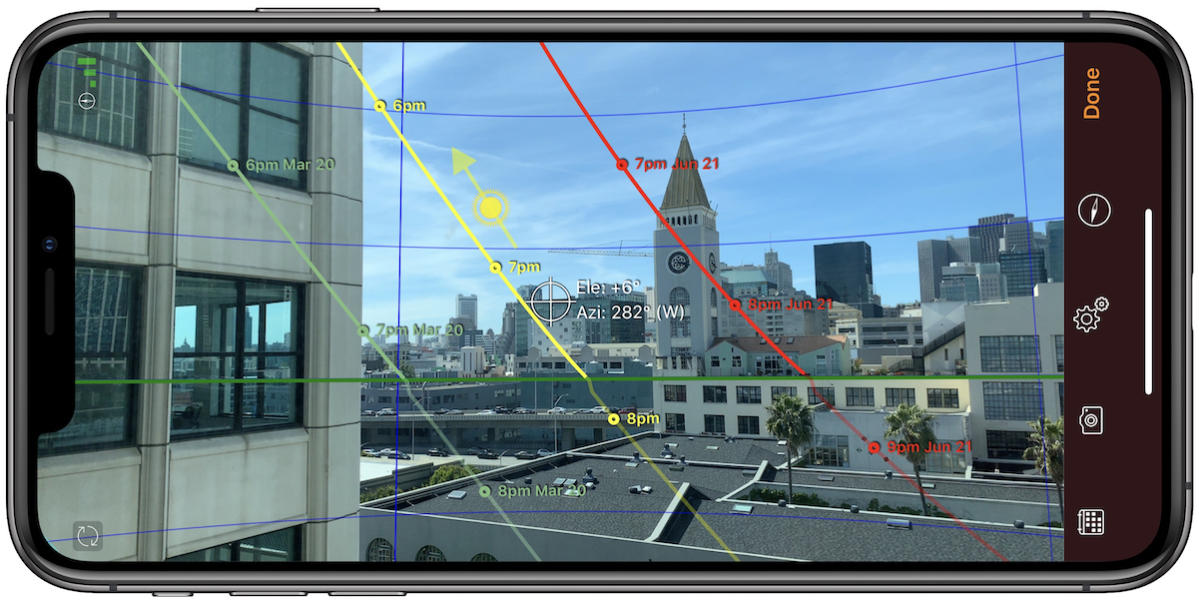 It's more useful than it probably sounds. When you're looking for an apartment, it gives you an idea of how much sunlight the place gets throughout the year. When camping, it helps you find a spot that stays in the shade. For photographers, it helps you prepare for a perfectly lined-up sunset shot.
It's pricey at $9.99, but it justifies that price by including satellite maps that show how the sun will be shining at a particular point time of day and during a specific time of year.
JigSpace (Free)
As a person who learns best with hands-on experience, I found a lot to love about JigSpace. It's an educational app that plops 3D models of everything from the Gutenberg Press to lightsabers on your desk through AR, allowing you to move each model around and see its various parts. Along the way, it also shows step-by-step explanations for how each device works, and you can zoom in or out for better detail.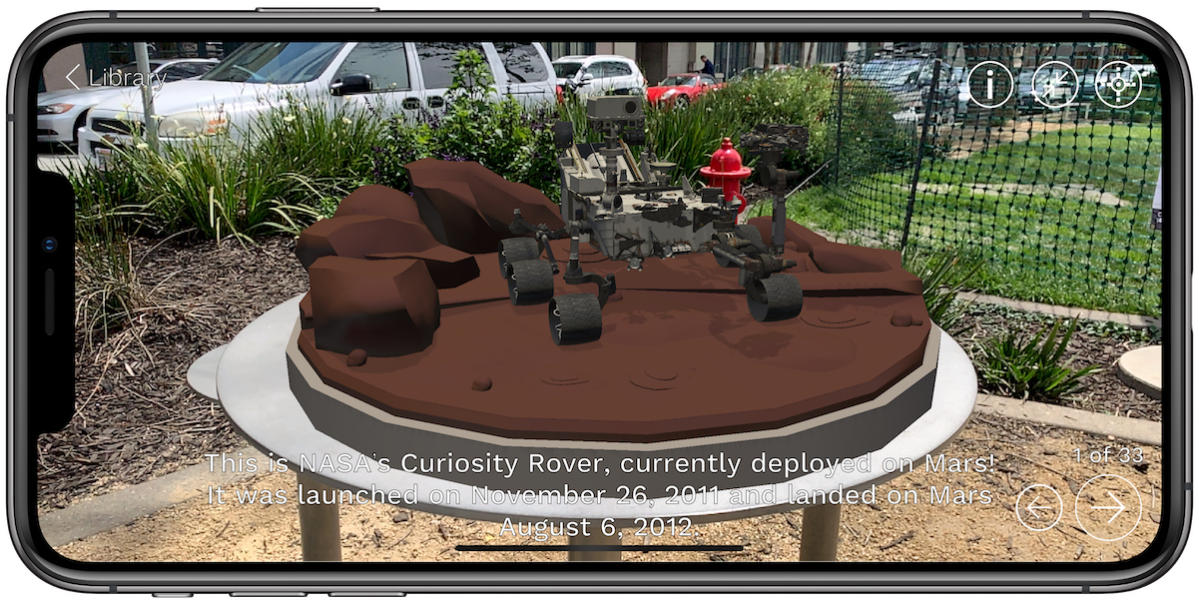 It's a great way of explaining concepts that would be difficult to explain even with the clearest of texts, and with almost 60 "jigs" to choose from, both kids and adults can get a lot out of it. For a similar educational app, check out the BBC's Civilisations AR, which lets you inspect famous archaeological artifacts at scale within the privacy of your home.
Smash Tanks! ($1.99)
I admire many entirely AR games for their creativity, but calling them "fun" often feels like a reach. Smash Tanks! is a rare exception. It's all about setting up AR boards on tables or other surfaces where you aim tanks at various targets. Sometimes obstacles like buildings or rocky ledges get in the way, so you need to move around the table or counter in order to get a better shot.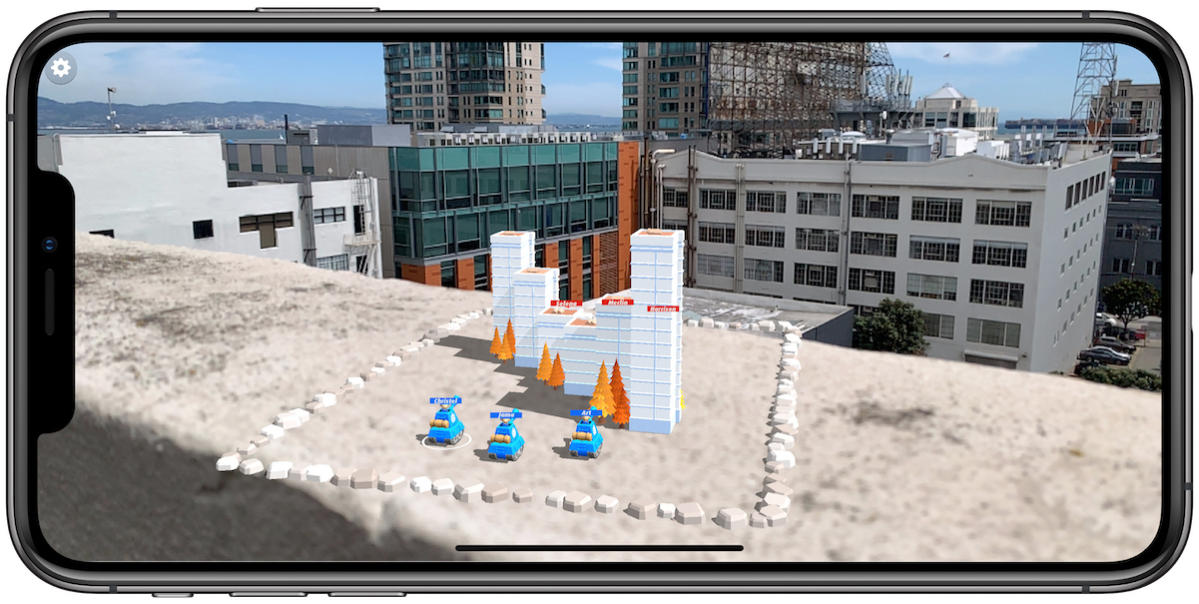 It's entertaining to do this alone, but I also like how Smash Tanks! also let you play local multiplayer matches either by passing the phone to a friend or inviting up to seven people on the same network. You can even customize the maps and make them more challenging by adding elements like friendly fire.
AR Runner ($0.99)
I like AR RunnerRemove non-product link because it provides one of the smartest ways of "augmenting our reality," mainly by overlaying the world with portals and checkpoints to cross while jogging in races. You can place these portals on any open spaces in your neighborhood, which means I can "race" against someone as far away as London while I'm still on the sidewalks on San Francisco.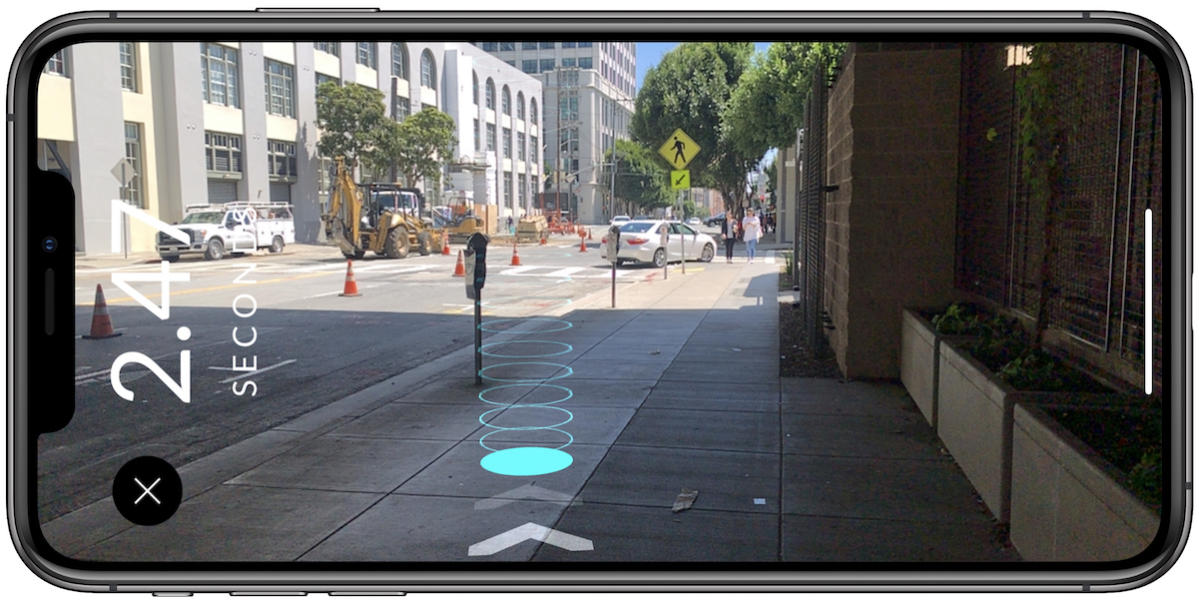 It's a great concept, but I think it'll get a lot better when you can use it with glasses or—let's get weird—AR-enabled contact lenses. As it stands, you're going to go through all these checkpoints while holding your phone in your hand. It's cool, but it's never not going to look weird.
AR Dragon (Free)
AR Dragon may be meant for kids, but I'm a fully grown dude whose apartment building doesn't allow dogs or cats and I have no shame in admitting I love this pet simulator. It's about raising a dragon from the moment it hatches, and every day you log in to find the beast has gotten a little bigger.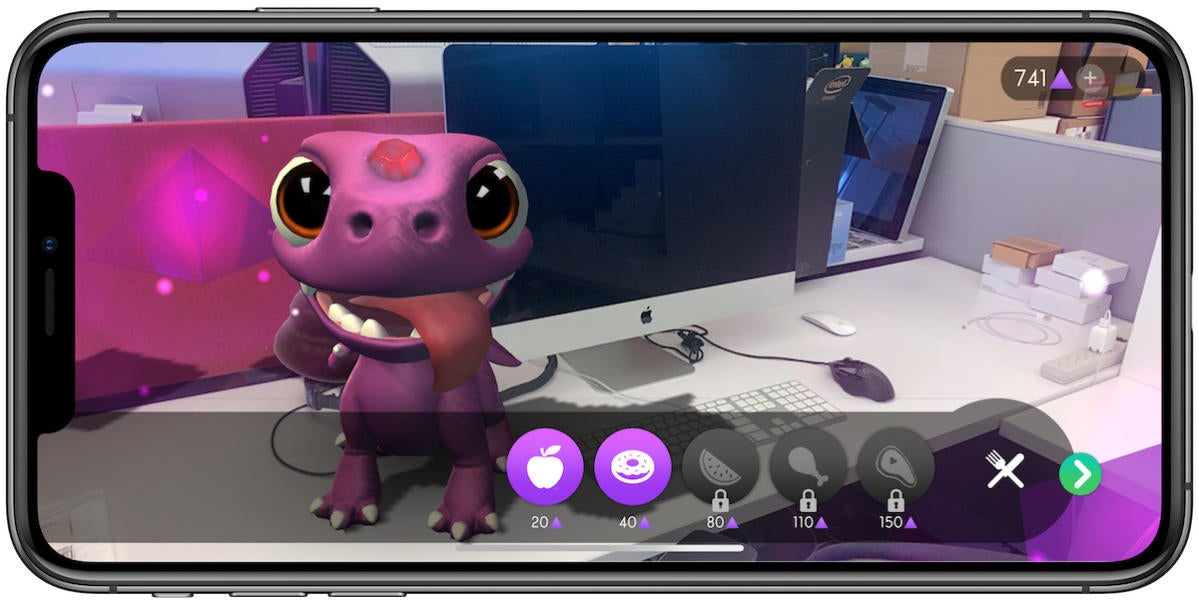 You can feed it donuts and play ball with it, all through an AR interface that makes it look as though the dragon is standing on your desk. Some AR apps do similar things with people, some attempt to make you think your couch is weighed down with an Egyptian sarcophagus, but for my money, no other app does such a good job of convincing you that the digital beast wiggling on your screen actually lives and breathes.
Zombie Gunship Revenant AR (Free)
In Zombie Gunship Revenant AR, you're piloting a military helicopter that's protecting a base that's being overrun with zombies. To get a better shot, you'll sometimes need to move around the table or desk or physically inch in closer to the action. Much like Smash Tanks!, it's one of the few games that handle AR in a consistently entertaining fashion.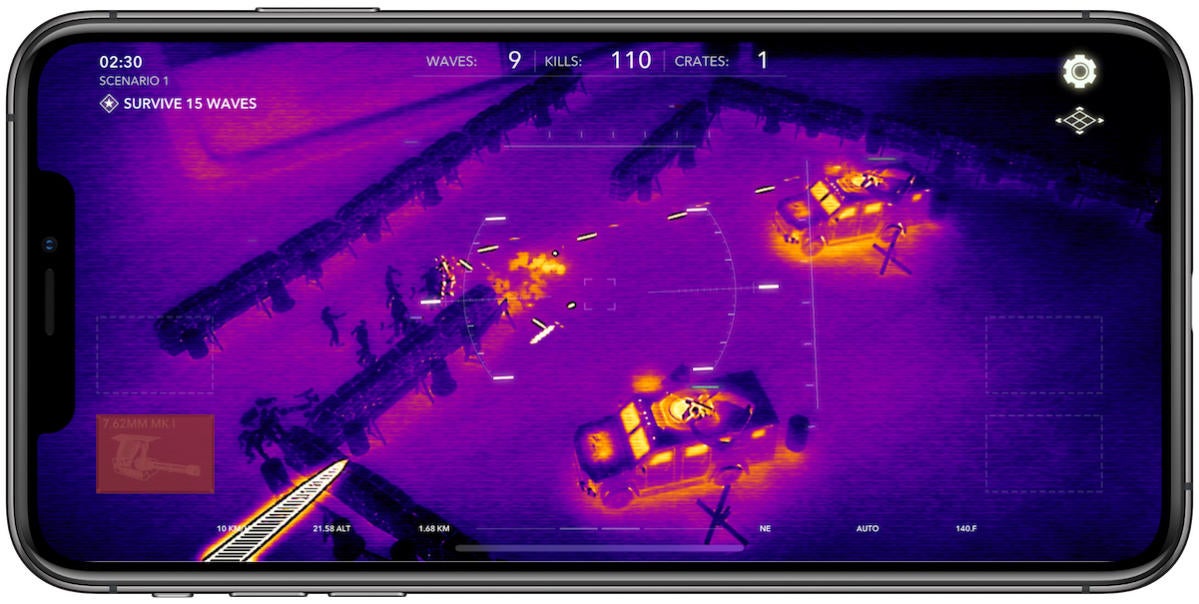 It's a bit different, though, in that you don't need to play with the visible background of the real world—although you do need to find a real surface with AR— and at any rate most real-world surroundings stay obscured by infrared-scope aesthetic. My favorite part? The satisfying rattle of the iPhone as the guns pump bullets into the unyielding undead.
Vuforia Chalk (Free)
Whenever I imagine AR becoming part of our everyday future lives, I think of something like Vuforia Chalk. It's a little like FaceTime in that it's basically a video call, but in this case you can "circle" items you're looking at through the camera and draw arrows, all the better to, say, point out faulty pieces of equipment or to show someone which buttons to press.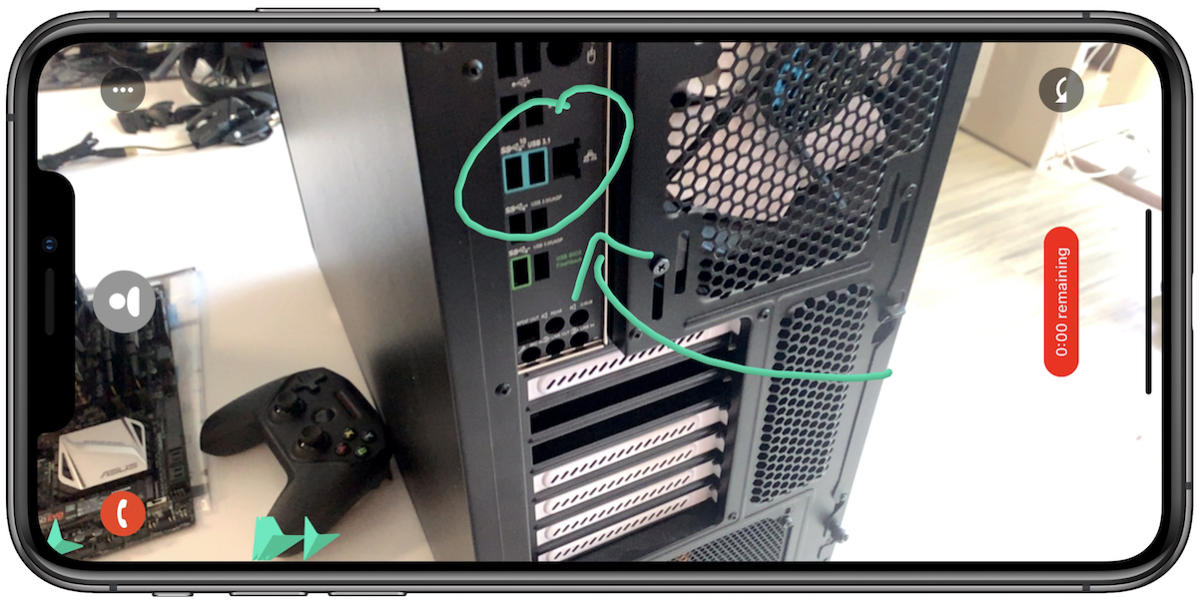 It's a little wonky sometimes, perhaps because the rear iPhone lenses still don't have proper TrueDepth sensors that can accurately map out a surface. Both of the people on the call need to have a Chalk account, so there's some setup involved. And then the free version only lets you use it for three minutes at a time. Still, it's fun to try out.
Once this kind of technology gets built into FaceTime itself, I think we'll be taking a giant leap toward the AR-powered future that Apple wants us to get excited about.
IKEA Place (Free)
Look, I know this one is comparatively boring. IKEA Place is about moving furniture—IKEA furniture at that—around your house or apartment so you can have a better idea of whether that Flodafors beige Färlöv chair looks good by the fireplace. Yawn, right? Thing is, I believe this is one of the best ways to show how AR can save us from a lot of potentially embarrassing (and costly) guesswork.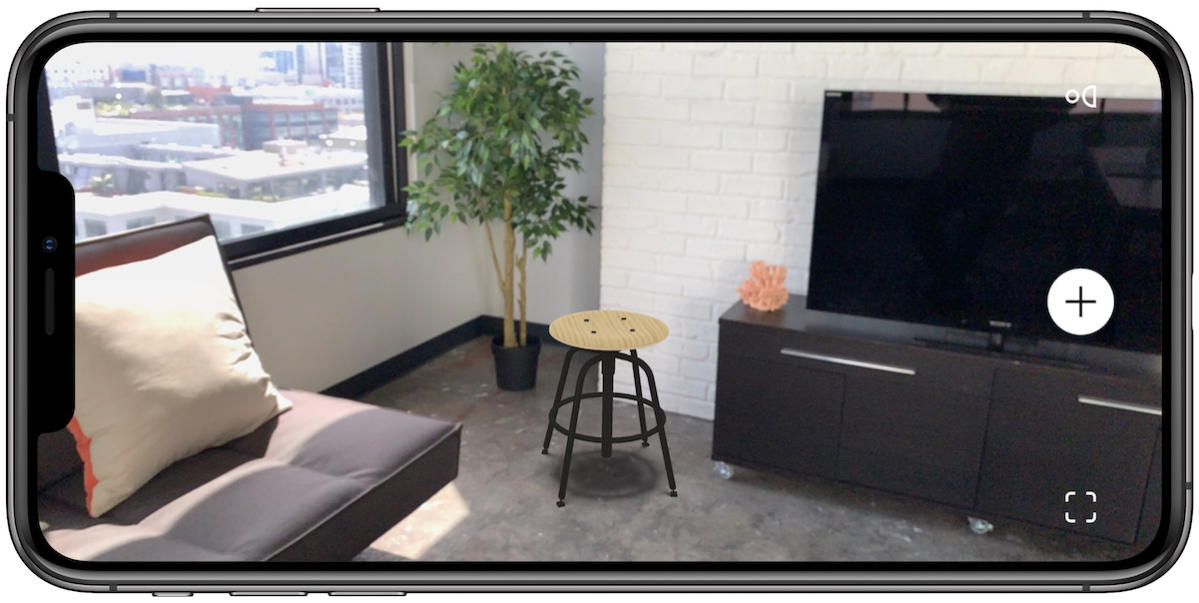 The app puts an item in your room at scale, and you can move it around and see if it works for you before placing an order. And when Apple finally gets something like TrueDepth technology on the iPhone's rear camera, features like this should command a permanent slot in virtually any retail app.
Dance Reality (Free)
Dancing is an activity best learned in the company of another person, and I'm not convinced that AR is going to change that anytime soon. But Dance Reality at least gets you waltzing in the right direction. Here, you drop two dance instructors into the room of your choice and they show you the moves for everything from salsa to hip-hop, with the help of footprints that appear on your floor. (And, for that matter, some in-app purchases that top out at $4.99.)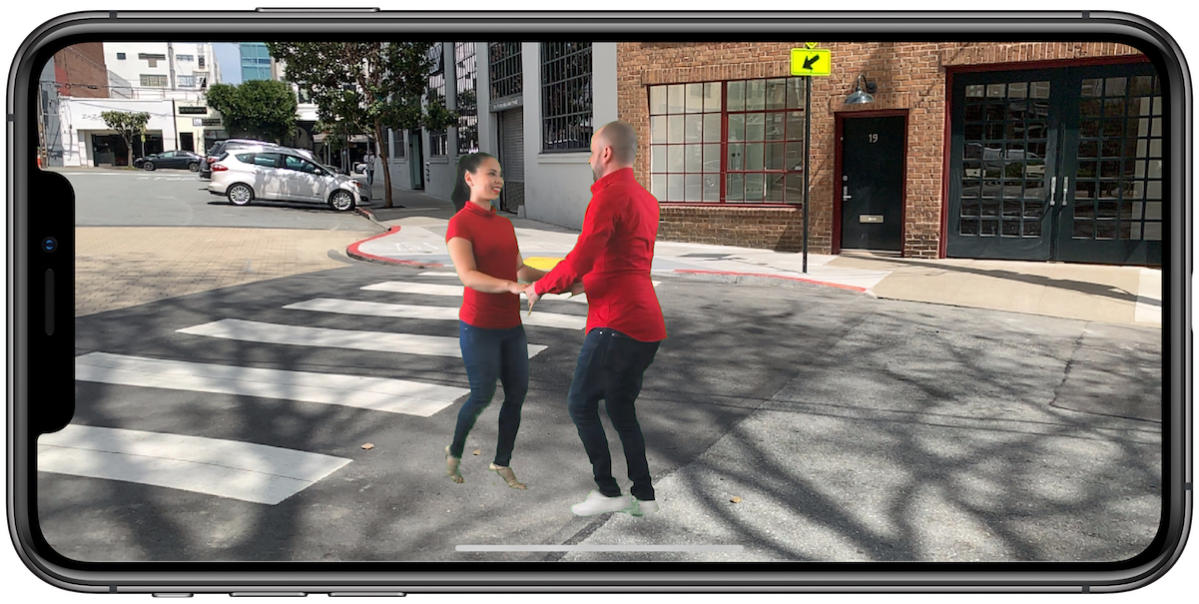 You can also just watch them dance, which I find more useful than a YouTube video because you can move around them. The awkward, catch, of course, is that you have to hold your phone while you do all this. Once we get AR glasses, though, apps like this will give us plenty of reasons to dance.