Apple no longer breaks down iPhone sales by model, so we have to rely on third-party data to see which models are selling best. During its earnings call in February, Apple only said that the iPhone XR was its most popular model, but didn't give any indication of what that means.
A new report from Consumer Intelligence Research Partners may give us a better idea. It states that the iPhone XR alone accounted for 38 percent of iPhone sales in the U.S. during the first quarter of 2019. The iPhone XS and XS Max make up another 21 percent combined (leaning heavily toward the XS Max), and the four older models (7, 7 Plus, 8, and 8 Plus) combine to account for the other 41 percent.
It's our best view yet of the popularity of the iPhone XR. Anecdotally, it rings true: Of everyone I know who got an iPhone in the last few months, most of them chose the iPhone XR.
While CIRP's report only covers U.S. sales, it's easily to believe that the iPhone XR does at least this well against the iPhone XS and XS Max internationally, where there are even more price-sensitive customers.
Apple doesn't chase market share per se, but if it wants to make phones that people really want to buy, it should learn these lessons from the success of the iPhone XR.
Price, Price, Price
Everyone complains about how Apple's stuff is too expensive, even for a premium product. Apple constantly talks about the value it brings, but a product you can't afford is a product you can't afford, no matter what value it holds. Apple has only tacitly acknowledged that the price of its products in some international markets is because of exchange rates and tariffs, but even here in the U.S., customers are apparently overwhelmingly choosing its least-expensive new phone.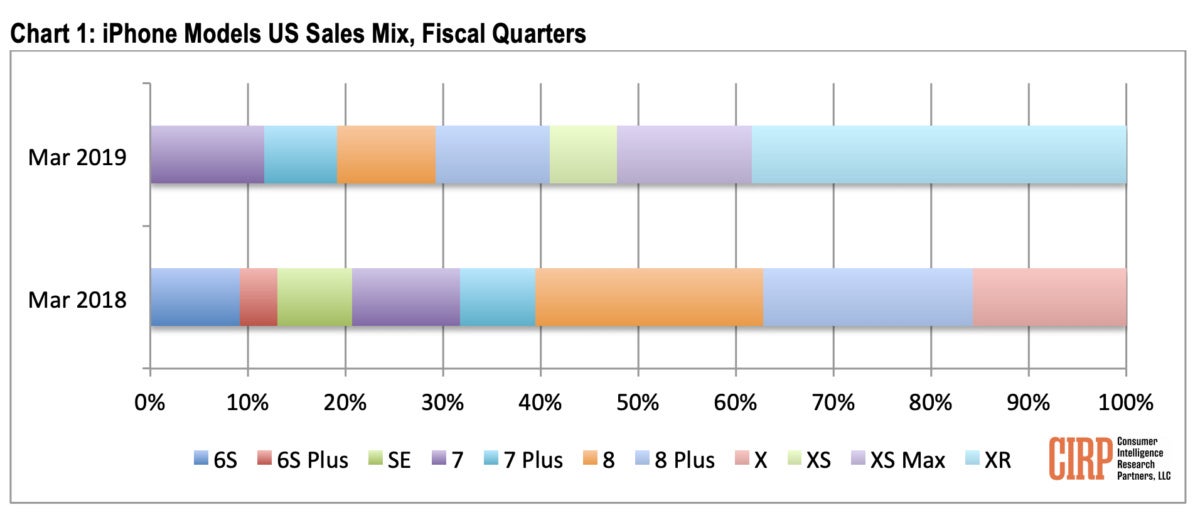 CIRP's report includes data from the same quarter last year, where the iPhone 8 and 8 Plus each outsold the very expensive iPhone X, and combined, made up a bigger portion of new sales than the iPhone XR this year.
Looking at both years together, it's clear that the majority of Apple's customers, even those in an affluent market like the U.S., think that $1,000 is just too much to spend on a phone, no matter its features. The ceiling for even many brand-new premium phone buyers appears to be around $800. Apple should make that price its center of gravity moving forward.
And nobody is fooled by an $800 "price with trade-in."
Less expensive should not mean cheap
What Apple got right about the iPhone XR was putting all the important new stuff in it. It has the taller edge-to-edge display. It has the TrueDepth module so you can use Face ID and Animoji/Memoji. Even though it only has a single rear camera, it's the same one as the wide-angle camera on the iPhone XS and you can still do portrait mode and adjust depth of field (at least with human subjects). It has the same A12 processor.
Apple's least expensive new iPhone cuts some corners, but it doesn't cut capabilities or performance. When you buy an iPhone XS or XS Max, you're paying for slightly more posh materials (like stainless steel edges), a somewhat better display (OLED), and maybe bigger storage options.
People love colors
I know several people who have bought an iPhone XR in the last few months, and not a single one has chosen the black or white models. They all opted for one of the lively colors. This is one area where the less expensive XR excels over its pricier XS brothers—black and silver and even gold just can't compete with a handful of carefully-chosen color options.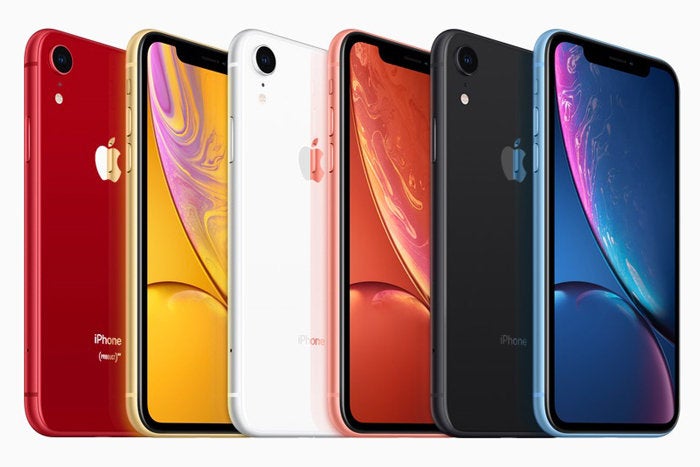 Color iPhones aren't easy. You have to manage production of different-colored models in a way that matches demand, and distribution gets a lot more complex, as different colors are likely more popular in different markets. But just as not everyone wants a black or silver car, not everyone wants a black or silver phone. Maybe Apple's higher-tier phones would sell better if they weren't so stodgy.
Maybe OLED doesn't really matter that much
The tech press gets excited about OLED displays, obsessing about true blacks and super-high resolutions. But if your LCD is really good, as it is in the iPhone XR, most customers won't really see the value in OLED.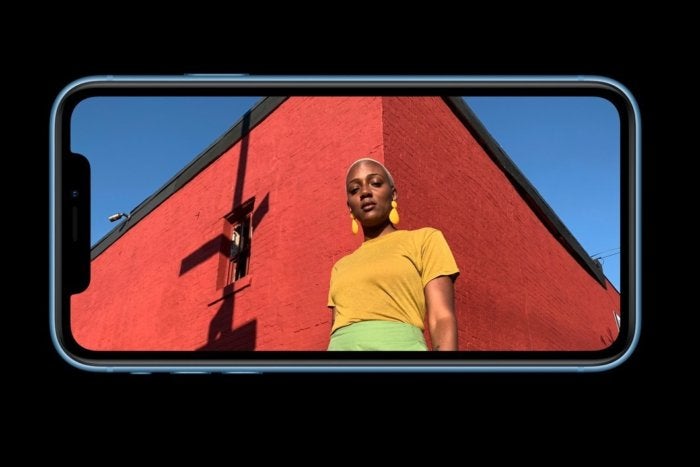 The iPhone XR may have a lower resolution, but because most LCDs have a straight RGB stripe layout and OLEDs have a PenTile layout, the subpixel resolution and density is actually better on an equivalent LCD. When you're sitting there reading a webpage, email, or tweet, the 326 pixels per inch of the iPhone XR looks almost as sharp as the 458 pixels per inch of the iPhone XS or XS Max. And the XR has all the other important features like a wide P3 color gamut, True Tone, high maximum brightness, and high contrast ratio.
Some devices, like the Apple Watch, are particularly well-suited to OLED's advantages. But maybe, just maybe, it's not as necessary for a premium phone experience as we first thought.
Nobody really cares about 3D touch
When talking to someone about which iPhone they should buy, I make sure to mention that the iPhone XR doesn't have 3D touch. Invariably, I then have to explain what 3D touch is, because even though Apple has had this technology on iPhones, Mac trackpads, and Apple Watches for years, the general public doesn't know seem to know what it is.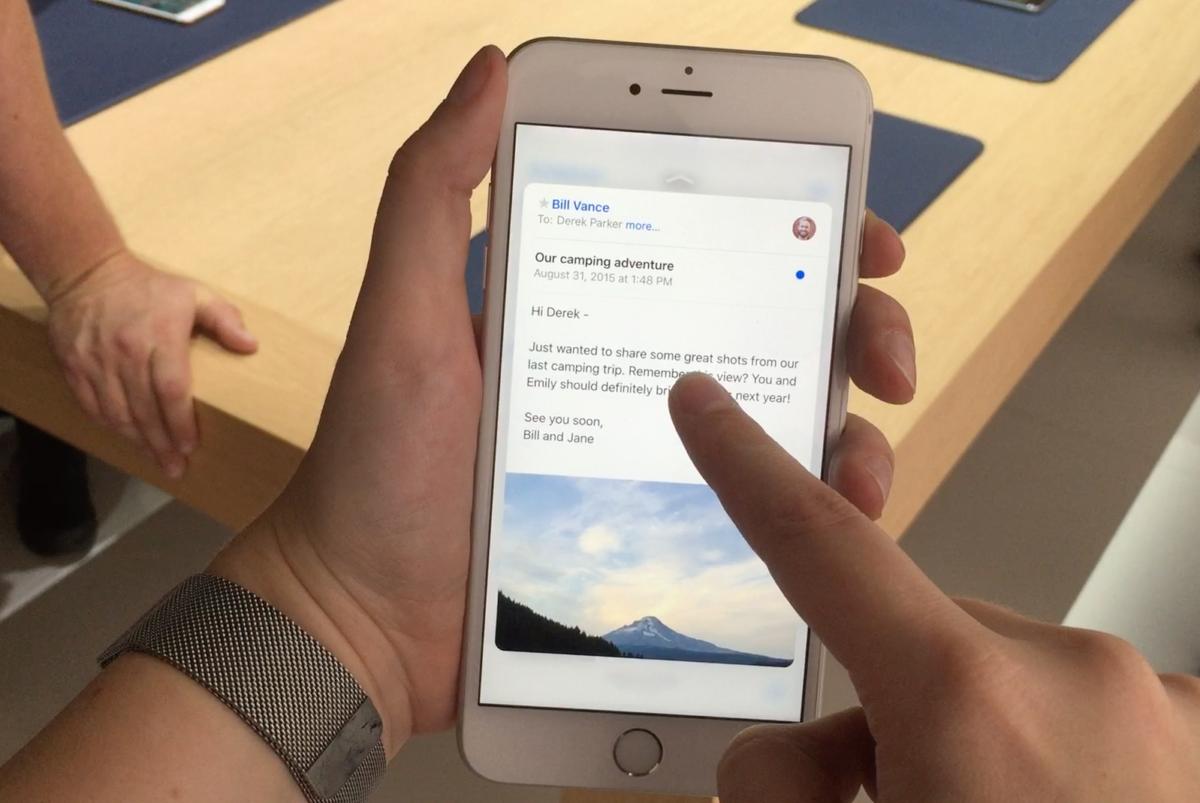 Half of the time I show someone how to use it, they express surprise that their phone even has had this feature all along, but they never make 3D touch a part of their regular habitual iPhone use. The other half the time, I'm explaining to someone who wonders why their iPhone is acting funny that they have accidentally triggered the 3D touch feature they didn't know they had.
It's a feature that holds little enough value to consumers that, even though it's absence from the iPhone XR has gone almost entirely unnoticed by the public.
Maybe it's time to let 3D touch go entirely, reducing cost and complexity, and instead build interface shortcuts that are a little more intuitive and discoverable.
Lean into the affordable model
Compared to Apple's strategy in 2017, where the iPhone 8 and 8 Plus looked and felt like a "last year" model compared to the fancy new iPhone X, Apple flipped the script in 2018. The iPhone XR feels like a true sibling of the iPhone XS, with all the features and quality that users really care about, including a future-forward design.
Maybe Apple should lean into that, making its least expensive new model not only the expected best-seller, but the "flagship" iPhone. Maybe, and this is a wild idea, Apple should abandon its two-iPhone-lines strategy in favor of a single iPhone, in two sizes, starting under $800, with all the features that truly matter (cameras!) and none of the ones that really don't (3D touch). Apple could follow the Apple Watch model, and address the premium end of the market with superficial changes like ceramic cases, or changes that reflect personal desires rather than product quality (like size or amount of storage).
Note: When you purchase something after clicking links in our articles, we may earn a small commission. Read our affiliate link policy for more details.