At a Glance
Expert's Rating
Pros
Impressively sturdy exterior that protectors all corners
Immensely satisfying keyboard
Magnetic clasp keeps Apple Pencil and Logitech Crayon secure
Charges with USB-C, so there's no need for an extra cord
Cons
Considerably thicker than Apple's Smart Keyboard Folio
Awkward to use in portrait orientation
Our Verdict
The Logitech Slim Folio Pro is a tough backlit keyboard case that's also wonderful for typing, but its bulkiness can be a bummer.
Best Prices Today: Logitech Slim Folio Pro for iPad Pro 12.9-inch (3rd Generation)
When I reviewed last year's 12.9-inch iPad Pro, I praised its power but remained skeptical that it could take the place of a MacBook. Logitech seems to have taken such concerns as a challenge in designing the Slim Folio Pro for the 2018 11- and 12.9-inch iPad Pros, and it did so well that I feel safe in saying that this is the closest you're going to get to making Apple's pricey tablet feel like a laptop.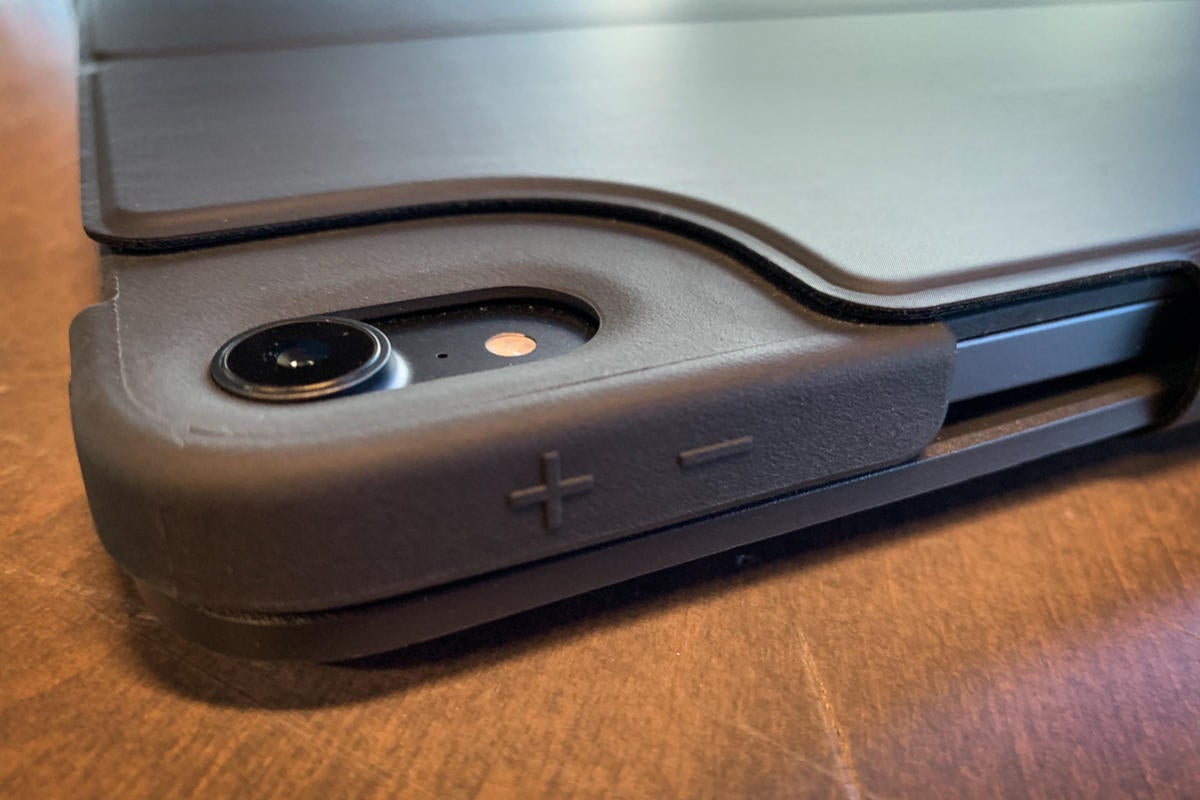 The keyboard is a joy to type on, and so represents an improvement over both Apple's Smart Folio Keyboard case and the butterfly keyboards of a MacBook. The case is tough enough that it can shrug off most everyday scrapes and bruises, and the bottom panel feels sturdy even when I'm typing on my lap. The only thing that keeps me from recommending to everyone who uses to their iPad for typing above all else is that it's just so darn thick.
Big improvements
I'm happy to see that the Slim Folio Pro echoes Apple's aesthetic. At a glance, the gray rubbery material Logitech uses for the exterior resembles the same gray material Apple uses for the Smart Folio Keyboard, but here the material covers all the corners, leaving holes only for the speakers, the camera, the USB-C jack, and the slot that charges the Apple Pencil.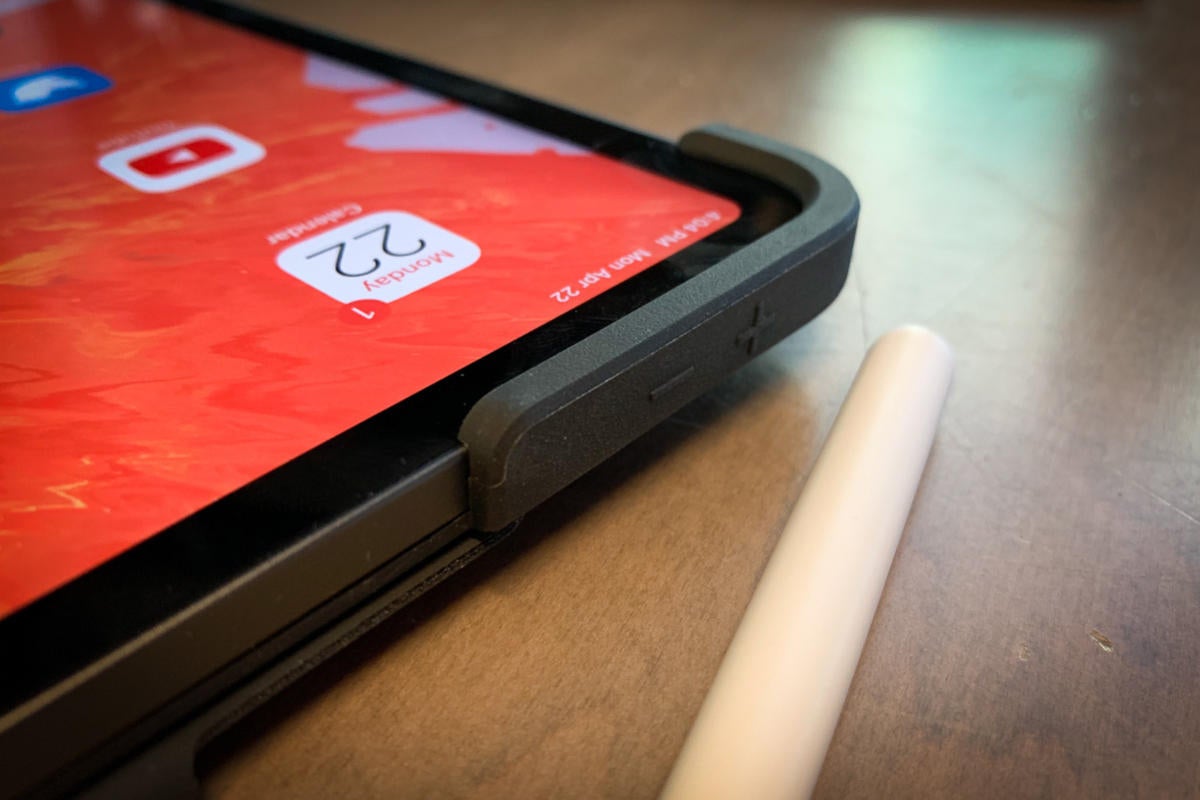 You also won't have to worry about the iPad tumbling out if you pick up the case the wrong way as you will with Apple's Smart Folio Keyboard. Not only do the edges grip the corners of the iPad as tightly as a good iPhone case, but the Smart Folio Pro keyboard also comes with a clasp that neatly keeps the folio's two halves together when it's not in use. Even better, this clasp doubles as a way of keeping the second-generation Apple Pencil firmly in place in its charging slot, and there's even a hidden little pocket for carrying the Logitech Crayon. That's a big improvement over the Smart Folio Keyboard, where the iPad's magnetic side is literally the only thing keeping the Pencil close to the case.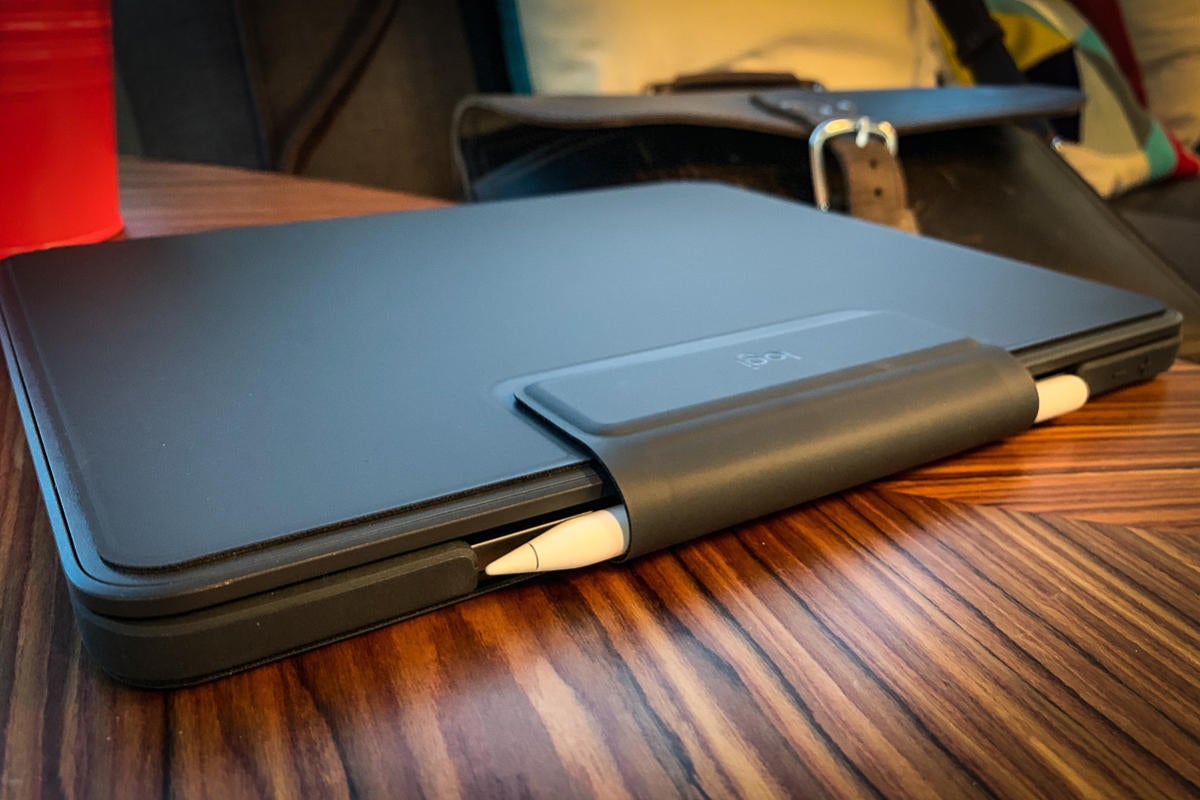 As impressive as the exterior design is, the main attraction is inside. There you'll find one of the best Bluetooth keyboards I've ever seen in a tablet case, as it delivers a mix of satisfying key travel, responsiveness, and spacing that I don't find in either the stiff canvas keys of Apple's Smart Folio Keyboard case or the butterfly keyboards of the recent MacBooks.
Beyond that, it's got dedicated function keys for everything from adjusting the three settings for the backlit keys to volume and playback controls. I used it to write this review, and I like it so much that it has me considering using the iPad again for writing my first drafts (although I still lean toward the MacBook for editing).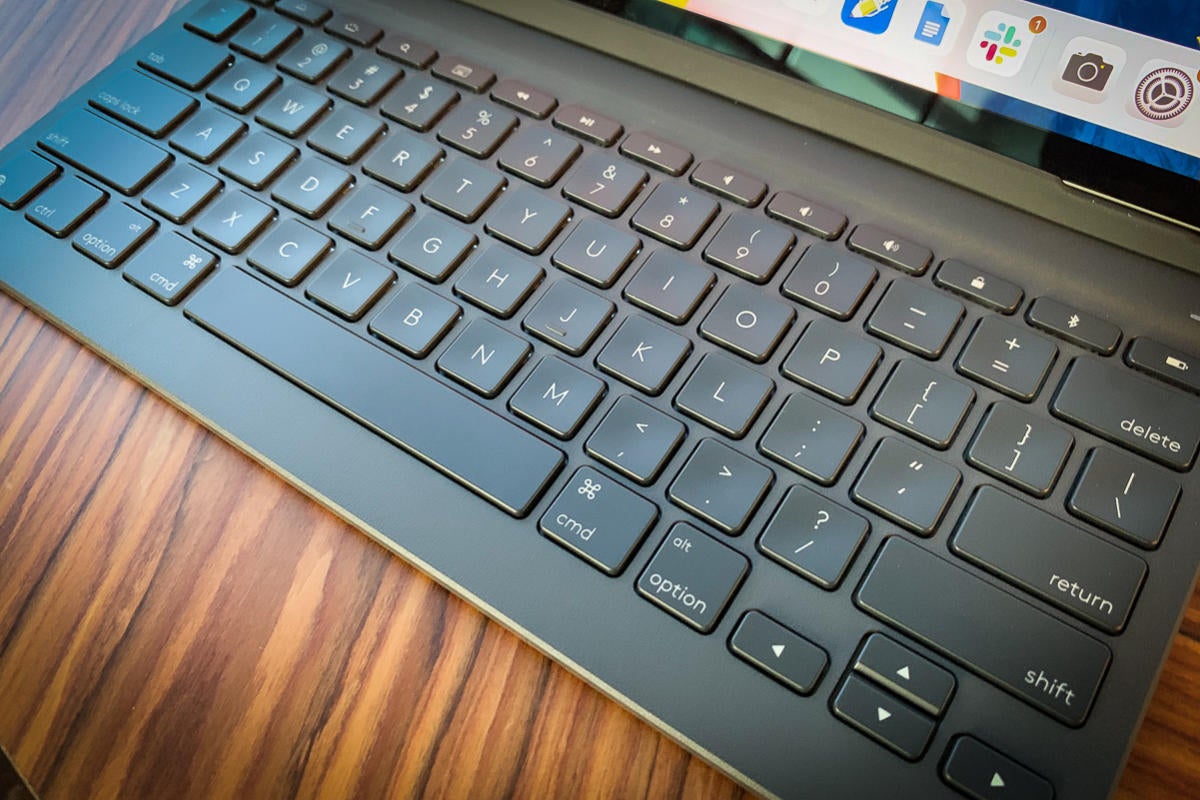 Logitech claims the keyboard's low-energy Bluetooth technology allows it to run for three months on a charge, and I see no reason to disbelieve it. Aside from plugging in my iPad's USB-C cable to make sure it works, I've never charged the case and it still runs just fine. And just to emphasize, I was using the same USB-C cable I use to charge the iPad itself, which means you won't need to worry about carrying two different cords. (Indeed, you won't find a separate one in the box.) I kind of wish it worked with Apple's Smart Connector for simplicity's sake, but in practice, I found the long battery life kept the connector's absence from being much of an annoyance.
Layin' it on thick
So what did annoy me? Let's start with the "slim" in the name, as the Slim Folio Pro is anything but. Once you combine the protection for the iPad Pro's corners and that wonderful keyboard, you've got a case in your bag that's 3/4 of an inch thick—almost an inch, if you count the clasp—which is a significant jump over the half-inch thickness of Apple's Smart Keyboard Folio. If you prefer slim backpacks or briefcases, this might be a dealbreaker. It's enough to make a difference.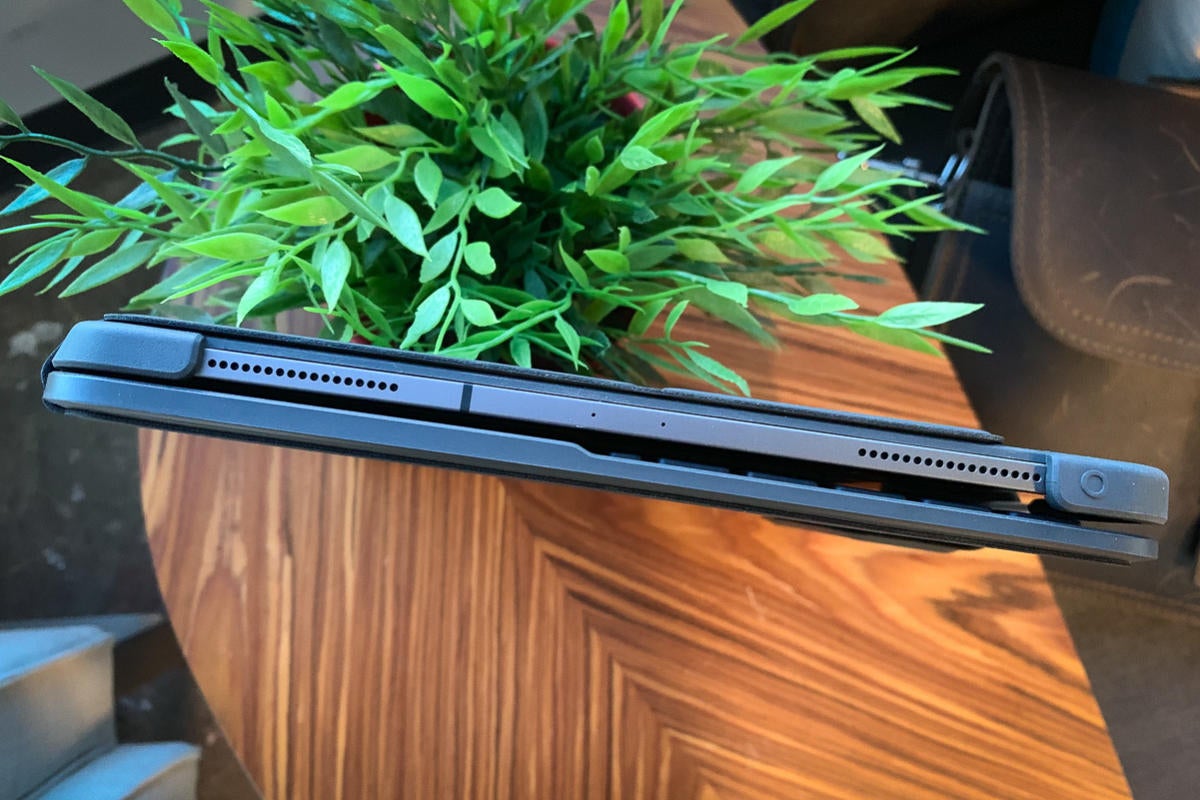 Getting this case also means you're committed to using the iPad Pro as a laptop. It's not impossible to take the tablet out of the Slim Folio Pro, but you'll be wrestling with it every time. (Honestly, I'm a little worried about bending the iPad with too many removals, considering those reports from last year.)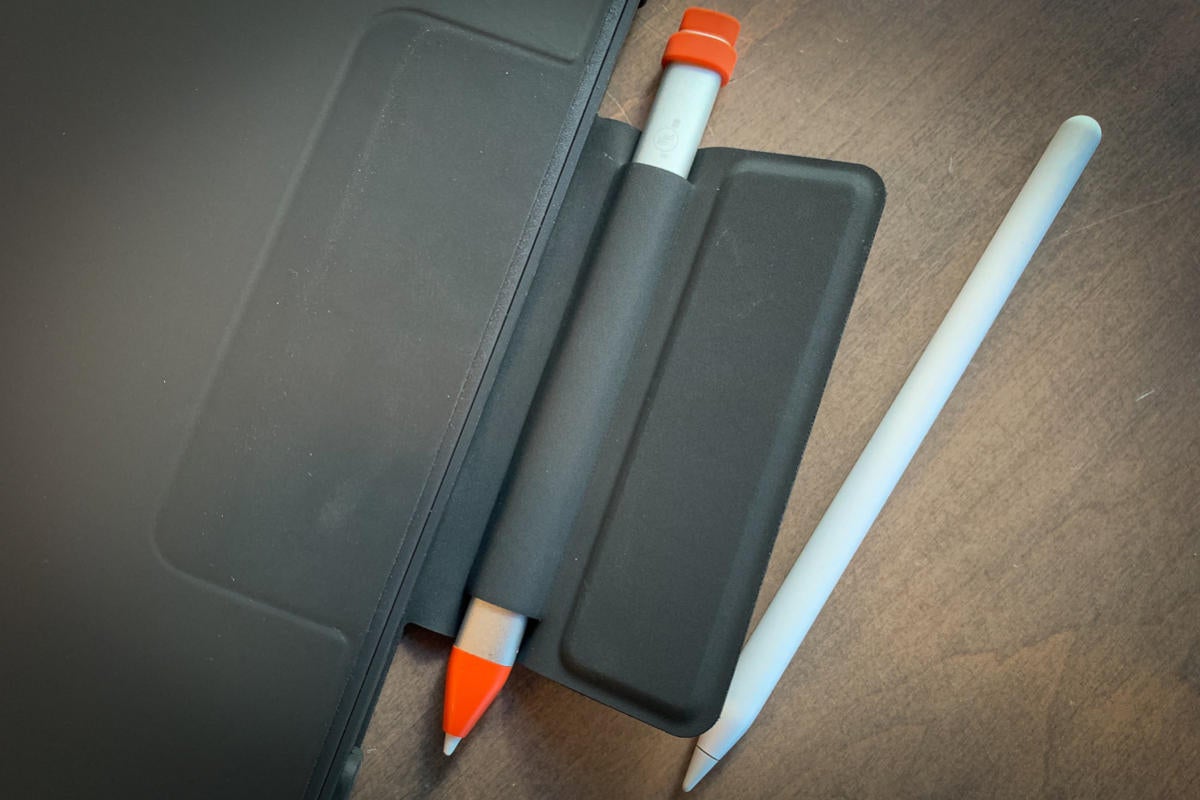 You can fold the keyboard around the back if you wish to use it as a portrait-oriented tablet while it's still in the case, but you might as well be holding a phone book on your lap. Apple's Smart Keyboard Folio might require more careful handling, but at least it understands that users will likely want to use their iPads as both laptops and tablets.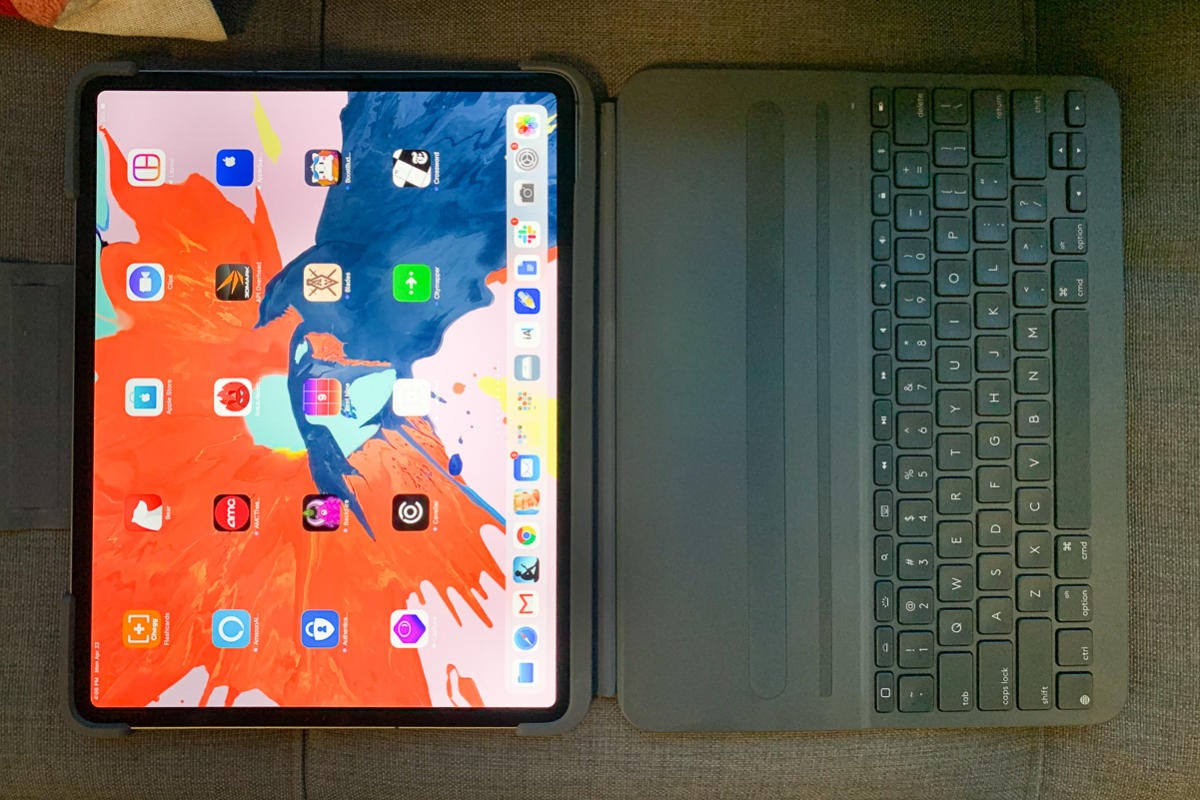 There's also only one setting for propping up the iPad when you're using it like a laptop owing to the inclusion of a single magnetic strip, but fortunately I found it was generally a comfortable angle. The magnet is also strong enough to keep the iPad Pro in place when I'm typing on my lap, which is a lot more than I can say for many iPad keyboard cases.
Bottom line
Is this the best case for you? That depends on your priorities. If you want an excellent typing experience that's better than what you'll get with some laptops, if you want protection for all edges of your pricey iPad, and a smart place to hold your Apple Pencil—then yes, this case will serve you well. But if you also enjoy holding your iPad in your hands as a tablet—whether to read books, watch movies, or create works of art with your Apple Pencil—Apple's own versatile Smart Keyboard Folio may be the better choice.
Best Prices Today: Logitech Slim Folio Pro for iPad Pro 12.9-inch (3rd Generation)