Two weeks ago, I wrote about the "I d.o.n.t." autocorrect mystery that a Macworld reader was having with their iPhone. Tapping in "I don't" resulted in "I D.o.n.t." They had no idea why, and nothing they tried worked.
Since that column appeared, a couple dozens readers have shared that they see the same correction and haven't been able to retrain their iOS device to get rid of it. One person added a correction in Settings > General > Keyboard > Text Replacement and added "dont" as a shortcut that changed to "don't"—that's right, they have to make a typo to get the correct text to appear.
Even more interesting and slightly bizarre is that several correspondents said that merely by sending or receiving a text message among friends and family that contained the "I d.o.n.t." autocorrection, the receiving phone was "infected" and suddenly recommended that correction all the time as well.
I've been unable to replicate the problem, and couldn't troubleshoot it. It's extremely peculiar that only this word with periods has become a problem. Is there a Patient Zero somewhere who punctuated the word this way in a text, and sent it to other people, and so on? In which case, why does iOS latch onto it and not allow itself to be corrected, as with other misspellings? (We queried Apple about this, and have received no reply.)
Fortunately, resourceful reader Sara Ryan had written in with the problem on her phone, and then worked through a solution. Sara found that removing every text message that contained the incorrect text stopped her phone from offering it as an autocorrection.
We've since sent her solution on to everyone who reported the "I d.o.n.t." situation to us. Of people who replied that they tested it, it's worked in 7 out of 9 cases so far.
You may not be able to search on the "d.o.n.t." text, as a couple of people replied that searching in Messages (pull down on the main Messages view to get the search field) didn't match those instances.
However you find the unwanted text:
Hold down on the message until action buttons appear.

Tap More.

The message is selected in the deletion view. Tap the trash can at the lower-right corner.
When complete, you should have eliminated this pesky correction. Let us know if you find it works or doesn't work for you.
A few readers have found that the fix only took effect after performing a normal restart of their phone. One reader said that the solution above didn't work immediately—but a day later, the autocorrection went away!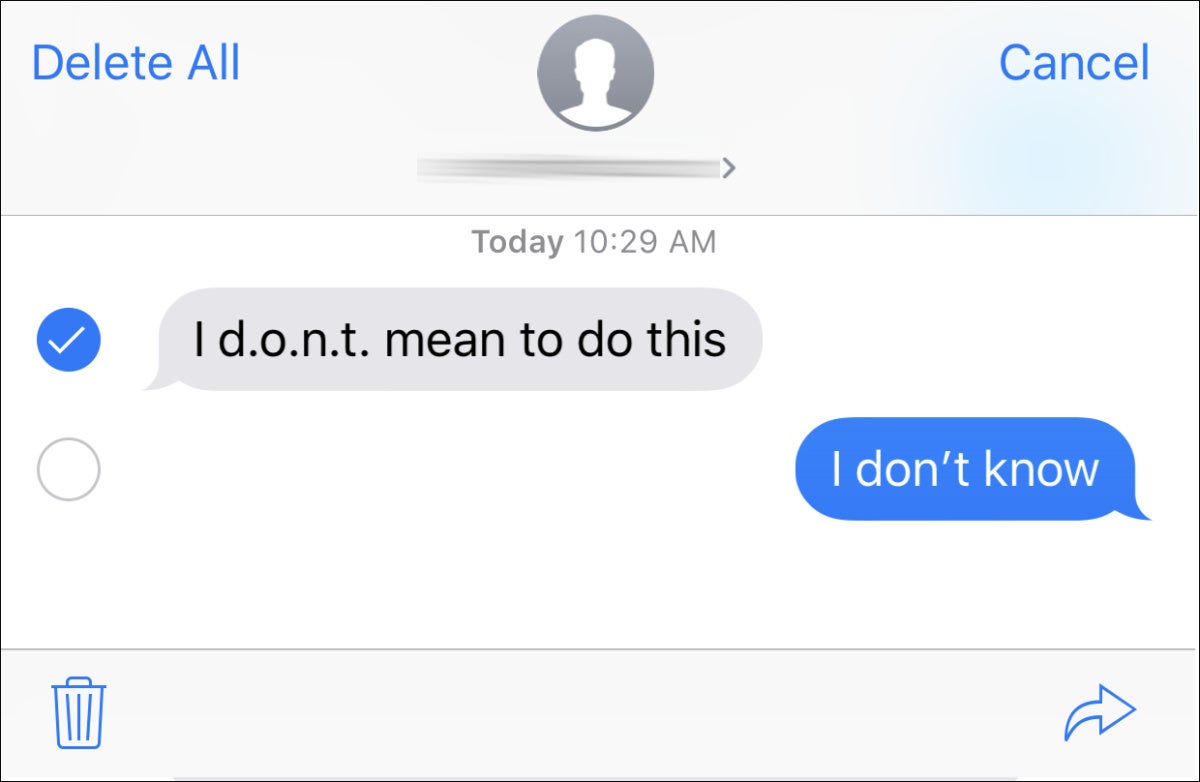 Ask Mac 911
We've compiled a list of the questions we get asked most frequently along with answers and links to columns: read our super FAQ to see if your question is covered. If not, we're always looking for new problems to solve! Email yours to mac911@macworld.com including screen captures as appropriate, and whether you want your full name used. Every question won't be answered, we don't reply to email, and we cannot provide direct troubleshooting advice.